51 Basketball Captions for Above-the-Hoop-Level Instagram Photos
Who doesn't enjoy the frenzied excitement of a basketball game? Whether you're watching a professional team land some fantastic shots or are enjoying a local high school team competing against their rival, basketball games are always a great time with friends and family. It's also the perfect time to snap some fun pictures of the action, both the rivalry and camaraderie of the players to the action in the stands!
Of course, it's often easier to capture a quick picture than to come up with the right caption for it. That's where we come in! To help you write the best caption for your basketball pictures, take a look at all the ideas we have compiled below. We bet your pictures will be a swish and a hit and not an air-ball!
Playing Basketball Captions
Playing basketball is great for the mind, body, and soul, so choose the perfect caption for your game pics below!
Win or lose, I'm just here for the sport!
Sleep, eat, work, play basketball, repeat!
Life is basketball, or basketball is life- we may never know!
When you're on the court, never give up, never quit, and never surrender.
I'm playing until the soles wear off my basketball shoes.
If you're hoping for an air-ball, you better find another player!
I may not make 100% of the shots I take, but I take 100% of the shots given to me!
Playing defense on the floor and defense in life is how I survive!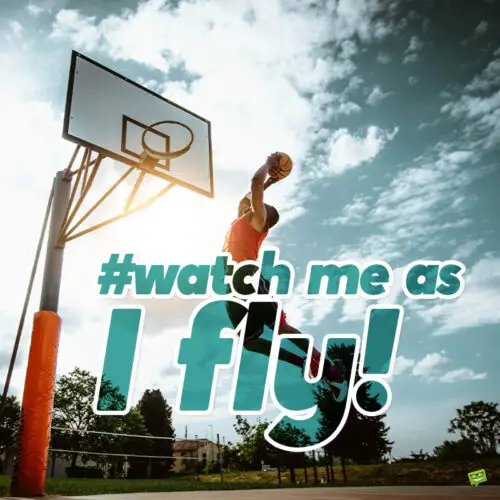 Playing basketball is a lot like daily life. You play defense, offense, and you sometimes throw a foul.
Basketball is in my heart and soul.
The courts called, they want me back in the game!
Hard work, talent, and sometimes blind luck are what get me through each and every game!
Watching Basketball Captions
If you're snapping pictures courtside, feel free to use some of the great captions we've listed for you below!
Cheering for the greatest team in the country!
Excuse me as I armchair referee!
Defend the ball to the bitter end.
Life is like basketball, sometimes the ball is in your court, and sometimes it's not.
Dribble and shoot, dribble and shoot, repeat for 60 minutes or more!
Basketball games are the excitement of life!
Can you feel the electric charge in the air and the passion on the court?
He shoots, he scores, he does it again and again!
If it's too hot on the court, stay in the stands!
The passion and excitement of the fans make the game 100 times better!
Basketball isn't just a game, it is a way of life.
Life is always better with a basketball game on the big screen!
Nothing matters when the ball is in your hands.
Funny Basketball Captions
When you're having a great time playing or watching basketball, use the following captions to show off your pics!
Loosen up and love the game!
Basketball is a game with a lot of ups and downs! Up and down the court, that is!
I'm here to chew gum and watch basketball, and I'm all out of gum.
Run up, run down, run up, run down, and repeat!
May the court be with you!
Live, laugh, lay up!
I only yell when it's basketball season.
Basketball is the game to watch when you're a basket case!
Keep calm and dribble on!
Stand tall, dribble the ball, make the call, play basketball!
Today's forecast is a 100% chance of the best game of the season!
Shoot hard and fast or go home.
Cute Basketball Captions
If you're looking for a cute basketball saying that captures the eyes of your followers, we have just what you need below!
It's not whether you win or lose, it's how you handle the ball.
Don't mind me, my head is lost in the game!
I don't care if we win or lose, it's how…oh never mind that nonsense, I want to win!
I need a time-out from this game!
The air ball is a metaphor for life. Sometimes you just miss what you're shooting for entirely!
A basketball game a day keeps the sadness away!
If you want to quit, think about all the fans out there rooting for you.
When life gets tough, bounce back like a basketball!
Practice makes perfect, but talent will shoot you further ahead on the court!
March Madness always brings out the crazy in me!
We interrupt this day for an amazing basketball game.
Watch me as I fly!
Basketball always sends me soaring higher and higher.
You may also like:
The Reign of the "Greek Freak"| 64 Giannis Antetokounmpo Quotes
39 Tattoo Captions for the Ink that Adorns Your Skin
65 Hiking Quotes and Captions for Moments That Count