100 Camping Quotes and Captions for Avid Campers
Camping is one of the best ways to take a vacation from the craziness of life. Spending time in the outdoors can easily tame the stress and frustration we all feel day after day. Maybe you're an old-fashioned type of camper who likes to set up in a tent with no Wi-Fi, or maybe you enjoy the luxury of cruising in an RV that is set up to communicate with the outside world. Either type is a terrific way of enjoying nature the way it was meant to be!
Of course, whether you are planning to become a camper and you are looking for all the famous opinions and the secret advice for campers or you are already there and you just need to take a bunch of pictures to show your followers what you are doing, we're here to give you the best camping quotes and captions. Pick from the following quotations simply to get some inspiration or when you need a little extra boost to your photos

Best Camping Quotes
Time camping isn't time spent, it's invested. Unknown
A crude meal, no doubt, but the best of all sauces is hunger. Edward Abbey
Camping – because therapy is expensive. Unknown
I go to nature to be soothed and healed, and to have my sense put in order. John Burroughs
Real freedom lies in wildness, not in civilization. Charles Lindbergh
Your swag or mine? L.J. Fox
The woods are lovely, dark and deep… Robert Frost
There's no wi-fi in the mountains, but you'll find no better connection. Unknown
If people sat outside and looked at the stars each night, I'll bet they'd live a lot differently. Bill Watterson
My wish is to stay always like this, living quietly in a corner of nature. Claude Monet
Look deep into nature, and then you will understand everything better. Albert Einstein
My tent doesn't look like much but, as an estate agent might say, "It is air-conditioned and has exceptional location". Fennel Hudson
The mountains are calling and I must go. John Muir
In all things of nature there is something of the marvelous. Aristotle
The wilderness holds answers to questions we have not yet learned to ask. Nancy Wynne Newhall
The farther one gets into the wilderness, the greater is the attraction of its lonely freedom. Theodore Roosevelt
Everybody needs beauty as well as bread, places to play in and pray in, where nature may heal and give strength to body and soul. John Muir
Wilderness is not a luxury but necessity of the human spirit. Edward Abbey
A great many people, and more all the time, live their entire lives without ever once sleeping out under the stars. Alan S. Kesselheim
Money can't buy happiness, but it can buy a camper, which is kind of the same thing. Unknown
Funny Camping Quotes
It always rains on tents. Rainstorms will travel thousands of miles, against prevailing winds for the opportunity to rain on a tent. Dave Barry
Roses are red, mud is brown, the woods are better than any night on the town. Earl Dibbles Jr.
Almost everything will work again if you unplug it for a few minutes, including you. Anne Lamott
Is it weird that I'm taking Louis Vuitton camping? Jessica Simpson
Camping: The art of getting closer to nature while getting farther away from the nearest cold beverage, hot shower, and flush toilet. Unknown
In a well-ordered universe…camping would take place indoors. Morgan Matson
Welcome to our campsite where friends and marshmallows get toasted at the same time. Unknown
Camping is nature's way of promoting the motel business.  Dave Barry
The stars were better company anyway. They were very beautiful, and they almost never snored. David Eddings
Some national parks have long waiting lists for camping reservations. When you have to wait a year to sleep next to a tree, something is wrong. George Carlin
Remember, a good marriage is like a campfire. Both grow cold if left unattended. H. Jackson Brown, Jr.
Campfire Quotes
Light a campfire and everyone's a storyteller. John Geddes
The fire is the main comfort of camp, whether in summer or winter. Henry David Thoreau
The glories of a mountain campfire are far greater than may be guessed. John Muir  
Before men ever dreamed of shelter, campfires were their homes. Sigurd Olson
Gather wood, build a fire, stay up all night with the fire and stars. Antler
The echoes of beauty you've seen transpire, resound through dying coals of a campfire. Ernest Hemingway
Even in a time of elephantine vanity and greed, one never has to look far to see the campfires of gentle people. Garrison Keillor
How is it that one match can start a forest fire, but it takes a whole box of matches to start a campfire? Christy Whitehead
Young people knew what had happened to the world because their elders communicated it to them around the campfire. Rick Steber
The campfire is the most important part of camping. It's far more than just a source of heat or light. It's the heart of civilization. All other activities revolve around the fire. David Lubar
Cute Camping Quotes
And at the end of the day, your feet should be dirty, your hair messy and your eyes sparkling. Unknown
I peered up through the tent's mesh roof at faraway stars, faint glitter, giddy. Aspen Matis
I like to be outdoors as much as possible. Sean McVay
We can never have enough of nature. Henry David Thoreau
I took a walk in the woods and came out taller than the trees. Henry David Thoreau
I am most alive among the tall trees. Unknown
Camping is not a date; it's an endurance test. If you can survive camping with someone, you should marry them on the way home. Yvonne Prinz
Nature has been for me, for as long as I remember, a source of solace, inspiration, adventure, and delight; a home, a teacher, a companion. Lorraine Anderson
Inspirational Camping Quotes
Now I see the secret of making the best person, it is to grow in the open air and to eat and sleep with the earth. Walt Whitman
Thousands of tired, nerve-shaken, over-civilized people are beginning to find out going to the mountains is going home; that wilderness is a necessity. John Muir
Cooking and eating food outdoors makes it taste infinitely better than the same meal prepared and consumed indoors. Fennel Hudson
I just want to live in a world of mountains, coffee, campfires, cabins, and golden trees, and run around with a camera and notebook, learning the inner workings of everything real. Victoria Erickson
The camp is the space that is opened when the state of exception begins to become the rule. Giorgio Agamben
Earth and sky, woods and fields, lakes and rivers, the mountain and the sea, are excellent schoolmasters, and teach of us more than we can ever learn from books. John Lubbock
A bad day camping is still better than a good day at the office. Unknown
Walk away quietly in any direction and taste the freedom of the mountaineer. Camp out among the grasses and gentians of glacial meadows, in craggy garden nooks full of nature's darlings. John Muir
In nature, nothing is perfect and everything is perfect. Trees can be contorted, bent in weird ways, and they're still beautiful. Alice Walker
Whatever form it takes, camping is earthy, soul enriching and character building, and there can be few such satisfying moments as having your tent pitched and the smoke rising from your campfire as the golden sun sets on the horizon. Pippa Middleton
Far from the luxuries of home, camp life forces a slower, more thoughtful approach to living. Mornings are savored. Coffee is sipped rather than drained. Making meals is less a chore and more an event. An evening stroll replaces the nightly TV hypnosis. In short, for a few fleeting days, we are briefly, blissfully, beautifully human again. Mark Kenyon
We have the best captions that will go perfectly with all of the amazing photos you take on your adventure!
There is nothing I love more than staring up at the stars on a cool night in front of a campfire.
I love the wilderness and all that she offers.
My first love will always be the campground.
I fall just a little bit more in love with the outdoors with every trip!
Get out and camp. You'll see why so many people love it.
I love the warm days and the cool nights more than anything else in the world.
All I need is a good place to set up my tent. Nothing else matters.
I love the calm and peace that being in the outdoors brings me.
All you need is a great place to pitch your tent to love your life!
I love everything about the outdoors- the warm sun, the chirping birds, and the star-studded night sky.
Make your followers laugh by choosing one of the following slogans for your pictures!
I camp, therefore I am.
Who would have ever thought I would willingly sleep in the woods surrounded by mosquitos and wildlife?
Camping is the only time you try your hardest to live like you have nothing.
If you don't hear from me for a few days, don't be afraid to send out the search party!
It's all fun and games until someone forgets the can opener.
Who said I was high-maintenance? I'm here, aren't I?
Camping is the best excuse for drinking the night away.
No one told me there wouldn't be bathrooms in the woods.
I'm here to get one with nature. Except I have no idea how to go about it!
I love camping! And by that, I mean enjoying a comfortable bed in a large RV with built-in Wi-Fi.
Camping with your friends is always a great idea for a vacation, and we offer the best captions to attach to the many pictures you're all sure to take!
We're here and ready to party around the campfire all night long!
Camping is better when you're doing it with your best friends!
We're ready for anything at the campsite, as long as it isn't a bear attack!
Swimming, napping, campfires, and drinking- we're having a blast together on this trip!
You wouldn't catch me camping with anyone else but these loveable goofballs!
Being outdoors in nature with your best friends is the best therapy for whatever ails you.
I couldn't do this without my besties right by my side!
Enjoying the wonders of nature and the peace and quiet with the ones that matter the most.
It's so amazing here-we may never come back!
Friends stick together through thick and thin, even when it involves camping in the woods with minimal luxuries to enjoy!
It takes a little bit more to camp during the colder months, so impress your followers with the following captions for your winter pics!
It may be a little bit on the chilly side, but we've never had such a good time at camp!
Camp is meant to be enjoyed throughout the year, even when the winter comes along!
We'll be bundling up tight tonight for sure!
It's time to make the biggest campfire anyone has ever seen!
Camping in a winter wonderland!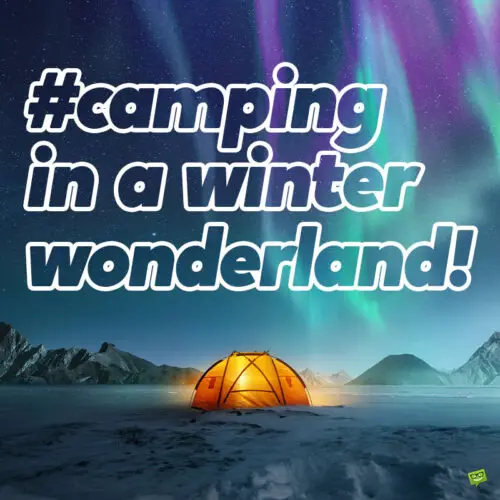 There is nothing better than setting up camp during the winter. The peace and quiet can't be beat.
You know you love camping when you're willing to do it in the cold!
The sparkling snow on the trees and the nip in the air makes this trip one for the books!
Can you really say you're a camper if you haven't pitched a tent in a snowstorm?
Say what you want, but I'm happy we have an RV to escape into!
If You Liked it, Pin it!
You May Also Like:
50+ Staycation Quotes and Captions for Pics of Domestic Luxury
65 Hiking Quotes and Captions for Moments That Count
111 Amazing Selfie Captions for Pics of Yourself
50 Adventure Captions For Us Living On the Edge