50+ Chill and Relaxing Captions for Instagram Photos
We all work hard, but we should play hard too. When it is time to relax and have fun, it is great to share photos of down time with our Instagram friends and family. Our buddies and besties want to share in our enjoyment and want to know we are practicing awesome self-care!
It may be hard to come up with the perfect caption for your photo but following are several suggestions for the best ways to describe those special social media photos.
Funny Chill Instagram Captions for Relaxation
You keep your sense of humor no matter what is going on in your life.
Don't I look good working hard, or hardly working?
Who knew how good I would look with sand in my bikini?
Look at me being all brave and stuff!
I can't have another crisis! I didn't get it on the schedule!
The best thing about Monday is Tuesday!
Putting on my yoga pants took my stress down a whole level!
Chocolate and wine can't solve my problems but they sure take my stress level down a notch!
Trying to get me to relax is like herding cats. It's impossible!
I have all my browser windows open. Help!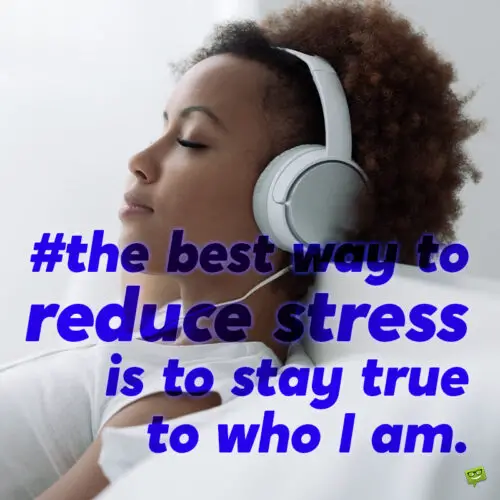 If you hand me a stress ball, I'll just throw it at you!
Today was stressful but I didn't shave my head or anything!
I heard the best way to reduce work stress was to call in sick! Maybe tomorrow?
I keep forgetting how lucky I am to have this great job. Remind me!
This pressure would be fine if it made diamonds!
Chill Instagram Captions for the times you're stressed
Taking a break and hanging out with me!
I thought I didn't have time to relax, but I don't have time not to relax!
Learning how to breathe and enjoy life again!
I am working too hard at this. Today I vow to let things happen the way they should!
Striving for peace of mind and peace in my heart!
I am putting myself first today and letting stress go.
Practicing being the calm before the storm and the person other people can count on!
Working hard on letting go of the little things and enjoying life again!
Letting the workweek go and looking forward to me time!
I am learning how to handle stress so I can handle all the success that is coming my way!
When stress gets to me, I remind myself that a year from now I won't remember any of this.
Every day I tell myself I can handle any stress that comes my way. Today I proved that!
When I think about quitting, I tell myself all the reasons I started this crazy journey.
Working hard to be the rainbow at the end of someone's cloud today.
The best way to reduce stress is to stay true to who I am.
I have learned not to play anyone else's silly games.
Today is a new day and I will put myself first.
Learning to handle stress is letting go of control! It works!
Chill and Relax Captions for Instagram (when we rest or when on holidays)
Always having fun with friends or by myself!
Slowing it down, down, down!
I turned my Type A work personality into a Type A vacation personality!
Finally putting myself first and enjoying this beautiful vacation!
I put that load down for a while. It will be waiting for me next week!
Getting back in touch with me again!
Starting to appreciate all the beautiful people and places again!
Recharging my batteries with new people and new places!
Can't help but have a positive attitude after seeing the beautiful places in the world!
A change of scenery makes all the difference in understanding the most important things in life.
What a relief to not schedule every day. I am floating through this time off like a leaf on the wind.
Reconnecting with myself and loving what I am finding!
Trying new things and letting go of fear. What a relief!
I deserve this after the stress of last year. We all deserve it!
On this journey, I found my smile again!
Spending time in nature is the best stress reducer!
On this trip I am breaking up with stress!
Ocean waves make me sleep like a baby!
If you liked it, Pin it!
You May Also Like:
75 Smile Captions for Those Moments of Bliss
111 Amazing Selfie Captions for Pics of Yourself
75 Zen Quotes About Relaxing and Enjoying Life