100+ Tree Quotes That Can't Be Uprooted from Our Thoughts
Since ancient times the tree has been a fundamental archetype, used as a spiritual symbol in world mythology and religions. To Native Americans trees are sacred and play a significant role in their spiritual beliefs. In the Celtic and Norse cultures trees were revered as wise and mystical beings, while in the Bible and the Quran we find the Tree of Life as part of the Garden of Eden. These uplifting tree quotes trace the story of man's contact with them.
Without doubt, trees play a critical role in our survival since without them there would be no life. Not only do they offer beauty in the natural world, but they provide us with clean air and shelter, food and useful materials. They are quintessential for the world's ecosystem and atmosphere and are a sanctuary to wildlife!
Trees are the living example of Mother Nature's wisdom and resonate deeply with us because they mirror our personal development and growth. They inspire hope and courage and can teach us a lot about life. Firmly rooted in the earth they stand strong and tall, growing majestically upwards to the sky, despite the strong winds and harsh weather conditions, being life's paradigm of adaptation and self-mastery. Reflect upon the deep meaning and arcane wisdom of trees and realize how life's hardships will help you grow and bloom into something beautiful, honoring your appointment with life!
Here we have collected for you the most inspirational tree quotes that you can access any time you need to surround yourself with positive energy. Share them with friends and loved ones to motivate them! Use them to add sophistication to your Instagram captions! Add some trees to your day, they will help you find beauty in everything around you and transform your perspective of life's wonderful possibilities!
Table of Contents
Short Quotes About Trees To Caption Your Best Instagram Posts
The following one-liner quotes will make great captions for your Instagram and social media posts that will capture the interest of your audience!
Keep a green tree in your heart and perhaps the singing bird will come. Lois Lowry
Trees indeed have hearts. Henry David Thoreau
He who plants a tree. Plants a hope. Lucy Larcom
All our wisdom is stored in the trees. Santosh Kalwar
A tree is our most intimate contact with nature. George Nakashima
I took a walk in the woods and came out taller than the trees. Henry David Thoreau
Between every two pines is a doorway to a new world. John Muir
The clearest way into the Universe is through a forest wilderness. John Muir
The trees that are slow to grow bear the best fruit. Moliere
Trees are poems that the earth writes upon the sky. Khalil Gibran
Storms make trees take deeper roots. Dolly Parton
Walkin' through the leaves fallin' from the trees, Feelin' like a stranger nobody sees. Bob Dylan
Alone with myself the trees bend to caress me the shade hugs my heart. Candy Polgar
Love the trees until their leaves fall off, then encourage them to try again next year. Chad Sugg
Trees give peace to the souls of men. Nora Waln
What did the tree learn from the earth to be able to talk with the sky? Pablo Neruda
Learn character from trees, values from roots, and change from leaves. Tasneem Hameed
Trees are the earth's endless effort to speak to the listening heaven. Rabindranath Tagore
One touch of nature makes the whole world kin. William Shakespeare
The best time to plant a tree was 20 years ago. The second best time is now. Chinese proverb
To be without trees would, in the most literal way, to be without our roots. Richard Mabey
The shadow is what we think of it; the tree is the real thing. Abraham Lincoln
Nothing is more beautiful than the loveliness of the woods before sunrise. George Washington Carver
We all travel the Milky Way together, trees and men. John Muir
The trees must breathe so I can breathe. Deepak Chopra
Thank God, they cannot cut down the clouds! Henry David Thoreau
If you don't like how things are, change it! You're not a tree. Jim Rohn
Friendship is a sheltering tree. Samuel Taylor Coleridge
A society grows great when old men plant trees whose shade they know they shall never sit in. Greek Proverb
I'm like a tree. My leaves might change color, but my roots are the same. Rose Namajunas
Inspirational Quotes About Trees
Wise and thought provoking quotes by some of the world's greatest authors and thinkers that will help you realize the significance of trees in our lives!
The creation of a thousand forests is in one acorn. Ralph Waldo Emerson
If you would know strength and patience, welcome the company of trees. Hal Borland
Trees are sanctuaries. Whoever knows how to speak to them, whoever knows how to listen to them, can learn the truth. Herman Hesse
In nature, nothing is perfect and everything is perfect. Trees can be contorted, bent in weird ways, and they're still beautiful. Alice Walker
Love is like a tree, it grows of its own accord, it puts down deep roots into our whole being. Victor Hugo
A tree is beautiful, but what's more, it has a right to life; like water, the sun and the stars, it is essential. Life on earth is inconceivable without trees. Anton Chekhov
The tree which moves some to tears of joy is in the eyes of others only a green thing that stands in the way. Some see nature all ridicule and deformity… and some scarce see nature at all. But to the eyes of the man of imagination, nature is imagination itself. William Blake
Everyone thinks that the principal thing to the tree is the fruit, but in point of fact the principal thing to it is the seed. Friedrich Nietzsche
Of all man's works of art, a cathedral is greatest. A vast and majestic tree is greater than that. Henry Ward Beecher
I feel a great regard for trees; they represent age and beauty and the miracles of life and growth. Louise Dickinson Rich
There is always Music amongst the trees in the Garden, but our hearts must be very quiet to hear it. Minnie Aumonier
The wonder is that we can see these trees and not wonder more. Ralph Waldo Emerson
Be like a tree. The tree gives shade even to him who cuts off its boughs. Sri Chaitanya
A seed hidden in the heart of an apple is an orchard invisible. Welsh proverb
How much I can learn from a tree! The tree is my church, the tree is my temple, the tree is my mantra, the tree is my poem and my prayer. Satish Kumar
Anyone who thinks fallen leaves are dead has never watched them dancing on a windy day. Shira Tamir
In a forest of a hundred thousand trees, no two leaves are alike. And no two journeys along the same path are alike. Paulo Coelho
A tree uses what comes its way to nurture itself. By sinking its roots deeply into the earth, by accepting the rain that flows towards it, by reaching out to the sun, the tree perfects its character and becomes great. … Absorb, absorb, absorb. That is the secret of the tree. Ming-Dao Deng
A people without the knowledge of their past history, origin and culture is like a tree without roots. Marcus Garvey
Tree Quotes About The Environment
Trees are the natural thermostat of the Earth, but with the large scale deforestation taking place all over the world, we are jeopardizing the future of the planet. We need to act now and protect our forests and nature!
What we are doing to the forests of the world is but a mirror reflection of what we are doing to ourselves and to one another. Chris Maser
Ancient trees are precious. There is little else on Earth that plays host to such a rich community of life within a single living organism. Sir David Attenborough
We are the first generation to be able to end poverty, and the last generation that can take steps to avoid the worst impacts of climate change. Future generations will judge us harshly if we fail to uphold our moral and historical responsibilities. Ban Ki-moon
A nation that destroys its soils destroys itself. Forests are the lungs of our land, purifying the air and giving fresh strength to our people. Franklin D. Roosevelt
The best friend on earth of man is the tree. When we use the tree respectfully and economically, we have one of the greatest resources on the earth. Frank Lloyd Wright
Finland is officially the world's happiest country. It is also 75 per cent forest. I believe these facts are related. Matt Haig
Trees exhale for us so that we can inhale them to stay alive. Can we ever forget that? Let us love trees with every breath we take until we perish. Munia Khan
The care of the Earth is our most ancient and most worthy, and after all, our most pleasing responsibility. Wendell Berry
One thing leads to the other. Deforestation leads to climate change, which leads to ecosystem losses, which negatively impacts our livelihoods – it's a vicious cycle. Gisele Bundchen
There's one issue that will define the contours of this century more dramatically than any other, and that is the urgent and growing threat of a changing climate. Barack Obama
Plant A Tree Quotes
Now more than ever we need to make a positive impact by planting more trees. So, if you love nature and forests why not plant hope by planting a tree today?
Even if I knew that tomorrow the world would go to pieces, I would still plant my apple tree. Martin Luther
He that plants trees, loves others besides himself. Thomas Fuller
Reversing deforestation is complicated; planting a tree is simple. Martin O'Malley
The only thing that ultimately matters is to eat an ice-cream cone, play a slide trombone, plant a small tree, good God, now you're free. Ray Manzarek
Until you dig a hole, you plant a tree, you water it and make it survive, you haven't done a thing. You are just talking. Wangari Maathai
The true meaning of life is to plant trees, under whose shade you do not expect to sit. Nelson Henderson
On the last day of the world I would want to plant a tree. W.S. Merwin
A man doesn't plant a tree for himself. He plants it for posterity. Alexander Smith
Acts of creation are ordinarily reserved for gods and poets, but humbler folk may circumvent this restriction if they know how. To plant a pine, for example, one need be neither god nor poet; one need only own a shovel. Aldo Leopold
Tree Quotes by Famous Personalities
A collection of quotes about trees by some of the world's most prominent personalities. Inspirational words of wisdom that will reshape your thinking!
Someone is sitting in the shade today because someone planted a tree a long time ago. Warren Buffett
Solitary trees, if they grow at all, grow strong. Winston Churchill
When I judge art, I take my painting and put it next to a God made object like a tree or flower. If it clashes, it is not art. Paul Cezanne
Forests are the world's air-conditioning system – the lungs of the planet – and we are on the verge of switching it off. Prince Charles of Britain
A single act of kindness throws out roots in all directions, and the roots spring up and make new trees. Amelia Earhart
Notice that the stiffest tree is most easily cracked, while the bamboo or willow survives by bending with the wind. Bruce Lee
Never say there is nothing beautiful in the world anymore. There is always something to make you wonder in the shape of a tree, the trembling of a leaf. Albert Schweitzer
God has cared for these trees, saved them from drought, disease, avalanches, and a thousand tempests and floods. But he cannot save them from fools. John Muir
All religions, arts and sciences are branches of the same tree. Albert Einstein
Spiritual Tree Quotes
Since the dawn of civilization the tree has been revered as a source of life and used as a symbol to express spirituality and religious ideologies.
Through a tree we were made debtors to God; so through a tree we have our debt canceled. Irenaeus of Lyons
Look at a tree, a flower, a plant. Let your awareness rest upon it. How still they are, how deeply rooted in Being. Allow nature to teach you stillness. Eckhart Tolle
For in the true nature of things, if we rightly consider, every green tree is far more glorious than if it were made of gold and silver. Martin Luther
Trees are the largest and most spiritually advanced plants on Earth. They are constantly in meditation. Subtle energy is their natural language. Mantak Chia
Do you know that even when you look at a tree and say, `That is an oak tree', or `that is a banyan tree', the naming of the tree, which is botanical knowledge, has so conditioned your mind that the word comes between you and actually seeing the tree? To come in contact with the tree you have to put your hand on it and the word will not help you to touch it. Jiddu Krishnamurti
A tree is known by its fruit; a man by his deeds. A good deed is never lost; he who sows courtesy reaps friendship, and he who plants kindness gathers love. Basil
A tree is a wonderful living organism which gives shelter, food, warmth and protection to all living things. It even gives shade to those who wield an axe to cut it down. Gautama Buddha
More Quotes About Trees and Their Beauty
Some eye-opening quotes to help you appreciate the true beauty of trees!
Never cut a tree down in the wintertime. Never make a negative decision in the low time. Never make your most important decisions when you are in your worst moods. Wait. Be patient. The storm will pass. The spring will come. Robert H. Schuller
It is difficult to realize how great a part of all that is cheerful and delightful in the recollections of our own life is associated with trees. Wilson Flagg
Look at the trees, look at the birds, look at the clouds, look at the stars-and if you have eyes you will be able to see that the whole existence is joyful. Rajneesh
Rest is not idleness, and to lie sometimes on the grass under trees on a summer's day, listening to the murmur of the water, or watching the clouds float across the sky, is by no means a waste of time. John Lubbock, The Use Of Life
You can't have the fruits without the roots. Stephen Covey
Imagination is a tree. It has the integrative virtues of a tree. It is root and boughs. It lives between earth and sky. It lives in the earth and the wind. The imagined tree imperceptibly becomes a cosmological tree, the tree which epitomises a universe, which makes a universe. Gaston Bachelard
A few minutes ago every tree was excited, bowing to the roaring storm, waving, swirling, tossing their branches in glorious enthusiasm like worship. But though to the outer ear these trees are now silent, their songs never cease. John Muir
Literature Quotes About Trees
A mélange of beautiful quotes about trees by famous authors and poets that provide valuable insight into the deeper meaning of trees!   
A cold wind was blowing from the north, and it made the trees rustle like living things. George R.R. Martin, A Game of Thrones
To dwellers in a wood, almost every species of tree has its voice as well as its feature. Thomas Hardy, Under the Greenwood Tree
Rilke wrote: 'These trees are magnificent, but even more magnificent is the sublime and moving space between them, as though with their growth it too increased. Gaston Bachelard
Listen to the trees talking in their sleep,' she whispered, as he lifted her to the ground. 'What nice dreams they must have! L.M. Montgomery, Anne of Green Gables
The green oak and cedar—the dark pine, the yellow and silvery-barked willow—each majestic old tree; hath its own peculiar tone and whisper for thine ear. Elizabeth J. Eames
A woodland in full colour is awesome as a forest fire, in magnitude at least, but a single tree is like a dancing tongue of flame to warm the heart. Hal Borland
And this, our life, exempt from public haunt, finds tongues in trees, books in the running brooks, sermons in stones, and good in everything. William Shakespeare
You are a child of the universe, no less than the trees and the stars. In the noisy confusion of life, keep peace in your soul. Max Ehrmann
I said to the almond tree, 'Friend, speak to me of God,' and the almond tree blossomed. Nikos Kazantzakis
The trees encountered on a country stroll
Reveal a lot about that country's soul…
A culture is no better than its woods.
W.H.Auden
We have nothing to fear and a great deal to learn from trees, that vigorours and pacific tribe which without stint produces strengthening essences for us, soothing balms, and in whose gracious company we spend so many cool, silent, and intimate hours. Marcel Proust
It is not so much for its beauty that the forest makes a claim upon men's hearts, as for that subtle something, that quality of air that emanation from old trees, that so wonderfully changes and renews a weary spirit. Robert Louis Stevenson
Alone with myself
The trees bend to caress me
The shade hugs my heart.
Candy Polgar
The tree is more than first a seed, then a stem, then a living trunk, and then dead timber. The tree is a slow, enduring force straining to win the sky. Antoine de Saint-Exupéry
A murmuring, fateful, giant voice, out of the earth and sky, Voice of a mighty dying tree in the Redwood forest dense…. Τhe wood-spirits came from their haunts of a thousand years, to join the refrain; But in my soul I plainly heard. Murmuring out of its myriad leaves, Down from its lofty top, rising two hundred feet high, Out of its stalwart trunk and limbs – out of its foot-thick bark, That chant of the seasons and time – chant, not of the past only, but of the future. Walt Whitman
Trees are an expression of life and balance and whoever knows how to listen to them can discover the true meaning of life. Nourished from the earth they branch out towards the heavens, inspiring us to transcend our perceptions and explore new experiences in our life! Every fall, they shed their leaves but they remain deeply rooted only to grow anew again in the spring, reminding us that true beauty is born through perseverance.    
If you like it, pin it!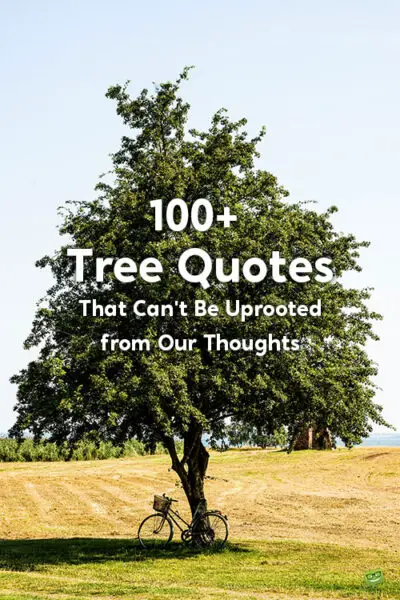 You May Also Like:
Our Home to Save | 70 Quotes About Protecting the Environment
92 Mountain Quotes of High Altitude and Fresh Air
100+ Colorful and Inspiring Quotes About the Harmony Only Gardens Bring