100 Great Warrior Quotes for an Indomitable Fighting Spirit
"In the warrior's code, there's no surrender,

though his body says stop his spirit cries – never!"

Survivor, "Burning Heart"
When we think of warriors, we conjure up images of legendary fighters with profound combat skills, able to perform seemingly impossible feats and defeat any opponent. We grew up nurtured with tales about Spartans, Amazons and Medieval Knights, mighty warriors of the old who displayed tremendous bravery and courage in the battlefield. In fact, throughout human history, there are countless examples of great warriors who put their lives on the line and died for their ideals. Being a warrior can mean different things to different people. Past the act of fighting, warriorship is about possessing an unwavering determination to overcome adversities and challenges, standing firm and fearless, and believing in the cause you are fighting for.
We all experience moments of fear and doubt, as we all engage in battle in our daily lives. From the very first time you accept life's challenges and decide to stand up to them you become a warrior. However, the actual fight does not take place out in the battlefield, but inside your mind. It is here where you will fight your inner demons, overcome your fears and transcend your perceived boundaries. The battleground of your mind is where you will develop strength of character and an unbreakable fighting spirit, able to take on any challenge and never back down.
Do not yield but defend what you love and what you believe in. Give it your all for your purpose! You are a warrior and this means that no matter how tough the fight, even when everything around you is signaling to give up, your spirit cries "NEVER!"
To help you keep your fighting spirit strong, we have trawled the internet and collected the most inspirational and insightful quotes. Share them with friends and loved ones in order to encourage them! Muse upon them and let their positive energy ignite the warrior within you!
Table of Contents
Short Warrior Quotes To Bring Out Your Fighting Spirit
We have rounded up an extensive collection of short, one-liner quotes to serve as your daily mantras on your path to conquering life.   
Inspirational Warrior Quotes About The Bravery To Conquer Life
Fear can be paralyzing but you should not let it get in your way. The following quotes will inspire confidence and courage, helping you to confront your fears and tackle any adverse situation.     
Motivational Quotes about Warriors to Help You Muster Up Unshakeable Courage & Strength
A melange of powerful quotes selected to nurture your warrior mindset by infusing courage and strength that will help you overcome life's challenges.
Quotes by Women Warriors to Awaken Your Inner Amazon
Within every woman exists a warrior, a fearless Amazon of unwavering courage. The following relatable quotes from famous personalities and role models will empower you to defend your rights and deal with all obstacles to your progress.
The Most Famous Warrior Quotes in History
A selection of history's most famous quotes that encapsulate the essence of bravery and warriorship. Powerful, timeless statements that have become mottos and continue to inspire to this day.  
In his "Discourses", the Greek Stoic philosopher Epictetus, epitomizes the reality of human life by quoting "Do you not know that all of human life is a warfare." It is not the act of fighting per se that makes you a warrior, but overcoming life's challenges. Only by throwing yourself in the fire of adversities, and fighting your fears, will you forge unshakeable willpower and an indomitable fighting spirit. So pray for a hard life, for it is the only way to evolve into a true warrior and live a meaningful life!
If You Like it, Pin it!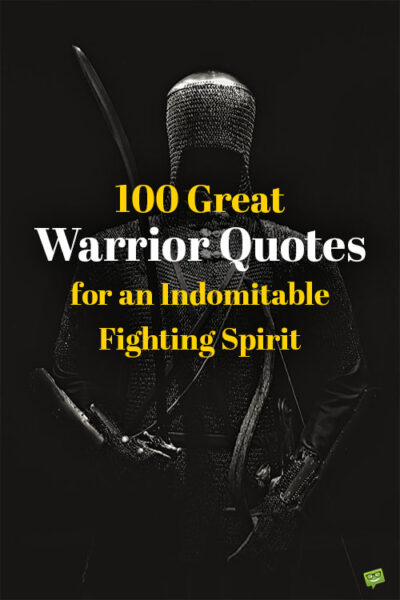 You May Also Like:
130 Athlete Quotes to Inspire Remarkable Performances
Best 180 Fitness Quotes to Fire You Up Before Workout
The Pathway to Your Goals | 124 Discipline Quotes