Animal Pride | 135 Famous Quotes to Make You Admire Horses
No other animal is like it. Horses stand tall and proud whether domesticated or wild. Haven't you ever admired the beauty of a stallion? Whatever its color, black, white or brown, it's mane and sturdy presence is captivating. However, in spite of being elegant grazers, they are also fearless warriors. The bond created between a rider and his horse is legendary. It is that calm and freedom they represent that makes you love them. Today we can enjoy them in riding, racing and more and celebrities around the world agree on they're majestic, graceful and regal grandeur.
It must be said, they don't horse around, but are as devoted and loving as their rider. Famous actors have played with them in Hollywood movies and were amazed by their bravery, as authors have endlessly used them in novels. Read on to find an incredible selection of quotes that were stated by renowned poets, athletes and actors that will inspire, motivate and encourage you, friends and loved ones to keep moving on with grace.

Best Horse quotes
Horses lend us the wings we lack. Pam Brown
Horses make a landscape look beautiful. Alice Walker
A horse is wonderful by definition. Piers Anthony
The wind of heaven is that which blows between a horse's ears. Arabian Proverb
In training horses, one trains himself. Antoine De Pluvinet
Care, and not fine stables, makes a good horse. Danish Proverb
A horse is worth more than riches. Spanish Proverb
'A horse! A horse! My kingdom for a horse!' William Shakespeare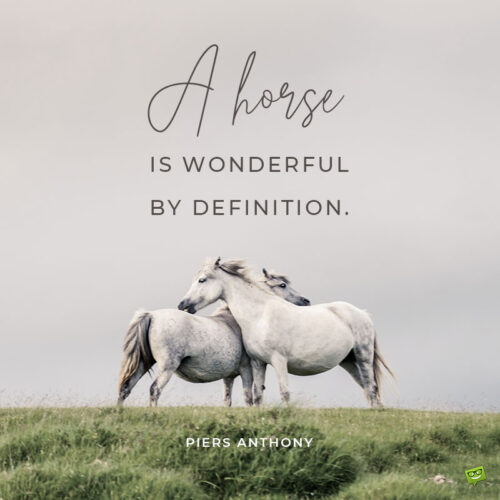 A few fly bites cannot stop a spirited horse. Mark Twain
A horse is as mighty as its rider. Sheikha Hissa Hamdan Al Maktoum
A good trainer can hear a horse speak to him. A great trainer can hear him whisper. Monty Roberts
A pony is a childhood dream. A horse is an adulthood treasure. Rebecca Carroll
A horse gallops with his lungs, perseveres with his heart, and wins with his character. Federico Tesio
I can make a General in five minutes but a good horse is hard to replace. Abraham Lincoln
There is something about the outside of a horse that is good for the inside of a man. Winston Churchill
God forbid that I should go to any heaven in which there are no horses. R.B. Cunningham Graham
The essence of Horse Spirit is freedom. It is a noble and resilient force, with limitless energy at its core. Lawren Leo
I felt better mounted. God gave us horses so we could run away faster. Mark Lawrence
I believe, as do so many of my fellow Americans, that the wild horse is an irreplaceable national treasure. Robert Redford
It's hard to lead a cavalry charge if you think you look funny on a horse. Adlai E. Stevenson
Around the world your horse is often seen as a reflection of your character. Lara Prior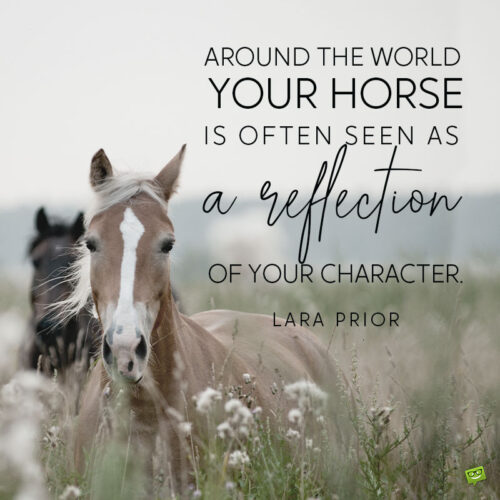 Inspirational Horse Quotes
The horse. Here is nobility without conceit, friendship without envy, beauty without vanity. A willing servant, yet never a slave. Ronald Duncan
People ought to quit worrying so much about whispering to their horses and just start listening to them. Greg Darnall
No philosophers so thoroughly comprehend us as dogs and horses. Herman Melville
Wherever man has left his footprints in the long ascent from barbarism to civilization, we find the hoofprint of a horse beside it. John Trotwood Moore
They say princes learn no art truly, but the art of horsemanship. The reason is, the brave beast is no flatterer. He will throw a prince as soon as his groom. Ben Johnson
The horse, with beauty unsurpassed, strength immeasurable and grace unlike any other, still remains humble enough to carry a man upon his back. Amber Senti
Horses change lives. They give our young people confidence and self-esteem. They provide peace and tranquility to troubled souls, they give us hope. Toni Robinson
A horse loves freedom, and the weariest old work horse will roll on the ground or break into a lumbering gallop when he is turned loose into the open. Gerald Raftery
A lack of communication with horses has impeded human progress, said Abrenuncio. If we ever broke down the barriers, we could produce the centaur. Gabriel García Márquez
Horses know this more than most: The greatest curse of any animal is to be worth money to men. Shaun Tan
For the most part, I'd say if you crossed a cat with a smart dog, made him a matriarchal vegetarian, gave him sleek beauty, a mass of muscle, and the desire to run, then what you'd have is a horse. Tom Spanbauer
The horse, a creature that lives in a herd, reminds us that we are not alone and that we should not alienate others. Lawren Leo
Cute Horse Quotes
In their eyes shine stars of wisdom and courage to guide men to the heavens. Jodie Mitchell
It is the horse's gift to connect us with Heaven and our own footsteps. Ronni Sweet
There is no better place to heal a broken heart than on the back of a horse. Missy Lyons
When God wanted to create the horse, he said to the South Wind, 'I want to make a creature of you. Condense.' And the Wind condensed. Emir Abd-el-Kader
Horses are our silent partners. When we learn their language. This partnership grows strong. Monty Roberts
The horse moved like a dancer, which is not surprising. A horse is a beautiful animal, but it is perhaps most remarkable because it moves as if it always hears music. Mark Helprin

To look into the eye of a horse is to see a reflection of yourself that you might've forgotten. No grief was big enough not to be washed clean in your horse's eye. Gillian Mears
He's of the colour of the nutmeg. And of the heat of the ginger… he is pure air and fire; and the dull elements of earth and water never appear in him, but only in patient stillness while his rider mounts him; he is indeed a horse, and all other jades you may call beasts. William Shakespeare
Horse Love Quotes
A horse doesn't care how much you know until he knows how much you care. Put your hand on your horse and your heart in your hand. Pat Parelli
All your horse looks for is the thing that matters most, peace and contentment. Give it to him. Buck Brannaman
When you take care of your horse, your horse takes care of you. You can say that about no other creature on the planet. Chloe Thurlow
When your horse follows you without being asked, when he rubs his head on yours, and when you look at him and feel a tingle down your spine…you know you are loved. John Lyons
Wherever you are, I will find you and I will bring you home. Steven Spielberg
My horses are my friends, not my slaves. Reiner Klimke
…for there is no other feeling in the world to compare with it if one loves a great horse. It gives a thrill that nothing else ever can. It cannot be put into words, because words cannot express it. Samuel Riddle
I love the horse from hoof to head,From head to hoof and tail to mane.I love the horse as I have said,From head to hoof and back again. James Whitcomb Riley
Love the horses, but don't ride on them! Riding the horses is a culture, a wrong culture! Mehmet Murat ildan
Through the days of love and celebration and joy, and through the dark days of mourning – the faithful horse has been with us always. Elizabeth Cotton
You and your horse. His strength and beauty. Your knowledge and patience and determination and understanding and love. That's what fuses the two of you onto this marvelous partnership that makes you wonder… 'What can heaven offer any better than what I have here on earth?' Monica Dickens
Horse Riding Quotes
When riding a horse, we borrow freedom. Helen Thomson
For one to fly, one needs only to take the reins. Melissa James
No hour of life is wasted that is spent in the saddle. Winston Churchill
On the back of a horse you will find Paradise. Stella A. Walker
There is no secret so close as that between a rider and his horse. Robert Smith Surtees
When you are on a great horse, you have the best seat you will ever have. Sir Winston Churchill
Ride Relax Enjoy, Run Free with Horses. Debbie Burgermeister
I'd rather ride on a Mustang, than in one. BaileyAnn Neal
Riding is life. The rest is just pedestrian. Chloe Thurlow
His hooves pound the beat, your heart sings the song. Jerry Shulman
When riding a horse we leave our fear, troubles, and sadness behind on the ground. Juli Carlson
If your horse says no, you either asked the wrong question, or asked the question wrong. Pat Parelli
Every time a horse let you up onto its back, it's giving you its life. Every time. Matthew Stover
Equestrian art is the perfect understanding and harmony between horse and rider. Nuno Oliveira
If the horse does not enjoy his work, his rider will have no joy. H.H. Isenbart
A man on a horse is spiritually as well as physically bigger than a man on foot. John Steinbeck
A horse is dangerous at both ends and uncomfortable in the middle. Ian Flemming
Galloping is trust and honesty between horse and rider and pure, amazing energy. Ella West
There are only two emotions that belong in the saddle; one is a sense of humor and the other is patience. John Lyons
An old adage says that a good rider can hear his horse speak and a great rider can hear his horse whisper. Elizabeth Letts
There is a moment after riding when you stop and listen. What you hear is your heartbeat in perfect rhythm with the beat of your horse's heart. It is a moment of pure magic. Chloe Thurlow
There is something about riding down the street on a prancing horse that makes you feel like something, even when you ain't a thing. Will Rogers
A horse wouldn't throw you off its back when you ride it. It would only throw you off when you take it for a ride. Nkwachukwu Ogbuagu
Funny Horse Quotes
Be wary of the horse with a sense of humor. Pam Brown
In the history of man, there has been and always will be more horses' asses than horses. Jeffrey Fry
Grooming: the process by which the dirt on the horse is transferred to the groom. Unknown
As my mom used to say, «If wishes were horses, we'd be up to our eyeballs in shit». Cat Adams
He knows when you're happy. He knows when you're comfortable. He knows when you're confident. And he always knows when you have treats. Author Unknown
Employers are like horses — they require management. P.G. Wodehous
The right to buck off a human being is one of the universal rights of horses. Lara Prior-Palmer
You know horses are smarter than people. You never heard of a horse going broke betting on people. Will Rogers
Jasper! Casey shouts, startling the young woman. My cargo is talking to me! Nathan Reese Maher
When I hear somebody talk about a horse or cow being stupid, I figure it's a sure sign that the animal has outfoxed them. Tom Dorrance
You seem to be trying to ride a pony named Trouble all the way to the border. Erik Bundy
I've often told people who ask if there is a God: Get around enough people with horses and see what happens. See how they survive in spite of all the things they do, and you'll become a believer! Buck Brannaman
Horse Photo Captions
Use one of these texts to put words to your beautiful horse photos on social media.
If you see *just* a horse, then you're just not my kinda person.
Hold your horses? I think not.
My favorite friends have four legs. #horseperson
The best solution to falling down and feeling down is simple – saddle up and giddy up.
Who wants to fall for a boy when they can fly on a horse?
One look, and you're hooked for life. #horselife
One ride, and your head over heels in love. #horselover
Easily distracted by all things horse. Sorry…not sorry.
He's such a stud, right?
Sorry, ladies. This stud is all mine.
Just in case you needed to see my spirit animal.
Money really does buy happiness, but only if you're buying a horse.
Funny Horse Captions
Pair those funny horse moments with a comical caption.
Stop horsing around!
I lost a bet, and now I'm ponying up.
I get such a kick out of standing behind my horse for photo-ops.
Hay, girl, hay… she said.
No, I don't believe I will get off my high horse.
Funny how the stables turn when you have a great horse on your side.
Far from a one-trick-pony.
Just the two of us stirrup'ing trouble.
I didn't buy from a baker, but she's as thorough-bread as they come.
Silly human, you never take horse social media pictures with an Android. Don't you know that horses prefer Apples.
If you really want to stir it up, just put your feet in the stirrups.
Shhhh, don't tell a doggone soul, but horses are our real BFFs.
You don't know true love until you get your first horse vet bill.
Forget the force being with you. All you need is the horse underneath you.
There may not be crying in sports, but there's a lot of whining in horses.
Don't be jealous… My horse is so fit because she's on a stable diet.
If only my bronco had more than a buck, we wouldn't be so broke.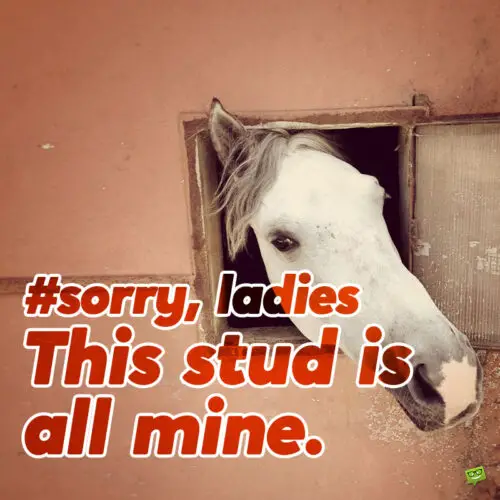 Riding Horse Captions
Saddle up your social media horse riding pics with one of these lovely captions.
Eat. Ride. Rinse. Repeat.
Ridding is way cheaper than therapy.
Not sure who's leading who, but we are definitely riding off into the right direction.
My HEA only stops for water breaks.
Life isn't like a box of chocolates so much as it is a wild horse. You either break and ride it or watch as it leaves you stomped in the dust.
When in doubt, just saddle up and go for it.
Some collect shoes. I collect horse rides.
Take the reigns and see where you go.
Some ride in Mustangs while others ride on them.
If you want to see man's makings, then get in your car. But, if you want to see God's makings, then get on your horse.
Real globe trotters go by horse.
The hardest thing about learning to ride is always at ground-level.
I love the freedom of doing horse rides spur of the moment.
The best way to unsaddle your worries and stress is to just get in this saddle.
A little horseplay to make the day go by.
If it's easy to capture, then it's likely not worth the caption.
Chasing dreams one gallop at a time.
Less daydreaming… more sunset riding.
Horseback is the never a throwback moment.
You may also like:
Never Lose Heart, Always Have Hope | 199 Encouraging Quotes
Sustainable Love of Nature | 114 John Muir Quotes
115 Summer Captions for your Warmest Instagram Pics