Sustainable Love of Nature | 114 John Muir Quotes
Initially almost unknown in Scotland, the country of his birth, John Muir – an explorer, mountaineer, writer and advocate of U.S. forest conservation – lived a hundred years ago, but expressed opinions about the environment that would turn out be prophetic. The value of his legacy, remarkable articles and books, is more than ever apparent today, as Muir inspired people to have a contact with wild nature, which would make the need to conserve it obvious. In the USA he is known as the "father of National Parks" for his campaigns to protect Yosemite, King's Canyon and other spectacular areas of the Sierra Nevada mountains in California.
As the need to protect the environment is more prevalent than ever, John Muir words stress this priority and become an everlasting reminder of what home is. Along with other famous quotes about nature, John Muir's views invite us to embrace our natural habitat.

Short John Muir Quotes
The world is big and I want to have a good look at it before it gets dark. John Muir
The sun shines not on us but in us. The rivers flow not past, but through us. John Muir
Nothing truly wild is unclean. John Muir
In our best times everything turns into religion, all the world seems a church and the mountains altars. John Muir
Society speaks and all men listen, mountains speak and wise men listen. John Muir
Nothing dollarable is safe. John Muir
Of all the upness accessible to mortals, there is no upness comparable to the mountains. John Muir
How glorious a greeting the sun gives the mountains! John Muir
Most people who travel look only at what they are directed to look at. Great is the power of the guidebook maker, however ignorant. John Muir
Everything in Nature called destruction must be creation-a change from beauty to beauty. John Muir
Not blind opposition to progress,but opposition to blind progress… John Muir
The gross heathenism of civilization has generally destroyed nature, and poetry, and all that is spiritual. John Muir
The snow is melting into music. John Muir
One must labor for beauty as for bread. John Muir
One should go to the woods for safety, if for nothing else. John Muir
Walk away quietly in any direction and taste the freedom of the mountaineer. John Muir
Between every two pines is a doorway to a new world. John Muir
Anyhow we never know where we must go, nor what guides we are to get—people,storms, guardian angels, or sheep…. John Muir
Spring work is going on with joyful enthusiasm. John Muir
The morning stars still sing together, and the world, not yet half made, becomes more beautiful every day. John Muir
The mountains are calling and I must go, and I will work on while I can, studying incessantly. John Muir
Writing is like the life of a glacier; one eternal grind. John Muir
The power of imagination makes us infinite. John Muir
Wherever there were glaciers, the world was in a constant state of creation. John Muir
Who wouldn't be a mountaineer! Up here all the world's prizes seem nothing. John Muir
To the lover of wilderness, Alaska is one of the most wonderful countries in the world. John Muir 
There is nothing more eloquent in Nature than a mountain stream. John Muir
Hidden in the glorious wildness like unmined gold. John Muir
Handle a book as a bee does a flower, extract its sweetness but do not damage it. John Muir
How narrow we selfish conceited creatures are in our sympathies! How blind to the rights of all the rest of creation! John Muir
God never made an ugly landscape. All that the sun shines on is beautiful, so long as it is wild. John Muir
Every hidden cell is throbbing with music and life, every fiber thrilling like harp strings. John Muir 
Any glimpse into the life of an animal quickens our own and makes it so much the larger and better in every way. John Muir 
It is always interesting to see people in dead earnest, from whatever cause, and earthquakes make everybody earnest. John Muir
But we are governed more than we know, and most when we are wildest. John Muir
Every natural object is a conductor of divinity and only by coming into contact with them… may we be filled with the Holy Ghost. John Muir
Fortunately wrong cannot last. Soon or late it must fall back home to Hades, while some compensating good must surely follow. John Muir
In drying plants, botanists often dry themselves. Dry words and dry facts will not fire hearts. John Muir
The deeper the solitude the less the sense of loneliness, and the nearer our friends. John Muir
John Muir Quotes about Nature
Nature is always lovely, invincible, glad, whatever is done and suffered by her creatures. All scars she heals, whether in rocks or water or sky or hearts. John Muir
There is not a fragment in all nature, for every relative fragment of one thing is a full harmonious unit in itself. John Muir
Compared with the intense purity and cordiality and beauty of Nature, the most delicate refinements and cultures of civilization are gross barbarisms. John Muir
What a psalm the storm was singing, and how fresh the smell of the washed earth and leaves, and how sweet the still small voices of the storm! John Muir
There is a love of wild nature in everybody, an ancient mother-love ever showing itself whether recognized or no, and however covered by cares and duties. John Muir
The soft light of morning falls upon ripening forests of oak and elm, walnut and hickory, and all Nature is thoughtful and calm. John Muir
Nothing more celestial can I conceive. How gently the winds blow! Scarce can these tranquil air-currents be called winds. They seem the very breath of Nature, whispering peace to every living thing. John Muir
But think of the hearts of these whales, beating warm against the sea, day and night, through dark and light, on and on for centuries; how the red blood must rush and gurgle in and out, bucketfuls, barrelfuls at a beat! John Muir
All Nature's wildness tells the same story: the shocks and outbursts of earthquakes, volcanoes, geysers, roaring , thundering waves and floods, the silent uprush of sap in plants, storms of every sort, each and all, are the orderly, beauty-making love-beats of Nature's heart. John Muir
How little note is taken of the deeds of Nature! What paper publishes her reports? …. Who publishes the sheet-music of the winds, or the written music of water written in river-lines? Who reports and works and ways of the clouds, those wondrous creations coming into being every day like freshly upheaved mountains? And what record is kept of Nature's colors – – the clothes she wears – of her birds, her beasts – her live-stock? John Muir
Nature is ever at work building and pulling down, creating and destroying, keeping everything whirling and flowing, allowing no rest but in rhythmical motion, chasing everything in endless song out of one beautiful form into another. John Muir
Plants, animals, and stars are all kept in place, bridled along appointed ways, with one another, and through the midst of one another — killing and being killed, eating and being eaten, in harmonious proportions and quantities. John Muir
The natural and common is more truly marvelous and mysterious than the so-called supernatural. Indeed most of the miracles we hear of are infinitely less wonderful than the commonest of natural phenomena, when fairly seen. John Muir
This grand show is eternal. It is always sunrise somewhere; the dew is never all dried at once; a shower is forever falling; vapor is ever rising. Eternal sunrise, eternal sunset, eternal dawn and gloaming, on sea and continents and islands, each in its turn, as the round earth rolls. John Muir
Winds are advertisements of all they touch, however much or little we may be able to read them; telling their wanderings even by their scents alone. John Muir
Storms of every sort, torrents, earthquakes, cataclysms, 'convulsions of nature,' etc., however mysterious and lawless at first sight they may seem, are only harmonious notes in the song of creation, varied expressions of God's love. John Muir
John Muir Mountain Quotes
We are now in the mountains and they are in us, kindling enthusiasm, making every nerve quiver, filling every pore and cell of us. John Muir
One day's exposure to mountains is better than cartloads of books. See how willingly Nature poses herself upon photographers' plates. No earthly chemicals are so sensitive as those of the human soul. John Muir
Oh, these vast, calm, measureless mountain days, days in whose light everything seems equally divine, opening a thousand windows to show us God. John Muir
Few places in this world are more dangerous than home. Fear not, therefore, to try the mountain passes. They will kill care, save you from deadly apathy, set you free, and call forth every faculty into vigorous, enthusiastic action. John Muir
People ought to saunter in the mountains – not hike! Do you know the origin of that word 'saunter?' It's a beautiful word. Away back in the Middle Ages people used to go on pilgrimages to the Holy Land, and when people in the villages through which they passed asked where they were going, they would reply, 'A la sainte terre,' 'To the Holy Land.' And so they became known as sainte-terre-ers or saunterers. Now these mountains are our Holy Land, and we ought to saunter through them reverently, not 'hike' through them. John Muir
At the touch of this divine light, the mountains seemed to kindle to a rapt, religious consciousness, and stood hushed like devout worshippers waiting to be blessed. John Muir
To dine with a glacier on a sunny day is a glorious thing and makes common feast of meat and wine ridiculous. The glacier eats hills and sunbeams. John Muir
But the darkest scriptures of the mountains are illumined with bright passages of love that never fail to make themselves felt when one is alone. John Muir
Another glorious Sierra day in which one seems to be dissolved and absorbed and sent pulsing onward we know not where. Life seems neither long nor short, and we take no more heed to save time or make haste than do the trees and stars. This is true freedom, a good practical sort of immortality. John Muir
Climb the mountains and get their good tidings. Nature's peace will flow into you as sunshine flows into trees. The winds will blow their own freshness into you, and the storms their energy, while cares will drop off like autumn leaves John Muir
Even the sick should try these so-called dangerous passes, because for every unfortunate they kill, they cure a thousand. John Muir
Nevermore, however weary, should one faint by the way who gains the blessings of one mountain day; whatever his fate, long life, short life, stormy or calm, he is rich forever. John Muir
In every walk with nature, one receives far more than he seeks. John Muir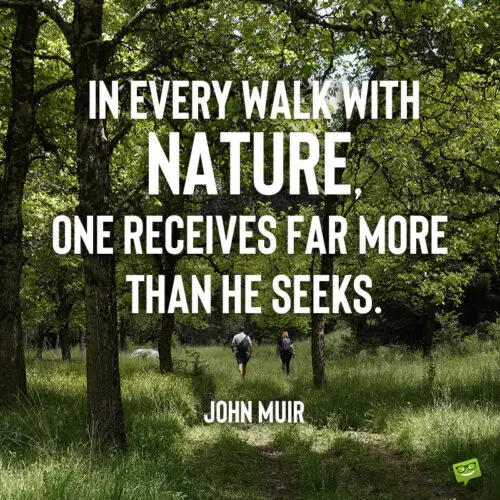 John Muir Quotes about Trees
Come to the woods, for here is rest. There is no repose like that of the green deep woods. Sleep in forgetfulness of all ill. John Muir
If people in general could be got into the woods, even for once, to hear the trees speak for themselves, all difficulties in the way of forest preservation would vanish. John Muir
If one pine were placed in a town square, what admiration it would excite! Yet who is conscious of the pine-tree multitudes in the free woods, though open to everybody? John Muir
I never saw a discontented tree. They grip the ground as though they liked it, and though fast rooted they travel about as far as we do. They go wandering forth in all directions with every wind, going and coming like ourselves, traveling with us around the sun two million miles a day, and through space heaven knows how fast and far! John Muir
Any fool can destroy trees. They cannot run away; and if they could, they would still be destroyed – chased and hunted down as long as fun or a dollar could be got out of their bark hides, branching horns, or magnificent bole backbones. John Muir
A few minutes ago every tree was excited, bowing to the roaring storm, waving, swirling, tossing their branches in glorious enthusiasm like worship. But though to the outer ear these trees are now silent, their songs never cease. John Muir
Famous John Muir Quotes
Most people are on the world, not in it — have no conscious sympathy or relationship to anything about them — undiffused, separate, and rigidly alone like marbles of polished stone, touching but separate. John Muir
The care-laden commercial lives we lead close our eyes to the operations of God as a workman, though openly carried on that all who will look may see. John Muir
Wander a whole summer if you can…time will not be taken from the sum of your life. Instead of shortening, it will definitely lengthen it and make you truly immortal. John Muir
I only went out for a walk and finally concluded to stay out till sundown, for going out, I found, was really going in. I ran home in the moonlight with firm strides; for the sun-love made me strong. John Muir
Only by going alone in silence, without baggage, can one truly get into the heart of the wilderness. All other travel is mere dust and hotels and baggage and chatter. John Muir
In God's wildness lies the hope of the world – the great fresh unblighted, unredeemed wilderness. The galling harness of civilization drops off, and wounds heal ere we are aware. John Muir
The rivers flow not past, but through us, thrilling, tingling, vibrating every fiber and cell of the substance of our bodies, making them glide and sing. John Muir
The world, we are told, was made especially for man – a presumption not supported by all the facts. A numerous class of men are painfully astonished whenever they find anything, living or dead, in all God's universe, which they cannot eat or render in some way what they call useful to themselves. John Muir
Rocks and waters, etc., are words of God, and so are men. We all flow from one fountain Soul. All are expressions of one Love. John Muir
No synonym for God is so perfect as Beauty. Whether as seen carving the lines of the mountains with glaciers, or gathering matter into stars, or planning the movements of water, or gardening – still all is Beauty! John Muir
I have this one big, well-defined faith for humanity as a workman, that the time is coming when every article of manufacture will be as purely a work of God as are these mountains and pine trees and bonnie loving flowers. John Muir
Another glorious day, the air as delicious to the lungs as nectar to the tongue; indeed the body seems one palate, and tingles equally throughout. John Muir
All that is necessary to make any landscape visible and therefore impressive is to regard it from a new point of view or from an old one with our head upside down — then we behold a new heaven and earth and are born again as if we had gone on a pilgrimage to some far off holy land. John Muir
I am learning to live close to the lives of my friends without ever seeing them. No miles of any measurement can separate your soul from mine. John Muir
All the wild world is beautiful, and it matters but little where we go, to highlands or lowlands, woods or plains, on the sea or land or down among the crystals of waves or high in a balloon in the sky; through all the climates, hot or cold, storms and calms, everywhere and always we are in God's eternal beauty and love. So universally true is this, the spot where we chance to be always seems the best. John Muir
All the world was before me and every day was a holiday, so it did not seem important to which one of the world's wildernesses I first should wander. John Muir
As long as I live, I'll hear waterfalls and birds and winds sing. I'll interpret the rocks, learn the language of flood, storm, and the avalanche. I'll acquaint myself with the glaciers and wild gardens, and get as near the heart of the world as I can. John Muir
At half-past two o'clock of a moonlit morning in March, I was awakened by a tremendous earthquake… I ran out of my cabin, both glad and frightened, shouting, A noble earthquake! A noble earthquake! feeling sure I was going to learn something. John Muir
But it is in the darkest nights, when storms are blowing and the agitated waves are phosphorescent, that the most impressive displays are made. John Muir
I have never yet happened upon a trace of evidence that seemed to show that any one animal was ever made for another as much as it was made for itself. John Muir
I'm losing the precious days. I am degenerating into a machine for making money. I am learning nothing in this trivial world of men. I must break away and get out into the mountains to learn the news. John Muir
Surely all God's people, however serious or savage, great or small, like to play. Whales and elephants, dancing, humming gnats, and invisibly small mischievous microbes – all are warm with divine radium and must have lots of fun in them. John Muir
Quotes for John Muir Day
When we try to pick out anything by itself, we find it hitched to everything else in the Universe. John Muir
The clearest way into the Universe is through a forest wilderness. John Muir
When one is alone at night in the depths of these woods, the stillness is at once awful and sublime. Every leaf seems to speak. John Muir
I know that our bodies were made to thrive only in pure air, and the scenes in which pure air is found. John Muir
Going to the woods is going home, for I suppose we came from the woods originally. John Muir
I care to live only to entice people to look at Nature's loveliness. John Muir
We all travel the Milky Way together, trees and men. John Muir
Earth has no sorrow that earth cannot heal. John Muir
Between every two pine trees there is a door leading to a new way of life. John Muir
Everybody needs beauty as well as bread, places to play in and pray in, where nature may heal and give strength to body and soul. John Muir
Take a course in good water and air; and in the eternal youth of Nature you may renew your own. Go quietly, alone; no harm will befall you. John Muir
Every morning, arising from the death of sleep, the happy plants and all our fellow animal creatures great and small, and even the rocks, seemed to be shouting, Awake, awake, rejoice, rejoice, come love us and join in our song. Come! Come! John Muir
Keep close to Nature's heart… and break clear away, once in a while, and climb a mountain or spend a week in the woods. Wash your spirit clean… John Muir
The battle we have fought and are still fighting for the forests is a part of the eternal conflict between right and wrong, and we cannot expect to see the end of it.… So we must count on watching and striving for these trees, and should always be glad to find anything so surely good and noble to strive for. John Muir
Pollution, defilement, squalor are words that never would have been created had man lived conformably to Nature. Birds, insects, bears die as cleanly and are disposed of as beautifully as flies. The woods are full of dead and dying trees, yet needed for their beauty to complete the beauty of the living…. How beautiful is all Death! John Muir
Wherever we go in the mountains, or indeed in any of God's wild fields, we find more than we seek. John Muir
Thousands of tired, nerve-shaken, over-civilized people are beginning to find out that going to the mountains is going home; that wildness is a necessity; and that mountain parks and reservations are useful not only as fountains of timber and irrigating rivers, but as fountains of life. John Muir
You May Also Like:
Steps Towards Freedom | 86 Adventurous Walking Quotes
The Food We Choose Make a Difference | 64 Healthy Eating Quotes
80 Simple Life Quotes to Make Everything Less Complicated
Happy Earth Day! | Quotes and Wishes