131 Nature Quotes to Remind Us of its Importance for All Living Things
Long before the extensive use of the Greek word "ecology" (which means "referring to your home"), the value of our natural habitat was emphasized by several personalities throughout the centuries.
The importance of protecting nature and the deeper meaning of mankind's connection to it both become clearer through these great quotes.

Best Nature Quotes
In all things of nature there is something of the marvelous. Aristotle
The clearest way into the Universe is through a forest wilderness.
The earth has music for those who will listen.
I go to nature to be soothed and healed, and to have my senses put in order.
I like it when a flower or a little tuft of grass grows through a crack in the concrete. It's so f*** heroic.
In the spring, at the end of the day, you should smell like dirt.
The love for all living creatures is the most noble attribute of man.
We are immensed in beauty, but our eyes have no clear vision.
Nature is pleased with simplicity. And nature is no dummy.
Wild roses are fairest, and nature a better gardener than art.
Take nothing but memories, leave nothing but footprints!
Nature cannot be commanded except by being obeyed.
Nothing is invented, for it's written in nature first.
Great things are done when men and mountains meet. William Blake
But in my opinion, all things in nature occur mathematically.
If you wish to know the divine, feel the wind on your face and the warm sun on your hand. Buddha
Come quickly. You mustn't miss the dawn. It will never be just like this again.
I perceive God everywhere in His works. I sense Him in me; I see Him all around me.
Love the world as your own self; then you can truly care for all things. Lao Tzu
In nature there are neither rewards nor punishments; there are consequences. Robert G. Ingersoll
Nature is my manifestation of God. I go to nature every day for inspiration in the day's work.
It's hard not to stand in awe and enchantment with the beauty in which nature expresses herself.
Nature is a mutable cloud which is always and never the same.
Nothing is too wonderful to be true if it be consistent with the laws of nature.
In nature nothing is created, nothing is lost, everything changes.
My father considered a walk among the mountains as the equivalent of churchgoing.
I took a walk in the woods and came out taller than the trees. Henry David Thoreau
Nature, red in tooth and claw. Alfred Lord Tennyson
Nature does not create works of art. It is we, and the faculty of interpretation peculiar to the human mind, that see art.
For most of history, man has had to fight nature to survive; in this century he is beginning to realize that, in order to survive, he must protect it.
Nature cares nothing for logic, our human logic: she has her own, which we do not recognize and do not acknowledge until we are crushed under its wheel.
Short Nature Quotes
The mountains are calling and I must go.
Wildness is the preservation of the World.
Adopt the pace of nature: her secret is patience.
Nature uses as little as possible of anything.
The poetry of the earth is never dead.
In nature nothing exists alone.
Nature does nothing uselessly.
Nature is not a place to visit. It is home.
I believe in God, only I spell it Nature.
Everything in excess Is opposed by nature.
Wildness is a necessity.
Nature is the art of God. Dante Alighieri
He that plants trees loves others besides himself.
Choose only one master – Nature. Rembrandt
The world owes you nothing. It was here first. Mark Twain
The creation of a thousand forests is in one acorn.
She shows us only surfaces but Nature is a million fathoms deep.
Everything beautiful has a mark of eternity.
Between every two pines there is a doorway to a new world. John Muir
Every flower is a soul blossoming in nature.
Going to the woods is going home.
For life is a journey through a wilderness.
Realize that everything connects to everything else.
Take only what you need and leave the land as you found it. Arapaho proverb
Never does Nature say one thing and Wisdom another.
Be kind to everything that lives. Unknown
Without trees, we cannot inhabit the earth.
Inspirational Nature Quotes
Live in each season as it passes; breathe the air, drink the drink, taste the fruit, and resign yourself to the influence of the earth.
The world's big and I want to have a good look at it before it gets dark.
No spring nor summer beauty hath such grace as I have seen in one autumnal face.
Nature's creative power is far beyond man's instinct of destruction.
How strange that nature does not knock, and yet does not intrude! Emily Dickinson
The goal of life is to make your heartbeat match the beat of the universe, to match your nature with Nature.
I know of no pleasure deeper than that which comes from contemplating the natural world and trying to understand it.
Some see nature all ridicule and deformity… and some scarce see nature at all. But to the eyes of the man of imagination, nature is imagination itself.
Art is the child of nature in whom we trace the features of the mothers face.
Climb the mountains and get their good tidings. Nature's peace will flow into you as sunshine flows into trees. The winds will blow their own freshness into you, and the storms their energy, while cares will drop away from you like the leaves of Autumn.
I believe a leaf of grass is no less than the journey-work of the stars. Walt Whitman
Nature is orderly. That which appears to be chaotic in nature is only a more complex kind of order.
My religion is nature. That's what arouses those feelings of wonder and mysticism and gratitude in me.
Only the mountain has lived long enough to listen objectively to the howl of the wolf.
If there is poetry in my book about the sea, it is not because I deliberately put it there, but because no one could write truthfully about the sea and leave out the poetry.
There is something infinitely healing in the repeated refrains of nature – the assurance that dawn comes after night, and spring after winter. Rachel Carson
We are now in the mountains and they are in us, kindling enthusiasm, making every nerve quiver, filling every pore and cell of us.
There is not a fragment in all nature, for every relative fragment of one thing is a full harmonious unit in itself. John Muir
Life seems neither long nor short, and we take no more heed to save time or make haste than do the trees and stars. This is true freedom, a good practical sort of immortality.
When one loses the deep intimate relationship with nature, then temples, mosques and churches become important.
Man is a phase of nature, and only as he is related to nature does he matter, does he have any account whatever above the dust.
In the woods too, a man casts off his years, as the snake his slough, and at what period soever of life, is always a child. In the woods, is perpetual youth.
If you will stay close to nature, to its simplicity, to the small things hardly noticeable, those things can unexpectedly become great and immeasurable.
Civilization and the life of nations are governed by the same laws as prevail throughout nature and organic life.
All my life through, the new sights of nature made me rejoice like a child. Marie Curie
Nature does not ask your permission, she has nothing to do with your wishes, and whether you like her laws or dislike them, you are bound to accept her as she is, and consequently all her conclusions.
Surely there is something in the unruffled calm of nature that overawes our little anxieties and doubts; the sight of the deep-blue sky and the clustering stars above seems to impart a quiet to the mind.
When you enter a grove peopled with ancient trees, higher than the ordinary, and shutting out the sky with their thickly inter-twined branches, do not the stately shadows of the wood, the stillness of the place, and the awful gloom of this doomed cavern then strike you with the presence of a deity?
Consider the subtleness of the sea; how its most dreaded creatures glide under water, unapparent for the most part, and treacherously hidden beneath the loveliest tints of azure….. Consider all this; and then turn to this green, gentle , and most docile earth; consider them both, the sea and the land; and do you not find a strange analogy to something in yourself?
We did not think of the great open plains, the beautiful rolling hills and the winding streams with tangled growth, as 'wild'. Only to the white man was nature a 'wilderness' and only to him was the land 'infested' with 'wild' animals and 'savage' people. To us it was home. Earth was beautiful and we were surrounded with the blessings of the Great Mystery. Chief Standing River of the Lakota
In every walk with nature, one receives far more than he seeks. John Muir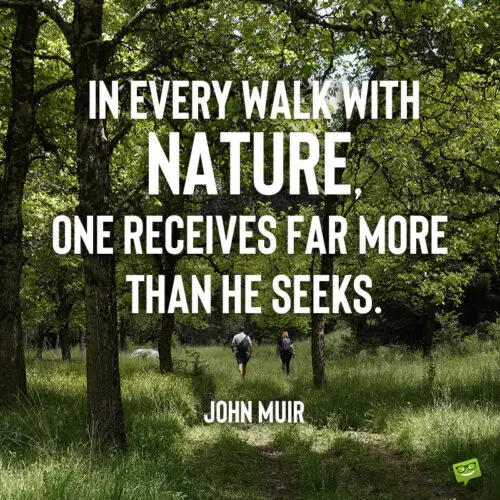 Protect the Nature Quotes
The greatest danger to our future is apathy.
Nothing dollarable is safe.
Water and air, the two essential fluids on which all life depends, have become global garbage cans.
But man is a part of nature, and his war against nature is inevitably a war against himself.
The more clearly we can focus our attention on the wonders and realities of the universe about us, the less taste we shall have for destruction.
Growth for the sake of growth is the ideology of the cancer cell.
Let us give Nature a chance; she knows her business better than we do.
The wild places are where we began. When they end, so do we.
Preserve and cherish the pale blue dot, the only home we've ever known. Carl Sagan
Ethical behavior is doing the right thing when no one else is watching- even when doing the wrong thing is legal.
Here we are, the most clever species ever to have lived. So how is it we can destroy the only planet we have?
Nature is not our enemy, to be raped and conquered. Nature is ourselves, to be cherished and explored.
A true conservationist is a man who knows that the world is not given by his fathers, but borrowed from his children.
The least movement is of importance to all nature. The entire ocean is affected by a pebble. Blaise Pascal
Nature is an expert in cost-benefit analysis,' she says. 'Although she does her accounting a little differently. As for debts, she always collects in the long run…
The truth is: the natural world is changing. And we are totally dependent on that world. It provides our food, water and air. It is the most precious thing we have and we need to defend it.
Natural Beauty Quotes
Nature is painting for us, day after day, pictures of infinite beauty if only we have the eyes to see them.
…and then, I have nature and art and poetry, and if that is not enough, what is enough?
The richness I achieve comes from nature, the source of my inspiration. Claude Monet
I care to live only to entice people to look at Nature's loveliness. John Muir
Our task must be to free ourselves… by widening our circle of compassion to embrace all living creatures and the whole of nature and it's beauty.
I cannot endure to waste anything so precious as autumnal sunshine by staying in the house.
True definition of science: the study of the beauty of the world.
If you truly love nature, you will find beauty everywhere. Vincent Van Gogh
Looking at beauty in the world, is the first step of purifying the mind.
It is a beautiful and delightful sight to behold the body of the Moon.
I don't ask for the meaning of the song of a bird or the rising of the sun on a misty morning. There they are, and they are beautiful.
I tried to discover, in the rumor of forests and waves, words that other men could not hear, and I pricked up my ears to listen to the revelation of their harmony.
I am the lover of uncontained and immortal beauty. In the wilderness, I find something more dear and connate than in streets or villages. In the tranquil landscape, and especially in the distant line of the horizon, man beholds somewhat as beautiful as his own nature.
I found the poems in the fields,
And only wrote them down.

Nature Love Quotes
Study nature, love nature, stay close to nature. It will never fail you.
Like music and art, love of nature is a common language that can transcend political or social boundaries.
I never really understood the word 'loneliness'. As far as I was concerned, I was in an orgy with the sky and the ocean, and with nature.
The garden suggests there might be a place where we can meet nature halfway.
To sit in the shade on a fine day, and look upon verdure is the most perfect refreshment.
The lover of nature is he whose inward and outward senses are still truly adjusted to each other; who has retained the spirit of infancy even into the era of manhood.
One can no more approach people without love than one can approach bees without care. Such is the quality of bees. Leo Tolstoy
To me a lush carpet of pine needles or spongy grass is more welcome than the most luxurious Persian rug. Helen Keller
If you go off into a far, far forest and get very quiet, you'll come to understand that you're connected with everything. Alan Watts
I am in love with this world… I have climbed its mountains, roamed its forests, sailed its waters, crossed its deserts, felt the sting of its frosts, the oppression of its heats, the drench of its rains, the fury of its winds, and always have beauty and joy waited upon my goings and comings.
Mother Nature Quotes
Now I see the secret of making the best person: it is to grow in the open air and to eat and sleep with the earth.
Everybody needs beauty as well as bread, places to play in and pray in, where nature may heal and give strength to body and soul. John Muir
If you can't be in awe of Mother Nature, there's something wrong with you. Alex Trebek
Mother Nature is a self-taught engineer.
Mother Nature is the mother of all mothers, so let's congratulate her too on Mothers Day today!
Nations who respect the Mother Nature deserve all kinds of respect!
The simplicity of life is universal. Mother Nature is a wonderful teacher.
Mother Nature is always one step ahead when it comes to beauty. She's quite the artist.
If we surrendered
to earth's intelligence
we could rise up rooted, like trees.

You May Also Like:
50 Insightful Famous Quotes about the Environment
Feel It, Don't Just Get Wet | 120 Rain Quotes
55+ Colorful Flower Captions to Make Your Instagram Posts Bloom