Love Truth But Pardon Error | 61 Voltaire Quotes
In this post, we shall take a trip down memory lane to 18th century France to feed off the thoughts of one of the most admired philosophers of the Enlightenment era – Voltaire.
Born as François-Marie Arouet on November 21, 1694 in Paris, Voltaire was one of France's greatest philosophers, poets and historians. An epitome of critical reasoning and writing, Voltaire championed freedom and civil rights of the downtrodden of his time. This resulted in him locking horns with the religious and political establishments of his time. Throughout his lifetime, Voltaire wrote over 20,000 letters. He also has over 2,000 pamphlets and books to his credit. Some of his most notable works include 1759's Candide, 1764's Dictionnaire philosophique and 1767's L'Ingénu. Voltaire passed away on May 30, 1778 at the age of 88.
Here are some of Voltaire's most memorable and thought-provoking quotes that embrace a life of freedom and beauty:

---
Short Voltaire Quotes
The Not So Common Common Senses
Paradise is where I am.
Love truth, but pardon error.
Perfect is the enemy of good.
Minds differ still more than faces.
Common sense is not so common.
Tears are the silent language of grief.
Prejudices are what fools use for reason.
The more a man knows, the less he talks.
Injustice in the end produces independence.
Every man is guilty of all the good he did not do.
A long dispute means that both parties are wrong.
He who thinks himself wise. O heavens! Is a great fool.
It is difficult to free fools from the chains they revere.
Judge a man by his questions rather than his answers.
It is not enough to conquer; one must learn to seduce.
If God did not exist, it would be necessary to invent him.
It is not love that should be depicted as blind, but self-love.
Work spares us from three evils: boredom, vice, and need.
There are truths which are not for all men, nor for all times.
When it comes to money, everybody is of the same religion.
Paradise was made for tender hearts; hell, for loveless hearts.
All the reasoning of men are not worth one sentiment of women.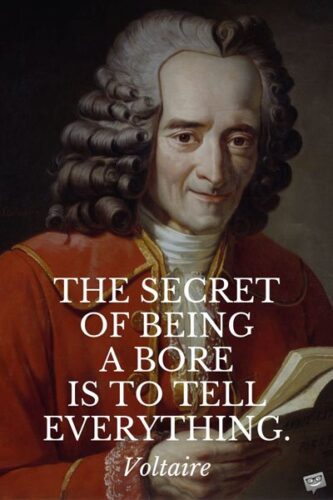 Inspirational Voltaire Quotes
Singing in the Lifeboats
Man is free at the moment he wishes to be.
Faith consists in believing what reason cannot.
I don't know where I am going, but I am on my way.
I've decided to be happy because it is good for my health.
The most important decision you make is to be in a good mood.
Life is too short, time too valuable, to spend it on what is useless.
Cherish those who seek the truth but beware of those who find it.
Life is a shipwreck, but we must not forget to sing in the lifeboats.
Think for yourself and let others enjoy the privilege of doing so too.
Perfection is attained by slow degrees; it requires the hand of time.
Love is a canvas furnished by nature and embroidered by imagination.
Optimism is the madness of maintaining that all is well when it is wrong.
God gave us the gift of life; it is up to us to give ourselves the gift of living well.
The art of medicine consists in amusing the patient while nature cures the disease.
We are all full of weakness and errors; let us mutually pardon each other our follies.
Beware of the words internal security, for they are the eternal cry of the oppressor.
Life is bristling with thorns, and I know no other remedy than to cultivate one's garden.
Appreciation is a wonderful thing: it makes what is excellent in others belong to us as well.
Let us read, and let us dance; these two amusements will never do any harm to the world.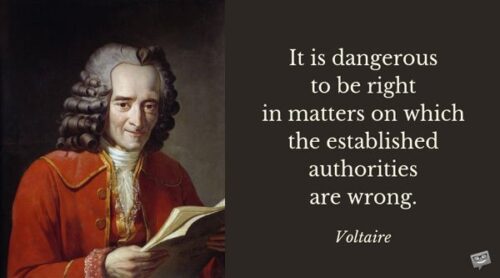 Longer Voltaire Quotes
Of Men and Monsters
Superstition is to religion what astrology is to astronomy the mad daughter of a very wise mother.
Madness is to think of too many things in succession too fast, or of one thing too exclusively.
The pursuit of what is true and the practices of what is good are the two most important objects of philosophy.
The only way to comprehend what mathematicians mean by Infinity is to contemplate the extent of human stupidity.
Democracy is just a filler for textbooks! Do you actually believe that public opinion influences the government?
It is forbidden to kill; therefore all murderers are punished unless they kill in large numbers and to the sound of trumpets.
It is clear that the individual, who persecutes a man, his brother, because he is not of the same opinion, is a monster.
Fools admire everything in an author of reputation. For my part, I read only to please myself. I like only that which serves my purpose.
Our wretched species is so made that those who walk on the well-trodden path always throw stones at those who are showing a new road.
It is an infantile superstition of the human spirit that virginity would be thought a virtue and not the barrier that separates ignorance from knowledge.
The more you read without thinking, the more you think you know a lot but the more you meditate, the more you see that you know very little.
Each player must accept the cards life deals him or her: but once they are in hand, he or she alone must decide how to play the cards in order to win the game.
What can you say to a man who tells you he prefers obeying God rather than men, and that as a result he's certain he'll go to heaven if he cuts your throat?
As long as there are rogues and fools, there will be religious. Ours is unquestionably the most ridiculous and most absurd and bloodiest ever infected the world.
Meditation is the dissolution of thoughts in Eternal awareness or pure consciousness without objectification, knowing without thinking, merging finitude in infinity.
What we find in books is like the fire in our hearts. We fetch it from our neighbors, we kindle it at home, we communicate it to others, and it becomes the property of all.
Life is thickly sown with thorns, and I know no other remedy than to pass quickly through them. The longer we dwell on our misfortunes, the greater I their power to harms us.
And ask each passenger to tell his story, and if there is one of them all who has not cursed his existence many times, and said to himself over and over again that he was the most miserable of men, I give you permission to throw me head-first into the sea.
Animals have these advantages over man: they never hear the clock strike, they die without any idea of death, they have no theologians to instruct them, their last moments are not disturbed by unwelcome and unpleasant ceremonies, their funerals cost them nothing, and no one starts lawsuits over their wills.
It requires twenty years for a man to rise from the vegetable state in which he is within his mother's womb, and from the pure animal state which is the lot of his early childhood, to the state when the maturity of reason begins to appear. It has required thirty centuries to learn a little about his structure. It would need eternity to learn something about his soul. It takes an instant to kill him.
---
Most Famous Book by Voltaire

You may also like:
Oscar Wilde Quotes | His Famous, Witty Words on Love and Life
124 Albert Camus Quotes from When Humanity Lived a Pandemic
The Top 50 Kahlil Gibran Quotes
71 Niccolò Machiavelli Quotes on Doing Good