The Top 50 Kahlil Gibran Quotes
Khalil Gibran, also spelled Kahlil, was a Lebanese-American writer, essayist, philosopher, poet, painter and visual artist. He was born on January 6, 1883, into a Maronite Catholic family from the historical town of Bsharri in northern Mount Lebanon Mutasarrifate, which was then a semi-autonomous part of the Ottoman Empire.
When he was 12 years old, Gibran emigrated with his mother and siblings to Boston in 1895 while his father remained in Lebanon to address financial matters. Khalil Gibran started his formal education in the USA. Due to a mistake at a school, he was registered as Kahlil Gibran, and he continued using that spelling from then onwards. Other sources use Khalil Gibran, reflecting the typical English spelling of the forename Khalil. He was soon noticed by the avant-garde artist and photographer, Fred Holland Day, under whose mentorship he began to flourish.
His mother, however, felt that he was being influenced too much by western culture and she sent him back to Beirut when he was 15 years old, so that he would learn more about his heritage. On his return to the USA, he resumed painting and had his debut exhibition at the age of twenty-one. Subsequently, he began to write, first in Arabic, later in English. His writings combined elements of the two heritages and brought him lasting fame.
Gibran's best-known work is The Prophet, a book composed of 26 poetic essays. Its popularity grew significantly during the 1960s with the American counterculture and then with the flowering of the New Age movements. It has remained popular with these and with the wider population to this day. Since it was first published in 1923, The Prophet has never been out of print. Having been translated into more than 40 languages, it was one of the bestselling books of the twentieth century in the United States.
Although Khalil Gibran is recognized more as an author than an artist, it is important to remember that he started as a visual artist and during his life he had drawn more than seven hundred images. In the Arab world, Gibran is regarded as a literary and political rebel. His romantic style was at the heart of a renaissance in modern Arabic literature, especially prose poetry, breaking away from the classical school. In Lebanon, he is still celebrated as a literary hero.
Despite his love for his birthplace, he was destined to spend most of his life away from his beloved motherland, mostly in the USA. Nonetheless, he always remained a Lebanese citizen and the welfare of his homeland was close to his heart.
Kahlil Gibran died on April 10, 1931, in New York City, at the age of 48. The causes of his death were cirrhosis of the liver and tuberculosis due to prolonged serious alcoholism.
Gibran is the third best-selling poet of all time, behind Shakespeare and Laozi (also known as Lao Tzu).
Short Kahlil Gibran Quotes
You talk when you cease to be at peace with your thoughts.
Beauty is not in the face; beauty is a light in the heart.
We are all like the bright moon, we still have our darker side.
Generosity is giving more than you can, and pride is taking less than you need.
To belittle, you have to be little.
Friendship is always a sweet responsibility, never an opportunity.
Beauty is eternity gazing at itself in a mirror.
Trust in dreams, for in them is the hidden gate to eternity.
We choose our joys and sorrows long before we experience them.
For life and death are one, even as the river and the sea are one.
Sadness is but a wall between two gardens.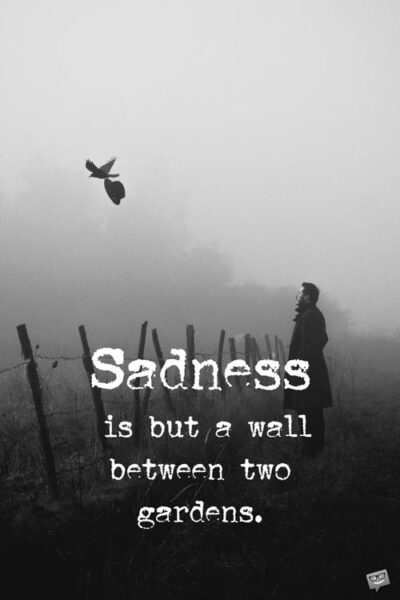 Forgetfulness is a form of freedom.
An eye for an eye, and the whole world would be blind.
For what is evil but good tortured by its own hunger and thirst?
Inspirational Kahlil Gibran Quotes
Out of suffering have emerged the strongest souls; the most massive characters are seared with scars.
You give but little when you give of your possessions.
It is when you give of yourself that you truly give.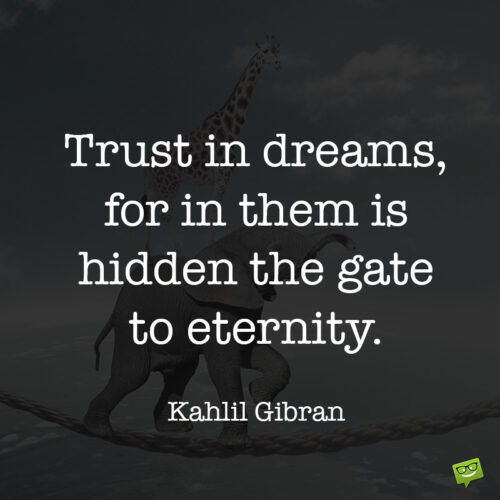 The real test of good manners is to be able to put up with bad manners pleasantly.
I slept and I dreamed that life is all joy. I woke and I saw that life is all service. I served and I saw that service is joy.
Your daily life is your temple and your religion. When you enter into it take with you your all.
For in the dew of little things the heart finds its morning and is refreshed.
Tenderness and kindness are not signs of weakness and despair, but manifestations of strength and resolution.
I am ignorant of absolute truth. But I am humble before my ignorance and therein lies my honor and my reward.
Life without love is like a tree without blossoms or fruit.
Progress lies not in enhancing what is, but in advancing toward what will be.
Romantic Kahlil Gibran Quotes
One day you will ask me which is more important? My life or yours? I will say mine and you will walk away not knowing that you are my life.
If you love somebody, let them go, for if they return, they were always yours. If they don't, they never were.
Love knows not its own depth until the hour of separation
Forget not that the earth delights to feel your bare feet and the winds long to play with your hair.
You may forget with whom you laughed, but you will never forget with whom you wept.
It takes a minute to have a crush on someone, an hour to like someone, and a day to love someone… but it takes a lifetime to forget someone.
Insightful Kahlil Gibran Quotes
I have learned silence from the talkative, toleration from the intolerant, and kindness from the unkind; yet strange, I am ungrateful to these teachers.
The timeless in you is aware of life's timelessness. And knows that yesterday is but today's memory and tomorrow is today's dream.
Music is the language of the spirit. It opens the secret of life bringing peace, abolishing strife.
To understand the heart and mind of a person, look not at what he has already achieved, but at what he aspires to.
When you reach the end of what you should know, you will be at the beginning of what you should sense.
The optimist sees the rose and not its thorns; the pessimist stares at the thorns, oblivious to the rose.
I have found both freedom and safety in my madness; the freedom of loneliness and the safety from being understood, for those who understand us enslave something in us.
Your pain is the breaking of the shell that encloses your understanding… And could you keep your heart in wonder at the daily miracles of your life, your pain would not seem less wondrous than your joy
The eye of a human being is a microscope, which makes the world seem bigger than it really is.
Your living is determined not so much by what life brings to you as by the attitude you bring to life; not so much by what happens to you as by the way your mind looks at what happens.
Poetic Kahlil Gibran Quotes
Trees are poems that the earth writes upon the sky.
Doubt is a pain too lonely to know that faith is his twin brother.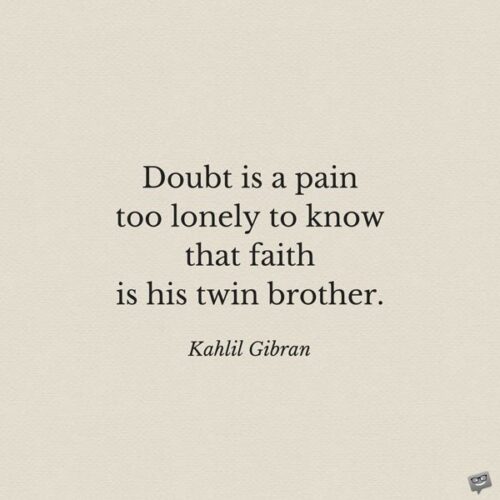 Solitude has soft, silky hands, but with strong fingers it grasps the heart and makes it ache with sorrow.
If you reveal your secrets to the wind,
you should not blame the wind for
revealing them to the trees.
Trees are poems the earth writes upon the sky, We fell them down and turn them into paper,
That we may record our emptiness.
Hearts united in pain and sorrow
will not be separated by joy and happiness.
Bonds that are woven in sadness
are stronger than the ties of joy and pleasure.
Love that is washed by tears
will remain eternally pure and faithful.
Long Kahlil Gibran Quotes
Let there be spaces in your togetherness, And let the winds of the heavens dance between you. Love one another but make not a bond of love: Let it rather be a moving sea between the shores of your souls. Fill each other's cup but drink not from one cup. Give one another of your bread but eat not from the same loaf. Sing and dance together and be joyous, but let each one of you be alone, Even as the strings of a lute are alone though they quiver with the same music. Give your hearts, but not into each other's keeping. For only the hand of Life can contain your hearts. And stand together, yet not too near together: For the pillars of the temple stand apart, And the oak tree and the cypress grow not in each other's shadow.
Your children are not your children.
They are sons and daughters of Life's longing for itself.
They come through you but not from you.
And though they are with you yet they belong not to you.
You may give them your love but not your thoughts,
For they have their own thoughts.
You may house their bodies but not their souls,
For their souls dwell in the house of tomorrow, which you cannot visit, not even in your dreams.
You may strive to be like them, but seek not to make them like you.
For life goes not backward nor tarries with yesterday.
You are the bows from which your children as living arrows are sent forth.
The archer sees the make upon the path of the infinite, and He bends you with His might that His arrows may go swift and far.
Let your bending in the archer's hand be for gladness.
For even as He loves the arrow that flies, so He also loves the bow that is stable.
You may also like:
103 Mahatma Gandhi Quotes about Nonviolence, Truth and Love
Simple Acts of Kindness | Famous Compassion Quotes
92 Quotes About Justice (That Will Make You Question What Is Fair)