80 True Friendship Quotes About Always Counting on Them
Love is a bond that really holds us together, and a value that is praised by science, religions, and various philosophies alike. However, it's the intimate but non-sexual relationship with those we consider real friends that completes the picture of the social grid that supports us in daily life. This collection of true friendship quotes by famous people and prominent personalities will emphasize the role of friends.
As life often gets hasty and days find us in a rush, acquaintances in our social networks are many, but it's the true friends in our life that provide us a sentimental security we need. The power of true friendship is so great that it often takes a really short session where we're meeting or chatting with a friend to really give us what we need from friends, which is acceptance, communication, and understanding.
Share these quotes about true friendship to highlight the value of real friends and urge people to deepen and strengthen their friendly relationships. We need them much more than we often believe.
Table of Contents
Short Quotes About What True Friendship really Is
Friendship is so important and widely accepted that even a few words are enough to capture its true picture.
Real Friends Quotes To Use As Captions To Your Best Photo Posts
When friends are in the frame, our photos shine. It's then that we need a caption that's worthy of their value to us.
Inspirational True Friendship Quotes About Friends We Value
These famous quotes about true friendship will inspire everyone and make them appreciate true friends even more.
Heart Touching True Friendship Quotes
Being close doesn't have to be erotic, so intimacy between true friends, especially men who might feel socially uncomfortable with it, should be accepted and sought after.
If you like it, pin it!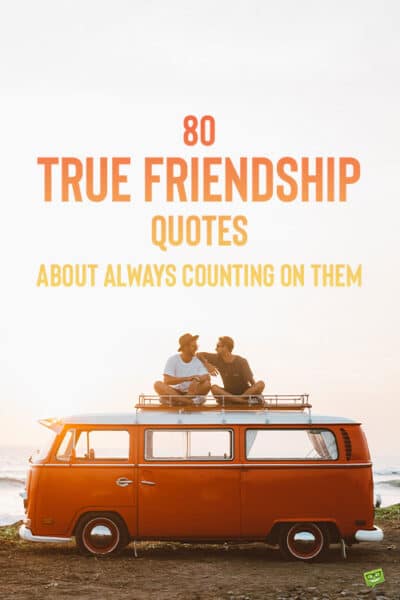 You may also like:
80+ Funny Friendship Quotes for Crazy Best Friend Moments
The 200+ Most Beautiful Friendship Quotes
Best 155 Loyalty Quotes About the Power of Commitment