The Diary That Changed The World | 132 Anne Frank Quotes
Arguably one of the world's most famous Jewish girls and certainly the writer of one of the most read diaries, Anne Frank is still remembered and celebrated around the world. Her words have given countless people hope where they thought they had none, all because of how she persevered in the face of the most horrific circumstances. Anne's German-Dutch family with Jewish origins was forced to move out of Nazi-controlled Germany to the Amsterdam area in the Netherlands for most of her life. When the Nazis took control of the Netherlands, Anne's father Otto Frank took his family into hiding in an upstairs room concealed behind a bookcase. It was in this Secret Annex that Anne would pen her famous diary over the course of two years before she and her family were discovered by the Gestapo and taken to concentration camps. Anne was sent to Auschwitz with her sister Margot, eventually being transferred to Bergen-Belsen, where they both died.
Anne Frank was a remarkable person who had a lot to say. Although she may have met a tragic and unjust end, her words live on and her impact will never leave this world. Read and share Anne Frank's quotes to keep the dream of one brave young girl alive today.

Best Anne Frank Quotes
Look at how a single candle can both defy and define the darkness. Anne Frank
How wonderful it is that nobody needs wait a single moment before starting to improve the world. Anne Frank
No one has ever become poor by giving. Anne Frank
The young are not afraid of telling the truth. Anne Frank
Think of all the beauty still left around you and be happy. Anne Frank
We all live with the objective of being happy; our lives are all different and yet the same… Anne Frank
Chins up, stick it out, better times will come. Anne Frank
Laziness may appear attractive, but work gives satisfaction. Anne Frank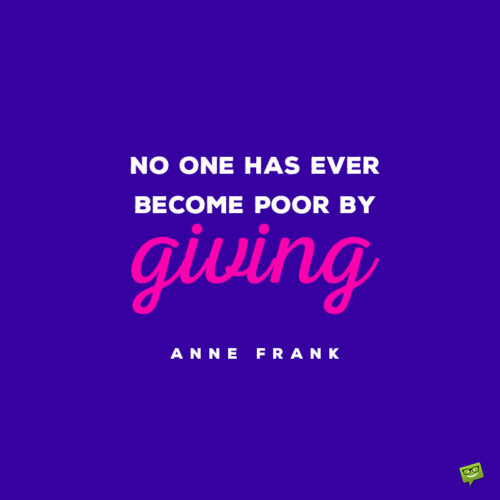 An empty day, though clear and bright,Is just as dark as any night. Anne Frank
In the long run, the sharpest weapon of all is a kind and gentle spirit. Anne Frank
A person who's happy will make others happy; a person who has courage and faith will never die in misery. Anne Frank
Human greatness does not lie in wealth or power, but in character and goodness. Anne Frank
I keep my ideals because in spite of everything I still believe that people are good at heart. Anne Frank
Crying can bring relief, as long as you don't cry alone. Anne Frank
Don't be too assuming, it doesn't get you anywhere. Anne Frank
The art of living. Isn't that a funny expression? Anne Frank
What's the point of the war? Why, oh why can't people live together peacefully? Why all this destruction? Anne Frank
I don't think of all the misery, but of the beauty that still remains. Anne Frank
But i've slammed the door to my inner self; if he ever wants to force the lock again, he'll have to use a harder crowbar! Anne Frank
A quiet conscience makes one strong! Anne Frank
Work, love, courage and hope,Make me good and help me cope! Anne Frank
The weak fall, but the strong will remain and never go under! Anne Frank
Deep down, the young are lonelier than the old. Anne Frank
Sympathy, Love, Fortune… We all have these qualities but still tend to not use them! Anne Frank
Our lives are fashioned by our choices. First, we make our choices. Then our choices make us. Anne Frank
As long as this exists, and I may live to see it, this sunshine, the cloudless skies, while this lasts, I cannot be unhappy. Anne Frank
Dead people receive more flowers than the living ones because regret is stronger than gratitude. Anne Frank
You are all made of real poop. Anne Frank
Why do some people have to starve, while there are surpluses rotting in other parts of the world? Oh, why are people so crazy? Anne Frank
I'm sentimental–I know. I'm desperate and silly–I know that too. Oh, help me! Anne Frank
What is done cannot be undone, but one can prevent it happening again. Anne Frank
Paper is more patient than man. Anne Frank
Music stirs me to the very depths of my soul. Anne Frank
I'm seething with rage, yet I can't show it. Anne Frank
I'm my best and harshest critic. I know what's good and what isn't. Anne Frank
Boys will be boys. And even that wouldn't matter if only we could prevent girls from being girls. Anne Frank
I found that it was easier to think up questions than to ask them. Anne Frank
I firmly believe that nature can bring comfort to all who suffer. Anne Frank
I must uphold my ideals, for perhaps the time will come when I shall be able to carry them out. Anne Frank
I don't intend to shrink from the truth, because the longer it's postponed, the harder it will be for them to accept it when they do hear it! Anne Frank
People are just people, and all people have faults and shortcomings, but all of us are born with a basic goodness. Anne Frank
One gets on better in life if one is not over modest. Anne Frank
Every child has to raise itself. Parents can only advise their children or point them in the right direction. Anne Frank
There's something happening everyday, but I'm too tired and lazy to write it all down. Anne Frank
People who are religious should be glad, since not everyone is blessed with the ability to believe in a higher order. Anne Frank
Memories mean more to me than dresses. Anne Frank
Why do I always think and dream the most awful things and want to scream in terror? Anne Frank
Misfortunes never come singly. Anne Frank
I can't let them see my doubts, or the wounds they've inflicted on me. Anne Frank
Don't condemn me, remember rather that sometimes I, too, can reach the bursting point. Anne Frank
How can thinking about the misery of others help if you're miserable yourself. Anne Frank
And yet not every sense of what's good and right can be trusted, for what else is war but two sides going to battle over what each thinks is right? Anne Frank
I am what a romantic movie is to a profound thinker – a mere diversion, a comic interlude, something that is soon forgotten. Anne Frank
I know I have my faults and shortcomings, but the blow them all out of proportion! Anne Frank
I had to hold my head up high and put a bold face on things, but the thoughts keep coming anyways. Anne Frank
Sometimes I'm so deeply buried under self-reproaches that I long for a word of comfort to help me dig myself out again. Anne Frank
I know I'm far from being what I should; will I ever be? Anne Frank
I think a lot, but I don't say much. Anne Frank
Love cannot be forced. Anne Frank
I wonder if anyone can ever succeed in making their children content. Anne Frank
I want to see the world and do all kinds of exciting things, and a little money won't hurt. Anne Frank
In the future I'm going to devote less time to sentimentality and more time to reality. Anne Frank
It still makes me happy to think back to those words and that look. Anne Frank
It won't take long before I explode with pent-up rage. Anne Frank
It must be awful to feel you're not needed. Anne Frank
It's easier to whisper your feelings than to trumpet them forth out loud. Anne Frank
The nicest part is being able to write down all my thoughts and feeling; otherwise, I might suffocate. Anne Frank
Anne Frank Famous Quotes
There's only one rule you need to remember: laugh at everything and forget everybody else! It sounds egotistical, but it's actually the only cure for those suffering from self-pity. Anne Frank
I know what I want, I have a goal, an opinion, I have a religion and love. Let me be myself and then I am satisfied. I know that I'm a woman, a woman with inward strength and plenty of courage. Anne Frank
I don't want to have lived in vain like most people. I want to be useful or bring enjoyment to all people, even those I've never met. I want to go on living even after my death! Anne Frank
Everyone has inside of him a piece of good news. The good news is that you don't know how great you can be! How much you can love! What you can accomplish! And what your potential is! Anne Frank
What I condemn are our system of values and the men who don't acknowledge how great, difficult, but ultimately beautiful women's share in society is. Anne Frank
We have the opportunity to get an education and make something of ourselves. We have many reasons to hope for great happiness, but we have to earn it. And that is something you can't achieve by taking the easy ways out. Earning happiness means doing good and working, not speculating and being lazy. Anne Frank
I don't have much in the way of money or worldly possessions, I'm not beautiful, intelligent or clever, but I'm happy, and I intend to stay that way! I was born happy, I love people, I have a trusting nature, and I'd like everyone else to be happy too. Anne Frank
Yes, why do they make still more gigantic planes, still heavier bombs and, at the same time, prefabricated houses for reconstruction? Why should millions be spent daily on the war and yet there's not a penny available for medical services, artists, or for poor people? Anne Frank
Sometimes I believe that God wants to try me, both now and later on; I must become good through my own efforts, without examples and without good advice. Anne Frank
Anyhow, I've learned one thing now. You only really get to know people when you've had a jolly good row with them. Then and then only can you judge their true characters! Anne Frank
People can tell you to keep your mouth shut, but it doesn't stop you having your own opinion. Even if people are still very young, they shouldn't be prevented from saying what they think. Anne Frank
Ordinary people simply don't know what books mean to us, shut up here. Reading, learning, and the radio are our amusements. Anne Frank
I need to have something besides a husband and children to devote myself to! I don't want to have lived in vain like most people. I want to be useful or bring enjoyment to all people, even those I've never met. I want to go on living even after my death! Anne Frank
I do my best to please everybody, far more than they'd ever guess. I try to laugh it all off, because I don't want to let them see my trouble. Anne Frank
But I don't think building sand castles in the air is such a terrible thing to do, as long as you don't take it too seriously. Anne Frank
I can't imagine how anyone can say: 'I'm weak', and then remain so. After all, if you know it, why not fight against it, why not try to train your character? Anne Frank
Why do we trust one another so little? I know there must be a reason, but still I sometimes think it's horrible that you find you can never really confide in people, even in those who are nearest to you. Anne Frank
As long as this exists, this sunshine and this cloudless sky, and as long as I can enjoy it, how can I be sad? Anne Frank
If I read a book that impresses me, I have to take myself firmly in hand before I mix with other people; otherwise they would think my mind rather queer. Anne Frank
Anne Frank Diary Quotes
Although I'm only fourteen, I know quite well what I want, I know who is right and who is wrong. I have my opinions, my own ideas and principles, and although it may sound pretty mad from an adolescent, I feel more of a person than a child, I feel quite independent of anyone. Anne Frank
This is a photograph of me as I wish I looked all the time. Then I might have a chance of getting in Hollywood. Anne Frank
I want to write, but more than that, I want to bring out all kinds of things that lie buried deep in my heart. Anne Frank
The reason for my starting a diary is that I have no real friend. Anne Frank
I love you, with a love so great that it simply couldn't keep growing inside my heart, but had to leap out and reveal itself in all its magnitude. Anne Frank
This week I've been reading a lot and doing little work. That's the way things ought to be. That's surely the road to success. Anne Frank
Deep down I know I could never be that innocent again, however much I'd like to be. Anne Frank
I think it's odd that grown-ups quarrel so easily and so often and about such petty matters. Up to now I always thought bickering was just something children did and that they outgrew it. Anne Frank
But it's the same with all my friends, just fun and joking, nothing more. I can never bring myself to talk of anything outside the common round. Anne Frank
All day long I hear nothing but what an exasperating child I am, and although I laugh it off and pretend not to mind, I wish I could ask God to give me another personality, one that doesn't antagonize everyone. Anne Frank
I have now reached the stage that I don't care much whether I live or die. The world will still keep turning without me; what is going to happen, will happen, and anyway it's no good to resist. I will trust luck and do nothing but work, hoping that all will end well. Anne Frank
Everyone thinks I'm showing off when I talk, ridiculous when I'm silent, insolent when I answer, cunning when I have a good idea, lazy when I'm tired, selfish when I eat one bite more than I should. Anne Frank
Am I really so bad-mannered, conceited, headstrong, pushing, stupid, lazy, etc., etc., as they all say? Oh, of course not. I have my faults, just like everyone else, I know that, but they thoroughly exaggerate everything. Anne Frank
I continued to sit with the open book in my hand and wonder why I was filled with so much anger and hate that I had to confide it all to you. I tried to understand the Anne of last year and make apologies for her, because as long as I leave you with these accusations and don't attempt to explain what prompted them, my conscience won't be clear. Anne Frank
Whenever he looks at me with those eyes, with that smile and that wink, it's as if a light goes on inside me. Anne Frank
I'm happy when I see him, and happier still if the sun shines when we're together. Anne Frank
I had an occasional flash of understanding, but then got selfishly wrapped up again in my own problems and pleasures. Anne Frank
If God lets me live, I'll achieve more than Mother ever did, I'll make my voice heard, I'll go out into the world and work for mankind! Anne Frank
I wonder if it's because I haven't been able to poke my nose outdoors for so long that I've grown so crazy about everything to do with Nature? Anne Frank
Just as my heart sinks every time I hear her harsh words, that's how her heart sank when she realised there was no more love between us. Anne Frank
We are shut up here, shut away from the world, in fear and anxiety, especially just lately. Why, then, would we who love each other remain apart? Why should we wait until we've reached suitable age? Why should we bother? Anne Frank
Leave me alone, let me have at least one night when I don't cry myself to sleep with eyes burning and my head pounding. Let me get away, away from everything, away from this world! Anne Frank
Anne Frank Quotes About Hope
Where there's hope, there's life. It fills us with fresh courage and makes us strong again. Anne Frank
Give and you shall receive, much more than you ever thought possible. Give and give again. Keep hoping, keep trying, keep giving! People who give will never be poor! Anne Frank
Riches, prestige, everything can be lost. But the happiness in your own heart can only be dimmed; it will always be there, as long as you live, to make you happy again. Anne Frank
I see the world being slowly transformed into a wilderness, I hear the approaching thunder that, one day, will destroy us too, I feel the suffering of millions. And yet, when I look up at the sky, I somehow feel that everything will change for the better, that this cruelty too will end, that peace and tranquility will return once more. Anne Frank
We jumped for joy. After the awful events of yesterday, finally something good happens and brings us…hope! Hope for an end to the war, hope for peace. Anne Frank
We were caught in a vicious circle of unpleasantness and sorrow. Not a very happy period for either us, but at least it's coming to an end. Anne Frank
Anne Frank Inspirational Quotes
It's not imagination on my part when I say that to look up at the sky, the clouds, the moon, and the stars make me calm and patient. It's a better medicine than either valerian or bromine; Mother nature makes me humble and prepared to face every blow courageously. Anne Frank
We're so selfish that we talk about "after the war" and look forward to new clothes and shoes, when actually we should be saving every penny to help others when the war is over, to salvage whatever we can. Anne Frank
Everyone is born equal; we will all die and shed our earthly glory. Riches, power and fame last for only a few short years. Why do we cling so desperately to these fleeting things? Why can't people who have more than enough for their own needs give the rest to their fellow human beings? Why should anyone have to have such a hard life for those few short years on earth? Anne Frank
There's a destructive urge in people, the urge to rage, murder and kill. And until all of humanity, without exception, undergoes a metamorphosis, wars will continue to be waged, and everything that has been carefully built up, cultivated and grown will be cut down and destroyed, only to start all over again! Anne Frank
I've found that there is always some beauty left — in nature, sunshine, freedom, in yourself; these can help you. Look at these things, then find yourself again, and God, and then you regain your balance. Anne Frank
Love, what is love? I don't think you can really put it into words. Love is understanding someone, caring for him, sharing his joys and sorrows. Anne Frank
I think spring is inside me. I feel spring awakening, I feel it in my entire body and soul. I have to force myself to act normally. I'm in a state of utter confusion, don't know what to read, what to write, what to do. I only know that I'm longing for something… Anne Frank
A person can be lonely even if he is loved by many people, because he is still not the "One and Only" to anyone. Anne Frank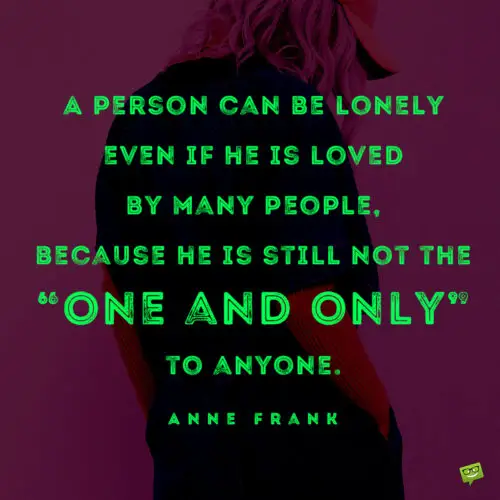 Whenever you're feeling lonely or sad, try going to the loft on a beautiful day and looking outside. Not at the houses and the rooftops, but at the sky. As long as you can look fearlessly at the sky, you'll know that you're pure within and will find happiness once more. Anne Frank
Anne Frank Diary Quotes about Holocaust
No one is spared. The sick, the elderly, children, babies, and pregnant women – all marched to their death. Anne Frank
Families are torn apart; men, women and children are separated. Children come back from school to find that their parents have disappeared. Women return from shopping to find their houses sealed, their families gone. Anne Frank
What one Christian does is his own responsibility, what one Jew does is thrown back at all Jews. Anne Frank
No matter what I'm doing, I can't help thinking about those who are gone. I catch myself laughing and remember that it's a disgrace to be so cheerful… This gloom will pass. Anne Frank
I could spend hours telling you about the suffering the war has brought, but I'd only make myself more miserable. All we can do is wait, as calmly as possible, for it to end. Jews and Christians alike are waiting, the whole world is waiting, and many are waiting for death. Anne Frank
Fine specimens of humanity, those Germans, and to think I'm actually one of them! No, that's not true, Hitler took away our nationality long ago. Anne Frank
If we bear all this suffering and if there are still Jews left, when it is over, then Jews, instead of being doomed, will be held up as an example. Anne Frank
I see the eight of us in the Annex as if we were a patch of blue sky surrounded by menacing black clouds… [They loom] before us like an impenetrable wall, trying to crush us, but not yet able to. I can only cry out and implore, "Oh ring, ring, open wide and let us out!" Anne Frank
I feel wicked sleeping in a warm bed, while my dearest friends have been knocked down or have fallen into a gutter somewhere out in the cold night. I get frightened when I think of close friends who have now been delivered into the hands of the cruelest brutes that walk the earth. And all because they are Jews! Anne Frank
Sleep makes the silence and the terrible fear go by more quickly, helps pass the time, since it's impossible to kill. Anne Frank
You May Also Like:
104 Inspiring Helen Keller Quotes
The Best Charlie Chaplin Quotes
100 (Intimate and Insightful) Anaïs Nin Quotes