Best 70 Book Quotes for Bibliophiles and Avid Readers
Look at me! I can bring a smile on your face or a tear to your eye. I can fly you around the world and to far distant places. I can show you how things are done, reveal secrets and knowledge. For I am a book, an instrument of learning and awakening. That is more or less the message that's hidden behind all these book quotes below.
Books can be truly amazing! They are the most loyal friends and expert mentors with a power to influence our thoughts and emotions and positively affect our lives. They ignite our imagination and function as doorways to other worlds, defying the limits of space and time. Books are simply a portal to magic!
They are quintessential in the development of our cognitive functions, molding our thinking and reasoning processes, challenging ideas and beliefs and therefore profoundly influencing who we become. Books help us expand our knowledge base through the acquisition of new concepts and competencies, are extremely beneficial for building up our vocabulary, reading and writing skills, and enhance our vivacity of expression.
Through a book we establish a mystical connection with its author, have the chance to get inside his mind and pick up the subtlest nuances. We get immersed in the narrative and actively intertwine with the characters, something that cultivates our empathy and adds depth to our emotional intelligence. Books are a heaven for our soul! They are the destination and the journey!
Here we have curated for you the most inspirational quotes on the value of books. Share them with your loved ones to enlighten and motivate them. Use them as a caption to add "depth" to your Instagram and social media posts! Reflect upon them, they are the next best thing to reading a book!
Table of Contents
Best Book Quotes that will make you appreciate their Importance
Here are the finest quotes about the key role books have in our life and culture.
A book is a dream that you hold in your hand. Neil Gaiman
A word after a word after a word is power. Margaret Atwood
The best books… are those that tell you what you know already. George Orwell
Books are a uniquely portable magic. Stephen King
Books were my pass to personal freedom. Oprah Winfrey
In the end, we'll all become stories. Margaret Atwood
Books may well be the only true magic. Alice Hoffman
A room without books is like a body without a soul. Cicero
Some books leave us free and some books make us free. Ralph Waldo Emerson
You have to be a bit of a liar to tell a story the right way. Patrick Rothfuss
I owe everything I am and everything I will ever be to books. Gary Paulsen
Good friends, good books, and a sleepy conscience: this is the ideal life. Mark Twain
′Classic′ – a book which people praise and don't read. Mark Twain
Every story I create, creates me. I write to create myself. Octavia E. Butler
Books should go where they will be most appreciated, and not sit unread, gathering dust on a forgotten shelf, don't you agree? Christopher Paolini
If you don't see the book you want on the shelf, write it. Beverly Cleary
Show me a family of readers, and I will show you the people who move the world. Napoleon Bonaparte
One glance at a book and you hear the voice of another person, perhaps someone dead for 1,000 years. To read is to voyage through time. Carl Sagan
All I have learned, I learned from books. Abraham Lincoln
Books support us in our solitude and keep us from being a burden to ourselves. Jeremy Collier
When I was a child, when I was an adolescent, books saved me from despair: that convinced me that culture was the highest of values. Simone de Beauvoir
Passionate Book Lover Quotes to stimulate Enthusiasm for Books
A lot of people love reading, but some are fond of the book itself as an object. Be it the smell of the ink, the sound of turning the pages or the touch of the paper in your hands, these quotes will take you to the core of this feeling.
She is too fond of books, and it has turned her brain. Louisa May Alcott
I love the smell of book ink in the morning. Umberto Eco
She read books as one would breathe air, to fill up and live. Annie Dillard
A first book has some of the sweetness of a first love. Robert Aris Willmott
I have always imagined paradise will be a kind of library. Jorge Luis Borges
I shall be miserable if I have not an excellent library. Jane Austen
Where is human nature so weak as in the bookstore? Henry Ward Beecher
I cannot sleep unless I am surrounded by books.
Five years from now, you're the same person except for the people you've met and the books you've read. John Wooden
What a blessing it is to love books as I love them; to be able to converse with the dead, and to live amidst the unreal! Thomas Babington Macaulay
I love books. I adore everything about them. I love the feel of the pages on my fingertips. They are light enough to carry, yet so heavy with worlds and ideas. I love the sound of the pages flicking against my fingers. Print against fingerprints. Books make people quiet, yet they are so loud. Nnedi Okorafor
My best friend is a person who will give me a book I have not read. Abraham Lincoln
A status symbol is a book. A very easy book to read is The Catcher in the Rye. Walk around with that under your arm, kids. That is status. Vivienne Westwood
Books are for people who wish they were somewhere else. Mark Twain
Motivational Reading Books Quotes on the Knowledge and Entertainment you get from them
The following quotes are about the habit and the experience of reading. Books have the power to take us on a journey in space and time – once you start reading, you enter a magical world that everything is possible!
No two persons ever read the same book. Edmund Wilson
If you don't like to read, you haven't found the right book. K. Rowling
That's the thing about books. They let you travel without moving your feet. Jhumpa Lahiri
A half-read book is a half-finished love affair. David Mitchell
I do believe something very magical can happen when you read a good book. K. Rowling
The reading of all good books is like a conversation with the finest minds of past centuries. Rene Descartes
It is better to know one book intimately than a hundred superficially. Donna Tartt
If you only read the books that everyone else is reading, you can only think what everyone else is thinking. Haruki Murakami
I love the way that each book — any book — is its own journey. You open it, and off you go… Sharon Creech
You know you've read a good book when you turn the last page and feel a little as if you have lost a friend. Paul Sweeney
A great book should leave you with many experiences, and slightly exhausted at the end. You live several lives while reading. William Styron
Famous Book Quotes that are full of Wisdom
Here are some quotes by great people of the past and the present on the significance of books.
Wear the old coat and buy the new book. Austin Phelps
I guess there are never enough books. John Steinbeck
Let us remember: One book, one pen, one child, and one teacher can change the world. Malala Yousafzai
You can never get a cup of tea large enough or a book long enough to suit me. S. Lewis
A reader lives a thousand lives before he dies, said Jojen. The man who never reads lives only one. George R.R. Martin
Fill your house with stacks of books, in all the crannies and all the nooks. Dr. Seuss
Writing is nothing more than a guided dream.
Soon, books will read you while you are reading them. Yuval Noah Harari
If there is a book that you want to read, but it hasn't been written yet, you must be the one to write it. Toni Morrison
There is more treasure in books than in all the pirate's loot on Treasure Island. Walt Disney
I find television very educating. Every time somebody turns on the set, I go into the other room and read a book. Groucho Marx
Inspirational Book Quotes to Think and Reflect Upon
A book is never just a book – it is a friend, a mirror, a door, a fresh view and a wonderful journey to the world. Read these inspiring quotes and choose the one you like to write the nicest inscriptions!
A book is a garden, an orchard, a storehouse, a party, a company by the way, a counselor, a multitude of counselors. Charles Baudelaire
Books are mirrors: you only see in them what you already have inside you. Carlos Ruiz Zafón
The library is inhabited by spirits that come out of the pages at night. Isabel Allende
Books are the plane, and the train, and the road. They are the destination, and the journey. They are home. Anna Quindlen
Books and doors are the same thing. You open them, and you go through into another world. Jeanette Winterson
My alma mater was books, a good library…. I could spend the rest of my life reading, just satisfying my curiosity. Malcolm X
The books that help you most are those which make you think that most. The hardest way of learning is that of easy reading; but a great book that comes from a great thinker is a ship of thought, deep freighted with truth and beauty. Pablo Neruda
A book is a version of the world. If you do not like it, ignore it; or offer your own version in return. Salman Rushdie
Think of this – that the writer wrote alone, and the reader read alone, and they were alone with each other. S. Byat
The books that the world calls immoral are books that show the world its own shame. Oscar Wilde
In the case of good books, the point is not to see how many of them you can get through, but rather how many can get through to you. Mortimer J. Adler
Books are not made for furniture, but there is nothing else that so beautifully furnishes a house. Henry Ward Beecher
A story can always break into pieces while it sits inside a book on a shelf; and, decades after we have read it even twenty times, it can open us up, by cut or caress, to a new truth. Andre Dubus
Book Quotes About the Peace and Balance they bring to our Life
These book quotes will educate you, make you think and maybe even provide you with an Instagram caption!
We tell ourselves stories in order to live. Joan Didion
Sleep is good, he said, and books are better. George R.R. Martin
I can feel infinitely alive curled up on the sofa reading a book. Benedict Cumberbatch
The only thing you absolutely have to know is the location of the library. Albert Einstein
Many people, myself among them, feel better at the mere sight of a book. Jane Smiley
Rainy days should be spent at home with a cup of tea and a good book. Bill Patterson
I think books are like people, in the sense that they'll turn up in your life when you most need them. Emma Thompson
When I have a little money, I buy books; and if I have any left, I buy food and clothes. Erasmus
You don't have to burn books to destroy a culture. Just get people to stop reading them. Ray Bradbury
Libraries will get you through times of no money better than money will get you through times of no libraries. Anne Herbert
Books are good company, in sad times and happy times, for books are people – people who have managed to stay alive by hiding between the covers of a book. B. White
There are three things that grow more precious with age; old wood to burn, old books to read, and old friends to enjoy. Henry Ford
If you like it, pin it!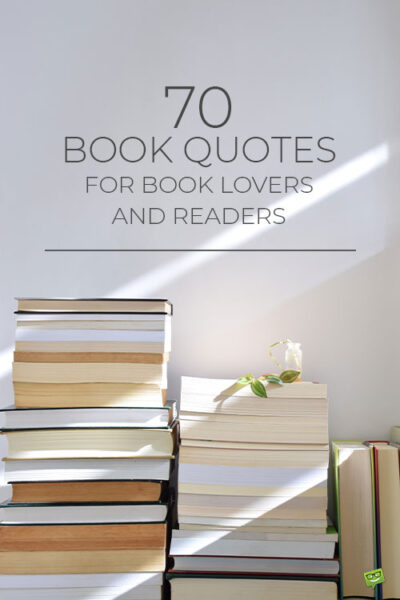 You May Also Like:
132 Powerful Quotes About Education to Inspire Both Teachers and Students
160+ Quotes about Teachers and the Power of Teaching
Journeys on Paper | 224 Reading Quotes