50+ Empowering Beyoncé Quotes to Make You Crazy in Love
Gifted with an incredible vocal timbre of compelling fluidity and seductive, hyper-sexual on stage performances, Beyoncé Knowles aka "Queen Bey" is a cultural icon who revolutionized the whole genre of the R&B, pop and rap music scene, paving the way for others to follow. So, how did this talented singer, songwriter and actress become the most dominant female artist in music? Here is the story of how she rose to stardom and why these famous Beyoncé quotes follow her path to becoming an immense influence to millions of women all over the world.
Born in 1981, in Houston Texas, Beyoncé shone as the lead singer of "Destiny's Child", one of the most successful girl singing groups, before pursuing a brilliant solo career that has earned innumerable Grammy, MTV and BET music awards becoming one of the world's best-selling recording artists. Her dazzling style and beautiful looks have also been repeatedly celebrated and garnered accolades as the most beautiful and sexiest female singer.
An empowered female role model, Beyoncé is a strong advocate of women's rights and gender equality and she is a co-founder of Gucci's CHIME FOR CHANGE, a global campaign for spreading female empowerment. A devout philanthropist, she has conducted several fundraising and donation campaigns during her tours and through her foundation "Bey GOOD" donates millions in support of local communities, disaster relief charities, rehabilitation projects and many other worthy causes. She is also a staunch patron of creative arts and together with her husband, Jay- Z, they fund university scholarships in the fields of performance, visual arts, communications and design.
Here we have collected for you the most inspirational quotes of this alluring fantasy woman to share with loved ones and spread motivation but also to give you a meaningful insight, lift your spirit and mentor you through a better life!

Beyoncé Knowles's Feminist Quotes
Don't try to lessen yourself for the world; let the world catch up to you. Beyoncé Knowles 
We need to reshape our own perception of how we view ourselves. We have to step up as women and take the lead.  Beyoncé Knowles 
I truly believe that women should be financially independent from their men. And let's face it, money gives men the power to run the show. It gives men the power to define value. They define what's sexy. And men define what's feminine. It's ridiculous. Beyoncé Knowles 
We have to teach our boys the rules of equality and respect, so that as they grow up gender equality becomes a natural way of life. And we have to teach our girls that they can reach as high as humanly possible. Beyoncé Knowles 
Women have to take the time to focus on our mental health — take time for self, for the spiritual, without feeling guilty or selfish. Beyoncé Knowles
Why do you have to choose what type of woman you are? Why do you have to label yourself anything? Beyoncé Knowles
You know, equality is a myth, and for some reason, everyone accepts the fact that women don't make as much money as men do. I don't understand that. Why do we have to take a backseat? Beyoncé Knowles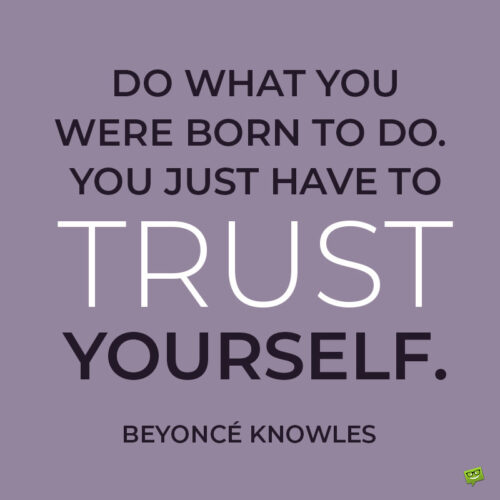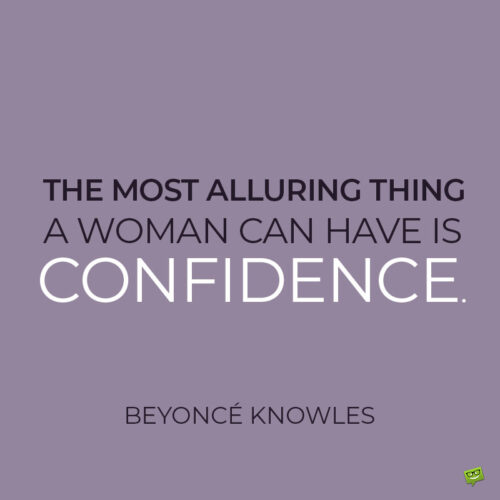 Beyoncé Quotes about Confidence
Independence comes from you knowing who you are and you being happy with yourself. Beyoncé Knowles
The most alluring thing a woman can have is confidence. Beyoncé Knowles
I don't like to gamble, but if there's one thing I'm willing to bet on, it's myself.  Beyoncé Knowles
Be healthy and take care of yourself, but be happy with the beautiful things that make you, you. Beyoncé Knowles 
I embrace mistakes. They make you who you are. Beyoncé Knowles
Beyoncé's Love Quotes
If you are with the right person, it brings out the best version of you.  Beyoncé Knowles
Our love was stronger than your pride. Beyond your darkness, I'm your light. Beyoncé Knowles
Love is an endless act of forgiveness. Forgiveness is me giving up the right to hurt you for hurting me. Beyoncé Knowles
Make sure you have your own life before becoming someone's wife.  Beyoncé Knowles
You have to have something that is forever something that is invisible. Beyoncé Knowles
Come take my hand / I won't let you go / I'll be your friend / I will love you so deeply / I will be the one to kiss you at night / I will love you until the end of time. Beyoncé Knowles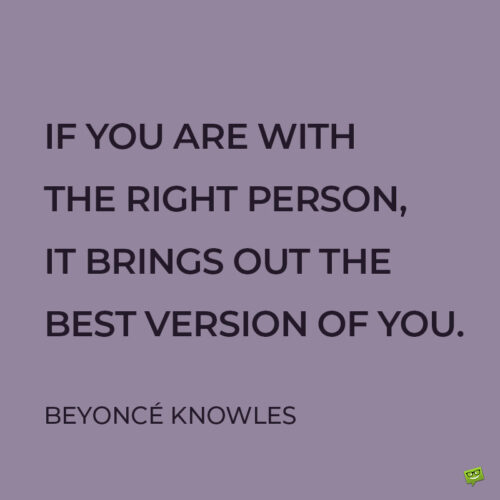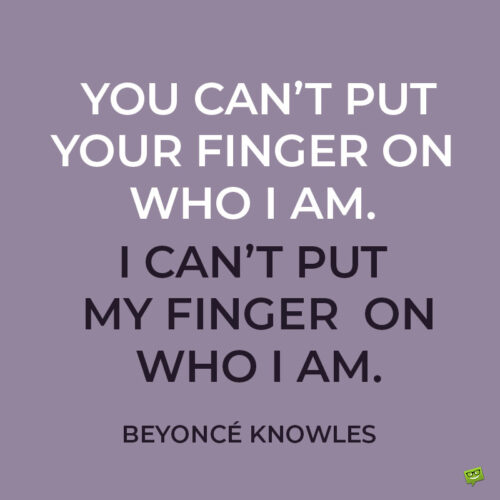 Beyoncé Quotes About Success
Never let success go to your head, never let failure get to your heart. Beyoncé Knowles
If you work hard, whatever you want, it will come to you. I know that's easier said than done, but keep trying. Beyoncé Knowles
I don't have to prove anything to anyone. I only have to follow my heart and concentrate on what I want to say to the world. I run my world. Beyoncé Knowles
I can never be safe; I always try and go against the grain. As soon as I accomplish one thing, I just set a higher goal. That's how I've gotten to where I am. Beyoncé Knowles
I don't feel like I have to please anyone. I feel free. I feel like I'm an adult. I'm grown. I can do what I want. I can say what I want. I can retire if I want. That's why I've worked hard. Beyoncé Knowles
I love my job, but it's more than that: I need it. Beyoncé Knowles
I'm over being a pop star. I don't wanna be a hot girl. I wanna be iconic. Beyoncé Knowles
I'm a workaholic and I don't believe in 'No'. If I'm not sleeping, nobody's sleeping. Beyoncé Knowles
The reality is: sometimes you lose. And you're never too good to lose. You're never too big to lose. You're never too smart to lose. It happens. Beyoncé Knowles
I wanted to sell a million records, and I sold a million records. I wanted to go platinum, and I went platinum. I've been working nonstop since I was 15. I don't even know how to chill out. Beyoncé Knowles
I think I've realized that business and being polite [don't] match. You can be fair, but me being polite was not me being fair to myself. Beyoncé Knowles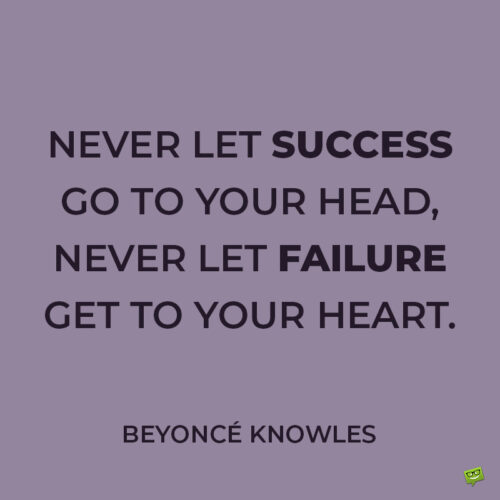 Beyoncé Knowles's Empowering Quotes
Power is not given to you. You have to take it. Beyoncé Knowles
If everything was perfect, you would never learn, and you would never grow. Beyoncé Knowles
I felt like it was time to set up my future, so I set a goal. My goal was independence. Beyoncé Knowles
Do what you were born to do. You just have to trust yourself. Beyoncé Knowles
Power means happiness; power means hard work and sacrifice. Beyoncé Knowles
I know I'm stronger in the songs than I really am. Sometimes I need to hear it myself. We all need to hear those empowering songs to remind us. Beyoncé Knowles
Your self-worth is determined by you. You don't have to depend on someone telling you who you are. Beyoncé Knowles
I always try to be myself. Ever since I was an introverted kid, I'd get on stage and be able to break out of my shell. Beyoncé Knowles
Inspirational and Life Quotes by Beyoncé Knowles
If you don't take the time to think about and analyze your life, you'll never realize all the dots that are all connected. Beyoncé Knowles
We are all the same and we all want the same things: the right to be happy, to be just who we want to be, and to love who we want to love. Beyoncé Knowles
If I hadn't gone through some of the painful things in my life, I would not be me. Beyoncé Knowles
You can't put your finger on who I am. I can't put my finger on who I am. Beyoncé Knowles
When I'm not feeling my best, I ask myself, 'What are you gonna do about it?' I use the negativity to fuel the transformation into a better me. Beyoncé Knowles
We all have our imperfections. But I'm human, and you know, it's important to concentrate on other qualities besides outer beauty. Beyoncé Knowles
It is so liberating to really know what I want, what truly makes me happy, what I will not tolerate. I have learned that it is no one else's job to take care of me but me. Beyoncé Knowles
A true diva is graceful, and talented, and strong, and fearless and brave and someone with humility. Beyoncé Knowles
Any other woman who has to go to work and pick up the kids and make dinner – that's way harder than what I have to do. Beyoncé Knowles
Some of The Most Powerful Beyoncé Song Quotes
Shine already, it's time already. The line already, it's time already. Beyoncé Knowles
I'm a savage. Classy, bougie, ratchet. Sassy, moody, nasty. Beyoncé Knowles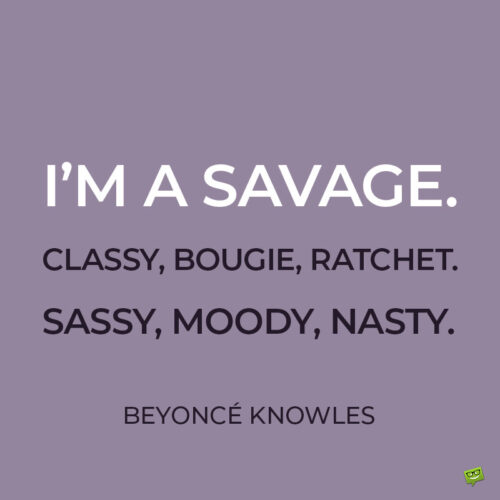 Take all the rules away. How can we live if we don't change? Beyoncé Knowles
I am the dragon breathing fire. Beautiful mane, I'm the lion. Beyoncé Knowles
Hit me like a ray of sun. Burning through my darkest night. You're the only one that I want. Think I'm addicted to your light. Beyoncé Knowles
I'm bigger than life, my name in the lights. I'm the number one chick, I don't need no hype. Beyoncé Knowles
I don't know much about fighting, but I know I will fight for you. Beyoncé Knowles
You May Also Like:
120 Tupac Quotes About Everyday Struggle
62 Quotes from The Weeknd's Songs and Interviews
Music Revolution | 100+ Famous Quotes About Music
50 Fierce Nicki Minaj Quotes To Build Your Confidence