Dr. Seuss, His Most Inspiring Quotes
Most widely known for his children's books, Theodor Seuss Geisel was an American writer and cartoonist of the 20th century, who left a big legacy of books and various texts.  And maybe the his quote that sums up best his pholosophy is this:
Children's reading and children's thinking are the rock-bottom base upon which this country will rise. Or not rise. In these days of tension and confusion, writers are beginning to realize that books for children have a greater potential for good or evil than any other form of literature on earth.
― Dr. Seuss
No wonder why there is such a wide collection of inspiring quotes by Dr. Seuss. Often written in anapestic tetrameter, a poetic meter employed by many poets of the English literary canon, his texts seem to echo a simple popular wisdom and they have an inherent optimism while calling you to dream.  What's not to like? Enjoy, like & share.

---
Dr. Seuss Love Quotes
I am weird, you are weird. Everyone in this world is weird. One day two people come together in mutual weirdness and fall in love. Dr. Seuss.
You know you're in love when you can't fall asleep because reality is finally better than your dreams. Dr. Seuss
-I love my job. I love the pay!
-I love it more and more each day.
-I love my boss, he is the best!
-I love his boss and all the rest.
Dr. Seuss
-I love my office and its location. I hate to have to go on vacation.
-I love my furniture, drab and grey, and piles of paper that grow each day!
-I think my job is swell, there's nothing else I love so well.
-I love to work among my peers, I love their leers, and jeers, and sneers.
-I love my computer and its software; I hug it often though it won't care.
-I love each program and every file, I'd love them more if they worked a while.
Dr. Seuss
-I'm happy to be here. I am. I am.
-I'm the happiest slave of the Firm, I am.
-I love this work. I love these chores.
-I love the meetings with deadly bores.
-I love my job – I'll say it again – I even love those friendly men.
-Those friendly men who've come today, in clean white coats to take me away!!!!!"
Dr. Seuss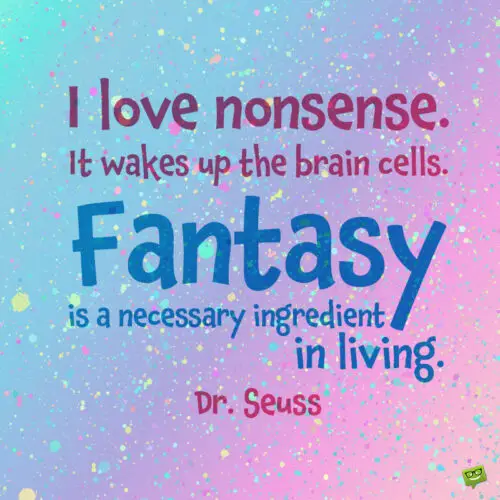 Dr. Seuss Quotes for Kids
When you're in a Slump, you're not in for much fun. Un-slumping yourself is not easily done. Dr. Seuss
I have heard there are troubles of more than one kind. Some come from ahead and some come from behind. But I've bought a big bat. I'm all ready, you see. Now my troubles are going to have troubles with me! Dr. Seuss
A person's a person, no matter how small!
And you very small persons will not have to die
If you make yourselves heard! So come on, now, and TRY!
Dr. Seuss
From there to here, from here to there, funny things are everywhere! Dr. Seuss
Today is your day, your mountain is waiting., so get on your way. Dr. Seuss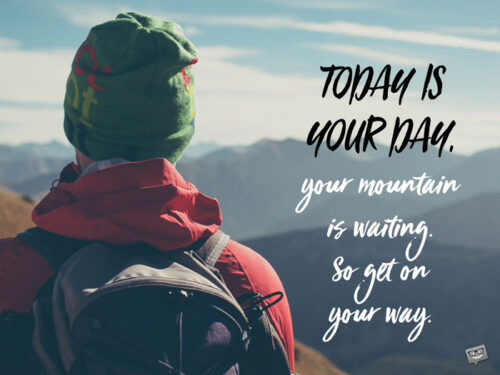 Think left and think right and think low and think high. Oh, the thinks you can think up if only you try! Dr. Seuss
I'm afraid that sometimes you'll play lonely games too. Games you can't win 'cause you'll play against you. Dr. Seuss
ASAP. Whatever that means. It must mean, 'Act swiftly, awesome pachyderm!' Dr. Seuss
Don't give up! I believe in you all. Dr. Seuss
What if Christmas, doesn't come from a store. What if Christmas…perhaps…means a little bit more! Dr. Seuss
You can get help from teachers, but you are going to have to learn a lot by yourself, sitting alone in a room. Dr. Seuss
You'll get mixed up, of course, as you already know. You'll get mixed up with many strange birds as you go. So be sure when you step. Step with care and great tact and remember that Life's a Great Balancing Act. Just never forget to be dexterous and deft. And never mix up your right foot with your left. Dr. Seuss
How did it get so late so soon? It's night before it's afternoon. December is here before it's June. My goodness how the time has flewn. How did it get so late so soon? Dr. Seuss
There's no limit to how much you'll know, depending how far beyond zebra you go. Dr. Seuss
Think and wonder. Wonder and think. Dr. Seuss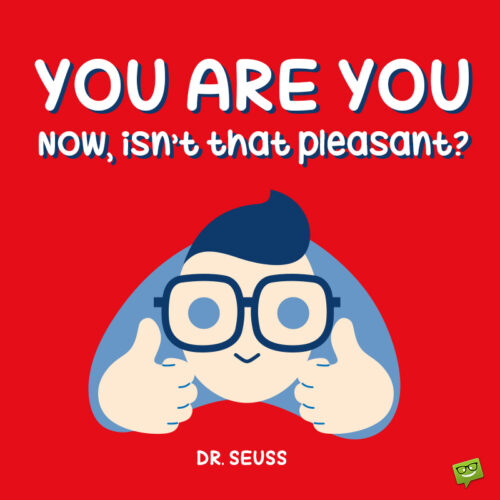 The storm starts, when the drops start dropping. When the drops stop dropping then the storm starts stopping. Dr. Seuss
When he worked, he really worked. But when he played, he really PLAYED. Dr. Seuss
And the turtles, of course…all the turtles are free, as turtles and, maybe, all creatures should be. Dr. Seuss
Waiting for the fish to bite or waiting for wind to fly a kite. Or waiting around for Friday night or waiting perhaps for their Uncle Jake or a pot to boil or a better break or a string of pearls or a pair of pants or a wig with curls or another chance. Everyone is just waiting. Dr. Seuss
Think they work you too hard? Think of poor Ali Sard. He has to mow grass in his uncle's backyard and its quick growing grass and it grows as he mows it the faster he mows it the faster he grows it. And all that his stingy old uncle will pay for his shoving mower around the hay is piffulous pay of two dooklas a day. And Ali can't live on such piffulous pay! Dr. Seuss
I know it is wet and the sun is not sunny, but we can have lots of good fun that is funny. Dr. Seuss
Did you ever fly a kite in bed?
Did you ever walk with ten cats on your head?
Did you ever milk this kind of cow?
Well, we can do it. We know how.
If you never did, you should.
These things are fun and fun is good.
Dr. Seuss
Just tell yourself, Duckie, you're real quite lucky. Dr. Seuss
You oughta be thankful, a whole heaping lot, For the places and people you're lucky you're not! Dr. Seuss
If you want to catch beasts you don't see every day,
You have to go places quite out of the way,
You have to go places no others can get to.
You have to get cold and you have too get wet, too.
Dr. Seuss
And what happened then? Well, in Whoville they say that the Grinch's small heart grew three sizes that day. Dr. Seuss
Young cat! If you keep
Your eyes open enough,
Oh, the stuff you will learn!
The most wonderful stuff!
Dr. Seuss
Dr. Seuss Reading Quotes
You have to be a speedy reader because there's so so much to read. Dr. Seuss
The more that you read, the more things you will know. The more that you learn, the more places you'll go. Dr. Seuss
A book is just like life and anything can change. Dr. Seuss
You're never too old, too wacky, too wild, to pick up a book and read to a child. Dr. Seuss
You can find magic wherever you look. Sit back and relax, all you need is a book. Dr. Seuss
Fill your house with stacks of books, in all the crannies and all the nooks. Dr. Seuss
Fiction Is My Addiction. Dr. Seuss
Be awesome! Be a book nut! Dr. Seuss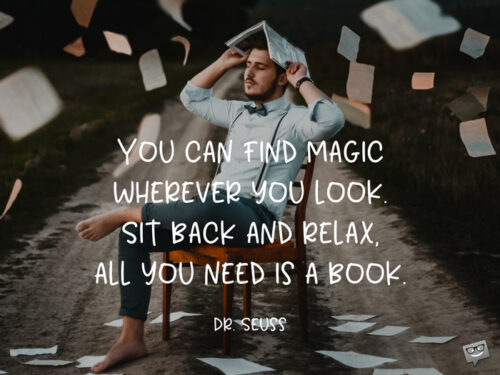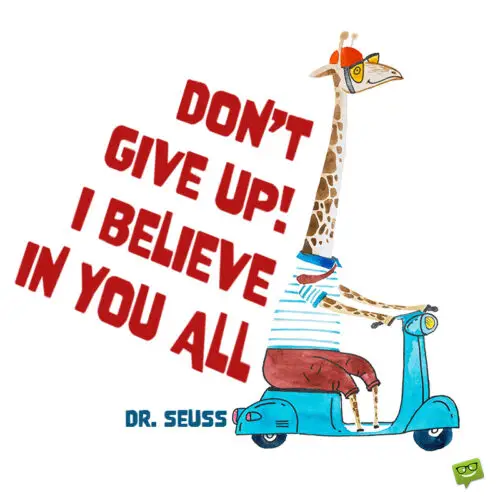 Dr. Seuss Quotes about Life
He who makes a beast out of himself gets rid of the pain of being a man. Dr. Seuss
It is better to know how to learn than to know. Dr. Seuss
I know, up on top you are seeing great sights, but down here at the bottom we, too, should have rights. Dr. Seuss
Remember me and smile, for it's better to forget than to remember me and cry. Dr. Seuss
Life is a success. Dr. Seuss
Sometimes you will never know the value of something, until it becomes a memory. Dr. Seuss
They say I'm old-fashioned, and live in the past, but sometimes I think progress progresses too fast! Dr. Seuss
Unless someone like you cares a whole awful lot, nothing is going to get better. It's not. Dr. Seuss
To the world you may be one person; but to one person you may be the world. Dr. Seuss
Being crazy isn't enough. Dr. Seuss
All alone! Whether you like it or not, alone is something you'll be quite a lot! Dr. Seuss
You are you. Now, isn't that pleasant? Dr. Seuss
In my world, everyone's a pony and they all eat rainbows and poop butterflies! Dr. Seuss
For a host, above all, must be kind to his guests. Dr. Seuss
I like nonsense, it wakes up the brain cells. Fantasy is a necessary ingredient in living. Dr. Seuss
And when you're alone there's a very good chance you'll meet things that scare you right out of your pants. There are some, down the road between hither and yon, that can scare you so much you won't want to go on. Dr. Seuss
I start drawing, and eventually the characters involve themselves in a situation. Then in the end, I go back and try to cut out most of the preachments. Dr. Seuss
Cause when a guy does something stupid once, well that's because he's a guy. But if he does the same stupid thing twice, that's usually to impress some girl. Dr. Seuss
Don't grumble! Don't stew! Some critters are much-much, Oh, ever so much-much So muchly much-much more unlucky than you! Dr. Seuss
Inspirational Dr. Seuss Quotes
Today I shall behave, as if this is the day I will be remembered. Dr. Seuss
Oh the places you'll go! There is fun to be done! There are points to be scored. There are games to be won. And the magical things you can do with that ball will make you the winning-est winner of all. Dr. Seuss
I am lucky to be what I am! Thank goodness I'm not just a clam or ham or a dirty jar of sour gooseberry jam! I am what I am. That's a great thing to be. Dr. Seuss
It's opener, out there, in the wide, open air. Dr. Seuss
And will you succeed? Yes indeed, yes indeed! Ninety-eight and three-quarters percent guaranteed! Dr. Seuss
Why fit in when you were born to stand out? Dr. Seuss
Oh, what a day. I will make it a holiday. Dr. Seuss
With your head full of brains and your shoes full of feet, you're too smart to go down any not-so-good street. Dr. Seuss
The people that mind don't matter, and the people that matter don't mind. Dr. Seuss
Nonsense wakes up the brain cells. And it helps develop a sense of humor, which is awfully important in this day and age. Humor has a tremendous place in this sordid world. It's more than just a matter of laughing. If you can see things out of whack, then you can see how things can be in whack. Dr. Seuss
Fun is good. Dr. Seuss
If things start happening, don't worry, don't stew, just go right along and you'll start happening too. Dr. Seuss
Don't cry because it's over, smile because it happened. Dr. Seuss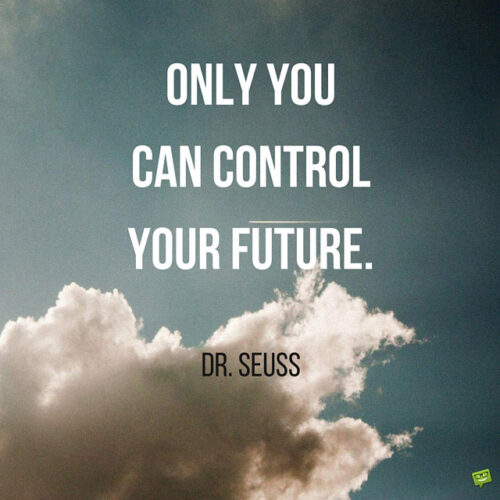 Only you can control your future. Dr. Seuss
So, open your mouth, lad! For every voice counts! Dr. Seuss
You'll miss the best things if you keep your eyes shut. Dr. Seuss
You are you. That is truer than true. Dr. Seuss
ou have brains in your head. You have feet in your shoes. You can steer yourself any direction you choose. You're on your own. And you know what you know. And YOU are the one who'll decide where to go… Dr. Seuss
We throw in as many fresh words as we can get away with. Simple, short sentences don't always work. You have to do tricks with pacing, alternate long sentences with short, to keep it alive and vital. Virtually every page is a cliff-hanger—you've got to force them to turn it. Dr. Seuss
A Wasn't just isn't. He just isn't present. But you… You ARE YOU! And, now isn't that pleasant! Dr. Seuss
Dr Seuss "Weird" Quotes
You can get so confused
that you'll start in to race
down long wiggled roads at a break-necking pace
and grind on for miles across weirdish wild space,
headed, I fear, toward a most useless place.
The Waiting Place…
Dr. Seuss
If you'd never been born, then you might be an Isn't! And Isn't has no fun at all. No, he disn't. Dr. Seuss
Oh, the jobs people work at! Out west near Hawtch-Hawtch there's a Hawtch-Hawtcher bee watcher, his job is to watch. Is to keep both his eyes on the lazy town bee, a bee that is watched will work harder you see. So he watched and he watched, but in spite of his watch that bee didn't work any harder not mawtch. So then somebody said "Our old bee-watching man just isn't bee watching as hard as he can, he ought to be watched by another Hawtch-Hawtcher! The thing that we need is a bee-watcher-watcher!". Well, the bee-watcher-watcher watched the bee-watcher. He didn't watch well so another Hawtch-Hawtcher had to come in as a watch-watcher-watcher! And now all the Hawtchers who live in Hawtch-Hawtch are watching on watch watcher watchering watch, watch watching the watcher who's watching that bee. You're not a Hawtch-Watcher you're lucky you see! Dr. Seuss
When at last we are sure
You've been properly pilled,
Then a few paper forms
Must be properly filled
So that you and your heirs
May be properly billed.
Dr. Seuss
Dr. Seuss Quotes about Children
Adults are just obsolete children and the hell with them. Dr. Seuss.
I think I can communicate with kids because I don't try to communicate with kids. Ninety percent of the children's books patronize the child and say there's a difference between you and me, so you listen to this story. I, for some reason or another, don't do that. I treat the child as an equal. Dr. Seuss.
Children want the same things we want. To laugh, to be challenged, to be entertained, and delighted. Dr. Seuss.
Words and pictures are yin and yang. Married, they produce a progeny more interesting than either parent. Dr. Seuss.
Children's reading and children's thinking are the rock-bottom base upon which this country will rise. Or not rise. In these days of tension and confusion, writers are beginning to realize that books for children have a greater potential for good or evil than any other form of literature on earth. Dr. Seuss
You may also like:
50 Quotes From the Movie How the Grinch Stole Christmas That Will Brighten Up Your Holiday Season
20 Confucius Quotes to Upgrade your Life Quality
Henry David Thoreau Quotes to Live by