"Never Give Up" | Famous and Original Quotes
The best "never give up" quotes in the world often have one thing in common: they have the ability to greatly inspire and motivate readers to give life their best shots.
That's the exact type of quotes (both famous and original) that we have taken our time to prepare for you below. Use these heartening lines to inspire yourself and others alike to be successful in life
Famous Quotes
Our greatest glory is not in never falling but in rising every time we fall. Confucius
Don't let the fear of the time it will take to accomplish something stand in the way of your doing it. The time will pass anyway; we might just as well put that passing time to the best possible use. Earl Nightingale
No one has the power to shatter your dreams unless you give it to them. Maeve Greyson
When you feel like giving up, remember why you held on for so long in the first place. Author Unknown
When the world says, 'Give up,' Hope whispers, 'Try it one more time.' Author Unknown
Never give up, for that is just the place and time that the tide will turn. Harriet Stowe
When you are going through hell, keep on going. Never never never give up. Winston Churchill
When you get to the end of your rope, tie a knot and hang on. Franklin D. Roosevelt
Whatever course you decide upon, there is always someone to tell you that you are wrong. There are always difficulties arising which tempt you to believe that your critics are right. To map out a course of action and follow it to an end requires courage. Ralph Waldo Emerson
Life is like riding a bicycle. To keep your balance, you must keep moving. Albert Einstein
Our greatest weakness lies in giving up. The most certain way to succeed is always to try just one more time. Thomas Edison
Difficult things take a long time, impossible things a little longer. André A. Jackson
It's not that I'm so smart, it's just that I stay with problems longer. Albert Einstein
A winner is someone who gets up one more time than he is knocked down. Author Unknown
You just can't beat the person who won't give up. Babe Ruth
Never give up on what you really want to do. The person with big dreams is more powerful than one with all the facts. Albert Einstein
In the confrontation between the stream and the rock, the stream always wins – not through strength but by perseverance. H. Jackson Brown
Success seems to be largely a matter of hanging on after others have let go. William Feather
It does not matter how slowly you go, so long as you do not stop. Confucius
Winners never quit, and quitters never win. Vince Lombardi
To be a champ, you have to believe in yourself when nobody else will. Sugar Ray Robinson
Don't be discouraged. It's often the last key in the bunch that opens the lock. Anonymous
It is never too late to be what you might have been. George Eliot
Remember that guy that gave up? Neither does no one else. Unknown
Nothing could be worse than the fear that one had given up too soon, and left one unexpended effort that might have saved the world. Jane Addams
Never, never, never, never give up. Winston Churchill
Fall seven times, stand up eight.  Japanese Proverb
I have not failed, I have just found 10,000 ways that won't work. Thomas Edison
Sometimes adversity is what you need to face in order to become successful. Zig Ziglar
Successful men and women keep moving. They make mistakes, but they don't quit. Conrad Hilton
Don't give up. There are too many nay-sayers out there who will try to discourage you. Don't listen to them. The only one who can make you give up is yourself. Sidney Sheldon
It always seems impossible until it's done. Nelson Mandela
Original Quotes
One of the best things you can do for yourself in this lifetime is to never ever give up, come what may!
The future belongs to those who have faith in themselves and pursue their dreams regardless of the obstacles and tribulations that might come their way.
The most remarkable things in this world were accomplished by people who never gave up.
You can only be a winner on this planet when you start believing in yourself.
Oftentimes we need to pass through adversity in order to see success, for most of the incredible achievements in life were never accomplished from comfort zones.
The easiest way to become the great person you have been destined to be is to never stop chasing after your dreams.
Don't you ever give up on your dreams, for God has blessed you with all that you need to achieve them. It might be taking you a little bit longer than you expected to get there, but I can guarantee you that if you believe in yourself, you'll eventually get there.
No matter the amount of troubles and hardship your life is currently plagued with, they can vanish if you hold on a little bit longer.
Since time immemorial, victors have always had one special thing in common: they never quit.
One of the easiest ways to fail so woefully in life is to give in to the troubles of life. The more you press on in life, the higher your likelihood of succeeding becomes.
People who don't believe in themselves and never chase after their dreams often spend their whole lives working for people who do these things.
The biggest secret to success is believing in yourself regardless of the situation you find yourself in. Every successful person in life has made use of this tremendously powerful tool to achieve remarkable things.
In my dictionary, the definition of a real loser in life is he who gives life the opportunity to beat the hell out of him.
Our Creator designed us to never be too young or too old to accomplish our dreams.
So far as you have blood running through your veins and your heart is still beating, you can be a winner in life.
The more obstacles that lie in your path to success, the more enjoyable your accomplishments become in the end.
Any man born of a woman who never gives up can never be defeated in life. You have held on for so long. Why give up now?
The only thing that can help you to surmount the challenges that life comes laden with is perseverance. Arm yourself with tenacity and you shall always soar like an eagle over the tribulations of life.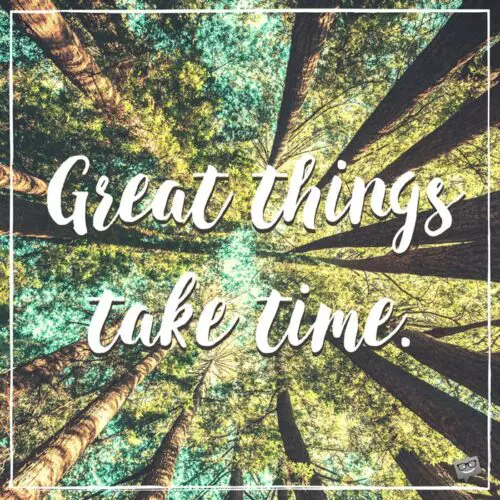 The saddest thing about giving up is that you might just not know how close you were to realizing your goal when you gave up. No matter how rough the sea or the road you are traveling on gets, stay the course and you shall be a victor!
From the beginning of time, achieving extraordinary things has never been a walk in the park. The moral of the story is to never give in because your success is taking a little longer to come to you.
The moment you vow never to give up in life, you have automatically become a winner.
To be a winner in life, you need to keep moving, even in the midst of adversities.
Preparation is the major difference between success and failure. When you fail to prepare, you do nothing but prepare yourself to fail.
A winner is someone who plucks up the courage to rise whenever he/she falls.
To be a successful person in life, all you have to do is believe in yourself and keep pursuing your dreams. If you believe in your strengths and abilities, you can achieve everything you ever wanted in life.
If you have air in your lungs and determination in your heart, there is absolutely nothing that can stop you from achieving all your desires and objectives.
No matter how rough life gets, don't give yourself up to despair, for I have 100% believe in you. Things will get better and the sun will shine again in your skies.
---
You may also like:
Start Even If You Don't Know How | 99 Motivational Quotes
Wise Words as Life Lessons | Inspirational Quotes for a Better World
101 Amazing Maya Angelou Quotes