101 Amazing Maya Angelou Quotes
Marguerite Annie Johnson (1928 – 2014) was born in St. Louis, Missouri and was nicknamed "Maya" (derived from "My" or "Mya Sister") by her older brother. When she was eight years old, Angelou was raped by her mother's boyfriend and she told her brother, who told the rest of their family. The man was found guilty, was jailed for only one day and four days after his release, he was murdered, probably by Angelou's uncles. Angelou became mute for almost five years, believing, as she stated, that "I thought, my voice killed him; I killed that man, because I told his name. And then I thought I would never speak again, because my voice would kill anyone." During her silent years she found refuge in literature and discovered authors who would affect her life and career.
At the age of 17 she gave birth to her first son and in 1951 she got married to Tosh Angelos. During her life, Angelou wrote a total of seven autobiographies and has received dozens of awards and more than 50 honorary degrees. Her books stretch over time and place, from Arkansas to Africa and back to the U.S., and take place from the beginnings of World War II to the assassination of Martin Luther King, Jr. With the publication of "I Know Why the Caged Bird Sings" (1969), Angelou publicly discussed aspects of her personal life. She was respected as a spokesperson for black people and women, and her works have been considered a defense of black culture. Angelou's long and extensive career also included poetry, plays, screenplays for television and film, directing, acting, and public speaking.

---
Short Maya Angelou Quotes
Be a rainbow in somebody else's cloud.
Everything in the universe has a rhythm, everything dances.
Nothing can dim the light which shines from within.
Live as though life was created for you.
I hope that I may always desire more than I can accomplish.
Surviving is important. Thriving is elegant.
I sustain myself with the love of family.
When you learn, teach, when you get, give.
All great achievements require time.
Don't let the man bring you down.
To those who are given much, much is expected.
Ask for what you want and be prepared to get it!
I've learned that I still have a lot to learn.
Success is loving life and daring to live it.
We need much less than we think we need.
A friend may be waiting behind a stranger's face.
Empowering Maya Angelou Quotes
When you know you are of worth, you don't have to raise your voice, you don't have to become rude, you don't have to become vulgar; you just are. And you are like the sky is, as the air is, the same way water is wet. It doesn't have to protest.
Never make someone a priority when all you are to them is an option.
I love to see a young girl go out and grab the world by the lapels. Life's a bitch. You've got to go out and kick ass.
You alone are enough. You have nothing to prove to anybody.
Hoping for the best, prepared for the worst, and unsurprised by anything in between.
It is this belief in a power larger than myself and other than myself which allows me to venture into the unknown and even the unknowable.
My mission in life is not merely to survive, but to thrive; and to do so with some passion, some compassion, some humor, and some style.
One isn't necessarily born with courage, but one is born with potential. Without courage, we cannot practice any other virtue with consistency. We cannot be kind, true, merciful, generous, or honest.
You may encounter many defeats, but you must not be defeated. In fact, it may be necessary to encounter the defeats, so you can know who you are, what you can rise from, how you can still come out of it.
Women should be tough, tender, laugh as much as possible, and live long lives.
If one is lucky, a solitary fantasy can totally transform a million realities.
No matter what happens, or how bad it seems today, life does go on, and it will be better tomorrow.
I not only have the right to stand up for myself, but I have the responsibility. I can't ask somebody else to stand up for me if I won't stand up for myself. And once you stand up for yourself, you'd be surprised that people say, "Can I be of help?".
You may not control all the events that happen to you, but you can decide not to be reduced by them.
If you are always trying to be normal, you will never know how amazing you can be.
I was told many years ago by my grandmother who raised me: If somebody puts you on a road and you don't feel comfortable on it and you look ahead and you don't like the destination and you look behind and you don't want to return to that place, step off the road.
Each time a woman stands up for herself, without knowing it possibly, without claiming it, she stands up for all women.
My great hope is to laugh as much as I cry; to get my work done and try to love somebody and have the courage to accept the love in return.
Inspirational Maya Angelou Quotes
Be present in all things and thankful for all things.
When someone shows you who they are believe them; the first time.
Love life. Engage in it. Give it all you've got. Love it with a passion because life truly does give back, many times over, what you put into it.
If you find it in your heart to care for somebody else, you will have succeeded.
When I forgive other people, I let them go, I free them from my ignorance. And as soon as I do, I feel lighter, brighter and better.
Living well is an art that can be developed: a love of life and ability to take great pleasure from small offerings and assurance that the world owes you nothing and that every gift is exactly that, a gift.
You can only become truly accomplished at something you love. Don't make money your goal. Instead pursue the things you love doing and then do them so well that people can't take their eyes off of you.
Someone was hurt before you, wronged before you, hungry before you, frightened before you, beaten before you, humiliated before you, raped before you… yet, someone survived… You can do anything you choose to do.
I did then what I knew how to do. Now that I know better, I do better.
My mother said I must always be intolerant of ignorance but understanding of illiteracy.
Stepping onto a brand-new path is difficult, but not more difficult than remaining in a situation, which is not nurturing to the whole woman.
Any book that helps a child to form a habit of reading, to make reading one of his deep and continuing needs, is good for him.
If I am not good to myself, how can I expect anyone else to be good to me?
The idea is to write it so that people hear it and it slides through the brain and goes straight to the heart.
When we give cheerfully and accept gratefully, everyone is blessed.
All men are prepared to accomplish the incredible if their ideals are threatened.
It is time for parents to teach young people early on that in diversity there is beauty and there is strength.
You can't use up creativity. The more you use, the more you have.
As soon as healing takes place, go out and heal somebody else.
If you have only one smile in you, give it to the people you love. Don't be surly at home, then go out in the street and start grinning 'Good morning' at total strangers.
Life is going to give you just what you put in it. Put your whole heart in everything you do, and pray, then you can wait.
Funny Maya Angelou Quotes
Life loves the liver of it.
Nothing will work unless you do.
How important it is for us to recognize and celebrate our heroes and she-roes!
I've learned that even when I have pains, I don't have to be one.
I've learned that you can tell a lot about a person by the way (s)he handles these three things: a rainy day, lost luggage, and tangled Christmas tree lights.
When we find someone who is brave, fun, intelligent, and loving, we have to thank the universe.
I don't trust anyone who doesn't laugh.
I believe most plain girls are virtuous because of the scarcity of opportunity to be otherwise.
The best candy shop a child can be left alone in, is the library.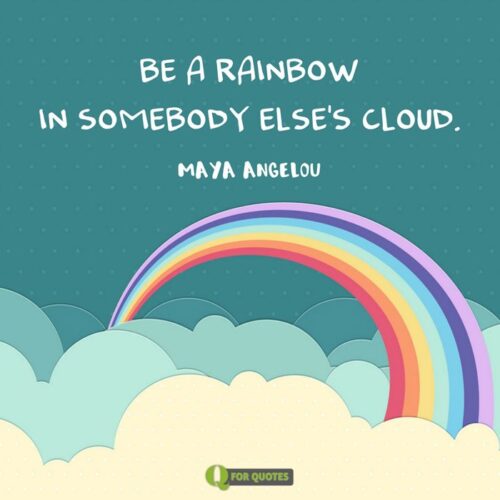 Insightful Maya Angelou Quotes
There is no greater agony than bearing an untold story inside you.
I've learned that people will forget what you said, people will forget what you did, but people will never forget how you made them feel.
Some people cannot see a good thing when it is right here, right now. Others can sense a good thing coming when it is days, months, or miles away.
There's a world of difference between truth and facts. Facts can obscure truth.
I believe that the most important single thing, beyond discipline and creativity is daring to dare.
The ache for home lives in all of us. The safe place where we can go as we are and not be questioned.
I've learned that making a 'living' is not the same thing as 'making a life'.
Success is liking yourself, liking what you do, and liking how you do it.
I don't trust people who don't love themselves and tell me, "I love you." There is an African saying which is: "Be careful when a naked person offers you a shirt."
You can't really know where you are going until you know where you have been.
There is nothing so pitiful as a young cynic because he has gone from knowing nothing to believing nothing.
If we lose love and self respect for each other, this is how we finally die.
Most people don't grow up. Most people age. They find parking spaces, honor their credit cards, get married, have children, and call that maturity. What that is, is aging.
We delight in the beauty of the butterfly, but rarely admit the changes it has gone through to achieve that beauty.
The desire to reach for the stars is ambitious. The desire to reach hearts is wise.
Life is pure adventure, and the sooner we realize that, the quicker we will be able to treat life as art.
Hate, it has caused a lot of problems in the world, but has not solved one yet.
Whining is not only graceless, but can be dangerous. It can alert a brute that a victim is in the neighborhood.
There is a very fine line between loving life and being greedy for it.
History, despite its wrenching pain cannot be unlived, but if faced with courage need not be lived again.
We allow our ignorance to prevail upon us and make us think we can survive alone, alone in patches, alone in groups, alone in races, even alone in genders.
Poetic Maya Angelou Quotes
Music was my refuge. I could crawl into the space between the notes and curl my back to loneliness.
Bitterness is like cancer. It eats upon the host. But anger is like fire. It burns it all clean.
The need for change bulldozed a road down the center of my mind.
Life is not measured by the number of breaths we take, but by the moments that take our breath away.
Poetry puts starch in your backbone so you can stand, so you can compose your life.
Talent is like electricity. We don't understand electricity. We use it.
Words mean more than what is set down on paper. It takes the human voice to infuse them with shades of deeper meaning.
Let gratitude be the pillow upon which you kneel to say your nightly prayer. And let faith be the bridge you build to overcome evil and welcome good.
Romantic Maya Angelou Quotes
Have enough courage to trust love one more time and always one more time.
Love is like a virus. It can happen to anybody at any time.
I dreamt we walked together along the shore. We made satisfying small talk and laughed. This morning I found sand in my shoe and a seashell in my pocket. Was I only dreaming?
To those who have given up on love: I say, Trust life a little bit.
Love recognizes no barriers. It jumps hurdles, leaps fences, penetrates walls to arrive at its destination full of hope.
In all the world, there is no heart for me like yours. In all the world, there is no love for you like mine.
First best is falling in love. Second best is being in love. Least best is falling out of love. But any of it is better than never having been in love.
Maya Angelou Quotes On Images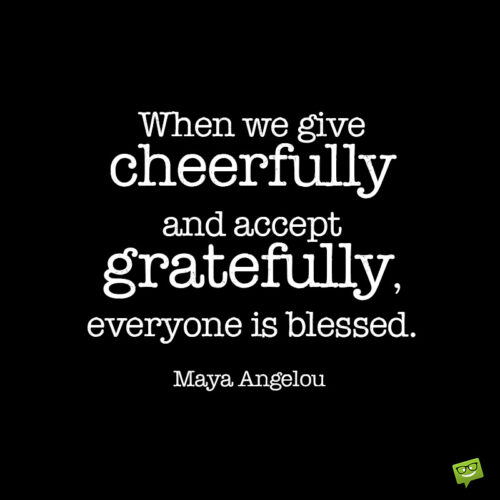 You may also like:
The Bus Seat Story | 52 Rosa Parks Quotes
80 Pablo Neruda Quotes to Explore Love, Poetry and Life Itself
50 Kendrick Lamar's Storytelling Quotes About Life Experience and Love