Best 60 One Step at a Time Quotes to Take Things Easy
As humans we have a habit of rushing through things, anxious to accomplish our goals and move to the next level of life. We race frenetically against the clock, trying to fit in as many things as possible in our already hyper-scheduled daily lives and push ourselves so hard that our goals seem daunting and impossible to reach. However, life is not a race but a journey, and its joy is only experienced in the present moment, so here we have rounded up an inspiring collection of the best one step at a time quotes to take things easy and not rush into trying to do everything at once, but letting things unfold in their own time.
We all have dreams and life goals we want to accomplish, but either we are overwhelmed by the amount of effort involved in reaching our dreams, or hesitate altogether to take the first step unless we are certain that conditions are favorable or the time is perfect. It is natural when you think of your end goal as one huge amount of effort to get discouraged, but if you break it down into smaller steps it becomes more manageable, allows you greater control and you also feel motivated to take the next step.
Don't try to do everything at once! The smallest of steps can complete the greatest of journeys. The important thing is to take the first step, despite fears or doubts. It is this first step that gives momentum and builds faith into your goal. Success doesn't happen overnight, it is a slow, gradual process that takes patience and time, and this is what gives it meaning and makes it last. Don't try to grow too quickly, trust the magic of small steps and live the moment. Take life day by day. Great things come to those who wait!
Table of Contents
Short One Step At a Time Quotes To Help You Understand Baby Steps
Because anything worth having in life requires patience and time, we have compiled the following short "one step at a time" quotes to help you understand how baby steps can accumulate momentum and play out to help you attain your goals.
Powerful One Step At a Time Quotes To Motivate Real and Lasting Change
A collection of powerful "one step at a time" quotes to motivate real and lasting change. Reflect upon them to appreciate the true essence of change and why it is a gradual process that demands to be experienced over time.
Inspirational One Step At a Time Quotes
A thoughtful list of inspirational "one step at a time" quotes to help you realize why you should map out your journey into small steps and achieve success through the little things in life.  
More One Step At a Time Quotes For Inspiration and Drive
Some more "one step at a time" quotes for inspiration and drive to stop putting pressure on yourself but take things easy and find joy in every day of your life.
When it comes to fleshing out our dreams we tend to become impatient and anxious, trying to do thousands of things at once in the false expectation of immediate success. We rush through life as if there is no tomorrow, not realizing that things happen in a different order than the one we have in mind. Life is neither a race nor a competition, but a journey of small but concrete resolves. Do not rush things! Small steps can tackle the biggest goals. Trust the process to fully appreciate the journey!
If you like it, pin it!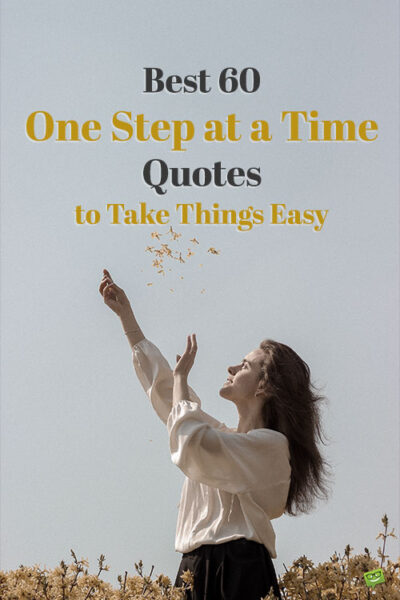 You may also like:
The Secret of All Triumphs! 157 Perseverance Quotes
Best 154 Goal Quotes on Journeys Towards What We Desire
Go the Extra Mile! | 150 Hard Work Quotes