74 Old Friends Quotes to Praise a Bond that Never Dies
As we grow older and move through life we change, but we always carry with us some unforgettable, touching moments with the old buddies of our youth. No matter how far apart, they always stay close to our heart because we share an unbreakable bond that defies time and distance. Catching up with them can be an exciting journey back down memory lane, so here we have compiled for you a diverse collection of heartwarming and funny old friends quotes to cherish that special bond and reconnect with them.
We experience life through different stages of development, but as we pass from one phase to the next, our priorities shift and we develop new perspectives. Our relationships become increasingly formal, new people enter our lives and, without noticing, we start spacing out from people we once knew, however, nothing seems able to overshadow those old friends from our high school or college years.
Old friends reconnect you with your past self. They don't just know your story, they helped you write it. They remember embarrassing details from your past and they are the guardians of old memories of exaggerated mischief. They have been with you through thick and thin, shared your laughter and tears and went along with the craziest ideas. Never caring if you are broke, how much you weigh, or if you house is clean, they love you for who you are and provide a space of unconditional acceptance.
Not every friendship stands the test of time. There are friends in life and there are friends for life. Old friends are a treasure and something you should cherish. Share a heartwarming old friends quote with them to show how much they mean to you. Reminisce about sweet old memories or funny moments of yesterday, melt the years away and pick up from where you left off!
Table of Contents
Quotes About Old Friends That Stood the Test of Time
A list of insightful quotes about old friends that stood the test of time to help you realize why old friends are rare and last for a lifetime!
An old friend never can be found, and nature has provided that he cannot easily be lost. Samuel Johnson
Ah, how good it feels! The hand of an old friend. Henry Wadsworth Longfellow
It takes a long time to grow an old friend. John Leonard
The best mirror is an old friend. George Herbert
We need old friends to help us grow old and new friends to help us stay young. Letty Cottin Pogrebin
Say what you want about aging, it's still the only way to have old friends. Robert Breault
It is one of the blessings of old friends that you can afford to be stupid with them. Ralph Waldo Emerson
Age appears best in four things: old wood to burn, old wine to drink, old friends to trust and old authors to read. Francis Bacon
When we forget old friends, it is a sign we have forgotten ourselves. William Hazlitt
It's an insane world, but in it, there is one sanity- the loyalty of old friends. Stephen Boyd
I keep my old friends, and get older with them, but push young. It's good to be surrounded by kids, because they keep you young. Carine Roitfeld
Old friends become more and more precious to us as the years pass. They can look at us for who we once were and who we are now, appreciating the difficulties we have overcome, the abilities we have acquired, and the ways we have stayed true to ourselves. Wendy Lustbader
I find friendship to be like wine, raw when new, ripened with age, the true old man's milk and restorative cordial. Thomas Jefferson
But now old friends are acting strange
They shake their heads, they say I've changed
Well something's lost, but something's gained
In living every day
Joni Mitchell
Make new friends, but keep the old;
Those are silver, these are gold. New-made friendships, like new wine,
Age will mellow and refine. Friendships that have stood the test-
Time and change-are surely best;
Joseph Parry
Old friends pass away, new friends appear. It is just like the days. An old day passes, a new day arrives. The important thing is to make it meaningful: a meaningful friend – or a meaningful day. Dalai Lama
You don't have to have anything in common with people you've known since you were five. With old friends, you've got your whole life in common. Lyle Lovett
There's not a word yet for old friends who've just met. Jim Henson, I'm Going To Go Back There Someday
Old friends are memories personified. Richard Paul Evans
Some people seem to fade away but then when they are truly gone, it's like they didn't fade away at all. Bob Dylan
The companions of our childhood always possess a certain power over our minds which hardly any later friend can obtain. Mary Shelley, Frankenstein
New friends may be poems but old friends are alphabets. Don't forget the alphabets because you will need them to read the poems. Unknown
A man's growth is seen in the successive choirs of his friends. Ralph Waldo Emerson
Two may talk together under the same roof for many years, yet never really meet; and two others at first speech are old friends. Mary Catherwood
You each share a part of their soul's mirror and see each other's light reflected in it clearly. You can easily speak from the heart and feel safe doing so. Shannon L. Alder
Life is partly what we make it, and partly what it is made by the friends we choose. Tennessee Williams
Ten minutes with a genuine friend is better than years spent with anyone less. Crystal Woods
You can't make old friends. You either have them, or you don't. Kenny Rogers
As I grow older, I pay less attention to what men say. I just watch what they do. Andrew Carnegie
A melancholy lesson of advancing years is the realisation that you can't make old friends. Christopher Hitchens
When we honestly ask ourselves which person in our lives means the most to us, we often find that it is those who, instead of giving much advice, solutions, or cures, have chosen rather to share our pain and touch our wounds with a gentle and tender hand. Henri Nouwen
Though you are in your shining days
Voices among the crowd
And new friends busy with your praise
Be not unkind or proud
But think about old friends the most
Time's bitter flood will rise
Your beauty perish and be lost
For all eyes but these eyes.
William Butler Yeats
Beautiful and rich is an old friendship
Grateful to the touch as ancient ivory
Smooth as aged wine, or sheen of tapestry
Where light has lingered, intimate and long.
Full of tears and warm is an old friendship
That asks no longer deeds of gallantry,
Or any deed at all- save that the friend shall be
Alive and breathing somewhere, like a song.
Eunice Tietjens
How unspeakably the lengthening of memories in common endears our old friends! George Eliot
Reconnecting With Old Friends Quotes
Without realizing it at the time, together with your old friends you were creating unforgettable memories to cherish for a lifetime. The following reconnecting with old friends quotes will help you rekindle those memories with your old buddies!
Finding an old friend is like finding a lost treasure. Anthony D. Williams
To be with old friends is very warming and comforting. Ian Ziering
Old stories are like old friends. You have to visit them from time to time. George R.R. Martin
When old friends get together, everything else fades to insignificance. Robert Lynn Asprin
It's always great to see old friends, especially those I have not been able to see in 15 months. William Regal
To reminisce with my old friends, a chance to share some memories, and play our songs again. Ricky Nelson
Reunions are the first day of school all over again. Time casts away familiarity and replaces it with warm confusion. Seeing how the years have frayed the friends of our youth reminds us that we too have irrevocably changed and can never return to a state of innocence again. Stewart Stafford
The wind taught me never to forget old friends, by blowing them back to me. Michael Bassey Johnson
In a better world we will find our young years and our old friends. Jean Antoine Petit-Senn
You meet a friend – your face brightens. You have struck gold. Kassia
When you meet with your old friends, you recollect some of the finest moments of your life and find yourself in a joy that has no comparison. Syed Badiuzzaman
Funny Quotes About Old Friends
If you are searching for some witty message to reconnect with your old gang, these funny quotes about old friends will do the trick!
Remember that the most valuable antiques are dear old friends. H. Jackson Brown, Jr.
People have told me 'Betty, Facebook is a great way to keep in touch with old friends…'
At my age, if I wanted to keep in touch with old friends, I'd need a Ouija board.
Betty White
Every murderer is probably somebody's old friend. G.K. Chesterton
There is nothing like puking with somebody to make you into old friends. Sylvia Plath, The Bell Jar
We need new friends; some of us are cannibals who have eaten their old friends up; others must have ever-renewed audiences before whom to re-enact an ideal version of their lives. Logan Pearsall Smith
Condiments are like old friends — highly thought of, but often taken for granted. Marilyn Kaytor
Old Friends Are Best Quotes
The following collection of old friends are best quotes testify to the fact that no matter how amazing the new friends you meet may be, nothing can ever replace that unique connection that old friends share.
There's no friends like the old friends. James Joyce
Cheese, wine, and a friend must be old to be good. Reinhold Niebuhr
Lay this unto your breast: Old friends, like old swords, still are trusted best. John Webster
I love everything that's old, – old friends, old times, old manners, old books, old wine. Oliver Goldsmith
In dress, the newest is the finest; in friends, the oldest is the best. Korean Proverb
Old friends and old wine are best. German Proverb
Of oil, wine, and friends, the oldest is the best. Portuguese Proverb
In forming new friendships, forget not old friends. Roman Proverb
An old friend met in a far country is like rain after a drought. Chinese Proverb
Old friends are best. King James used to call for his old shoes; they were the easiest for his feet. John Selden
One should not forsake old friends for new, because the old friends, having already proven their calibre, are more trustworthy. G. Llewellyn Watson
Inspirational and Literary Quotes About Old Friends
A thoughtful collection of inspirational and literary quotes about old friends to cherish that special bond of loyalty and trust.
A friend is a gift you give yourself. Robert Louis Stevenson
While they talked they remembered the years of their youth, and each thought of the other as he had been at another time. John Williams, Stoner
Certain faults are necessary for the existence of the individual. We would resent it if old friends were to get rid of certain peculiarities. Johann Wolfgang von Goethe
To ensure that the self doesn't shrink, to see that it holds on to its volume, memories have to be watered like potted flowers, and the watering calls for regular contact with the witnesses of the past, that is to say, with friends. Milan Kundera
Old friends burn dim, like lamps in noisome air; love them for what they are; nor love them less, because to thee they are not what they were. Samuel Coleridge Taylor
Harriet had long ago discovered that one could not like people any the better, merely because they were ill, or dead—still less because one had once liked them very much. Dorothy L. Sayers, Gaudy Night
It's the worst part of seeing old friends: when your rose-colored memories become undone by reality. Brad Meltzer, The Inner Circle
There is nothing better than the encouragement of a good old friend. Katharine Butler Hathaway
There is no friend like an old friend who has shared our morning days, no greeting like his welcome, no homage like his praise. Oliver Wendell Holmes Jr.
I try to treat whoever I meet as an old friend. This gives me a genuine feeling of happiness. It is the practice of compassion. Dalai Lama
It does seem so pleasant to talk with an old acquaintance that knows what you know. I see so many of these new folks nowadays, that seem to have neither past nor future. Conversation's got to have some root in the past, or else you've got to explain every remark you make, an' it wears a person out. Sarah Orne Jewett, The Country of the Pointed Firs
I don't think life offers any greater experience than the joyful sense of recognition when one finds in a new acquaintance a real friend, or when an old relationship deepens into friendship, or when one finds an old friendship intact despite the passage of years and many absences. Abigail McCarthy
Not everyone is blessed with old friends. They are the family you choose, without the pressure of ever having to explain yourself, because they know you better than anyone else. They have your back and they are always there to pick you up when you fall, after they finish laughing. Even if you drift apart and follow different paths in life, your old friends will always stay in your heart, because together you share a special bond that time cannot break!
If you like it, pin it!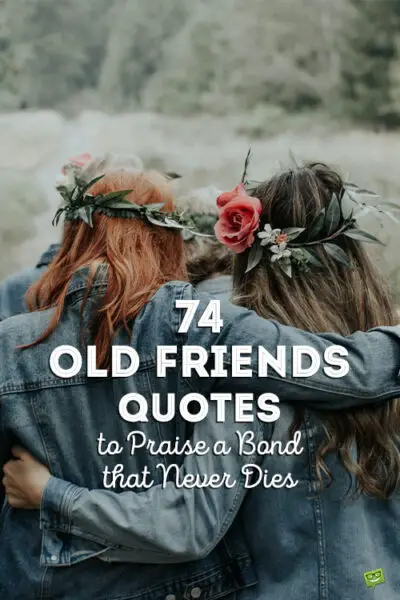 You may also like:
The 200+ Most Beautiful Friendship Quotes
Best 50 Literature Quotes about Friendship and Best Friends
Best 50 Powerful Connection Quotes that Link Us All
80 Simple Life Quotes to Make Everything Less Complicated