A Universe of Compassion | 123 Dalai Lama Quotes
A heir to a 600-year tradition, the 14th Dalai Lama (born Lhamo Thondup in China in 1935) is the spiritual and political leader of Tibetan Buddhism. According to this religion, all the Dalai Lamas are believed to be the reincarnation of a deity, but what sets the 14th Dalai Lama apart is his charisma in public discourse and his effort to spread the message of universal peace and compassion.
Dalai Lama has written a large number of books and, being the effective public speaker that he is, he conducted hundreds of conferences, lectures and workshops at major institutions around the world, discussing engaging in wisdom, compassion and environmental sustainability. His role as a leader of a government-in-exile (he currently lives in India) is absolutely important for Tibetan independence, but his words echo throughout the world when true peace is sought.

Short Dalai Lama quotes
Be the change you wish to be.

Dalai Lama

 

As you breathe in, cherish yourself. As you breathe out, cherish all Beings.

Dalai Lama

 

If you can, help others; if you cannot do that, at least do not harm them.

Dalai Lama

 

The goal is not to be better than the other man, but your previous self.

Dalai Lama

 

Τ

he only way that money can bring happiness is to give it away.

Dalai Lama

 

Seek to be an oasis of caring and concern as you live your life.

Dalai Lama

 

An open heart is an open mind.

Dalai Lama

 
Share your knowledge. It is a way to achieve immortality.

Dalai Lama

 

You are made for perfection, but you are not yet perfect. You are a masterpiece in the making.

Dalai Lama

 

If a problem can be solved it will be. If it

cannot

be solved there is no use worrying about it.

Dalai Lama

 

Instead of wondering WHY this is happening to you, consider why this is happening to YOU.

Dalai Lama

 

Live so when your children think of fairness and integrity they think of you.

Dalai Lama

 

The more time you spend thinking about yourself, the more suffering you will

experience.

Dalai Lama

 

True change is within; leave the outside as it is.

Dalai Lama

 

I defeat my enemies when I make them my friends.

Dalai Lama

 

In our struggle for freedom, truth is the only weapon we possess.

Dalai Lama

 

If you think you are too small to make a difference, try sleeping with a mosquito.

Dalai Lama

 

A compassionate concern for others' well-being is the source of happiness.

Dalai Lama

 

Acceptance

is the opposite of resignation and defeat.

Dalai Lama

 

A disciplined mind leads to happiness, and an undisciplined mind leads to suffering.

Dalai Lama

 

Most of our troubles stem from attachment to things that we mistakenly see as permanent.

Dalai Lama

 

A happy mind is a healthy mind, and a healthy mind is good for the body.

Dalai Lama

 

A loving atmosphere in your home is the foundation for your life.

Dalai Lama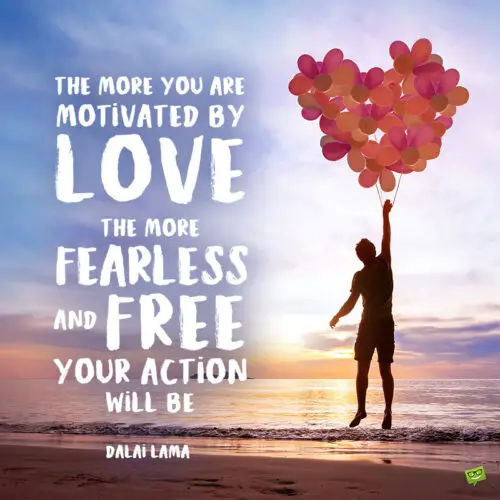 Be gentle with the earth.

Dalai Lama

 

Compassion is the radicalism of our time.

Dalai Lama

 

Change is part of the world. Until the last moment,

anything

is possible.

Dalai Lama

 

Do not try to use what you learn from Buddhism to be a Buddhist; use it to be a better whatever-you-already-are.

Dalai Lama

 

Generosity is the most natural outward expression of an inner attitude of compassion and loving-kindness.

Dalai Lama

 

I find hope in the darkest of

days, and

focus in the brightest. I do not judge the universe.

Dalai Lama

 

The purpose of religion is to control yourself, not to criticize others.

Dalai Lama

 

In the practice of tolerance, one's enemy is the best teacher.

Dalai Lama

 

It is not enough to be compassionate, we must act.

Dalai Lama

 

It is important to consider others at least as important as ourselves. This is the essence

of spirituality

.

Dalai Lama

 

The very purpose of our life is to seek happiness.

Dalai Lama

 

It is under the greatest adversity that there exists the greatest potential for doing good, both for oneself and others.

Dalai Lama

 

We are all born free of religion, but none of us are born free of the need for compassion.

Dalai Lama

 

We can never obtain peace in the outer world until we make peace with

ourselves.

Dalai Lama

 

Through violence, you may 'solve' one problem, but you sow the seeds for another.

Dalai Lama

 

It is very rare or almost impossible that an event can be negative from all points of view.

Dalai Lama

 

Judge your success by what you had to give up in order to get it.

Dalai Lama

 

Love and compassion are necessities, not luxuries. Without them, humanity cannot survive.

Dalai Lama

 

Know the rules well, so you can break them effectively.

Dalai Lama

 

Silence is sometimes the best answer.

Dalai Lama

 

No matter what people call you, you are just who you are. Keep to this truth.

Dalai Lama

 

The roots of all goodness lie in the soil of appreciation.

Dalai Lama

 

Ν

o

matter what is happening, no matter what is going on around you, never give up

.

Dalai Lama

 

Ο

nce

a year go

some

place

you've never been before

.

Dalai Lama

 

Remember that sometimes not getting what you want is a wonderful stroke of luck.

Dalai Lama

 

Neither a space station nor an enlightened mind can be realized in a day.

Dalai Lama

 

The way to change others' minds is with affection, and not anger.

Dalai Lama

 

Peace can only last where human rights are respected, where the people are fed, and where individuals and nations are free.

Dalai Lama

 
Inspirational Dalai Lama quotes

 
The planet does not need more successful people. The planet desperately needs more peacemakers, healers, restorers, storytellers and lovers of all kinds.

Dalai Lama

 

Today, more than ever before, life must be characterized by a sense of Universal responsibility, not only nation to nation and human to human, but also human to other forms of life.

Dalai Lama

 

Peace does not mean an absence of conflicts; differences will always be there. Peace means solving these differences through peaceful means; through dialogue, education, knowledge; and through humane ways.

Dalai Lama

 

Irrespective of whether we are believers or agnostics, whether we believe in God or karma, moral ethics is a code which everyone is able to pursue.

Dalai Lama

 

It is more important for schools to have classes on ethics than religion. Why? Because it's more important for humanity's survival to be aware of our commonalities than to constantly emphasize what divides us.

Dalai Lama

 

If you wish to experience peace, provide peace for another.




If you wish to know that you are safe, cause another to know that they are safe.




If you wish to better understand seemingly incomprehensible things, help another to better understand.




If you wish to heal your own sadness or anger, seek to heal the sadness or anger of another.

Dalai Lama

 

Every day,

think as you wake up, today I am fortunate to be alive, I have a precious human life, I am not going to waste it. I am going to use all my energies to develop myself, to expand my heart out to others; to achieve enlightenment for the benefit of all beings. I am going to have kind thoughts towards others, I am not going to get angry or think badly about others. I am going to benefit others as much as I can.

Dalai Lama

 

Sometimes one creates a dynamic impression by saying something, and sometimes one creates as significant an impression by remaining silent.

Dalai Lama

 

So long as people give priority to material values, then injustice, corruption, inequity, intolerance, and greed-all the outward manifestations of neglect of inner values-will persist.

Dalai Lama

 

Forgiveness does not mean you forget what someone has done, contrary to the saying Forgive and forget.

Forgiveness does not mean that you do not seek justice or that the perpetrator is not punished.

Dalai Lama

 

There is a saying in Tibetan, 'Tragedy should be utilized as a source of strength.'

No matter what sort of difficulties, how painful experience is, if we lose our hope, that's our real disaster.

Dalai Lama

 

If we analyze or dissect a flower, looking for the flower among its parts, we shall not find it … And yet, we cannot deny the existence of flowers and of their sweet scent.

Dalai Lama

 

If you can cultivate the right attitude, your enemies are your best spiritual teachers because their presence provides you with the opportunity to enhance and develop tolerance, patience and understanding.

Dalai Lama

 

Inner peace is the key: if you have inner peace, the external problems do not affect your deep sense of peace and tranquility…without this inner peace, no matter how comfortable your life is materially, you may still be worried, disturbed, or unhappy because of circumstances.

Dalai Lama

 

If a person shows anger to you, and you show anger in return, the result is disaster. If you nurse hatred, you will never be happy, even in the lap of luxury. By contrast, if you control your anger and show its opposite – love, compassion, tolerance, and patience – then not only do you remain in peace, but gradually the anger of others also will diminish.

Dalai Lama

 

According to Buddhist thought, the root causes of suffering are ignorance, craving, and hatred. These are called the 'three poisons of the mind

'

.

Dalai Lama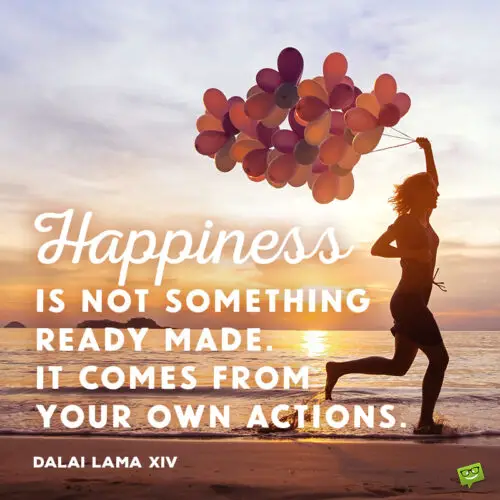 Dalai Lama quotes on compassion

 
Compassion is by nature gentle, peaceful, and soft, but it is very powerful. It is those who easily lose their patience who are insecure and unstable. Thus, to me, the arousal of anger is a direct sign of weakness.

Dalai Lama

 

Love and compassion open our own inner life, reducing stress, distrust, and loneliness.

Compassion is not religious business, it is human business, it is not luxury, it is essential for our own peace and mental stability, it is essential for human survival.

Dalai Lama

 

Every single being, even those who are hostile to us, is just as afraid of suffering as we are, and seeks happiness in the same way we do. Every person has the same right as we do to be happy and not to suffer.

So

let's take care of others wholeheartedly, of both our friends and our enemies. This is the basis for true compassion.

Dalai Lama

 

 

I always try to share with others the idea that in order to become compassionate it is not necessary to become religious.

Dalai Lama

 

I have found that the greatest degree of inner tranquility comes from the development of love and compassion. The more we care for the happiness of others, the greater is our own sense of well-being. Cultivating a close, warmhearted feeling for others automatically puts the mind at ease. It is the ultimate source of success in life.

Dalai Lama

 

The essence of compassion is a desire to alleviate the suffering of others and to promote their well-being. This is the spiritual principle from which all other positive inner value

emerge

.

Dalai Lama

 
World peace must develop from inner peace. Peace is not just mere absence of violence. Peace is, I think, the manifestation of human compassion.

Dalai Lama

 

Ultimately humanity is one, and this small planet is our only home. If we're to protect this home of ours, each of us needs to experience a vivid sense of universal altruism and compassion.

Dalai Lama

 

I consider non-violence to be compassion in action. It doesn't mean weakness, cowering in fear, or simply doing nothing. It is to act without violence, motivated by compassion, recognizing the rights of others.

Dalai Lama

 

Only the development of compassion and understanding for others can bring us the tranquility and happiness we all seek.

Dalai Lama

 
 

Dalai Lama quotes on life

 
Man! Because he sacrifices his health in order to make money. Then he sacrifices money to recuperate his health. And then he is so anxious about the future that he does not enjoy the present; the result being that he does not live in the present or the future; he lives as if he is never going to die, and then dies having never really lived.

Dalai Lama

 

As an old Tibetan proverb puts it,

the

next life or tomorrow—we can never be certain which will come first.

Dalai Lama

 

There are going to be frustrations in life. The question is not: How do I escape? It is: How can I use this as something positive?

Dalai Lama

 

Time passes unhindered. When we make mistakes, we cannot turn the clock back and try again. All we can do is use the present well.

Dalai Lama

 

It is by moving beyond narrow self-interest that we find meaning, purpose, and satisfaction in life.

 

There are only two days in the year that nothing can be done. One is called yesterday and the other is called tomorrow, so today is the right day to love, believe, do and mostly live.

Dalai Lama

 

You must ask yourself how

is it

you want to live your life. We

live

and we die, this is the truth that we can only face alone. No one can help us, not even the Buddha.

So

consider carefully, what prevents you from living the way you want to live your life?

Dalai Lama

 

It's the very struggle of life that makes us who we are. And it is our enemies that test us, provide us with the resistance necessary for growth.

Dalai Lama

 

Given the scale of life in the cosmos, one human life is no more than a tiny blip. Each one of us is a just visitor to this planet, a guest, who will only stay for a limited time. What greater folly could there be than to spend this short time alone, unhappy or in conflict with our companions? Far better, surely, to use our short time here in living a meaningful life, enriched by our sense of connection with others and being of service to them.

Dalai Lama

 

Because we all share this planet earth, we have to learn to live in harmony and peace with each other and with nature. This is not just a dream, but a necessity

.

Dalai Lama

 

I think the person who has had more experience of hardships can stand more firmly in the face of problems than the person who has never experienced suffering. From this angle then, some suffering can be a good lesson for life.

Dalai Lama

 

In order to lead a meaningful life, you need to cherish others, pay attention to human values and try to cultivate inner peace.

Dalai Lama

 

Old friends pass away, new friends appear. It is just like the days. An old day passes, a new day arrives. The important thing is to make it meaningful: a meaningful friend – or a meaningful day.

Dalai Lama

 

People take different roads seeking fulfillment and happiness. Just because they're not on your road doesn't mean they've gotten lost.

Dalai Lama

 

The creatures that inhabit this earth–be they human beings or animals–are here to contribute, each in its own particular way, to the beauty and prosperity of the world.

Dalai Lama

 

When things go smoothly, then we can pretend we are something very special. But something happens, something unexpected, then we are forced to act like normal human beings.

Dalai Lama




 
 

Dalai Lama quotes on love

 
Give the ones you love wings to fly, roots to come back and reasons to stay.

Dalai Lama

 

Love is the absence of judgment.

Dalai Lama

 

Remember that the best relationship is one in which your love for each other exceeds your need for each other.

Dalai Lama

 

Love and compassion are necessities, not luxuries. Without them, humanity cannot survive.

Dalai Lama

 

Marriages, even the best ones—perhaps especially the best ones—are an ongoing process of spoken and unspoken forgiveness.

Dalai Lama

 

Wherever you have friends that's your country, and wherever you receive love, that's your home.

Dalai Lama

 

Because we all share an identical need for love, it is possible to feel that anybody we

meet,in

whatever circumstances, is a brother or sister.

Dalai Lama

 

Love and Compassion are the true religions to me. But to develop this, we do not need to believe in any religion.

Dalai Lama

 

Anger or hatred is like a fisherman's hook. It is very important for us to ensure that we are not caught by it.

Dalai Lama

 

People were created to be loved. Things were created to be used. The reason why the world is in chaos is because things are being loved and people are being used.

Dalai Lama

 

The more you are motivated by Love,

the

more Fearless and Free

your action will be.

Dalai Lama

 
Dalai Lama quotes on happiness

 
Everything is linked together, everything is inseparable. It is not happiness that makes us grateful. It is gratefulness that makes us happy. Every moment is a gift.

Dalai Lama

 

If one's life is simple, contentment has to come. Simplicity is extremely important for happiness.

Dalai Lama

 

As for suffering I do not wish even the slightest; as for happiness I am never satisfied. In this, there is no difference between others and me. Bless me so I may take joy in others' happiness.

Dalai Lama

 

I believe that the purpose of life is to be happy. From the moment of birth, every human being wants happiness and does not want suffering.

Dalai Lama

 

H

appiness is determined more by one's state of mind than by external events.

Dalai Lama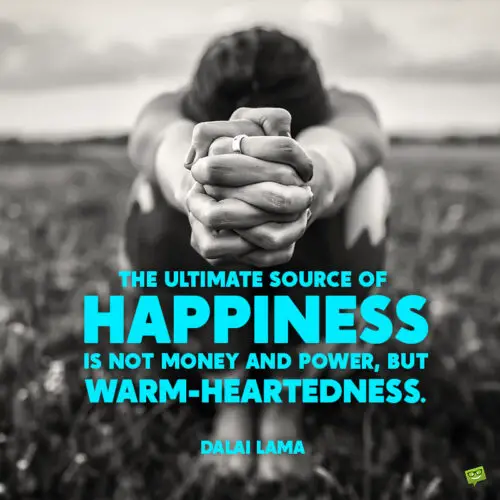 If I am only happy for myself, many fewer chances for happiness. If I am happy when good things happen to other people, billions more chances to be happy!

Dalai Lama

 

Happiness is not something

ready-made

. It comes from your own actions.

Dalai Lama

 

Happiness doesn't always come from a pursuit. Sometimes it comes when we least expect it.

Dalai Lama

 

Everybody wants a happy life and a peaceful mind, but we have to produce peace of mind through our own practice.

Dalai Lama

 

The ultimate source of happiness is not money and power, but warm-heartedness.

Dalai Lama

 

We need to learn how to want what we have NOT to have what we want in order to get steady and stable Happiness

.

Dalai Lama

 

All suffering is caused by ignorance. People inflict pain on others in the selfish pursuit of their own happiness or satisfaction

.

Dalai Lama

 

The consequences of karma are definite: Negative actions always bring about suffering, and positive actions always bring happiness. If you do good, you will have happiness; if you do bad, you yourself suffer.

Dalai Lama

 
Dalai Lama quotes on kindness
Be kind whenever possible. It is always possible. And be kinder than is necessary.

Dalai Lama

 

If at the beginning and end of our lives we depend upon the kindness of others, why in the middle of our lives should we not act kindly toward them? It is the pragmatic choice.

Dalai Lama

 

We can let the circumstances of our lives harden us so that we become increasingly resentful and afraid, or we can let them soften us, and make us kinder. You always have the choice.

Dalai Lama

The true essence of humankind is kindness. There are other qualities which come from education or knowledge, but it is essential, if one wishes to be a genuine human being and impart satisfying meaning to one's existence, to have a good heart.

Dalai Lama

 

If with a warm heart and patience we can consider the views of others, and exchange ideas in calm discussion, we will find points of agreement.

Dalai Lama

This is my simple religion. No need for temples. No need for complicated philosophy. Your own mind, your own heart is the temple. Your philosophy is simple kindness.

Dalai Lama

 
 
 You May Also Like

Buddha Quotes to Promote Personal Growth
Faith, Built When No One Is Looking | 145 Trust Quotes
111 Peace Quotes About The Quest for Social and Inner Equilibrium
120 Zen Quotes About the Oneness of Things