60 Healthy Relationship Quotes to Help You Connect Better
Relationships equals life; they are, in fact, the field where love gets personalized and is carried out in time. Our life's evaluation identifies to the quality and quantity of our past and present relationships. Whether it's an affair, a marriage, a family, a friendship, a work environment or the extended circle of our social encounters, there is a kind and a form of relationship that's taking place. The following collection of healthy relationship quotes shows that all relationships are important, with a priority to those that involve love and affection – in other words, the bonds and connections that create what we acknowledge as our personal life.
And what's a healthy relationship? It's the one that promotes our personal balance and happiness. The one that nurtures our physical and mental well-being and creates a safe environment where we can feel free to self-expression. A relationship can be called healthy when we don't have to fight or suffer from intimidation, disrespect, or even abuse in it.
There are many more characteristics of a good, healthy relationship like trust, good communication, individuality, honesty, empathy, kindness, respecting boundaries and so on. They all refer to the other person, be it a partner, a spouse, a kid, a best friend and have to be mutual, as this is actually a dance for – at least – two!
Yet, people still suffer in dysfunctional, toxic, or even dangerous situations, seeming unable to find their way out. Here's the primary key to a good relationship with others which we so often tend to completely neglect: the relationship with our inner self. That's where we should focus on both in the beginning of and throughout the process of our personal and social interactions. Self-consciousness, self-validation, self-love and self-trust have to come first.
In this article we have collected some of the quotes and thoughts on healthy relationships by famous and renown people of the past and the present. We are sure that you'll find a positive trigger for further reflection upon the matter and an open-minding inspiration!
Table of Contents
Positive Quotes about Healthy Relationships
Laid on the stable foundations of trust, honesty and mutual respect, a relationship can last for a lifetime. Love and understanding for each other are not only the key to happiness, but also the motivation to look deeply into oneself and become a better person. 
Deep Quotes About Healthy Relationships
Man is by nature a social animal, as Aristotle said, not to fight loneliness but to fulfill our existence on a higher level; in any society, all the bonds and connections are interwoven through relationships of all kinds among individuals. By working consciously on your relationships, you increase your maturity and happiness.
Short Healthy Relationship Quotes
These quotes are ideal for a short message or an Instagram caption. In just a few words you'll find wise thoughts on love, safety, self-awareness, acceptance, togetherness – all of them crucial to building a good relationship.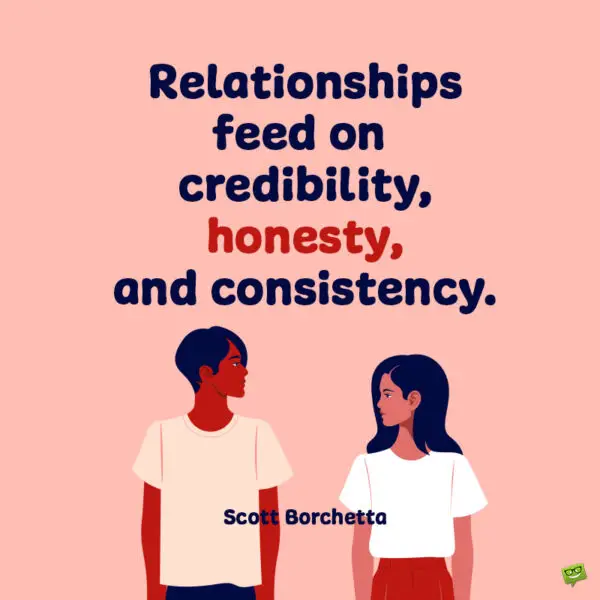 Healthy Relationship Quotes By Famous People
Self-love is the primary relationship one has to work into, as it is the prerequisite for a happy and balanced life, where the way we love is more important than the feeling itself. The following quotes will give you the inspiration you need on many relationship matters.
Going From A Toxic Relationship To A Healthy One
Violence and abuse of any kind, disrespect and dishonesty from our partner or family are unacceptable behaviors that should alert anyone to leave as soon as possible. But they are often disguised as "another minor mistake" that calls for forgiveness by the side of the victim – and once you get used to them, you can't even realize they're happening. Years of therapy are needed to set things straight again in one's mind and then find the courage to deal with the problems. The following quotes are about these unhealthy and misleading situations that are better off for anybody.
To come to a conclusion, everyone is entitled to a safe and happy personal life; the moment you realize that a relationship of yours isn't working for your own sake, you have just made a big step towards change. The path won't be necessarily an easy one, but, as long as you keep up your optimism and faith, you can and you will succeed on healthy relationships and a happy life!
If you like it, pin it!
You may also like:
60+ Know Your Worth Quotes to Enhance your Self-love and Live an Authentic Life
66 Family Love Quotes on Affection, Support and Caring for our loved ones
70+ Kiss Quotes to Let Love Inspire Us