111 Attitude Quotes on the Space Between Acceptance and Initiative
It is crucial to have a positive attitude if you want to prosper in life. Whether it is succeeding in love, career or achieving your goals, it is your attitude that will or will not help in making it happen. Many famous individuals have also found an approach to keep focusing on the good that is to come from such a standpoint and have expressed that through these fascinating attitude quotes.
Attitude determines how we react and opt to grow, to learn and nurture the ability to overcome challenges. In spite of difficulties, being optimistic in situations and interactions is a major aid in remaining hopeful and seeing the glass half full. A vital concept is maintaining a healthy lifestyle physically by resting and mentally by prioritizing and never losing touch with human relationships. Having a few words with a friend over dinner is always a winner in attaining a sound body and mind.
Their experience has assisted in finding true love and respect about themselves, and this in turn boosts confidence levels and inner strength. Taking on a new challenge may seem impossible without it, and it is then in difficult times that it matters the most. Read on to find a wonderful selection of quotes by renowned figures such as prime ministers, authors, poets, actors and hosts. Their wisely chosen words will inspire and motivate you, friends and loved ones, to practice gratitude, see that obstacles are simply a part of life and to be proud of your accomplishments. Always seek out those who share this optimistic state of mind as you. Start your day off on a positive note.
Table of Contents
Short and Relatable Attitude Quotes to Use as Attitude Captions too
Simple moments like your Instagram photos sometimes call for a short line expressing your own view on attitude.
Optimistic and Positive Attitude Quotes
Seeing the glass half-empty is so energy-consuming. When you need a life-saving dose of optimism, these attitude quotes can help!
Inspirational Quotes on Attitude
Planning and setting goals are absolutely useful when it comes to designing a balanced everyday life. However, these inspiring quotes about the attitude you can keep can shed another light, too.
Positive Attitude and Hard Work Quotes For Success and Thriving
Collaborations can be really hard, but spending day by day in a collective work environment like an office can sometimes be an issue of attitude. These quotes about positive attitude towards work can be a helping hand when no one seems to communicate with you at the office.
Best Attitude Quotes
Famous people and prominent personalities throughout history had a lot to say about attitude. That's probably how important it is.
If you like it, pin it!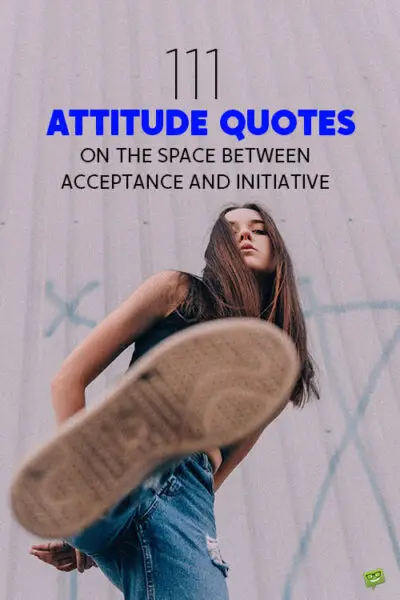 You May Also Like:
77 Positive Thinking Quotes to Show the Power of Optimism
99 Feel-Good Quotes That Will Actually Make You Feel Better
85 Diversity Quotes About Inclusion in the Workplace and Society