84 Dolly Parton Quotes About Revolutions in Music and Society
With her solid feminine stances in the 1960s, Dolly Rebecca Parton revolutionized the country music world for female artists. From dominating "The Cas Walker Farm and Home Hour" stage in Knoxville, TN, to landing a role on "The Porter Wagoner Show" to becoming a successful businesswoman, Dolly Parton has done it all. The country music starlet boasts two Guinness World Records and 50 Grammy Award nominations. In addition, she is the only country singer whose songs have featured in the top 20 hits on the Billboard Hot Country Songs for six consecutive decades. Even the Dollywood park got named in her honor. Dolly Parton has written over 3,000 songs throughout her 50-year career, most of which are culturally universal. "I Will Always Love You" has remained popular even after Whitney Houston further popularized it. Correspondingly, "Jolene" plays regularly almost in all country clubs in Nashville. Her songs have touched generations, while her contagious smile has brightened the faces of millions.
Today, Dolly Parton is among the individuals who have won awards from the major American entertainment award organizations, Oscar, Tony, Emmy, and Grammy. In 2004, she won the U.S Library of Congress's Living Legend Award. She has tickled and inspired the population with her quotes that impart wisdom on her fans. Here is a well-curated collection of famous Dolly Parton quotes about marriage, love, work, and life excerpted from her thoughts, songs, and interviews that will inspire you.
Image by John Mathew Smith & www.celebrity-photos.com from Laurel Maryland, USA
licensed under the Creative Commons Attribution-Share Alike 2.0 Generic license
Best Dolly Parton Quotes
The way I see it, if you want the rainbow, you gotta put up with the rain! Dolly Parton
Find out who you are and do it on purpose. Dolly Parton
Storms make trees take deeper roots. Dolly Parton
Smile — it increases your face value. Dolly Parton
You are enough. And anyone who tells you otherwise isn't worth your time. Dolly Parton
I always just thought if you see somebody without a smile, give'em yours! Dolly Parton
When someone shows you their true colors, believe them. Dolly Parton
When I got somethin' to say, I'll say it. Dolly Parton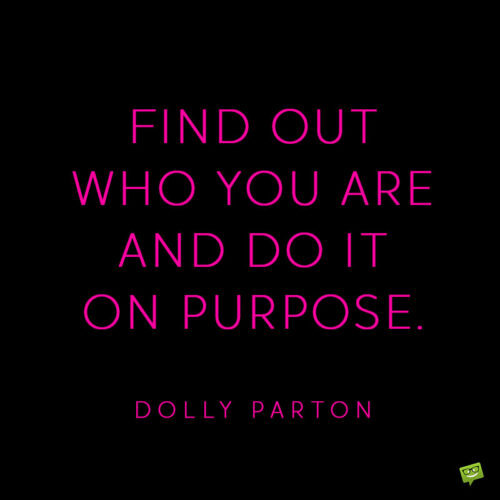 The magic is inside you. there ain't no crystal ball. Dolly Parton
Leave something good in every day. Dolly Parton
You'll never do a whole lot unless you're brave enough to try. Dolly Parton
If I can hold God's attention, I can hold the world's.. Dolly Parton
Be whatever your dreams and your luck will let you be. Dolly Parton
It costs a lot of money to look this cheap. Dolly Parton
I have to be the boss of me. I can't be bossed. Dolly Parton
My family will always be my greatest love. Dolly Parton
I'll never harden my heart, but I've toughened the muscles around it. Dolly Parton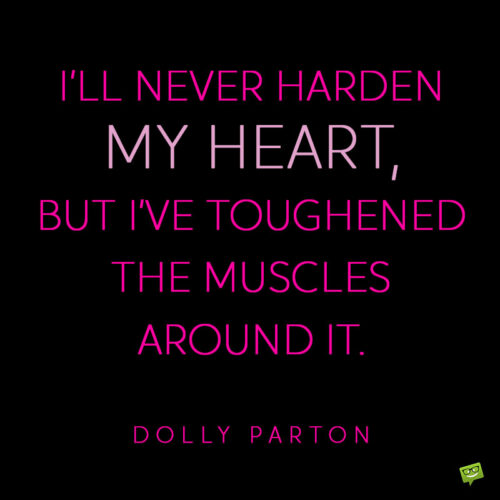 You always want your people to be proud of what you have accomplished. Dolly Parton
I've always been fascinated by everything with wings. Dolly Parton
"I love everybody. My heart's open to everybody. Dolly Parton
Love is something sent from heaven to worry the hell out of you. Dolly Parton
I'm not happy all the time, and I wouldn't want to be because that would make me a shallow person. But I do try to find the good in everybody. Dolly Parton
You gotta struggle for that inner light that shines inside of you. I call it a God light. If you look hard enough it's there and it will guide you. Dolly Parton
I don't like to give advice. I like to give people information because everyone's life is different, and everyone's journey is different. Dolly Parton
The more I accomplish, the more humble I become, because I realize how few people are able to say that they've seen their dreams come true. The more I accomplish, the more humble I become, because I realize how few people are able to say that they've seen their dreams come true. Dolly Parton
If you try to follow everyone else and be like everyone else, before you know it you're gone. You're not going to find yourself again; you'll just be a version of what you might have hoped to have been. Dolly Parton
Do not confuse dreams with wishes. There is a difference. Dreams are where you visualize yourself being successful at what's important to you to accomplish. Dolly Parton
God tells us not to judge one another, no matter what anyone's sexual preferences are or if they're black, brown or purple. Dolly Parton
Music has always been an essential part of me. Since I have been able to form words, I have been able to rhyme them. I could catch on to anything that had a rhythm, and make a song to go with it. Dolly Parton
Funny Dolly Parton Quotes
I tried every diet in the book. I tried some that weren't in the book. I tried eating the book. It tasted better than most of the diets. Dolly Parton
My weaknesses have always been food and men – in that order. Dolly Parton
I'm not offended by all the dumb blonde jokes because I know I'm not dumb – and I'm not blonde either. Dolly Parton
Its hard to be a diamond in a rhinestone world. Dolly Parton
It's a good thing I was born a girl, otherwise I'd be a drag queen. Dolly Parton
People say, 'How do you stay looking so young?' I say, 'Well, good lighting, good doctors, and good makeup. Dolly Parton
I never think of myself as a star because, as somebody once said, 'A star is nothing but a big ball of gas' –and I don't want to be that. Dolly Parton
I was the first woman to burn my bra – it took the fire department four days to put it out. Dolly Parton
People always ask me how long it takes to do my hair. I don't know, I'm never there. Dolly Parton
Sometimes my mouth is a little too big and a little too open and sounds too much like a sailor. Dolly Parton
If something is bagging, sagging or dragging, I'll tuck it, suck it or pluck it! Dolly Parton
When I discovered that there was actually a thing called a push-up bra, that, to me, had to be equal of the day Einstein figured out that relativity thing. Dolly Parton
Dolly Parton Quotes About Life
If you don't like the road you're walking, start paving another one. Dolly Parton
I'm not going to limit myself just because people won't accept the fact that I can do something else. Dolly Parton
Don't get so busy making a living that you forget to make a life. Dolly Parton
They think I'm simpleminded because I seem to be happy. Why shouldn't I be happy? I have everything I ever wanted and more. Maybe I am simpleminded. Maybe that's the key: simple. Dolly Parton
I don't know what the big deal is about old age. Old people who shine from the inside look 10 to 20 years younger.
I make a point to appreciate all the little things in my life. I go out and smell the air after a good, hard rain. I re-read passages from my favorite books. I hold the little treasures that somebody special gave me. These small actions help remind me that there are so many great, glorious pieces of good in the world. Dolly Parton
There's some that constantly put monkeys on your back. It' their monkey, but somehow you end up carrying it. Often there are people who really care, but they constantly have problems and they want to share it with you and you're constantly trying to fix things for them. In truth, you're worried more about their problems than you do your own. Be weary of the monkeys. Dolly Parton
Dolly Parton Quotes About Love
Love is like a butterfly, a rare and gentle thing. Dolly Parton
A bird & a fish can fall in love, but where do they make a home? Dolly Parton
I think everybody should be allowed to be who they are and to love who they love. Dolly Parton
I wish you joy and happiness, but above all of this I wish you love. Dolly Parton
I always joke and laugh when people ask me what's the key to my long marriage and lasting love. I always say, 'Stay gone!' and there's a lot of truth to that. Dolly Parton
Seems you hurt me all you can, still I go on loving you. But I never understand. Oh, the pain of loving you. Dolly Parton
God has been good to me. He gave me Carl Dean. And that was the perfect man that I needed. Dolly Parton
He's always loved who I was, and I loved who he was, and we never tried to change each other. Dolly Parton
I've had heartaches, headaches, toothaches, earaches, and I've had a few pains in the ass, but I've survived to tell about it. Dolly Parton
Famous Dolly Parton Quotes
If you talk bad about country music, it's like saying bad things about my momma. Them's fightin' words. Dolly Parton
I would never stoop so low as to be fashionable. Dolly Parton
I'm not intimidated by how people perceive me. Dolly Parton
Above everything else I've done, I've always said I've had more guts than I've got talent. Dolly Parton
When I'm inspired, I get excited because I can't wait to see what I'll come up with next. Dolly Parton
A lot of times, people can't express themselves in the same way that I can. I try to become them. I suffer for them, because I care for them. Dolly Parton
Wouldn't it be something if we could have things we love in abudance without their losing that special attraction the want of them held for us. Dolly Parton
God has a plan for everything. I think it probably was his plan for me not to have kids so everybody's kids could be mine. And they are now. Dolly Parton
I know who I am; I know what I can and can't do. I know what I will and won't do. I know what I am capable of and I don't agree to do things that I don't think I can pull off. Dolly Parton
I think of country radio like a great lover: you were nice to me, you gave me a lot of cool stuff, and then you dumped my ass for another woman. Dolly Parton
I was not a raving natural beauty. I just wanted to be pretty. I wanted to be striking. I wanted to be colorful. I wanted to be seen. Dolly Parton
A lot of people have said I'd have probably done better in my career if I hadn't looked so cheap and gaudy. But I dress to be comfortable for me, and you shouldn't be blamed because you want to look pretty. Dolly Parton
I've often said I don't lose my temper as much as use it. I don't do either unless I have to because I love peace and harmony, but when you step in my territory, I will call you on it. Dolly Parton
I might look artificial and corny to you. You might think I have no taste. But underneath the look is a person. There's a brain and a heart underneath the hair and the boobs. Dolly Parton
I always pray that I have enough to share and some to spare. And so far, God has obliged me. Dolly Parton
Dolly Parton Song Quotes
Some of them would be perfect captions of your photo posts.
My daddy has a chain five miles long, on each link a heart for a lover he has lost. Dolly Parton
Bittersweet memories, I guess that's all I'll be taking with me. Goodbye. Please, don't cry. We both know that I'm not what you need. Dolly Parton
Cause this dumb blonde ain't nobody's fool. Dolly Parton
I'm happy now and I'm glad we're through. And the sky is green and the grass is blue. Dolly Parton
You could have your choice of men, but I could never love again. He's the only one for me, Jolene. Dolly Parton
But I'm gonna be long gone and you're gonna be sorry. Dolly Parton
Oh they ain't real like my Blue Ridge Mountain boy.Dolly Parton
In the good old days when times were bad
No amount of money could buy from me
The memories that I have of then
No amount of money could pay me
To go back and live through it again
Dolly Parton
And you know if there's one thing this blonde has learned blondes have more fun. Dolly Parton
I think I'll dry these useless tears and get myself together. I think I'll wander down the hall and have a look around. 'Cause I can't stay inside this lonely room and cry forever. I think I'd really rather join 'em two doors down. Dolly Parton
You flew too high up off the ground it's stormy wheater an' had to come back down. Dolly Parton
No I don't want to throw rice I want to throw rocks at her. Dolly Parton
Tonight, while standing on the bridge, my heart is beating wild. To think that you could leave me here with our unborn child. Dolly Parton
You May Also Like:
110+ Mae West Quotes About Useless Conventions
Music Revolution | 100+ Famous Quotes About Music
A Candle in the Wind | 109 Marilyn Monroe Quotes