75 Jane Austen Quotes on the Truth of Love
How many possible words and phrases are there to express love and romance? And how many more manners and gestures are there to act and offer one's affection to his/her cherished person? In the world of Jane Austen, we have found an endless treasure! Get a glimpse of it through this collection of these invaluable Jane Austen quotes.
To become a female writer in the 18th century – that is a revolution by itself to start with. Born in 1775 in a village of English countryside, the second daughter of a reverend in a whole of eight siblings, never married, published her books anonymously, Austen proved to be a keen observer of her time. She had a deep understanding of the morals and behaviors of the middle-class English society that served as the raw material for her suspenseful, ever-romantic novels. Her writing introduced a brave kind of sincere expression towards the realms of conformity: the unapologetically you of our time would have been her motto, if she lived today. Moreover, she irrevocably inoculated modern literature with the female emotional perspective, bringing forth a fertile palette of infinite literary colors that still touch our hearts up to this day.
Some of Austen's works include: Sense and Sensibility, Pride and Prejudice, Mansfield Park, Emma, Northanger Abbey, and Persuasion – and if, chances are, you might not have known them as books, you must have enjoyed them as blockbusters!
In this article we have collected for you some of her most famous quotes about love, romance and relationships. We are sure that you'll enjoy them and draw inspiration to let go, let feel, let love!
Table of Contents
Bold Jane Austen Quotes on Life from a Feminist Standpoint
To live your life your way – that's a brave thing to do; beforehand and in progress, you need to reflect upon your life itself and your own life's purpose. If you are a woman, add to the aforementioned the gender emancipation fight.
Life seems but a quick succession of busy nothings. Jane Austen
It is very often nothing but our own vanity that deceives us. Jane Austen
None of us want to be in calm waters all our lives. Jane Austen
We have all a better guide in ourselves, if we would attend to it, than any other person can be. Jane Austen
I do not want people to be very agreeable, as it saves me the trouble of liking them a great deal. Jane Austen
I wish, as well as everybody else, to be perfectly happy; but, like everybody else, it must be in my own way. Jane Austen
The more I know of the world, the more I am convinced that I shall never see a man whom I can really love. I require so much! Jane Austen
Oh! Do not attack me with your watch. A watch is always too fast or too slow. I cannot be dictated to by a watch. Jane Austen
I hate to hear you talk about all women as if they were fine ladies instead of rational creatures. None of us want to be in calm waters all our lives. Jane Austen
I do not think I ever opened a book in my life which had not something to say upon woman's inconstancy. Songs and proverbs, all talk of woman's fickleness. But perhaps you will say, these were all written by men. Jane Austen
Sublime Jane Austen Love Quotes that will Touch your Romantic Core
Love is a thrilling, promising journey that makes life meaningful; yet, it doesn't always open the gates of happiness, as "we are all fools in love". But, no matter the pain, how can you regret loving?
To love is to burn, to be on fire. Jane Austen
We are all fools in love. Jane Austen
If I loved you less, I might be able to talk about it more. Jane Austen
Beware how you give your heart. Jane Austen
There are as many forms of love as there are moments in time. Jane Austen
Do anything rather than marry without affection. Jane Austen
The very first moment I beheld him, my heart was irrevocably gone. Jane Austen
If I could but know his heart, everything would become easy. Jane Austen
Friendship is certainly the finest balm for the pangs of disappointed love. Jane Austen
I could easily forgive his pride, if he had not mortified mine. Jane Austen PP
Then I examined my own heart. And there you were. Never, I fear, to be removed. Jane Austen
I've come here with no expectations, only to profess, now that I am at liberty to do so, that my heart is, and always will be, yours. Jane Austen
There is nothing I would not do for those who are really my friends. I have no notion of loving people by halves, it is not my nature. Jane Austen
Where the heart is really attached, I know very well how little one can be pleased with the attention of anybody else. Jane Austen
Yes, I found myself, by insensible degrees, sincerely fond of her; and the happiest hours of my life were what I spent with her. Jane Austen
It is not time or opportunity that is to determine intimacy – it is disposition alone. Seven years would be insufficient to make some people acquainted with each other, and seven days are more than enough for others. Jane Austen
Intriguing Jane Austen Quotes About Books, Poetry and Education
Austen had realized the important role of education and the lack of it for women of her time. Education broadens people's minds to accept new ideas, helps them to grasp things deeper and to even gain wisdom.
Give him a book, and he will read all day long. Jane Austen
But for my own part, if a book is well written, I always find it too short. Jane Austen
I have been used to consider poetry as the food of love. Jane Austen
I shall be miserable if I have not an excellent library. Jane Austen
Men have had every advantage of us in telling their own story. Education has been theirs in so much higher a degree; the pen has been in their hands. I will not allow books to prove anything. Jane Austen
I declare after all there is no enjoyment like reading! How much sooner one tires of anything than of a book!  When I have a house of my own, I shall be miserable if I have not an excellent library. Jane Austen
Persuasion Jane Austen Quotes on Happiness and Pain
Every day we make decisions, smaller or bigger, that affect our lives. Today's good choice may prove to be a mistake later.
Time will explain. Jane Austen
You pierce my soul. I am half agony, half hope…I have loved none but you. Jane Austen
How quick come the reasons for approving what we like. Jane Austen
We live at home, quiet, confined, and our feelings prey upon us. Jane Austen
When pain is over, the remembrance of it often becomes a pleasure. Jane Austen
I would rather be overturned by him, than driven safely by anybody else. Jane Austen
Let us never underestimate the power of a well-written letter. Jane Austen
One man's ways may be as good as another's, but we all like our own best. Jane Austen
His cold politeness, his ceremonious grace, were worse than anything. Jane Austen
There could have been no two hearts so open, no tastes so similar, no feelings so in unison, no countenances so beloved. Jane Austen
Now they were as strangers; worse than strangers, for they could never become acquainted. Jane Austen
She had been forced into prudence in her youth, she learned romance as she grew older: the natural sequel of an unnatural beginning. Jane Austen
My idea of good company, Mr. Elliot, is the company of clever, well-informed people, who have a great deal of conversation; that is what I call good company. Jane Austen
Jane Austen's Pride and Prejudice Quotes on the Contradictions in Life
The famous novel is a story of opposites that finally meet; the law of attraction is stronger than anything!
What are young men to rocks and mountains? Jane Austen
Angry people are not always wise. Jane Austen
Her heart did whisper that he had done it for her. Jane Austen
I have not the pleasure of understanding you. Jane Austen
My good opinion once lost, is lost forever. Jane Austen
Laugh as much as you choose, but you will not laugh me out of my opinion. Jane Austen
A person who can write a long letter with ease, cannot write ill. Jane Austen
To be fond of dancing was a certain step towards falling in love. Jane Austen
People themselves alter so much, that there is something new to be observed in them forever. Jane Austen
Nothing is more deceitful…than the appearance of humility. It is often only carelessness of opinion, and sometimes an indirect boast. Jane Austen
I cannot fix on the hour, or the spot, or the look or the words, which laid the foundation. It is too long ago. I was in the middle before I knew that I had begun. Jane Austen
In vain have I struggled. It will not do. My feelings will not be repressed. You must allow me to tell you how ardently I admire and love you. Jane Austen
It is a truth universally acknowledged, that a single man in possession of a good fortune, must be in want of a wife. Jane Austen
There is a stubbornness about me that never can bear to be frightened at the will of others. My courage always rises at every attempt to intimidate me. Jane Austen
My real purpose was to see you, and to judge, if I could, whether I might ever hope to make you love me. Jane Austen
Vanity and pride are different things, though the words are often used synonymously. A person may be proud without being vain. Pride relates more to our opinion of ourselves, vanity to what we would have others think of us. Jane Austen
Emma Jane Austen Quotes that are full of Wisdom
George IV (at the time prince regent) enjoyed Austen's work so much, that he had a set of her books in each of his residences! Emma, following a discreet royal command, was dedicated to him.
How often is happiness destroyed by preparation, foolish preparation! Jane Austen
You must be the best judge of your own happiness. Jane Austen
I always deserve the best treatment, because I never put up with any other. Jane Austen
What is passable in youth is detestable in later age. Jane Austen
I may have lost my heart, but not my self-control. Jane Austen
I would much rather have been merry than wise. Jane Austen
There is no charm equal to tenderness of heart. Jane Austen
Wickedness is always wickedness, but folly is not always folly. Jane Austen
One half of the world cannot understand the pleasures of the other. Jane Austen
Perhaps it is our imperfections that make us so perfect for one another. Jane Austen
She was one of those, who, having, once begun, would be always in love. Jane Austen
There are people, who the more you do for them, the less they will do for themselves. Jane Austen
If a woman doubts as to whether she should accept a man or not, she certainly ought to refuse him. Jane Austen
It is very unfair to judge of any body's conduct, without an intimate knowledge of their situation. Jane Austen
If you like it, pin it!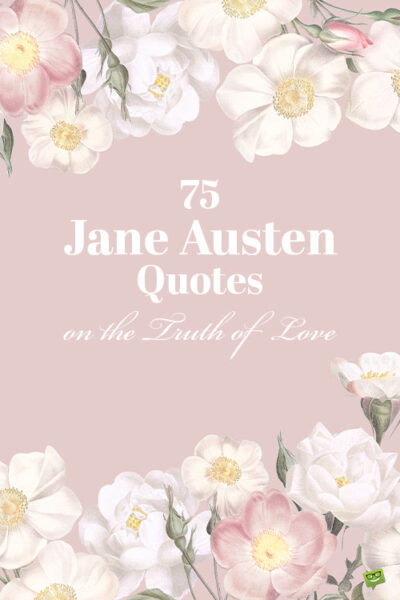 You may also like:
Best 104 Toni Morrison Quotes About Writing the Book You Want to Read
74 Virginia Woolf Quotes on Writing, Love and Feminism
100 (Intimate and Insightful) Anaïs Nin Quotes