74 Virginia Woolf Quotes on Writing, Love and Feminism
Born in 1882 to a rich family in South Kensington, London, Virginia Woolf was an English author and writer of essays and biographies, considered as one of the most important modernist authors of the 20th-century. Her best-known works "Mrs Dalloway", "To the Lighthouse" and "Orlando" as well as the essay "A Room of One's Own" have been translated into more than 50 languages and are considered modern classics. These touching Virginia Woolf quotes follow her fascinating life and the legacy she left us.
Home-schooled in English classics and Victorian literature, she then moved on to study classics and history at King's College London, where she came into contact with the growing women's rights movement. Influenced by the post-impressionist and modernist forms of expression and intellectuals of her time, Woolf incorporated her concerns into her works, seeking a new alignment in gender norms, sexuality and women's role in society. After a lifelong struggle with mental illness, Woolf died in 1941 by drowning herself into the river Ouse, near her house in England, at the age of 59.
In an era where the societal norms expected women to be submissive to their husbands and solely dedicated to household affairs, Woolf gave women a voice, criticizing patriarchal establishments and stereotypes. Her works, considered a feminist social critique of 20th century England, had a profound influence on equality and women's rights and provided added momentum to the feminist movement.  Today, her novels are on the must-read list of schools and academia as seminal examples of feminist thought and literary excellence.
As an expression of praise to this free-spirited and iconic woman, here we have collected for you her most inspirational quotes. Share them with loved ones and friends to enlighten them! Use them as captions to add sophistication to your Instagram and social media posts! Reflect upon them to gain insight and transform your perspective of the world!
Table of Contents
Feminist and Womanhood Virginia Woolf Quotes
Witty and sharp minded, Virginia Woolf was far ahead of her time. Her thought provoking quotes on feminism and womanhood portray a brave woman who refused to be stamped and stereotyped in her life!  
Women have served all these centuries as looking glasses possessing the magic and delicious power of reflecting the figure of man at twice its natural size. Virginia Woolf
The history of men's opposition to women's emancipation is more interesting perhaps than the story of that emancipation itself. Virginia Woolf
Why are women… so much more interesting to men than men are to women? Virginia Woolf
As a woman I have no country. As a woman I want no country. As a woman, my country is the whole world. Virginia Woolf
As long as she thinks of a man, nobody objects to a woman thinking. Virginia Woolf
I would venture to guess that Anon, who wrote so many poems without signing them, was often a woman. Virginia Woolf
I really don't advise a woman who wants to have things her own way to get married. Virginia Woolf
A woman knows very well that, though a wit sends her his poems, praises her judgment, solicits her criticism, and drinks her tea, this by no means signifies that he respects her opinions, admires her understanding, or will refuse, though the rapier is denied him, to run through the body with his pen. Virginia Woolf, Orlando
The truth is, I often like women. I like their unconventionality. I like their completeness. I like their anonymity. Virginia Woolf
Anything may happen when womanhood has ceased to be a protected occupation. Virginia Woolf
Women have sat indoors all these millions of years, so that by this time the very walls are permeated by their creative force, which has, indeed, so overcharged the capacity of bricks and mortar that it must needs harness itself to pens and brushes and business and politics. Virginia Woolf
Life Quotes by Virginia Woolf
Insightful quotes about life that mirror the beliefs and thoughts of this remarkable woman. Essential, brain picking pieces of wisdom to enhance your thinking and broaden your views!
He who robs us of our dreams robs us of our life. Virginia Woolf
I have a deeply hidden and inarticulate desire for something beyond the daily life. Virginia Woolf

If you do not tell the truth about yourself, you cannot tell it about other people. Virginia Woolf
The eyes of others our prisons; their thoughts our cages. Virginia Woolf
Never pretend that the things you haven't got are not worth having. Virginia Woolf
I have lost friends, some by death… others by sheer inability to cross the street. Virginia Woolf
Friendships, even the best of them, are frail things. One drifts apart. Virginia Woolf
It is a thousand pities never to say what one feels. Virginia Woolf, Mrs. Dalloway
Life is not a series of gig lamps symmetrically arranged; life is a luminous halo, a semitransparent envelope surrounding us from the beginning of consciousness to the end. Virginia Woolf
Literature is strewn with the wreckage of those who have minded beyond reason the opinion of others. Virginia Woolf, A Room of One's Own
One cannot think well, love well, sleep well, if one has not dined well. Virginia Woolf
When you consider things like the stars, our affairs don't seem to matter very much, do they? Virginia Woolf
All extremes of feeling are allied with madness. Virginia Woolf
To look life in the face, always, to look life in the face, and to know it for what it is…at last, to love it for what it is, and then, to put it away… Virginia Woolf
Virginia Woolf Love Quotes
Characterized by a heartbreaking and melancholic feeling, the theme of love is central in Virginia Woolf's novels. Take a glimpse into her thoughts about love!
There was a star riding through clouds one night, & I said to the star, 'Consume me'. Virginia Woolf
Love, the poet said, is woman's whole existence. Virginia Woolf, Orlando

They went in and out of each other's minds without any effort. Virginia Woolf
Just in case you ever foolishly forget; I'm never not thinking of you. Virginia Woolf
What does the brain matter compared with the heart? Virginia Woolf, Mrs. Dalloway
I see you everywhere, in the stars, in the river, to me you're everything that exists; the reality of everything. Virginia Woolf, Night and Day
And you wish to be a poet; and you wish to be a lover. Virginia Woolf
To love makes one solitary. Virginia Woolf, Mrs. Dalloway
I begin to long for some little language such as lovers use, broken words, inarticulate words, like the shuffling of feet on pavement. Virginia Woolf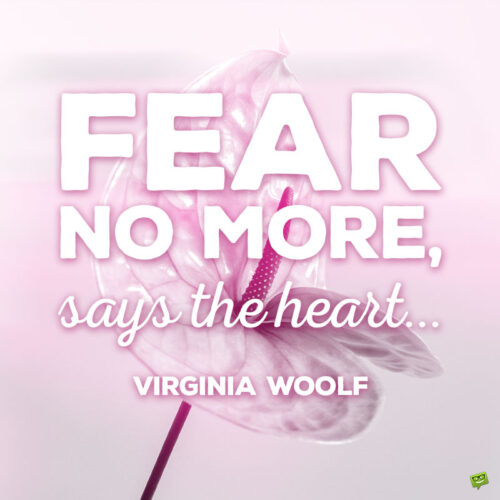 Great Virginia Woolf Quotes to Inspire
A collection of uplifting quotes by Virginia Woolf, to refer to whenever you need to surround yourself with positive influence and energy!
Yes, I deserve a spring–I owe nobody nothing. Virginia Woolf
Growing up is losing some illusions, in order to acquire others. Virginia Woolf
I am not one and simple, but complex and many. Virginia Woolf
Fear no more, says the heart… Virginia Woolf
Lock up your libraries if you like; but there is no gate, no lock, no bolt that you can set upon the freedom of my mind. Virginia Woolf
No need to hurry. No need to sparkle. No need to be anybody but oneself. Virginia Woolf
Once she knows how to read there's only one thing you can teach her to believe in and that is herself. Virginia Woolf
The beauty of the world…has two edges, one of laughter, one of anguish, cutting the heart asunder. Virginia Woolf
I enjoy the spring more than the autumn now. One does, I think, as one gets older. Virginia Woolf
Happiness is in the quiet, ordinary things. A table, a chair, a book with a paper-knife stuck between the pages. And the petal falling from the rose, and the light flickering as we sit silent. Virginia Woolf
Virginia Woolf Quotes About Books
Books are a heaven for the soul! Getting immersed into the narrative cultivates our empathy and adds depth to our emotional intelligence. A selection of Virginia Woolf's quotes reflecting her views about the value of books.
Books are the mirrors of the soul. Virginia Woolf
For books continue each other, in spite of our habit of judging them separately. Virginia Woolf
I was always going to the bookcase for another sip of the divine specific. Virginia Woolf
Second hand books are wild books, homeless books; they have come together in vast flocks of variegated feather, and have a charm which the domesticated volumes of the library lack. Virginia Woolf
Often on a wet day I begin counting up; what I've read and what I haven't read. Virginia Woolf
When the Day of Judgment dawns and people, great and small, come marching in to receive their heavenly rewards, the Almighty will gaze upon the mere bookworms and say to Peter, "Look, these need no reward. We have nothing to give them. They have loved reading". Virginia Woolf
I am reading six books at once, the only way of reading; since, as you will agree, one book is only a single unaccompanied note, and to get the full sound, one needs ten others at the same time. Virginia Woolf
Virginia Woolf's Quotes About Writing
The following quotes by Virginia Woolf provide invaluable insight and advice on the importance of expression through writing!
So long as you write what you wish to write, that is all that matters; and whether it matters for ages or only for hours, nobody can say. Virginia Woolf
I meant to write about death, only life came breaking in as usual. Virginia Woolf
Writing is like sex. First you do it for love, then you do it for your friends, and then you do it for money. Virginia Woolf
A woman must have money and a room of her own if she is to write fiction. Virginia Woolf
The very stone one kicks with one's boot will outlast Shakespeare. Virginia Woolf
Fiction is like a spider's web, attached ever so lightly perhaps, but still attached to life at all four corners. Virginia Woolf
I will not be "famous," "great." I will go on adventuring, changing, opening my mind and my eyes, refusing to be stamped and stereotyped. The thing is to free one's self: to let it find its dimensions, not be impeded. Virginia Woolf, A Writer's Diar
I want to write a novel about Silence," he said; "the things people don't say". Virginia Woolf, The Voyage Out
How many times have people used a pen or paintbrush because they couldn't pull the trigger? Virginia Woolf
For masterpieces are not single and solitary births; they are the outcome of many years of thinking in common, of thinking by the body of the people, so that the experience of the mass is behind the single voice. Virginia Woolf
Literature Virginia Woolf Quotes
A hand-picked selection of mind opening quotes from Virginia Woolf's works that you can use to pair perfectly with your social media posts!
Nothing thicker than a knife's blade separates happiness from melancholy. Virginia Woolf, Orlando
I am rooted, but I flow. Virginia Woolf
Mrs Dalloway is always giving parties to cover the silence. Virginia Woolf, Mrs. Dalloway
I am in the mood to dissolve in the sky. Virginia Woolf
Orlando naturally loved solitary places, vast views, and to feel himself for ever and ever and ever alone. Virginia Woolf, Orlando
I am made and remade continually. Different people draw different words from me. Virginia Woolf, The Waves
It might be possible that the world itself is without meaning. Virginia Woolf, Mrs. Dalloway
Moments like this are buds on the tree of life. Flowers of darkness they are. Virginia Woolf, Mrs. Dalloway
And all the lives we ever lived and all the lives to be are full of trees and changing leaves. Virginia Woolf, To the Lighthouse
Blame it or praise it, there is no denying the wild horse in us. Virginia Woolf, Jacob's Room
How much better is silence; the coffee cup, the table. How much better to sit by myself like the solitary sea-bird that opens its wings on the stake. Let me sit here for ever with bare things, this coffee cup, this knife, this fork, things in themselves, myself being myself. Virginia Woolf, The Waves
What is the meaning of life? That was all- a simple question; one that tended to close in on one with years, the great revelation had never come. The great revelation perhaps never did come. Instead, there were little daily miracles, illuminations, matches struck unexpectedly in the dark; here was one. Virginia Woolf, To the Lighthouse
He thought her beautiful, believed her impeccably wise; dreamed of her, wrote poems to her, which, ignoring the subject, she corrected in red ink. Virginia Woolf, Mrs. Dalloway
If you like it, Pin it!
You May Also Like:
131 Audre Lorde Quotes That Continue To Make a Difference
65 Uplifting Quotes for (and about) Strong Women
Write the Book You Want to Read | 104 Toni Morrison Quotes