66 Gritty Charles Bukowski Quotes for Restless Souls
With his simple, unpretentious writing style, characterized by an unfiltered, punchy honesty and violent and sexual imagery, Bukowski managed to convey to his readers his exact, true emotions and the reality of situations in a raw, blunt way. His controversial and polarizing prose, that defies any orthodox literature and poetry stereotypes, provides an accurate portrait of lowlife America and made him the godfather of dirty realism and underground poetry. As an expression of praise to this maverick cultural icon, here we have curated for you this collection of the most inspirational Charles Bukowski quotes.
Henry Charles Bukowski, aka "Buk" or "Hunk", was a German-American poet and author. Born in 1920, in Andernach, Germany, he moved with his family to the U.S. and settled in Los Angeles. He attended Los Angeles City College, but dropped out and moved to New York to become a writer. Soon after, he travelled all over the country, working menial jobs and staying in flophouses, before returning to L.A. where he lived until his death. A prolific author, with more than 5,300 poems and stories written, Bukowski left a lasting mark on modern poetry and is considered by many as one of the greatest American writers ever. He died from leukemia in 1994.
An alcoholic and almost anti-everything, Bukowski was a hard-living poet who engaged with themes of alcohol abuse, women and the drudgery of work, in order to depict the depravity of urban life. His works, mostly autobiographical, are influenced by the socio-cultural ambience of L.A. and his personal life experiences, and reflect the daily life of the perennial losers, drifters and outcasts of American society.
Share these quotes with loved ones and friends in order to motivate them! Use them as captions to add sophistication to your Instagram posts! Reflect upon them to transform your perspective of the world!
Table of Contents
Thought-Provoking Charles Bukowski Quotes
Here are some short but meaningful quotes by the famous writer that you can share in a message or an Instagram post.  
I wanted the whole world or nothing. Charles Bukowski
Poetry is what happens when nothing else can. Charles Bukowski
Goodness can be found sometimes in the middle of hell. Charles Bukowski
Without literature, life is hell. Charles Bukowski
People empty me. I have to get away to refill. Charles Bukowski
Our disappointment sits between us. Charles Bukowski
There are only two things wrong with money: too much or too little. Charles Bukowski
Everything you own must be able to fit inside one suitcase; then your mind might be free. Charles Bukowski
The crazy ones only laugh when there is no reason to laugh. Charles Bukowski
The more crap you believe, the better off you are. Charles Bukowski
I often carry things to read so that I will not have to look at the people. Charles Bukowski
I guess the only time most people think about injustice is when it happens to them. Charles Bukowski
I had noticed that both in the very poor and very rich extremes of society the mad were often allowed to mingle freely. Charles Bukowski
dogs and angels are not
very far apart. Charles Bukowski
writers are desperate people and when they stop being desperate they stop being writers. Charles Bukowski
I carry death in my left pocket. Sometimes I take it out and talk to it: "Hello, baby, how you doing? When you coming for me? I'll be ready". Charles Bukowski
"Do you hate people?"
"I don't hate them…I just feel better when they're not around". Charles Bukowski
Inspirational Charles Bukowski Quotes on Soul to set your Mind on Fire
Bukowski refers often to the soul throughout his work; these quotes will give you a viewpoint of his personal philosophy.
The free soul is rare, but you know it when you see it – basically because you feel good, very good, when you are near or with them. Charles Bukowski
Unless it comes out of your soul like a rocket, unless being still would drive you to madness or suicide or murder, don't do it. unless the sun inside you is burning your gut, don't do it. when it is truly time, and if you have been chosen, it will do it by itself and it will keep on doing it until you die or it dies in you. there is no other way. and there never was. Charles Bukowski
If you're losing your soul and you know it, then you've still got a soul left to lose. Charles Bukowski
Some lose all mind and become soul, insane.
some lose all soul and become mind, intellectual.
some lose both and become accepted. Charles Bukowski
My beerdrunk soul is sadder than all the dead christmas trees of the world. Charles Bukowski
And yet women-good women–frightened me because they eventually wanted your soul, and what was left of mine, I wanted to keep. Charles Bukowski
Understand me. I'm not like an ordinary world. I have my madness, I live in another dimension and I do not have time for things that have no soul. Charles Bukowski
Charles Bukowski's Quotes on Love, Being in Love and Relationships
These quotes are about the experience of love in people's lives.
Find what you love and let it kill you. Charles Bukowski
I was in love again, I was in trouble… Charles Bukowski
I loved you like a man loves a woman he never touches, only writes to, keeps little photographs of. Charles Bukowski
If you have the ability to love, love yourself first. Charles Bukowski
Of course it's possible to love a human being if you don't know them too well. Charles Bukowski
I remember awakening one morning and finding everything smeared with the color of forgotten love. Charles Bukowski
People with no morals often considered themselves more free, but mostly they lacked the ability to feel or love. Charles Bukowski
I stopped looking for a Dream Girl, I just wanted one that wasn't a nightmare. Charles Bukowski
Love is a form of prejudice. You love what you need, you love what makes you feel good, you love what is convenient. Charles Bukowski
Love is all right for those who can handle the psychic overload. It's like trying to carry a full garbage can on your back over a rushing river of piss. Charles Bukowski
Lighting new cigarettes, pouring more drinks.
It has been a beautiful fight.
Still is. Charles Bukowski
Charles Bukowski Quotes on Life, Time and its Meaning
For the times you want to reflect upon life and the ultimate truth, these quotes will give you the inspiration!
You have to die a few times before you can really live. Charles Bukowski
Life's as kind as you let it be. Charles Bukowski
So it's always a process of letting go, one way or another. Charles Bukowski
Some people never go crazy. What truly horrible lives they must lead. Charles Bukowski
The tired sunsets and the tired
people -
it takes a lifetime to die and
no time at
 Charles Bukowski
It wasn't my day. My week. My month. My year. My life. God damn it. Charles Bukowski
We are like roses that have never bothered to bloom when we should have bloomed and it is as if the sun has become disgusted with waiting. Charles Bukowski
We are here to laugh at the odds and live our lives so well that Death will tremble to take us. Charles Bukowski
In my next life I want to be a cat. To sleep 20 hours a day and wait to be fed. To sit around licking my ass. Charles Bukowski
Sometimes you climb out of bed in the morning and you think, I'm not going to make it, but you laugh inside — remembering all the times you've felt that way. Charles Bukowski
We're all going to die, all of us, what a circus! That alone should make us love each other but it doesn't. We are terrorized and flattened by trivialities, we are eaten up by nothing. Charles Bukowski
People are strange: They are constantly angered by trivial things, but on a major matter like totally wasting their lives, they hardly seem to notice. Charles Bukowski
Some moments are nice, some are
nicer, some are even worth
writing
Charles Bukowski

Deep Quotes by Charles Bukowski Which Reveal a New Perspective
These meaningful quotes will leave their footprint on your thoughts.
What matters most is how well you walk through the fire Charles Bukowski
My ambition is handicapped by laziness. Charles Bukowski
The problem with the world is that the intelligent people are full of doubts, while the stupid ones are full of confidence. Charles Bukowski
An intellectual says a simple thing in a hard way. An artist says a hard thing in a simple way. Charles Bukowski
There is a loneliness in this world so great that you can see it in the slow movement of the hands of a clock. Charles Bukowski
We don't even ask happiness, just a little less pain. Charles Bukowski
You begin saving the world by saving one man at a time; all else is grandiose romanticism or politics. Charles Bukowski
The shortest distance between two points is often unbearable. Charles Bukowski
There are times when those eyes inside your brain stare back at you. Charles Bukowski
Those faces you see every day on the streets were not created entirely without hope: be kind to them: like you they have not escaped. Charles Bukowski
I've had so many knives stuck into me, when they hand me a flower I can't quite make out what it is. It takes time. Charles Bukowski
Charles Bukowski Quotes about Women and their Magic
Here are some of Bukowski's most famous quotes about women and his admiration towards them.
She's mad, but she's magic. There's no lie in her fire. Charles Bukowski
You boys can keep your virgins
give me hot old women in high heels
with asses that forgot to get old. Charles Bukowski
There is always one woman to save you from another and as that woman saves you she makes ready to destroy Charles Bukowski
She was consumed by 3 simple things:
drink, despair, loneliness; and 2 more:
youth and beauty Charles Bukowski
if you get married they think you're
finished
and if you are without a woman they think you're
Charles Bukowski
Once a woman turns against you, forget it. They can love you, then something turns in them. They can watch you dying in a gutter, run over by a car, and they'll spit on you. Charles Bukowski
Beauty is nothing, beauty won't stay. You don't know how lucky you are to be ugly, because if people like you, you know it's for something else. Charles Bukowski
Although some critics found his style offensive and aggressively vulgar, Bukowski's appeal lies in his directness and truthfulness. With a strong, raw and colorful narrative, he paints an intimate portrait of lowlife America, describing the lives of society's defeated and damned, and their endless daily struggle and suffering. Largely autobiographical, his works are considered a landmark in American literature and a point of reference in the genre of  transgressive fiction. 
If you like it, pin it!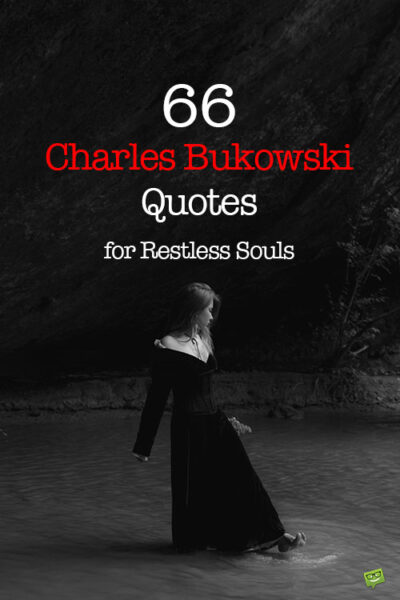 You may also like:
60+ Edgar Allan Poe Quotes to Take You on a Mystery Ride
I Felt it Shelter to Speak to You | 101 Emily Dickinson Quotes
100+ Ernest Hemingway Quotes That Can Transform Your Life Perspective