Best 90 George Orwell Quotes on the Danger of Oppression
Characterized by a direct and lucid prose, uncluttered from literary devices that seek to please or entertain, George Orwell, was an English author, journalist and critic, best known for his iconic fiction novels "Animal Farm" and "1984". This is a carefully curated collection of the most interesting George Orwell quotes that you can read and share.
Born Eric Arthur Blair in 1903, in India, Orwell was educated at Eton and then went on to join the Indian Imperial police in Burma, before returning to England, where he began his writing career. A passionate democratic socialist, Orwell fought in the Spanish Civil War, where he was badly wounded, and also worked as a journalist for the BBC during WWII. He died of tuberculosis in 1950, in London.
A humanist with a keen interest in everything political, Orwell, was a man who loved freedom and all things ordinary. His "Animal Farm", a tale of farm animals that rebel against the human owner and take over the farm, was a bitter satire of Stalin's totalitarianism and a critique on how revolutions eventually betray the high ideals that inspired them. Strongly opposed to autocracy and extremism, and without ever compromising his vision of a fair world, Orwell went on to create "1984", the most influential novel of the 20th century, about a dystopian society that is complete controlled by its oppressive government.
Orwell's examination of the demure hypocrisy and the insidious mechanisms employed by those in power in order to deceive and justify heinous crimes, prompts us to fathom deeper and see behind the narrative of ideologies and practices committed in the name of the "general good".
In a world full of mundane distractions it is essential to seek out the truth, so we have trawled the internet and collected for you George Orwell's most inspirational quotes to provoke thinking. Share them with friends and loved ones to enlighten them! Ruminate upon them to transform your perspective of the world and inspire purpose in your life!
Table of Contents
Important George Orwell Quotes About Politics and Society
George Orwell was a free thinker who rebuked dogmas and ideological conformity. He was the voice of truth, a visionary who could see past polarizing doctrines and provide genuine insights about the world as it was.
The further a society drifts from truth the more it will hate those who speak it. George Orwell
Men can only be happy when they do not assume that the object of life is happiness. George Orwell
Sanity is not statistical. George Orwell, 1984
In a time of deceit telling the truth is a revolutionary act. George Orwell
Journalism is printing what someone else does not want printed: everything else is public relations. George Orwell
When I see a policeman with a club beating a man on the ground, I don't have to ask whose side I'm on. George Orwell
The most effective way to destroy people is to deny and obliterate their own understanding of their history. George Orwell
It is not possible for any thinking person to live in such a society as our own without wanting to change it. George Orwell
People sleep peaceably in their beds at night only because rough men stand ready to do violence on their behalf. George Orwell
Real power is achieved when the ruling class controls the material essentials of life, granting and withholding them from the masses as if they were privileges. George Orwell
A society becomes totalitarian when its structure becomes flagrantly artificial: that is, when its ruling class has lost its function but succeeds in clinging to power by force or fraud. George Orwell
The real test of character is how you treat someone who has no possibility of doing you any good. George Orwell
We have now sunk to a depth at which restatement of the obvious is the first duty of intelligent men. George Orwell
The real division is not between conservatives and revolutionaries but between authoritarians and libertarians. George Orwell
Powerful George Orwell Quotes From His Dystopian Novel 1984
Influenced by the fresh memory of Nazism and Stalin's communism, Orwell published 1984 as a warning against totalitarian regimes and a dystopian society that could become a reality.
If you want a picture of the future, imagine a boot stamping on a human face—for ever. George Orwell, 1984
Nothing was your own except the few cubic centimetres inside your skull. George Orwell, 1984
Perhaps one did not want to be loved so much as to be understood. George Orwell, 1984
Who controls the past controls the future. Who controls the present controls the past. George Orwell, 1984
War is peace. Freedom is slavery. Ignorance is strength. George Orwell, 1984
If you want to keep a secret, you must also hide it from yourself. George Orwell, 1984
The best books… are those that tell you what you know already. George Orwell, 1984
It was a bright cold day in April, and the clocks were striking thirteen. George Orwell, 1984
We shall meet in the place where there is no darkness. George Orwell, 1984
One does not establish a dictatorship in order to safeguard a revolution; one makes the revolution in order to establish the dictatorship. George Orwell, 1984
Perhaps a lunatic was simply a minority of one. George Orwell, 1984
Big Brother is Watching You. George Orwell, 1984
The masses never revolt of their own accord, and they never revolt merely because they are oppressed. Indeed, so long as they are not permitted to have standards of comparison, they never even become aware that they are oppressed. George Orwell, 1984
Of pain you could wish only one thing: that it should stop. Nothing in the world was so bad as physical pain. In the face of pain there are no heroes. George Orwell, 1984
Power is in tearing human minds to pieces and putting them together again in new shapes of your own choosing. George Orwell, 1984
Doublethink means the power of holding two contradictory beliefs in one's mind simultaneously, and accepting both of them. George Orwell, 1984
Until they become conscious they will never rebel, and until after they have rebelled they cannot become conscious. George Orwell, 1984
If you loved someone, you loved him, and when you had nothing else to give, you still gave him love. George Orwell, 1984
It's a beautiful thing, the destruction of words. George Orwell, 1984
We do not merely destroy our enemies; we change them. George Orwell, 1984
The object of terrorism is terrorism. The object of oppression is oppression. The object of torture is torture. The object of murder is murder. The object of power is power. Now do you begin to understand me? George Orwell, 1984
George Orwell Animal Farm Quotes
Orwell's Animal Farm is a timeless satire about how revolutions end up creating dictatorships and tyrannies no different than the ones they overthrew.   
This work was strictly voluntary, but any animal who absented himself from it would have his rations reduced by half. George Orwell, Animal Farm
All animals are equal, but some animals are more equal than others. George Orwell, Animal Farm
Four legs good, two legs bad. George Orwell, Animal Farm
The only good human being is a dead one. George Orwell, Animal Farm
No one believes more firmly than Comrade Napoleon that all animals are equal. He would be only too happy to let you make your decisions for yourselves. But sometimes you might make the wrong decisions, comrades, and then where should we be? George Orwell, Animal Farm
The creatures outside looked from pig to man, and from man to pig, and from pig to man again; but already it was impossible to say which was which. George Orwell, Animal Farm
Man is the only creature that consumes without producing. He does not give milk, he does not lay eggs, he is too weak to pull the plough, he cannot run fast enough to catch rabbits. Yet he is lord of all the animals. He sets them to work, he gives back to them the bare minimum that will prevent them from starving, and the rest he keeps for himself. George Orwell, Animal Farm
Several of them would have protested if they could have found the right arguments. George Orwell, Animal Farm
The distinguishing mark of man is the hand, the instrument with which he does all his mischief. George Orwell, Animal Farm
I saw a little boy, perhaps ten years old, driving a huge cart-horse along a narrow path, whipping it whenever it tried to turn. It struck me that if only such animals became aware of their strength we should have no power over them, and that men exploit animals in much the same way as the rich exploit the proletariat. George Orwell, Animal Farm
George Orwell Quotes On Freedom and Oppression
An insightful collection of Orwell's most famous quotes about people's freedom and the unjust exercise of power by tyrannies.  
Freedom is the freedom to say that two plus two make four. If that is granted, all else follows. George Orwell, 1984
The choice for mankind lies between freedom and happiness and for the great bulk of mankind, happiness is better. George Orwell, 1984
All tyrannies rule through fraud and force, but once the fraud is exposed they must rely exclusively on force. George Orwell
There is no swifter route to the corruption of thought than through the corruption of language. George Orwell
Anyone who challenges the prevailing orthodoxy finds himself silenced with surprising effectiveness. A genuinely unfashionable opinion is almost never given a fair hearing. George Orwell
Apparently nothing will ever teach these people that the other 99 % of the population exist. George Orwell
Short Yet Important George Orwell Quotes
An assemblage of succinct and pithy quotes that pack so much meaning in just one sentence! Use them as sophisticated captions for your Instagram and social media posts!
Using clichés is a substitute for thinking. George Orwell
The people will believe what the media tells them they believe. George Orwell
The essence of being human is that one does not seek perfection. George Orwell
It's frightful that people who are so ignorant should have so much influence. George Orwell
The past was erased, the erasure was forgotten, the lie became the truth. George Orwell
Free speech is my right to say what you don't want to hear. George Orwell
War against a foreign country only happens when the moneyed classes think they are going to profit from it. George Orwell
But if thought corrupts language, language can also corrupt thought. George Orwell, 1984
Some ideas are so stupid that only intellectuals believe them. George Orwell
He wears a mask, and his face grows to fit it. George Orwell
Politics is the choice between the lesser of two evils. George Orwell
On the whole human beings want to be good, but not too good, and not quite all the time. George Orwell
We know that no one ever seizes power with the intention of relinquishing it. George Orwell, 1984
Freedom of speech is real. George Orwell
Right thinking will be rewarded, wrong thinking punished. George Orwell
Totalitarianism, if not fought against, could triumph anywhere. George Orwell
Truth becomes untruth if uttered by your enemy. George Orwell
To be corrupted by totalitarianism, one does not have to live in a totalitarian country. George Orwell
More Famous Quotes by George Orwell
A hand-picked mélange of famous George Orwell quotes that encapsulate his philosophy and political views.
Political language is designed to make lies sound truthful and murder respectable, and to give an appearance of solidity to pure wind. George Orwell
Every generation imagines itself to be more intelligent than the one that went before it, and wiser than the one that comes after it. George Orwell
So much of left-wing thought is a kind of playing with fire by people who don't even know that fire is hot. George Orwell
A generation of the unteachable is hanging upon us like a necklace of corpses. George Orwell
From the totalitarian point of view, history is something to be created rather than learned. George Orwell
All the war-propaganda, all the screaming and lies and hatred, comes invariably from people who are not fighting. George Orwell, Homage to Catalonia
Everyone believes in the atrocities of the enemy and disbelieves in those of his own side, without ever bothering to examine the evidence. George Orwell
Threats to freedom of speech, writing and action, though often trivial in isolation, are cumulative in their effect and, unless checked, lead to a general disrespect for the rights of the citizen. George Orwell
The word Fascism has now no meaning except in so far as it signifies 'something not desirable.' George Orwell
Power is in tearing human minds to pieces and putting them together again in new shapes of your own choosing. George Orwell
It's not so much staying alive, it's staying human that's important. What counts is that we don't betray each other. George Orwell
There are some ideas so wrong that only a very intelligent person could believe in them. George Orwell
Writing a book is a horrible, exhausting struggle, like a long bout with some painful illness. One would never undertake such a thing if one were not driven on by some demon whom one can neither resist nor understand. George Orwell
I enjoy talking to you. Your mind appeals to me. It resembles my own mind except that you happen to be insane. George Orwell, 1984
All rulers in all ages have tried to impose a false view of the world upon their followers. George Orwell
That rifle hanging on the wall of the working-class flat or labourer's cottage is the symbol of democracy. It is our job to see that it stays there. George Orwell, A patriot after all
We are all capable of believing things which we know to be untrue, and then, when we are finally proved wrong, impudently twisting the facts so as to show that we were right. George Orwell
The essence of oligarchical rule is not father-to-son inheritance, but the persistence of a certain world-view and a certain way of life, imposed by the dead upon the living. A ruling group is a ruling group so long as it can nominate its successors. The Party is not concerned with perpetuating its blood but with perpetuating itself. Who wields power is not important, provided that the hierarchical structure remains always the same. George Orwell
More relevant than ever, George Orwell left a lasting legacy for years to come. Realizing the importance and power of words to shape things and influence reality, he examined the way deceptive and manipulative language can be used to create cognitive dissonance and a warped definition of reality by those in authority. His omnirelevant, eye-opening works, transcend ideological barriers and encourage nuanced and critical thinking, prompting us to questioning everything that tries to blind us from the truth.
Like it? Pin it!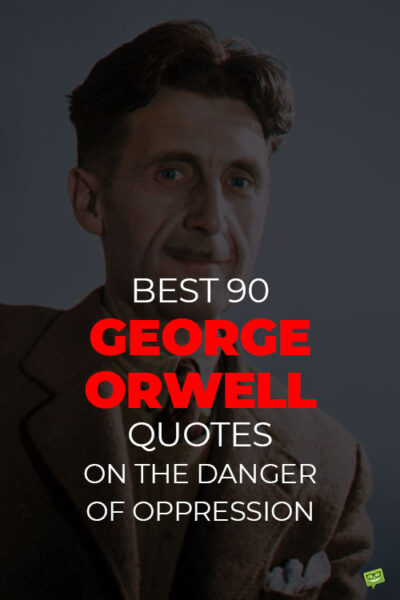 You May Also Like:
70 Karl Marx Quotes to Form Conscience on Social Issues
124 Albert Camus Quotes from When Humanity Lived a Pandemic
Best 104 Toni Morrison Quotes About Writing the Book You Want to Read