50 Freedom of Speech Quotes to Help You Free your Mind
It is the mother of all rights and a prerequisite for all other rights or liberties. The freedom of holding your own opinion and being able to express it freely without censorship or any fear of punishment or persecution is a fundamental and universal human right since the Enlightenment. It is one of the founding principles of the United States, guaranteed by the First Amendment of the U.S. Constitution, as well as by the constitutions and statutes of the majority of advanced nations.
The free exchange of opinions and ideas whether exercised by speech, in writing or expressed as freedom of the press, is foundational for a free and democratic society to function. The reflection of various views promotes plurality and through the acceptance of different and opposing perspectives, that invoke critical evaluation and rational debate, democracy can constantly reinvent itself and society can progress by implementing better laws and policies.
However, with freedom of speech comes the responsibility of diligent expression, without abusing or threatening the freedom of others. This has become an issue of concern in the case of the internet, which although facilitates the free flow and exchange of information, it also provides a platform for promoting extremism, online abuse and inappropriate content, raising the case for some form of regulation.
Here we have selected for you the most inspirational quotes on the freedom of speech by some of history's greatest thinkers and philosophers. Share them with loved ones and friends in order to motivate them and quicken their interest. Use them as a caption to add sophistication to your Instagram and social media posts! Reflect upon them to cultivate your mind to accept different perspectives and respect diversity!
Table of Contents
Short Quotes about Freedom of Speech and Independence of the Press
Since the European and American Enlightenment modern Constitutions acknowledge the universal right of Free Thinking and the liberty of Self-Expression. Moreover, Freedom of Speech is thought to be one of the pillars of Democracy. Read these short quotes by famous thinkers through the course of History – they surely are food for thinking!
This is slavery, not to speak one's thought. Euripides
The only security of all is in a free press. Thomas Jefferson
The liberty of the press is essential to the security of the state. John Adams
Freedom of speech doesn't mean threatening the freedom of others. Vikrmn
It is there, where they burn books, that eventually they burn people. Heinrich Heine
Think for yourselves and let others enjoy the privilege to do so too. Voltaire
Censorship is to art as lynching is to justice. Henry Louis Gates Jr
Hypocrites get offended by the truth. Jess C. Scott
I have an opinion and I'm not scared to use it. George Banister
The right to free speech is more important than the content of the speech. Voltaire
If you'll not raise your voice now, then they will seal your mouth forever. Fahim Khan
Four hostile newspapers are more to be feared than a thousand bayonets. Napoleon Bonaparte
Those who make conversations impossible make escalation inevitable. Stefan Molyneux
To sin by silence, when they should protest, makes cowards of men. Ella Wheeler Wilcox
It is the function of speech to free men from the bondage of irrational fears. Louis D. Brandeis
For every journalist that is killed, many other people are pressured to silence. Oscar Auliq-Ice
Voltaire's Freedom of Speech Quote
We don't really know what Voltaire exactly said; The famous quote was written by Evelyn Beatrice Hall (under the pseudonym S.G. Tallentyre) in his 1906 biography "The Friends of Voltaire". Read here the famous quote from Hall's book and the authentic quote from Voltaire's correspondence.
I disapprove of what you say, but I will defend to the death your right to say it. G. Tallentyre
Monsieur l'abbé, I detest what you write, but I would give my life to make it possible for you to continue to write. Voltaire
Quotes about Freedom of Speech on Social Media and the Online World in the New Era
In the 21st century communication has drastically changed with the widespread use of the Internet. New possibilities but also new responsibilities have aroused in modern societies that question our values and our behavior. These quotes shed some light on this critical matter.
Freedom of Speech doesn't justify online bullying. Words have power, be careful how you use them. Germany Kent
It's freedom of speech, not freedom from consequences and/or ridicule. E. Samaan
Sometimes a people lose their right to remain silent when pressured to remain silent. Criss Jami
People don't often say what they think but rather what they think is permissible. Michael Rectenwald
…While freedom of speech gives you the right to dissent and, yes, to offend, it does not give you the right to abuse. Billy Bragg
Having the freedom of speech doesn't mean saying whatever you want, it means saying what's humane, hateless and non-prejudicial. Abhijit Naskar
Ultimately, saying that you don't care about privacy because you have nothing to hide is no different from saying you don't care about freedom of speech because you have nothing to say. Edward Snowden
Freedom of speech is unnecessary if the people to whom it is granted do not think for themselves. Mokokoma Mokhonoana
The Freedom of Speech will always be mightier than any small-minded censor no matter the flavor of their ignorance. A.A. Savastano
Famous Quotes about Freedom of Speech and how it is connected to Democracy and the other Fundamental Freedoms
Here are some insightful quotes on the importance of free thinking and free speaking in Society, the consequences of their violation and the need to be protected by the Government.
If freedom of speech is taken away, then dumb and silent we may be led, like sheep to the slaughter. George Washington
Our liberty depends on the freedom of the press, and that cannot be limited without being lost. Thomas Jefferson
Whoever would overthrow the liberty of a nation must begin by subduing the freeness of speech. Benjamin Franklin
The people shall not be deprived or abridged of their right to speak, or to publish their sentiments; and the freedom of the press, as one of the great bulwarks of liberty, shall be inviolable. James Madison
If you're not going to use your free speech to criticize your own government, then what the hell is the point of having it? Michel Templet
Without Freedom of Thought, there can be no such thing as Wisdom; and no such thing as public Liberty, without Freedom of Speech. Benjamin Franklin
Because if you don't stand up for the stuff you don't like, when they come for the stuff you do like, you've already lost. Neil Gaiman
Restriction of free thought and free speech is the most dangerous of all subversions. It is the one un-American act that could most easily defeat us. William O. Douglas
When the State silences freedom of assembly and freedom to dissent, it silences the people it is sworn to protect. Deborah Wiles
If you can't write freely and if you can't speak freely in your country, you can be sure that you are living in a very primitive country! Mehmet Murat ildan
Freedom of speech is a principal pillar of a free government: When this support is taken away, the constitution of a free society is dissolved. Benjamin Franklin
If all printers were determined not to print anything till they were sure it would offend nobody, there would be very little printed. Benjamin Franklin
But none of the means of information are more sacred, or have been cherished with more tenderness and care by the settlers of America, than the press. John Adams
Were it left to me to decide whether we should have a government without newspapers, or newspapers without a government, I should not hesitate a moment to prefer the latter. Thomas Jefferson
Everyone has the right to freedom of opinion and expression; this right includes freedom to hold opinions without interference and to seek, receive and impart information and ideas through any media and regardless of frontiers. United Nations, Universal Declaration of Human Rights
Inspirational Quotes about Freedom of Speech that will broaden your perspective
Read these quotes by famous thinkers, choose those whichever suits you best and use it to share wisdom and knowledge!
To respect the opinions of those who stand against you is nothing short of courageous. Raif Badawi
If we do not believe in freedom of expression for people we despise, we do not believe in it at all. Noam Chomsky
If liberty means anything at all, it means the right to tell people what they do not want to hear. George Orwell
Natural isn't the same as right. Normal isn't the same as moral. Everyone deserves a say in what happens to the world. Audrey Greathouse
People demand freedom of speech as a compensation for the freedom of thought which they seldom use. Søren Kierkegaard
Nobody is capable of free speech unless he knows how to use language, and such knowledge is not a gift: it has to learned and worked at. Northrop Frye
Who kills a man kills a reasonable creature, God's image, but he who destroys a good book, kills reason itself, kills the image of God, as it were in the eye. John Milton
Freedom Of Speech Quotes On Images
If you like it, pin it!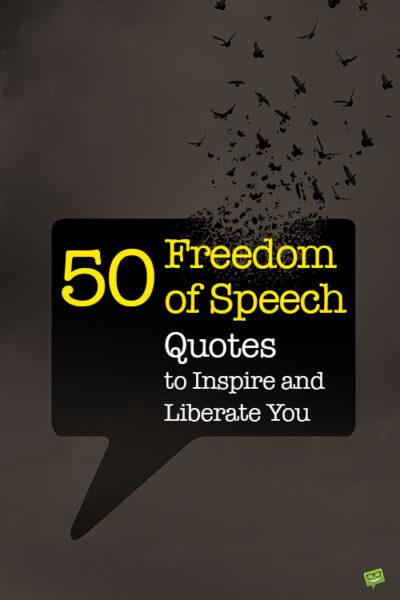 You May Also Like:
92 Quotes About Justice (That Will Make You Question What Is Fair)
International Day of Democracy | 50 Famous + Original Quotes about Democratic Rule
151 People Talk About The Strength That Makes Us Strive Through Hardships | Courage Quotes