What Overwhelms Us and How to Get Over It | 130 Fear Quotes
The more we are scared, the scarier things will seem. This crippling feeling of fear will be present at some point in life and one will have to face it, overcome it and even struggle to enjoy the victory of getting over the fear of failures. Apart from sensing danger in the world today, this can occur from our expectations in the future, our anticipation for a numerous results ranging from not failing an exam to passing a job interview with flying colors.
This emotion often causes us both physiological and behavioral changes which cause us to hide, freeze or flee. All depending on how strong we are at the time, many will find ourselves weak to go on, and keep us at a standstill. However, it is usually a thought or the proper words that will unblock us and allow us to continue and even overcome it. It is most often the thought of rejection and failure that will slow us down in going after our dreams and our goals. This anxiety may last for a short time but still takes a toll on our time and confidence. Some of us are so overwhelmed our self esteem is shattered and feeling frightened may not allow us to enjoy life for a longer period of time. That's why overcoming fear and realizing our potential must immediately take effect.
Here you will find a variety of inspiring quotes that will give us the needed little push to help us achieve in succeeding to getting over most types of fear that overwhelm us from time to time.

Short Fear Quotes
What difference do it make if the thing you scared of is real or not? Toni Morrison
You must never be fearful about what you are doing when it is right.
Fear is pain arising from the anticipation of evil.
He who has overcome his fears will truly be free.
What the mind doesn't understand, it worships or fears.
Scared is what you're feeling. Brave is what you're doing.
Fear cuts deeper than swords.

A Game of Thrones

He who fears he shall suffer, already suffers what he fears.
Do not be afraid; our fate cannot be taken from us; it is a gift. Inferno

In time we hate that which we often fear.
No one loves the man whom he fears.
Ignorance is the parent of fear.
Men go to far greater lengths to avoid what they fear than to obtain what they desire.
A man that flies from his fear may find that he has only taken a short cut to meet it.
Use your fear, it can take you to the place where you store your courage. Amelia Earhart
Everyone believes very easily whatever he fears or desires.
I'm not afraid of death; I just don't want to be there when it happens.
Power does not corrupt. Fear corrupts… perhaps the fear of a loss of power.
Everything you want is on the other side of fear.
May your choices reflect your hopes, not your fears.
The only thing we have to fear is fear itself.
Courage is knowing what not to fear.
I love the name of honor more than I fear death. J
Men are not afraid of things, but of how they view them.
Of all the liars in the world, sometimes the worst are our own fears.
Laughter is poison to fear.

A Game of Thrones

The cave you fear to enter holds the treasure you seek.
Fear follows crime and is its punishment.
What have we to fear, we who believe?
Keep your fears to yourself, but share your courage with others.
He is terribly afraid of dying because he hasn't yet lived.
One is never afraid of the unknown; one is afraid of the known coming to an end.
It frightens me, the awful truth, of how sweet life can be…
A fear of using the imagination is very deep in America.
When you are grateful, fear disappears and abundance appears. Anthony Robbins
Hope is the only thing stronger than fear. Unknown
Have no fear of perfection – you'll never reach it.
There is always danger for those who are afraid.
Here is the world. Beautiful and terrible things will happen. Don't be afraid.
Better beans and bacon in peace than cakes and ale in fear.
Move outside the tangle of fear-thinking. Live in silence.
Hate is an automatic response to fear, for fear humiliates.
None but a coward dares to boast that he has never known fear.
You always have two choices: your commitment versus your fear.
Fear is the fatal killer of desire. Ζ
He who is without hope is also without fear.
Fears are nothing more than a state of mind. Napoleon Hill
Overcoming Fear Quotes
I have learned over the years that when one's mind is made up, this diminishes fear; knowing what must be done does away with fear.
No person is your friend who demands your silence, or denies your right to grow.
Fear is never a good counselor and victory over fear is the first spiritual duty of man. Nicolas Berdyaev
Proclaim the truth and do not be silent through fear.
Courage consists not in hazarding without fear; but being resolutely minded in a just cause.
Forgiveness liberates the soul. It removes fear. That is why it is such a powerful weapon. Nelson Mandela
I learned that courage was not the absence of fear, but the triumph over it. The brave man is not he who does not feel afraid, but he who conquers that fear.
If you try to get rid of fear and anger without knowing their meaning, they will grow stronger and return.
If a fear cannot be articulated, it can't be conquered.
Pain makes you stronger. Fear makes you braver. Heartbreak makes you wiser. Drake
All I insist on, and nothing else, is that you should show the whole world that you are not afraid. Be silent, if you choose; but when it is necessary, speak—and speak in such a way that people will remember it.
When desire stops, there is no more fear. We are then truly free, peaceful, and happy.
Fear comes from uncertainty; we can eliminate the fear within us when we know ourselves better. Bruce Lee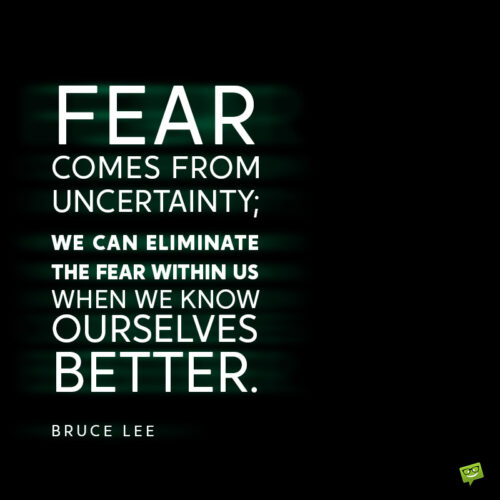 Facing Fear Quotes
Nothing in life is to be feared, it is only to be understood. Now is the time to understand more, so that we may fear less.
Do one thing every day that scares you.
Through every generation of the human race there has been a constant war, a war with fear. Those who have the courage to conquer it are made free and those who are conquered by it are made to suffer until they have the courage to defeat it, or death takes them.
Don't give in to your fears. If you do, you won't be able to talk to your heart.
I am not afraid… I was born to do this. Joan of Arc
And one has to understand that braveness is not the absence of fear but rather the strength to keep on going forward despite the fear.
When I dare to be powerful, to use my strength in the service of my vision, then it becomes less and less important whether I am afraid.
Fear? What has a man to do with fear? Chance rules our lives, and the future is all unknown. Best live as we may, from day to day.

Oedipus Rex

Remember, the only thing to fear is Fear, and – well, don't even fear Fear, for he's a cowardly chap at the best, who will run if you show a brave front.
There's no shame in fear, my father told me, what matters is how we face it.

A Clash of Kings

Maybe you who condemn me are in greater fear than I who am condemned.
To defend oneself against a fear is simply to insure that one will, one day, be conquered by it; fears must be faced.
Fear can only grow in darkness. Once you face fear with light, you win.
Fear is the strong passion; it is with fear that you must trifle, if you wish to taste the intensest joys of living.
Fear Of Failure Quotes
Should we not be concerned as to whether this fear of error is not just the error itself?
Fear of ridicule begets the worst cowardice.
Failure seldom stops you. What stops you is the fear of failure.
There is only one thing that makes a dream impossible to achieve: the fear of failure.
I'm intimidated by the fear of being average.
Don't fear failure. — Not failure, but low aim, is the crime. In great attempts it is glorious even to fail.
We are so scared of being judged that we look for every excuse to procrastinate.
My heart always timidly hides itself behind my mind. I set out to bring down stars from the sky, then, for fear of ridicule, I stop and pick little flowers of eloquence.

Cyrano de Bergerac

There is nothing that teaches you more than regrouping after failure and moving on. Yet most people are stricken with fear. They fear failure so much that they fail.
Collective Fear
Collective fear stimulates herd instinct, and tends to produce ferocity toward those who are not regarded as members of the herd.
Fear is the main source of superstition, and one of the main sources of cruelty. To conquer fear is the beginning of wisdom.
Neither a man nor a crowd nor a nation can be trusted to act humanely or to think sanely under the influence of a great fear.
The constant assertion of belief is an indication of fear.
Television knows no night. It is perpetual day. TV embodies our fear of the dark, of night, of the other side of things.
Cruelty and fear shake hands together.
It is the function of speech to free men from the bondage of irrational fears. Louis D. Brandeis
Ignorance and Fear are twin sisters. They are generally found together. Napoleon Hill
Famous Quotes About Fear
We promise according to our hopes and perform according to our fears.
We can easily forgive a child who is afraid of the dark; the real tragedy of life is when men are afraid of the light.
I have gained this by philosophy: that I do without being commanded what others do only from fear of the law.
Expose yourself to your deepest fear; after that, fear has no power, and the fear of freedom shrinks and vanishes. You are free.
We should all start to live before we get too old. Fear is stupid. So are regrets. Marilyn Monroe
Most people do not really want freedom, because freedom involves responsibility, and most people are frightened of responsibility.
How blessed are some people, whose lives have no fears, no dreads; to whom sleep is a blessing that comes nightly, and brings nothing but sweet dreams.

Dracula

Fear can make you do more wrong than hate or jealousy… fear makes you always, always hold something back.

VALIS

I do not cling to life sufficiently to fear death.

The Three Musketeers

In politics, what begins in fear usually ends in folly.
Be Fearful When Others Are Greedy and Greedy When Others Are Fearful.
Human life is under the absolute dominion of two mighty principles, fear and hope, and that any one who can make these serve his ends may be sure of rapid fortune.
When even one American – who has done nothing wrong – is forced by fear to shut his mind and close his mouth, then all Americans are in peril.
Nothing gives a fearful man more courage than another's fear.

The Name of the Rose

But human beings are like that, she thought. We've replaced nearly all our emotions with fear. P
To be feared of a thing and yet to do it, is what makes the prettiest kind of a man.
Let the fear of danger be a spur to prevent it; he that fears not, gives advantage to the danger.
And as we let our own light shine, we unconsciously give other people permission to do the same. As we are liberated from our own fear, our presence automatically liberates others.

Long Walk to Freedom
Love And Fear Quotes
Of course I'll hurt you. Of course you'll hurt me. Of course we will hurt each other. But this is the very condition of existence. To become spring, means accepting the risk of winter. To become presence, means accepting the risk of absence.

Manon, Ballerina

I believe that every single event in life happens in an opportunity to choose love over fear.
Everything we do in life is based on fear, especially love.
Love didn't grow very well in a place where there was only fear.

The Stand

The more you are motivated by Love,

the

more Fearless and Free

your action will be.

Dalai Lama

Love, not fear, must be our guide. Rosa Parks
And besides, we lovers fear everything.

Metamorphoses

And here comes in the question whether it is better to be loved rather than feared, or feared rather than loved. It might perhaps be answered that we should wish to be both; but since love and fear can hardly exist together, if we must choose between them, it is far safer to be feared than loved.

The Prince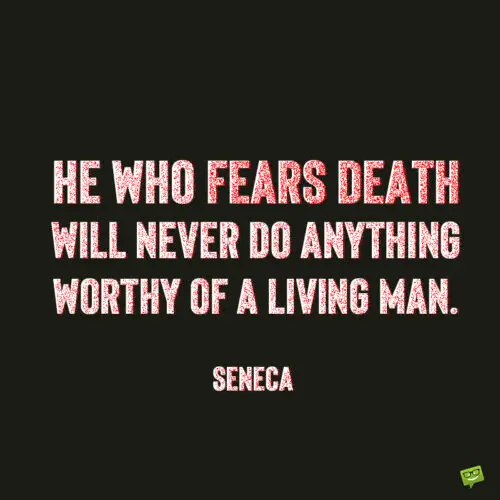 Inspirational Quotes About Fear
Find out what a person fears most and that is where he will develop next.
The eyes shout what the lips fear to say. William Henry
Fear is an insidious and deadly thing. It can warp judgment, freeze reflexes, breed mistakes. Worse, it's contagious.
There are two basic motivating forces: fear and love. When we are afraid, we pull back from life. When we are in love, we open to all that life has to offer with passion, excitement, and acceptance. We need to learn to love ourselves first, in all our glory and our imperfections. If we cannot love ourselves, we cannot fully open to our ability to love others or our potential to create. Evolution and all hopes for a better world rest in the fearlessness and open-hearted vision of people who embrace life.
When we are unhurried and wise, we perceive that only great and worthy things have any permanent and absolute existence, that petty fears and petty pleasures are but the shadow of the reality.

Walden

Tell your heart that the fear of suffering is worse than the suffering itself. And that no heart has ever suffered when it goes in search of its dreams, because every second of the search is a second's encounter with God and with eternity.
The moment we begin to fear the opinions of others and hesitate to tell the truth that is in us, and from motives of policy are silent when we should speak, the divine floods of light and life no longer flow into our souls.
The human race is a monotonous affair. Most people spend the greatest part of their time working in order to live, and what little freedom remains so fills them with fear that they seek out any and every means to be rid of it.
I think the big mistake in schools is trying to teach children anything, and by using fear as the basic motivation. Fear of getting failing grades, fear of not staying with your class, etc. Interest can produce learning on a scale compared to fear as a nuclear explosion to a firecracker.
Forget the self and you will fear nothing, in whatever level or awareness you find yourself to be.
He will never have true friends who is afraid of making enemies.
Like you, I dream, I choke on night-dread. Like you, I have often wondered why fears reign at night. After twenty years of such wondering, I now believe that fears are not born of darkness; rather, fears are like the stars—always there, but obscured by the glare of daylight.

When Nietzsche Wept

I want what I'm afraid of and I'm afraid of what I want so that I'm like a storm inside that can't break loose!
Your fear of death is but the trembling of the shepherd when he stands before the king whose hand is to be laid upon him in honour.
Fear Quotes On Images
You May Also Like:
64 Liberating Quotes to Urge You to Take a Chance
Start Even If You Don't Know How | Motivational Quotes
112 Quotes About Forgiveness (That Might Help You Let Go And Free Yourself)
60+ Priority Quotes to Urge You to Do First Things First
Famous Quotes | The Ultimate List of Wise Words to Share