64 Liberating Quotes to Urge You to Take a Chance
Life can easily become just an existence if you stop taking chances, with no passion and liveliness. Going for that risk is what will also open the door to the possibilities of achievement. It is never easy to make that decision, however, in spite of the indecisiveness involved, one must be brave and work up the courage to face even the fear of failing. This process alone is of great benefit, no matter what the outcome. There are many famous individuals that believe exactly this and have taken a leap themselves.
They too have dreamt, ventured, succeeded and at times may have failed. Lives have forever changed after running that risk concerning love, careers, friendships and more. The life you live greatly depends on the chances you take and the ones you don't. Read on to find a remarkable selection of quotes that many actors, artists, scientists and more have expressed. Their words will motivate and inspire you, friends and loved ones to endeavour and dare. Go for it!

Quotes About Taking a Chance in Life
The dangers of life are infinite, and among them is safety. Johann Wolfgang von Goethe
I've found that luck is quite predictable. If you want more luck, take more chances. Be more active. Show up more often. Brian Tracy
To dare is to lose one's footing momentarily. To not dare is to lose oneself. Søren Kierkegaard
You'll learn, as you get older, that rules are made to be broken. Be bold enough to live life on your terms, and never, ever apologize for it. Go against the grain, refuse to conform, take the road less traveled instead of the well-beaten path. Laugh in the face of adversity, and leap before you look. Dance as though EVERYBODY is watching. March to the beat of your own drummer. And stubbornly refuse to fit in. Mandy Hale
If you want to achieve a high goal, you're going to have to take some chances. Alberto Salazar
No man is worth his salt who is not ready at all times to risk his well-being, to risk his body, to risk his life in a great cause. Theodore Roosevelt
There is a good life waiting for you. Its just waiting for you to grab it. Robert Kiyosaki
Our lives improve only when we take chances—and the first and most difficult risk we can take is to be honest with ourselves. Walter Anderson
Trying and getting hurt can't possibly be worse for you than being stuck. Eliezer Yudkowsky
Be passionate about your life. Learn to live without the fear of failing. Take a chance, you just might surprise yourself. Nishan Panwar
You will never experience personal growth, if you fear taking chances. T.A. Sorensen
He who takes no chances wins nothing. Danish Proverb
You learn so much from taking chances, whether they work out or not. Either way, you can grow from the experience and become stronger and smarter. John Legend
Do you want to be safe and good, or do you want to take a chance and be great? Jimmy Johnson
The 3 C's of Life: Choices, Chances and Changes.You must make a choice to take a chance or you will never change. Zig Ziglar
Sometimes, we are so attached to our way of life that we turn down wonderful opportunities simply because don't know what to do with it. Paulo Coelho
Your regrets aren't what you did, but what you didn't do. So I take every opportunity. Cameron Diaz
I believe in taking chances and living your life. Sometimes doors open and others close and you have to figure out which one you're going to take. I'm always for the one that's challenging. Gisele Bundchen
Life opens up opportunities to you, and you either take them or you stay afraid of taking them. Jim Carrey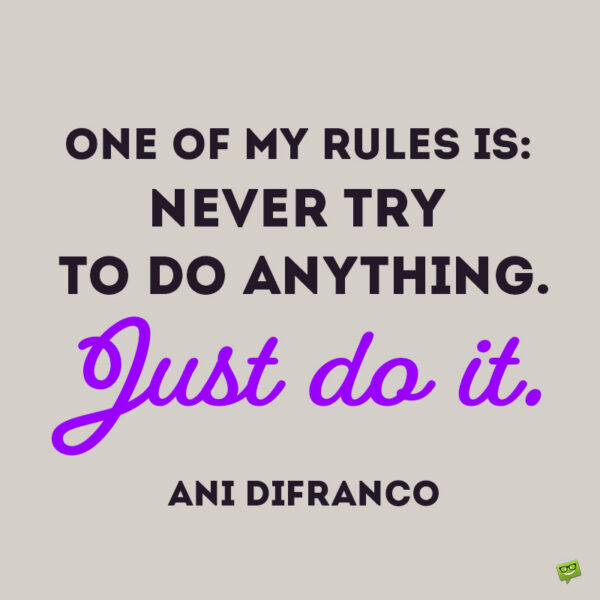 Take a Chance When in a Relationship Quotes
Of all forms of caution, caution in love is perhaps the most fatal to true happiness. Bertrand Russell
Tis better to have loved and lost than never to have loved at all. Alfred Lord Tennyson
Trust your heart if the seas catch fire, live by love though the stars walk backward. E.E. Cummings
Have enough courage to trust love one more time and always one more time. Maya Angelou
Because if you take a risk, you just might find what you're looking for. Susane Colasanti
There's something liberating about not pretending. Dare to embarrass yourself. Risk. Drew Barrymore
When we allow ourselves to become vulnerable, to take chances, and to risk our pride, that is when we find our own glory. Richard Corman
Take a chance because you never know how perfect something can turn out. Wiz Khalifa
Dare to take chances, follow your dreams, risk it all, fall in love, believe in yourself, ask questions, let go, make mistakes, start over, speak the truth, take responsibility, find happiness, live for today. Unknown
Short Take a Chance Quotes to Use as Captions on Instagram
Sometimes a "mistake" can end up being the best decision you ever make. Mandy Hale
If you aren't making some mistakes, you aren't taking enough chances. John Sculley
99 percent of success is built on failure. Charles Kettering
Safe is good for sidewalks and swimming pools, but life requires risk if we are to get anywhere. Simon Sinek
Only those who will risk going too far can possibly find out how far one can go. T. S. Eliot
And at the end of the day, there is nothing but the journey. Because destination is pure illusion. Rich Roll
I'd rather regret the things that I have done than the things that I have not done. Lucille Ball
If you stop being afraid of the word no and take more chances, you will get more yes. Jeanette Coron
Sometimes you just have to try, even if you know it won't work. Junot Diaz
Anything in your life that's acting as a security blanket is only smothering the person you were born to be. Mandy Hale
If you are never scared, embarrassed or hurt, it means you never take chances. Julia Soul
One of my rules is: Never TRY to do anything. Just do it. Ani DiFranco
Every chance taken is another chance to win. Unknown
Playing it safe isn't fun; you have to take a chance. Rick Nielsen
If you're offered a seat on a rocket ship, don't ask what seat! Just get on. Sheryl Sandberg
Motivational Take a Chance Quotes
Probably some of the best things that have ever happened to you in life, happened because you said yes to something. Otherwise things just sort of stay the same. Danny Wallace
Take a chance! All life is a chance. The man who goes farthest is generally the one who is willing to do and dare. Dale Carnegie
Step through new doors. The majority of the time there's something fantastic on the other side. Oprah Winfrey
Anytime we step out boldly to make changes, we take a chance that we might fail. But the only way to get better is to try. Joyce Meyer
Be passionate about your life. Learn to live without the fear of failing. Take a chance, you just might surprise yourself. Nishan Panwar
Take chances, make mistakes. That's how you grow. Pain nourishes your courage. You have to fail in order to practice being brave. Mary Tyler Moore
Your first birthday was a beginning, and each new birthday is a chance to begin again, to start over, to take a new grip on life. Wilferd Peterson
If you've ever been hungry, you can never be full. Dwayne Johnson
Take risks: if you win, you will be happy; if you lose, you will be wise. Unknown
Often we look so long at the closed door that we do not see the one that has been opened for us. Helen Keller
Opportunities are usually disguised as hard work, so most people don't recognize them. Ann Landers
Don't Be Afraid to Take A Chance Quotes
If you're not scared then you're not taking a chance. If you're not taking a chance then what the hell are you doing anyway. Ted Mosby
The fear of death is the most unjustified of all fears, for there's no risk of accident for someone who's dead. Albert Einstein
To live, to TRULY live, we must be willing to RISK. To be nothing in order to find everything. To leap before we look. Mandy Hale
I wondered about the explorers who'd sailed their ships to the end of the world. How terrified they must have been when they risked falling over the edge; how amazed to discover, instead, places they had seen only in their dreams. Jodi Picoult
The only chance that we have of achieving our dreams is to take a risk, and most people who are consumed with negative self talk do not find the risk to be worth it. Jennifer Smith
It is better by noble boldness to run the risk of being subject to half the evils we anticipate than to remain in cowardly listlessness for fear of what might happen. Herodotus
Climbing is all about freedom, the freedom to go beyond all the rules and take a chance, to experience something new, to gain insight into human nature.  Reinhold Messner
Think Before You Take A Chance Quotes
Chance favors the prepared mind. Louis Pasteur
Any time you take a chance you better be sure the rewards are worth the risk because they can put you away just as fast for a ten dollar heist as they can for a million dollar job. Stanley Kubrick
It is never worth while to absolutely exhaust one's self or to take big chances unless for an adequate object. Theodore Roosevelt
You May Also Like:
Start Even If You Don't Know How | 99 Motivational Quotes
What Overwhelms Us and How to Get Over It | 130 Fear Quotes
99 "Life is Short" Quotes to Help You Seize the Day
151 People Talk About The Strength That Makes Us Strive Through Hardships | Courage Quotes