55+ George Washington Quotes About Government and Freedom
Commander of the Colonial army during the American Revolution and the first president of the United States. Revered as one of the Founding Fathers of the United States he played a decisive role in the early development of the country, leaving behind a legacy as one of America's greatest leaders and an international symbol of patriotism and democracy.
His rugged, dominating presence coupled with a strong moral character and an unmatched sense of duty, garnered respect and drew people to trust in him. Admired for his bravery and courage in the battlefield and his strong leadership qualities Washington was unanimously elected president in the first two national elections. A man of his word and faithful to his principles throughout his life, he valued individual freedom and treated everyone with the same respect regardless of rank, being the only slave-owning president who freed all of his slaves.
George Washington, the father of the nation, died on December 14, 1799 and was buried in the family vault at Mount Vernon, Virginia. He has been memorialized by monuments, such as the colossal sculpture at Mount Rushmore and the Washington Monument, geographical locations, most notably the capital of the United States, Washington D.C., stamps and currency.
Here you will find the most inspirational quotes of this iconic and charismatic leader to share with loved ones in order to motivate and inspire them but also to reflect upon and let these words of wisdom remould your perspective of life for the better.

George Washington Famous Quotes
My first wish is to see this plague of mankind, war, banished from the earth. George Washington
Associate yourself with men of good quality, if you esteem your own reputation. George Washington
Be courteous to all, but intimate with few, and let those few be well tried before you give them your confidence. George Washington
It is far better to be alone, than to be in bad company. George Washington
Human happiness and moral duty are inseparably connected. George Washington
Be not glad at the misfortune of another, though he may be your enemy. George Washington
Perseverance and spirit have done wonders in all ages. George Washington
We must consult our means rather than our wishes. George Washington
It is better to offer no excuse than a bad one. George Washington
System to all things is the soul of business. George Washington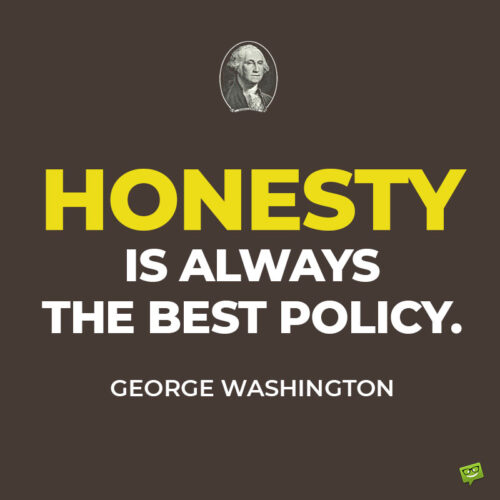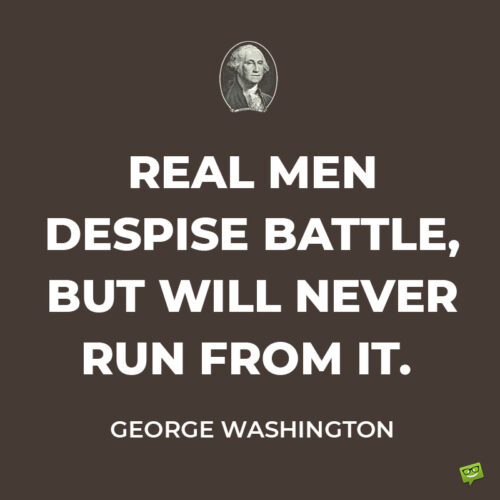 Worry is the interest paid by those who borrow trouble. George Washington
Knowledge is in every country the surest basis of public happiness. George Washington
Speak not evil of the absent, for it is unjust. George Washington
It is better to be alone than in bad company. George Washington
Strive not with your superiors in argument, but always submit your judgment to others with modesty. George Washington
99% of failures come from people who make excuses. George Washington
There is nothing which can better deserve our patronage than the promotion of science and literature. George Washington
Guard against the impostures of pretended patriotism. George Washington
Labor to keep alive in your breast that little spark of celestial fire called conscience. George Washington
A sensible woman can never be happy with a fool. George Washington
Few men have virtue to withstand the highest bidder. George Washington
Happiness depends more upon the internal frame of a person's own mind, than on the externals in the world. George Washington
I conceive a knowledge of books is the basis upon which other knowledge is to be built. George Washington
Some day, following the example of the United States of America, there will be a United States of Europe. George Washington
A man ought not to value himself of his achievements or rare qualities of wit, much less of his riches, virtue or kindred. George Washington
[death]…the abyss from where no traveler is permitted to return. George Washington
I had rather be on my farm than be emperor of the world. George Washington
George Washington Quotes on Freedom
I'll die on my feet before I'll live on my knees! George Washington
LIBERTY, when it begins to take root, is a plant of rapid growth. George Washington
If freedom of speech is taken away, then dumb and silent we may be led, like sheep to the slaughter. George Washington
Individuals entering into society, must give up a share of liberty to preserve the rest. George Washington
Arbitrary power is most easily established on the ruins of liberty abused to licentiousness. George Washington
Freedom and Property Rights are inseparable. You can't have one without the other. George Washington
George Washington Quotes on Government
Decision making, like coffee, needs a cooling process. George Washington
Honesty is always the best policy. George Washington
A bad war is fought with a good mind. George Washington
A free people ought not only to be armed, but disciplined; George Washington
Every post is honorable in which a man can serve his country. George Washington
Harmony, liberal intercourse with all nations, are recommended by policy, humanity, and interest. George Washington
To encourage literature and the arts is a duty which every good citizen owes to his country. George Washington
To be prepared for war is one of the most effective means of preserving peace. George Washington
The basis of our political systems is the right of the people to make and to alter their Constitutions of Government. George Washington
The great mass of our Citizens require only to understand matters rightly, to form right decisions. George Washington
Experience has taught us, that men will not adopt and carry into execution measures best calculated for their own good, without the intervention of a coercive power. George Washington
George Washington Quotes on Leadership
Real men despise battle, but will never run from it. George Washington
Let your heart feel for the afflictions and distress of everyone. George Washington
Much was to be done by prudence, much by conciliation, much by firmness. George Washington
A people unused to restraint must be led, they will not be drove. George Washington
I shall make it the most agreeable part of my duty to study merit, and reward the brave and deserving. George Washington
I do not think myself equal to the command I am honored with. George Washington
Those who have committed no faults want no pardon. We are only defending what we deem our indisputable rights. George Washington
I hope I shall possess firmness and virtue enough to maintain what I consider the most enviable of all titles, the character of an honest man. George Washington
Having now finished the work assigned me, I retire from the great theatre of Action. George Washington
Remember that it is the actions, and not the commission, that make the officer, and that there is more expected from him, than the title. George Washington
Discipline is the soul of an army. It makes small numbers formidable; procures success to the weak, and esteem to all. George Washington
Nothing can be more hurtful to the service, than the neglect of discipline; for that discipline, more than numbers, gives one army the superiority over another. George Washington
George Washington's Political Party Quote
However [political parties] may now and then answer popular ends, they are likely in the course of time and things, to become potent engines, by which cunning, ambitious, and unprincipled men will be enabled to subvert the power of the people and to usurp for themselves the reins of government, destroying afterwards the very engines which have lifted them to unjust domination. George Washington
You May Also Like:
Honestly, Abe | 107 Abraham Lincoln Quotes
150+ Thomas Jefferson Quotes That Will Make You Realize His Impact
Freedom Quotes for Independence Day | 4th Of July