How a Lifetime Fight Against Oppression Still Reverberates Today | 97 Inspiring Nelson Mandela Quotes
Nelson Mandela (1918 – 2013) is considered the father of Modern South Africa and one of the most important freedom fighters in modern history.
After becoming one of South Africa's first lawyers, Mandela joined (and later was elected leader of the youth wing of) the African National Congress (ANC), starting his fight against Apartheid, the system of racial segregation in the country. When the peaceful protests organized by the ANC were met with violence and the government prohibited the movement for racial reasons, he supported an armed movement and was subsequently arrested and sentenced to life imprisonment in 1962. While on trial, we uttered some of his most inspiring and famous words ever.
Mandela spent 27 years in prison becoming a symbol for the oppressed in South Africa who were fighting for equal rights, and for those fighting for freedom globally. He was released in 1990 under domestic and international pressure, and because of fears of a racial civil war in the country. He then became the first black president of South Africa (serving until 1999), and the first president to be elected in a fully representative election. He received the Nobel Peace Prize in 1993 for peacefully destroying the Apartheid regime and laying the foundation for democracy.
On International Nelson Mandela Day, celebrated on Mandela's birthday (July 18th), or every time one seeks wise words on freedom, education or leadership, the famous quotes of this amazing historical figure will be a true inspiration. On the very same day, people are asked to spend 67 minutes doing something they genuinely consider good for others, just like Mandela spent 67 years fighting oppression by working toward change. Today, that's still a universal need, just like it has always been.

Short Nelson Mandela Quotes
A winner is a dreamer who never gives up.  Nelson Mandela

I never lose. Either I win, or I learn.  Nelson Mandela
It always seems impossible until it's done.  Nelson Mandela
In my country we go to prison first and then become President. Nelson Mandela
I am not a saint, unless you think of a saint as a sinner who keeps on trying. Nelson Mandela
I am the master of my fate: I am the captain of my soul. Nelson Mandela

Nothing is black or white. Nelson Mandela

Appearances matter — and remember to smile. Nelson Mandela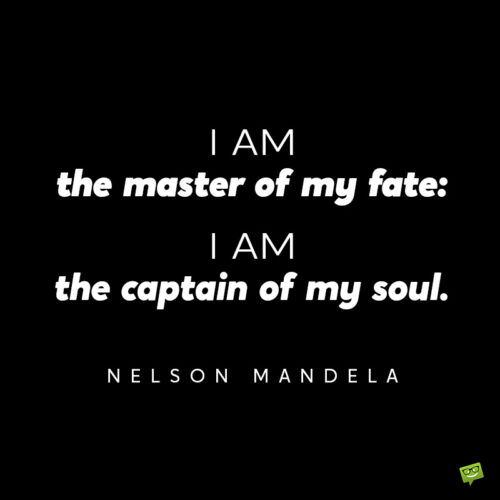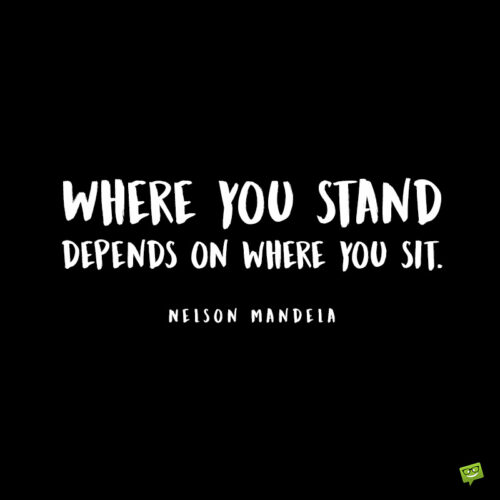 Fools multiply when wise men are silent. Nelson Mandela
Live life as though nobody is watching and express yourself as though everyone is listening. Nelson Mandela
Know your enemy — and learn about his favorite sport. Nelson Mandela
It is an achievement for a man to do his duty on Earth irrespective of the consequences. Nelson Mandela
History will judge us by the difference we make in the everyday lives of children. Nelson Mandela

I could not imagine that the future I was walking toward could compare in any way to the past that I was leaving behind. Nelson Mandela
A man is never more truthful than when he acknowledges himself a liar. Nelson Mandela
It is not where you start but how high you aim that matters for success. Nelson Mandela
It was not a lack of ability that limited my people, but lack of opportunity. Nelson Mandela
Man's goodness is a flame that can be hidden but never extinguished. Nelson Mandela
May your choices reflect your hopes, not your fears. Nelson Mandela
Overcoming poverty is not a task of charity, it is an act of justice. Like slavery and Apartheid, poverty is not natural. Nelson Mandela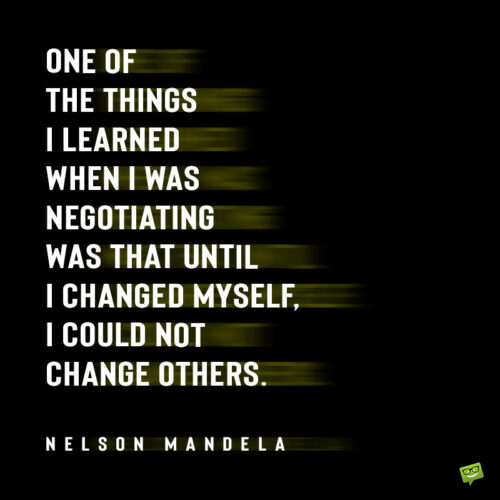 Tread softly, Breathe peacefully, Laugh hysterically. Nelson Mandela
We owe our children – the most vulnerable citizens in any society – a life free from violence and fear. Nelson Mandela
Peace is the greatest weapon for development that any person can have. Nelson Mandela
People respond in accordance to how you treat them. Nelson Mandela
The greatest glory in living is not in falling, but in rising every time we fall. Nelson Mandela
There are victories whose glory lies only in the fact that they are known to those who win them. Nelson Mandela
To deny people of their human rights is to challenge their very humanity. Nelson Mandela
We must use time wisely and forever realize that the time is always ripe to do right. Nelson Mandela
When a man is denied the right to live the life he believes in, he has no choice but to become an outlaw. Nelson Mandela
Where you stand depends on where you sit. Nelson Mandela
He knew when to compromise. Yet he never compromised his principles. Nelson Mandela
It is music and dancing that make me at peace with the world. Nelson Mandela
Best Nelson Mandela Quotes
I realized that they could take everything from me except my mind and my heart. They could not take those things. Those things I still had control over. And I decided not to give them away. Nelson Mandela
One of the things I learned when I was negotiating was that until I changed myself, I could not change others. Nelson Mandela
It is said that no one truly knows a nation until one has been inside its jails. A nation should not be judged by how it treats its highest citizens, but its lowest ones. Nelson Mandela
Let there be justice for all. Let there be peace for all. Let there be work, bread, water and salt for all. Let each know that for each the body, the mind and the soul have been freed to fulfill themselves. Nelson Mandela
Difficulties break some men but make others. No axe is sharp enough to cut the soul of a sinner who keeps on trying, one armed with the hope that he will rise even in the end. Nelson Mandela
I learned that to humiliate another person is to make him suffer an unnecessarily cruel fate. Even as a boy, I defeated my opponents without dishonoring them. Nelson Mandela
If you want the cooperation of humans around you, you must make them feel they are important, and you do that by being genuine and humble. Nelson Mandela
As I have said, the first thing is to be honest with yourself. You can never have an impact on society if you have not changed yourself… Great peacemakers are all people of integrity, of honesty, but humility. Nelson Mandela
Peace is not just the absence of conflict; peace is the creation of an environment where all can flourish regardless of race, color, creed, religion, gender, class, caste or any other social markers of difference. Nelson Mandela
Action without vision is only passing time, vision without action is merely day dreaming, but vision with action can change the world. Nelson Mandela
It is a great tragedy to spend the best years of your life in prison. But if I had not been to prison, I would not have been able to achieve the most difficult task in life, and that is changing yourself. I had that opportunity because in prison we have what we don't have in our life outside prison: the opportunity to sit down and think. Nelson Mandela
Inspirational Nelson Mandela Quotes
Sometimes, it falls upon a generation to be great. You can be that great generation. Let your greatness blossom. Nelson Mandela
What counts in life is not the mere fact that we have lived. It is what difference we have made to the lives of others that will determine the significance of the life we lead. Nelson Mandela
There are few misfortunes in this world that you cannot turn into a personal triumph if you have the iron will and the necessary skill. Nelson Mandela
Ι learned that courage was not the absence of fear, but the triumph over it. The brave man is not he who does not feel afraid, but he who conquers that fear. Nelson Mandela
The greatest glory in living lies not in never falling, but in rising every time we fall. Nelson Mandela

If you want to make peace with your enemy, you have to work with your enemy. Then he becomes your partner. Nelson Mandela
The time for the healing of the wounds has come. The moment to bridge the chasms that divide us has come. The time to build is upon us. Nelson Mandela
Once a person is determined to help themselves, there is nothing that can stop them. Nelson Mandela
You can start changing our world for the better daily, no matter how small the action. Nelson Mandela
Do not judge me by my successes, judge me by how many times I fell down and got back up again. Nelson Mandela
It is in your hands, to make a better world for all who live in it. Nelson Mandela
Nelson Mandela Famous Quotes
I always knew that deep down in every human heart, there is mercy and generosity. No one is born hating another person because of the color of his kin, or his background, or his religion. People must learn to hate, and if they can learn to hate, they can be taught to love, for love comes more naturally to the human heart than the opposite. Nelson Mandela
Our deepest fear is not that we are inadequate. Our deepest fear is that we are powerful beyond measure. It is our light, not our darkness, that most frightens us. Nelson Mandela
Without language, one cannot talk to people and understand them; one cannot share their hopes and aspirations, grasp their history, appreciate their poetry or savor their songs. I again realized that we were not different people with separate languages; we were one people, with different tongues. Nelson Mandela
Sport has the power to change the world. It has the power to inspire. It has the power to unite people in a way that little else does. It speaks to youth in a language they understand. Sport can create hope where once there was only despair. It is more powerful than government in breaking down racial barriers. Nelson Mandela
During my lifetime I have dedicated myself to the ideal of a democratic and free society in which all persons live together in harmony and with equal opportunities. It is an ideal which I hope to live for and to achieve. But if needs be, it is an ideal for which I am prepared to die. Nelson Mandela
A good head and good heart are always a formidable combination. But when you add to that a literate tongue or pen, then you have something very special. Nelson Mandela
A freedom fighter learns the hard way that it is the oppressor who defines the nature of the struggle, and the oppressed is often left no recourse but to use methods that mirror those of the oppressor. At a point, one can only fight fire with fire. Nelson Mandela
For me, nonviolence was not a moral principle but a strategy; there is no moral goodness in using an ineffective weapon. Nelson Mandela
Part of being optimistic is keeping one's head pointed toward the sun, one's feet moving forward. There were many dark moments when my faith in humanity was sorely tested, but I would not and could not give myself up to despair. That way lays defeat and death. Nelson Mandela
Nelson Mandela Freedom Quotes
The purpose of freedom is to create it for others. Nelson Mandela
There is no such thing as part freedom. Nelson Mandela
I cherish my own freedom dearly, but I care even more for your freedom. Nelson Mandela
As we are liberated from our own fear, our presence automatically liberates others. Nelson Mandela
A man who takes away another man's freedom is a prisoner of hatred, he is locked behind the bars of prejudice and narrow-mindedness. I am not truly free if I am taking away someone else's freedom, just as surely as I am not free when my freedom is taken from me. The oppressed and the oppressor are robbed of their humanity. Nelson Mandela
Freedom is indivisible; the chains on any one of my people were the chains on all of them, the chains on all of my people were the chains on me. Nelson Mandela
It was during those long and lonely years that my hunger for the freedom of my people became a hunger for the freedom of all people. Nelson Mandela
I have walked that long road to freedom. I have tried not to falter; I have made missteps along the way. But I have discovered the secret that after climbing a great hill, one only finds that there are many more hills to climb. I have taken a moment here to rest, to steal a view of the glorious vista that surrounds me, to look back on the distance I have come. But I can only rest for a moment, for with freedom come responsibilities, and I dare not linger, for my long walk is not ended. Nelson Mandela
Money won't create success, the freedom to make it will. Nelson Mandela
No single person can liberate a country. You can only liberate a country if you act as a collective. Nelson Mandela
We do not want freedom without bread, nor do we want bread without freedom. Nelson Mandela
What freedom am I being offered while the organization of the people remains banned? Only free men can negotiate. A prisoner cannot enter into contracts. Nelson Mandela
While poverty persists, there is no true freedom. Nelson Mandela
Nelson Mandela Quotes on Leadership
Real leaders must be ready to sacrifice all for the freedom of their people. Nelson Mandela
I was not a messiah, but an ordinary man who had become a leader because of extraordinary circumstances. Nelson Mandela
A good leader can engage in a debate frankly and thoroughly, knowing that at the end he and the other side must be closer, and thus emerge stronger. You don't have that idea when you are arrogant, superficial, and uninformed. Nelson Mandela
As a leader, one must sometimes take actions that are unpopular, or whose results will not be known for years to come. Nelson Mandela
It is better to lead from behind and to put others in front, especially when you celebrate victory when nice things occur. You take the front line when there is danger. Then people will appreciate your leadership. Nelson Mandela
There are times when a leader must move out ahead of the flock, go off in a new direction, confident that he is leading his people the right way. Nelson Mandela
Nelson Mandela Quotes on Education 
Education is the most powerful weapon we can use to change the world. Nelson Mandela
It reaffirmed my long-held belief that education was the enemy of prejudice. These were men and women of science, and science had no room for racism. Nelson Mandela
It was ANC policy to try to educate all people, even our enemies: we believed that all men, even prison service warders, were capable of change, and we did our utmost to try to sway them. Nelson Mandela
Education is the great engine of personal development. It is through education that the daughter of a peasant can become a doctor, that the son of a mineworker can become the head of the mine, that a child of farmworkers can become the president of a great nation. It is what we make out of what we have, not what we are given, that separates one person from another. Nelson Mandela
Only mass education, he used to say, would free my people, arguing that an educated man could not be oppressed because he could think for himself. Nelson Mandela
Nelson Mandela Quotes on Forgiveness
If I still hated them, they would still have me. I wanted to be free. And so, I let it go. Nelson Mandela
Forgiveness liberates the soul. It removes fear. That is why it is such a powerful weapon. Nelson Mandela

Resentment is drinking poison and then hoping it will kill your enemies. Nelson Mandela
When a deep injury is done to us, we never heal until we forgive. Nelson Mandela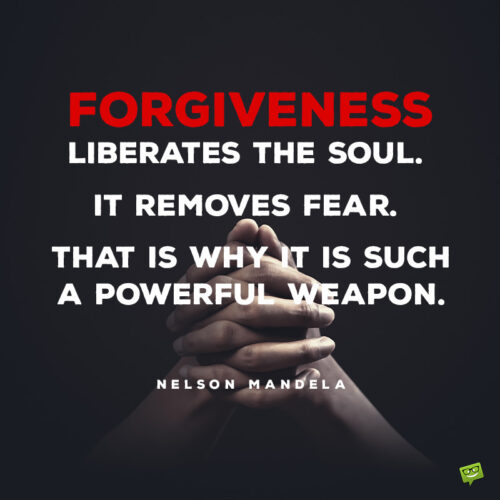 You will achieve more in this world through acts of mercy than you will through acts of retribution. Nelson Mandela
We forgive but not forgotten. Nelson Mandela
Courageous people do not fear forgiving, for the sake of peace. Nelson Mandela
Reconciliation does not mean forgetting or trying to bury the pain of conflict but working together to correct the legacy of past injustice. Nelson Mandela
We must strive to be moved by a generosity of spirit that will enable us to outgrow the hatred and conflicts of the past. Nelson Mandela
You May Also Like:
Words of a King | Martin Luther King Jr. Day Quotes
103 Mahatma Gandhi Quotes about Nonviolence, Truth and Love
The Absurd Case of Color Discrimination | 104 Racism Quotes