Means of Expression, Key to Solutions | 199 Art Quotes
Why is art so important? Could we just do away with it and save some money on chips and booze? Would mankind actually miss something?
Even to question the importance of art is frightening since it has been proved to be a frequent method of propaganda in totalitarian regimes. When it comes to the real value of creating art in human life, these famous art quotes by renowned artists will make every doubt disappear.

Short Art Quotes
Art is the lie that enables us to realize the truth.
Art does not reproduce what we see. It makes us see.
A good picture is equivalent to a good deed.
A work of art which did not begin in emotion is not art.
Art is either revolution or plagiarism. Paul Gauguin
To draw you must close your eyes and sing. Pablo Picasso
Art is meant to disturb, science reassures. Georges Braque
Treat a work of art like a prince: let it speak to you first.
Everything you can imagine is real.
Everybody draws when they are little. Keith Haring
To be an artist means never to avert one's eyes.
There is no place for grief in a house which serves the Muse.
Art is not what you see, but what you make others see.
Art has always been the raft onto which we climb to save our sanity.
The best reason to paint is that there is no reason to paint. Keith Haring
Color is my daylong obsession, joy, and torment.
My garden is my most beautiful masterpiece.
One eye sees, the other feels.
The purpose of art is mystery. Rene Magritte
The essence of all beautiful art, all great art, is gratitude. Friedrich Nietzsche
Art should comfort the disturbed and disturb the comfortable.
The beautiful is always bizarre.
Art is what you can get away with.
Artists are those who can evade the verbose.
It is absurd to look for perfection. Camille Pissarro
Art is science made clear.
Choose only one master – Nature. Rembrandt
Poetry and art and knowledge are sacred and pure.
Works of art make rules; rules do not make works of art.
All great art is a form of complaint.
Love art in yourself, and not yourself in art.
The task of art today is to bring chaos into order. Theodor Adorno
Art, in itself, is an attempt to bring order out of chaos.
What is fair in men, passes away, but not so in art.
To be an artist, you need to exist in a world of silence. Louise Bourgeois
A picture is worth a thousand words.
Art is a step in the known toward the unknown. Kahlil Gibran
A true masterpiece does not tell everything. Albert Camus
Observation is a dying art.
There is no must in art because art is free. Wassily Kandinsky
Artists to my mind are the real architects of change. William S. Burroughs
Famous Art Quotes
Contrary to general belief, an artist is never ahead of his time but most people are far behind theirs. Edgard Varese
If you could say it in words, there would be no reason to paint.
The aim of art is to represent not the outward appearance of things, but their inward significance.
Every child is an artist. The problem is how to remain an artist once he grows up.
We must never forget that art is not a form of propaganda; it is a form of truth. John F. Kennedy
Art is the great democrat, calling forth creative genius from every sector of society, disregarding race or religion or wealth or color. John F. Kennedy
Art evokes the mystery without which the world would not exist.
The great artist is the simplifier. Vincent Van Gogh
Art is a harmony parallel with nature.
Beauty will save the world. Dosteovsky
You must have chaos within you to give birth to a dancing star.
You can't help it. An artist's duty, as far as I'm concerned, is to reflect the times.
…and then, I have nature and art and poetry, and if that is not enough, what is enough?
I wanted to start a revolution, using art to build the sort of society I myself envisioned. Yayoi Kusama
The painter has the Universe in his mind and hands.
The purest and most thoughtful minds are those which love color the most.
An artist should never be a prisoner of himself, prisoner of style, prisoner of reputation, prisoner of success. Henri Matisse
Why shouldn't art be pretty? There are enough unpleasant things in the world.
I don't paint dreams or nightmares, I paint my own reality.
Your first 10,000 photographs are your worst.
The artist is nothing without the gift, but the gift is nothing without work.
In the haunted house of life, art is the only stair that doesn't creak.
The only art I'll ever study is stuff that I can steal from. David Bowie
Only the very greatest art invigorates without consoling.
We should always remember that sensitiveness and emotion constitute the real content of a work of art. Maurice Ravel
The object of the artist is the creation of the beautiful. What the beautiful is is another question.
Art is the child of nature in whom we trace the features of the mothers face.
Artists who seek perfection in everything are those who cannot attain it in anything.
It is through art, and through art only, that we can realize our perfection.
Nature does not create works of art. It is we, and the faculty of interpretation peculiar to the human mind, that see art.
What art seeks to disturb is monotony of type, slavery of custom, tyranny of habit, and the reduction of man to the level of a machine.
The public wants to understand and learn in a single day, a single minute, what the artist has spent years learning. Paul Gauguin
If you cannot please everyone with your deeds and your art, please a few. To please many is bad.
Man's naked form belongs to no particular moment in history; it is eternal, and can be looked upon with joy by the people of all ages.
Without tradition art is a flock of sheep without a shepherd. Without innovation it is a corpse. Winston Churchill
All art is a kind of confession, more or less oblique. All artists, if they are to survive, are forced, at last, to tell the whole story; to vomit the anguish up.
Works of art are of an infinite solitude, and no means of approach is so useless as criticism. Only love can touch and hold them and be fair to them.
Inspirational Art Quotes
If you ask me what I came to do in this world, I, an artist, will answer you: I am here to live out loud.
Nature is a haunted house–but Art–is a house that tries to be haunted.
The art of art, the glory of expression and the sunshine of the light of letters, is simplicity. Walt Whitman

A picture is a secret about a secret, the more it tells you the less you know.
The world always seems brighter when you've just made something that wasn't there before. Neil Gaiman
Painting is poetry that is seen rather than felt, and poetry is painting that is felt rather than seen.
Art enables us to find ourselves and lose ourselves at the same time. Thomas Merton
Science is the attempt to discern the order that underlies the chaos of nature; art is the attempt to discern the order that underlies the chaos of man. Colin Wilson
A good poem is a contribution to reality. The world is never the same once a good poem has been added to it. A good poem helps to change the shape of the universe, helps to extend everyone's knowledge of himself and the world around him.
The job of the artist is always to deepen the mystery. Francis Bacon
What art offers is space – a certain breathing room for the spirit.
The position of the artist is humble. He is essentially a channel. Piet Mondrian
Human salvation lies in the hands of the creatively maladjusted. Martin Luther King Jr
The object isn't to make art, it's to be in that wonderful state which makes art inevitable.
A writer should have the precision of a poet and the imagination of a scientist.
Art is essentially the affirmation, the blessing, and the deification of existence.
Art is partly communication, but only partly. The rest is discovery.
The purpose of art is to lay bare the questions that have been hidden by the answers.
Art and revolt will die only with the last man. Albert Camus
A guilty conscience needs to confess. A work of art is a confession. Albert Camus
Without magic, there is no art. Without art, there is no idealism. Without idealism, there is no integrity. Without integrity, there is nothing but production.
Art is standing with one hand extended into the universe and one hand extended into the world, and letting ourselves be a conduit for passing energy. Albert Einstein
Most people die before they are fully born. Creativeness means to be born before one dies. Erich Fromm
Art is a collaboration between God and the artist, and the less the artist does, the better.
The artistic image is not intended to represent the thing itself, but, rather, the reality of the force the thing contains.
No poet, no artist of any art, has his complete meaning alone. His significance, his appreciation is the appreciation of his relation to the dead poets and artists. You cannot value him alone; you must set him, for contrast and comparison, among the dead.
Not everyone will understand your journey. That's okay. You're here to live your life, not to make everyone understand. Banksy
Without poets, without artists… everything would fall apart into chaos. There would be no more seasons, no more civilizations, no more thought, no more humanity, no more life even; and impotent darkness would reign forever. Poets and artists together determine the features of their age, and the future meekly conforms to their edit.
Our mind is the canvas on which the artists lay their colour; their pigments are our emotions; their chiaroscuro the light of joy, the shadow of sadness. The masterpiece is of ourselves, as we are of the masterpiece.
…art must must carry man's craving for the ideal, must be an expression of his reaching out towards it; that art must give man hope and faith. And the more hopeless the world in the artist's version, the more clearly perhaps must we see the ideal that stands in opposition – otherwise life becomes impossible! Art symbolises the meaning of our existence.

Sculpting in Time

He who works with his hands is a laborer.
He who works with his hands and his head is a craftsman.
He who works with his hands and his head and his heart is an artist.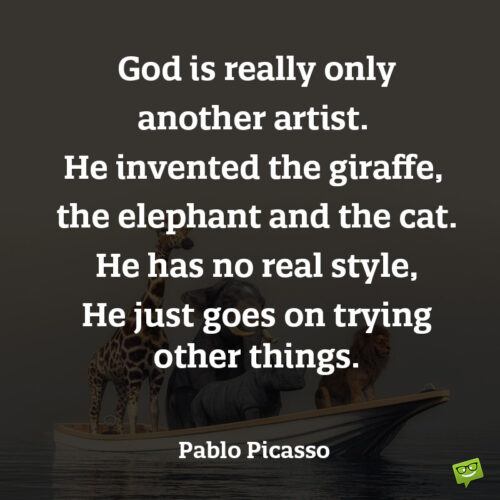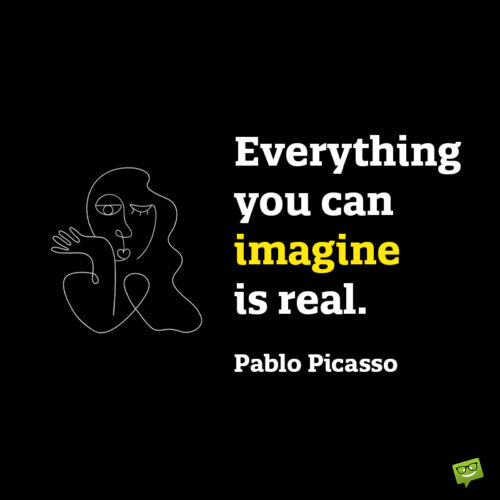 Art Quotes for Kids
Everything starts from a dot. Wassily Kandinsky
There is nothing more truly artistic than to love people.
Let's get a little crazy here. Bob Ross
I like nonsense, it wakes up the brain cells. Dr. Seuss
A picture is a poem without words. Horace
Nothing can be accomplished without love. Henri Matisse
Colour is a power which directly influences the soul.
Find a place you trust and then try trusting it for a while.
Do not fear mistakes – there are none.
Without enthusiasm nothing great can be effected in art.
Don't worry about how you 'should' draw it. Just draw it the way you see it. Tim Burton
One ought, every day at least, to hear a little song, read a good poem, see a fine picture, and, if it were possible, to speak a few reasonable words.
There is a vitality, a life force, an energy, a quickening that is translated through you into action, and because there is only one of you in all time, this expression is unique. And if you block it, it will never exist through any other medium and will be lost.
Quotes About Art and Creativity
Creativity takes courage.
To create one's own world takes courage. Georgia O'Keeffe
The chief enemy of creativity is good sense.
Creativity is contagious. Pass it on. Albert Einstein
Painting is self-discovery. Every good artist paints what he is. Jackson Pollock
Never worry about being obsessive. I like obsessive people. Obsessive people make great art. Susan Sontag
Learn the rules like a pro, so you can break them like an artist.
Creativity is allowing yourself to make mistakes. Art is knowing which ones to keep. Scott Adams
Artists are people driven by the tension between the desire to communicate and the desire to hide.
You have to systematically create confusion, it sets creativity free. Everything that is contradictory creates life. Salvador Dalí
True alchemy lies in this formula: 'Your memory and your senses are but the nourishment of your creative impulse'.
Creativity is the brain's invisible muscle — that when used and excercised routinely — becomes better and stronger.
For art to exist, for any sort of aesthetic activity or perception to exist, a certain physiological precondition is indispensable: intoxication.
Quotes About Creating Art
When words become unclear, I shall focus with photographs. When images become inadequate, I shall be content with silence.
The role of the artist is to ask questions, not answer them.
Tell your own story, and you will be interesting. Louise Bourgeois
You don't make a photograph just with a camera. You bring to the act of photography all the pictures you have seen, the books you have read, the music you have heard, the people you have loved.
In any art you're allowed to steal anything if you can make it better. Ernest Hemingway
Art calls for complete mastery of techniques, developed by reflection within the soul.
A work is finished when an artist realizes his intentions. Rembrandt
Inspiration does exist, but it must find you working. Pablo Picasso
Art lives from constraints and dies from freedom. Leonardo da Vinci
The absence of limitations is the enemy of art.
I get angry about things, then go on and work.
It is better to paint from memory, for thus your work will be your own. Paul Gauguin
Our primary function is to create an emotion and our secondary function is to sustain that emotions. Alfred Hitchcock
A deadline is negative inspiration. Still, it's better than no inspiration at all.
The works must be conceived with fire in the soul but executed with clinical coolness. Joan Miro
You don't make art out of good intentions.
It's on the strength of observation and reflection that one finds a way. So we must dig and delve unceasingly. Claude Monet
e work in the dark – we do what we can – we give what we have. Our doubt is our passion, and our passion is our task. The rest is the madness of art.
There are painters who transform the sun to a yellow spot, but there are others who with the help of their art and their intelligence, transform a yellow spot into sun.
Your mind is working at its best when you're being paranoid. You explore every avenue and possibility of your situation at high speed with total clarity.
When you make music or write or create, it's really your job to have mind-blowing, irresponsible, condomless sex with whatever idea it is you're writing about at the time.
It is a mistake to think that the practice of my art has become easy to me. I assure you, dear friend, no one has given so much care to the study of composition as I. There is scarcely a famous master in music whose works I have not frequently and diligently studied.
Quotes About Art and Life
Art is the proper task of life.
Consider everything an experiment.
Art washes away from the soul the dust of everyday life.
Art must be life — it must belong to everybody. Marina Abramović
Paradoxically though it may seem, it is none the less true that life imitates art far more than art imitates life.
Life doesn't imitate art, it imitates bad television.
Life beats down and crushes the soul and art reminds you that you have one.
It is hard work and great art to make life not so serious.
Art is sort of an experimental station in which one tries out living
Art and life are subjective. Not everybody's gonna dig what I dig, but I reserve the right to dig it.
Evil is committed without effort, naturally, fatally; goodness is always the product of some art.
It is art that makes life, makes interest, makes importance, and I know of no substitute for the force and beauty of it's process.
Art is unquestionably one of the purest and highest elements in human happiness. It trains the mind through the eye, and the eye through the mind. As the sun colors flowers, so does art color life.
Art Therapy Quotes
Art is to console those who are broken by life.
Like any artist without an art form, she became dangerous.
What keeps my heart awake is colorful silence.
Art is a wound turned into light. Georges Braque
Art is a marriage of the conscious and the unconscious.
You've got sadness in you, I've got sadness in me – and my works of art are places where the two sadnesses can meet, and therefore both of us need to feel less sad.
No man has the right to dictate what other men should perceive, create or produce, but all should be encouraged to reveal themselves, their perceptions and emotions, and to build confidence in the creative spirit.
Much Madness is Divinest Sense, to a Discerning Eye….
Art can permeate the very deepest part of us, where no words exist.
Art helps us identify with one another and expands our notion of we. Olafur Eliasson
The artist is not a different kind of person, but every person is a different kind of artist. Eric Gill
It is a tragedy that we live in a world where physical courage is so common, and moral courage is so rare. Claude Monet
Poetry is the one place where people can speak their original human mind. It is the outlet for people to say in public what is known in private.
It is in books, poems, paintings which often give us the confidence to take seriously feelings in ourselves that we might otherwise never have thought to acknowledge.
Funny Art Quotes
We don't make mistakes, just happy little accidents.
The first mistake of art is to assume that it's serious.
All artists are willing to suffer for their work. But why are so few prepared to learn to draw?
Graffiti is one of the few tools you have if you have almost nothing. And even if you don't come up with a picture to cure world poverty you can make someone smile while they're having a piss.
An intellectual says a simple thing in a hard way. An artist says a hard thing in a simple way. Charles Bukowski
When bankers get together for dinner, they discuss Art. When artists get together for dinner, they discuss Money.
The man who cannot visualize a horse galloping on a tomato is an idiot.
God is really only another artist. He invented the giraffe, the elephant and the cat. He has no real style, He just goes on trying other things.
A painting in a museum hears more ridiculous opinions than anything else in the world.
We suffered for our art. You have to suffer for our art as well!
Well, art is art, isn't it? Still, on the other hand, water is water! And east is east and west is west and if you take cranberries and stew them like applesauce they taste much more like prunes than rhubarb does. Now, uh… now you tell me what you know.
Art Quotes On Images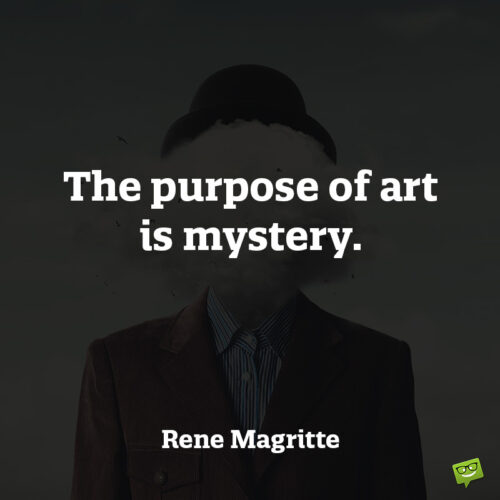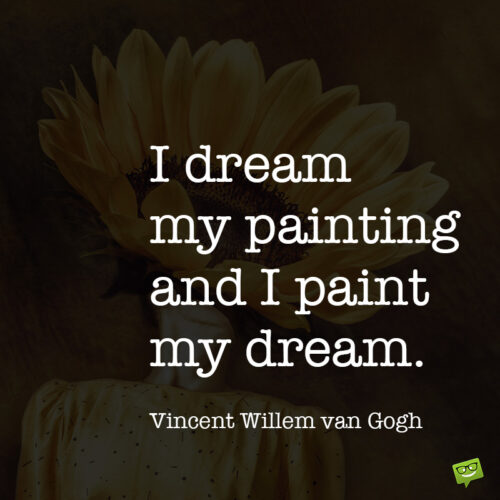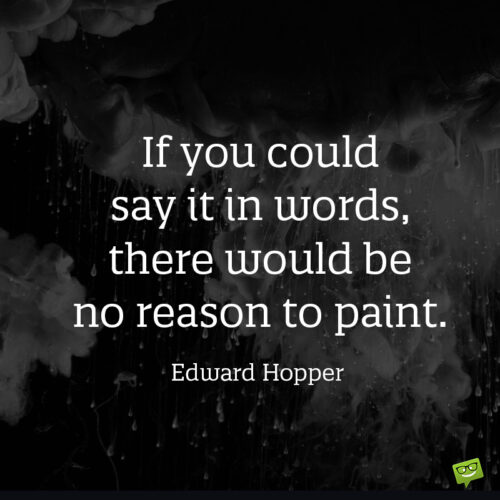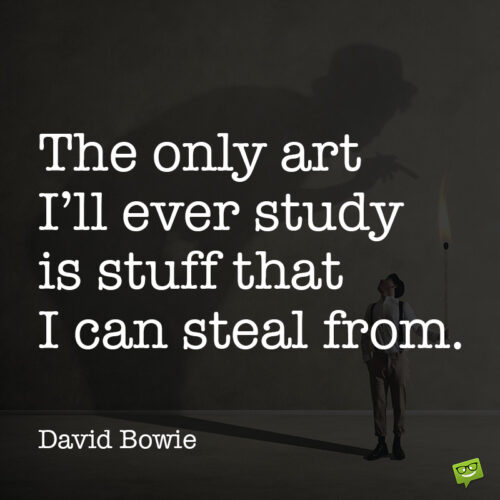 You May Also Like:
99 Fashion Quotes by Icons and Trendsetters
What If I Look Back? | 149 Quotes About Moving On In Life
Wise Words as Life Lessons | Inspirational Quotes for a Better World
Happy Little Accidents | 90 Unmistakable Bob Ross Quotes