67 Miles Davis Quotes About the Jazz Revolution
He was one of the greatest musicians of all time! These Miles Davis quotes reveal a visionary who pioneered new forms of musical expression and created masterpieces, like the quintessential "Kind of Blue", the best-selling jazz album of all time and an essential listening for all music lovers. Everybody knows him by his little name: Miles, and truth to be told, he was miles ahead of his time!
Born in 1926, in Alton, Illinois, Miles Davis was an American jazz musician, a master trumpet player and composer. A real virtuoso and innovator, Davis adopted a more direct, vibratoless tone that broke conventional jazz forms and became his trademark playing style. Revered for his talent and musical fertility he garnered numerous honors and accolades, won 9 Grammy Awards and was awarded a star on the Hollywood Walk of Fame. Miles Davis died in 1991 of respiratory failure.
Miles Davis had a profound influence in the evolution of jazz. An eclectic innovator throughout his life, he was constantly searching for new ways to express himself beyond the traditional jazz forms and styles. In collaboration with some of the most prominent jazz artists of his era, he experimented with new sounds, rhythmical structures and instruments, and produced some of the most timeless and influential pieces of jazz music. Davis transcended the strict boundaries between jazz, rock and funk and pioneered jazz fusion and modal jazz – new forms of musical expression that made jazz popular with mainstream audiences and inspired thousands of musicians.
As a tribute to this great legend, here we have curated for you his most inspirational quotes. Share them with friends and loved ones in order to motivate them! Use them to pair perfectly with your Instagram and social media posts! Reflect upon them and transform your perspective of life!

Short Quotes by Miles Davis
These short quotes will make perfect captions and create buzz on your Instagram and social media posts!
If you understood everything I said, you'd be me. Miles Davis
Knowledge is freedom and ignorance is slavery. Miles Davis
Good music is good no matter what kind of music it is. Miles Davis
Music is an addiction. Miles Davis
Jazz is the big brother of Revolution. Revolution follows it around. Miles Davis
For me, music and life are all about style. Miles Davis
If you're not making a mistake, it's a mistake. Miles Davis
In improvisation, there are no mistakes. Miles Davis
I always listen to what I can leave out. Miles Davis

If you don't know what to play, play nothing. Miles Davis
Don't worry about playing a lot of notes. Just find one pretty one. Miles Davis
Do not fear mistakes, there are none. Miles Davis
In music, silence is more important than sound. Miles Davis
Always look ahead, but never look back. Miles Davis
Time isn't the main thing. It's the only thing. Miles Davis
At least one day out of the year all musicians should just put their instruments down, and give thanks to Duke Ellington. Miles Davis
Music is a funny thing when you really come to think about it. Miles Davis
The metric system ruined me. Miles Davis
All my inspiration comes from Ahmad Jamal. Miles Davis
Prince is from the school of James Brown, and I love James Brown because of all the great rhythms he plays. Miles Davis
A painting is music you can see, and music is a painting you can hear. Miles Davis
First you imitate, then you innovate. Miles Davis
I'll play it first and tell you what it is later. Miles Davis
If it sounds clean and slick, I've been doing it too long. Miles Davis
My ego only needs a good rhythm section. Miles Davis
I don't care if a dude is purple with green breath as long as he can swing. Miles Davis
You know why I quit playing ballads? Cause I love playing ballads. Miles Davis
Music is a funny thing when you really come to think about it. Miles Davis
Play what you know, and then play above that. Miles Davis
If you're not nervous, then you're not paying attention. Miles Davis
Miles Davis Quotes About His Music
Davis' musical prodigy was manifested in his playing – emulating the human voice, it was characterized by a delicacy and an almost palpable intellectual quality!
I was minding my own business when something says to me, 'You ought to blow trumpet'. I have just been trying ever since. Miles Davis
It's not about standing still and becoming safe. If anybody wants to keep creating they have to be about change. Miles Davis
When I got into music I went all the way into music; I didn't have no time after that for nothing else. Miles Davis, Miles: The Autobiography
Man, sometimes it takes you a long time to sound like yourself. Miles Davis
Don't play what's there; play what's not there. Miles Davis
Anybody can play. The note is only 20 percent. The attitude of the motherf***r who plays it is 80 percent. Miles Davis
It's not the note you play that's the wrong note – it's the note you play afterwards that makes it right or wrong. Miles Davis
You want to know how I started playing trumpet? My father bought me one, and I studied the trumpet. And everybody I heard that I liked, I picked up things from. Miles Davis
When you're creating your own shit, man, even the sky ain't the limit. Miles Davis
If you sacrifice your art because of some woman, or some man, or for some color, or for some wealth, you can't be trusted. Miles Davis
When I'm playing, I'm never through. It's unfinished. I like to find a place to leave for someone else to finish it. Miles Davis
It took me twenty years study and practice to work up to what I wanted to play in this performance. How can she expect to listen five minutes and understand it? Miles Davis
It's always been a gift with me, hearing music the way I do. I don't know where it comes from, it's just there and I don't question it. Miles Davis
Miles Davis Quotes About Himself
Here you will find some quotes by the "Jesus of jazz" about himself! 
Some day I'm gonna call me up on the phone, so when I answer, I can tell myself to shut up. Miles Davis
Being rebellious and black, a nonconformist, being cool and hip and angry and sophisticated and ultra clean, whatever else you want to call it – I was all those things and more. But I was playing the f**k out of my horn and had a great group, so I didn't get recognition based only on a rebel image. Miles Davis, Miles: The Autobiography
My father's rich, my momma's good looking. Right? And I can play the Blues. I've never suffered and don't intend to suffer. Miles Davis
The only thing I'm interested in is the music and the musicians. I don't acknowledge applause 'cause I'm giving them something. They're not giving me anything with their applause. Miles Davis
The very first thing I remember in my early childhood is a flame, a blue flame jumping off a gas stove somebody lit… I remember being shocked by the whoosh of the blue flame jumping off the burner, the suddenness of it… I saw that flame and felt that hotness of it close to my face. I felt fear, real fear, for the first time in my life. But I remember it also like some kind of adventure, some kind of weird joy, too. I guess that experience took me someplace in my head I hadn't been before… The fear I had was almost like an invitation, a challenge to go forward into something I knew nothing about. That's where I think my personal philosophy of life and my commitment to everything I believe in started… In my mind I have always believed and thought since then that my motion had to be forward, away from the heat of that flame. Miles Davis, Miles: The Autobiography
Inspirational Miles Davis Quotes About Life
Miles Davis was a restless genius, always pushing forward, exploring new frontiers of musical expression!
My future starts when I wake up every morning. Every day I find something creative to do with my life. Miles Davis
But you've got to have style in whatever you do — writing, music, painting, fashion, boxing, anything. Miles Davis
I learned so much from my cousin, Alexander. I think he did things the right way. That's how he made it to the NFL… But the biggest thing I got from him was working hard and doing whatever you can to help the team. Miles Davis
Quotes by Miles Davis About Society, Discrimination and Race Stereotypes
Davis was a supporter of the Black Power movement and his musical expression was a form of protest.
It's like, how did Columbus discover America when the Indians were already here? What kind of shit is that, but white people's shit? Miles Davis, Miles: The Autobiography
In school I was the best, but the prizes went to boys with blue eyes. I made up my mind to outdo anybody white on my horn. Miles Davis
I hate how white people always try to take credit for something after they discover it. Like it wasn't happening before they found out about it–which most times is always late, and they didn't have nothing to do with it happening. Miles Davis
I know people get tired of hearing it but black people have got to keep saying it, throwing our conditions up into these people's faces until something is done about the way they have treated us. We've just got to keep it in front of their eyes and their ears like the Jews have done. We've got to make them know and understand just how evil the things are that they did to us over all these years and are still doing to us today. Miles Davis
Miles Davis Quotes About Jazz and Everything Else
Miles Davis infused jazz with his musical DNA and gave it new life, creating new ways for musical expression to bloom, because for Davis jazz was life!
The thing to judge in any jazz artist is, does the man project and does he have ideas. Miles Davis
A lot of people ask me where music is going today. I think it's going in short phrases. If you listen, anybody with an ear can hear that. Music is always changing. It changes because of the times and the technology that's available, the material that things are made of, like plastic cars instead of steel. So when you hear an accident today it sounds different, not all the metal colliding like it was in the forties and fifties. Musicians pick up sounds and incorporate that into their playing, so the music that they make will be different. Miles Davis, Miles: The Autobiography
The music has gotten thick. Guys give me tunes and they're full of chords. I can't play them…I think a movement in jazz is beginning away from the conventional string of chords, and a return to the emphasis on melodic rather than a harmonic variation. There will be fewer chords but infinite possibilities as to what to do with them. Miles Davis
I never thought jazz was meant to be a museum piece like other dead things once considered artistic. Miles Davis
Jazz music has got to have that thing. You have to be born with it. You can't even buy it. If you could buy it, they'd have it at the next Newport festival. Miles Davis
Bad music is what will ruin music, not the instruments musicians choose to play. Miles Davis
You can tell whether a person plays or not by the way he carries the instrument, whether it means something to him or not. Then the way they talk and act. If they act too hip, you know they can't play shit. Miles Davis
You can't play anything on a horn that Louis hasn't played. Miles Davis
I don't like to hear someone put down Dixieland. Those people who say there's no music but bop are just stupid; it shows how much they don't know. Miles Davis
If you got up on the bandstand at Minton's and couldn't play, you were not only going to be embarrassed by the people ignoring you or booing you, you might get your ass kicked. Miles Davis
You'd be surprised. Drummers ape each other. The way every rock n' roll record sounds like something else but not all together. Everything other drummers play, if you're playing drums, they all hear. Miles Davis
I love Pops, I love the way he sings, the way he plays – everything he does, except when he says something against modern-jazz music. Miles Davis
If you like it, pin it!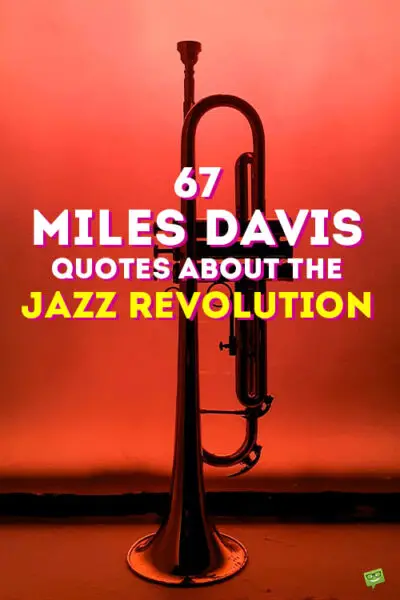 You may also like:
74 Undeniably Fab Quotes and Lyrics by the Beatles
64 Pink Floyd Quotes About the Space Between Us
52 Jim Morrison Quotes About Life, Love and Death
55+ Drake Quotes About Love, Life, Success and Confidence