74 Undeniably Fab Quotes and Lyrics by the Beatles
While there have been rock bands both before and after, none have topped The Beatles as the most influential band of all time. Hailing from Liverpool in England, the band is best known for their lineup of John Lennon, Paul McCartney, George Harrison, and Ringo Starr. This core was dubbed the "Fab Four." The Beatles were all international stars, leading to a never before seen fan frenzy called "Beatlemania". Although best known for their rock and roll sound, the group ventured into more complex sounds in the band's later years as the member's individual interests delved into psychedelics and Eastern spirituality. The group even changed how the public consumed music, shifting the dominant form from singles to records. Even after the group broke up in 1970, all four core members continued successful solo artist careers.
The Fab Four are undeniably great, and they have the records to back it up. Their words, whether through their lyrics or through interviews, still make an impact and are a source of inspiration for many. Read this curated collection of Beatles quotes and follow their groove.

The Beatles Song Lyrics Quotes
Here comes the sun and I say it's alright. The Beatles
It's been a hard day's night; I should be sleeping like a log. The Beatles
Don't carry the world upon your shoulders. The Beatles
I get by with a little help from my friends. The Beatles
Tomorrow may rain so I'll follow the sun. The Beatles
Sleep, pretty darling, do not cry. And I will sing a lullaby. The Beatles
So we sailed up to the sun till we found a sea of green. The Beatles
Don't pass me by, don't make me cry. Don't make me blue. The Beatles
When the night is cloudy there is still a light that shines on me, shinin' until tomorrow, let it be. The Beatles
Yesterday, all my troubles seemed so far away. Now it looks as though they're here to stay. Oh, I believe in yesterday. The Beatles
Living is easy with eyes closed, misunderstanding all you see. The Beatles
Doesn't have a point of view; Knows not where he's going to; Isn't he a bit like you and me? The Beatles
Words are flowing out like endless rain into a paper cup. They slither wildly as they slip away across the universe. The Beatles
Picture yourself on a boat on a river with tangerine trees and marmalade skies. Somebody calls you, you answer quite slowly, a girl with kaleidoscope eyes. The Beatles
Little child, won't you dance with me? I'm so sad and lonely, baby take a chance with me. The Beatles
I'm so tired I don't know what to do, I'm so tired my mind is set on you. I wonder should I call you but I know what you would do. The Beatles
I once had a girl, or should I say she once had me. She showed me her room. Isn't it good Norwegian wood? The Beatles
You say goodbye, I say hello. The Beatles
In Penny Lane, there is a barber showing photographs. Of every head he's had the pleasure to know. And all the people that come and go. Stop and say hello. The Beatles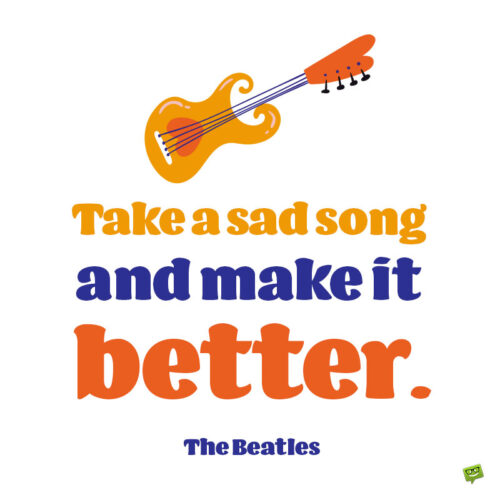 The Beatles' Love Quotes
All you need is love. The Beatles
In the end, the love you take is equal to the love you make. The Beatles
Love is the answer, and you know that for sure. The Beatles
Love is old, love is new, love is all, love is you. The Beatles
Love, love me do, you know I love you, I'll always be true. So please, love me do. The Beatles
If you need somebody to love, just look into my eyes. The Beatles
She loves you and you know that can't be bad. The Beatles
There was love all around, but I never heard it singing. No, I never heard it at all, 'till there was you. The Beatles
Close your eyes and I'll kiss you, tomorrow I'll miss you, remember I'll always be true. And then while I'm away, I'll write home every day and I'll send all my loving to you. The Beatles
A love like ours could never die, as long as I have you near me. The Beatles
As I write this letter, send my love to you. Remember that I'll always be in love with you. The Beatles
When I touch you, I feel happy inside. It's such a feelin' that my love, I can't hide. The Beatles
I love you, I love you, I love you. That's all I want to say. Until I find a way, I will say the only words I know that you'll understand. The Beatles
Limitless undying love which shines around me like a million suns, it calls me on and on across the universe. The Beatles
If I fell in love with you, would you promise to be true and help me understand? 'Cause I've been in love before and I found that love was more than just holding hands. The Beatles
I don't need to hug or hold you tight, I just wanna dance with you all night. The Beatles
Something in the way she moves, attracts me like no other lover. Something in the way she woos me,
I don't want to leave her now. You know I believe and how. The Beatles
I've got everything that you want. Like a heart that's oh so true. Just call on me and I'll send it along, with love, from me to you. The Beatles
Funny Quotes by the Beatles

Christianity will go. It will vanish and shrink. I needn't argue about that. I'm right and I'll be proved right. We're more popular than Jesus now. John Lennon
Will the people in the cheaper seats clap your hands? And the rest of you, if you'll just rattle your jewelry. John Lennon
Somebody said to me, "But The Beatles were anti-materialistic". That's a huge myth. John and I literally used to sit down and say, "Now, let's write a swimming pool". Paul McCartney
The Beatles saved the world from boredom. George Harrison
Reporter: What did you think when your airplane's engine began smoking as you landed today?
Ringo Starr: Beatles, women, and children first!
Reporter: Has success changed your life?
George Harrison: Yes.
Reporter: How did you find America?
John Lennon: Turned left at Greenland.
Reporter: Is Ringo the best drummer in the world?
John Lennon: Ringo isn't even the best drummer in The Beatles.
Reporter: Do you often see your father?
Paul McCartney: No, actually we're just good friends.
Reporter: Would you like to walk down the street without being recognized?
John Lennon: We used to do this with no money in our pockets. There's no point in it.
Reporter: What will you do when Beatlemania subsides?
John Lennon: Count the money.
Journalist: Is it true none of you can read or write music?
Paul McCartney: None of us can read or write music. The way we work is like, we just whistle. John will whistle at me and I'll whistle back at him.
Journalist: When you do a new song, how do you decide who sings the lead?
John Lennon: We just get together and whoever knows most of the words sings the lead.
Journalist: Ringo, why do you think you get more fan mail than anyone else in the group?
Ringo Starr: I don't know. I suppose it's because more people write me.
Reporter: You've got fame and fortune. If this were all to disappear overnight, and you were left with one thing you'd like to hang on to, what would that be?
Beatles: The money!
Inspirational Beatles Quotes about Life
Take these broken wings and learn to fly. The Beatles
One thing I can tell you is you got to be free. The Beatles
We all wanna change the world. The Beatles
Listen to the color of your dreams. The Beatles
Take a sad song and make it better. The Beatles
There's nothing you can do that can't be done, nothing you can sing that can't be sung, nothing you can say, but you can learn how to play the game. It's easy. The Beatles
I am he as you are he as you are me and we are all together. The Beatles
Can you hear me? When it rains and shines, it's just a state of mind. The Beatles
When I find myself in times of trouble, mother Mary comes to me. The Beatles
Life is very short, and there's no time for fussing and fighting, my friend. The Beatle
If everyone demanded peace instead of another television set, then there'd be peace. The Beatles
God is a concept by which we measure our pain. The Beatles
What we've got to do is keep hope alive. Because without it we'll sink. The Beatles
Reality leaves a lot to the imagination. The Beatles
It's better to fade away like an old soldier than to burn out. The Beatles
You may also like:
Remembering A Legacy That Urges Us to Imagine | 148 John Lennon Quotes
28 Kurt Cobain Quotes and Song Lyrics by Nirvana
One Love | 99 Famous Bob Marley Quotes
64 Pink Floyd Quotes About the Space Between Us
50 Intoxicating Quotes by the psychologist Timothy Leary