50 Intoxicating Quotes by the psychologist Timothy Leary
Timothy Leary was an American psychologist and writer, who was known for his avid support to the freely use of LSD during the '60s. He had a doctorate in psychiatry and he tested the therapeutic effects of lysergic acid diethylamide (LSD) in the field, as a researcher in Harvard. After an eye-opening experience he had, following the consumption of psychedelic mushrooms, he started taking LSD himself, along with the case studies of his research. That led him to lose his job at the university and start having troubles with the law, that led even to imprisonment inside and outside the borders. Later, he became a public figure and one of president Nixon's nemesis, as he thought of Leary as a threat for the young generation.
However, Timothy Leary's most famous quote towards the young people was to "turn on, tune in and drop out", meaning to detach themselves from the social conventions through the use of psychedelics. He moved on and developed a philosophy of mind expansion, with the role of LSD to be central in the understanding of the deeper meaning of life. However, he was a lot more than a drug endorser and he became an icon of counterculture and human potential movement. Read the quote list below and learn all about Timothy Leary's beliefs on psychology, humanity, death and life.

Timothy Leary Quotes about Drug Use
Turn on, tune in and drop out. Timothy Leary
To use your head, you have to go out of your mind. Timothy Leary
LSD is a psychedelic drug which occasionally causes psychotic behavior in people who have NOT taken it. Timothy Leary
There are no bad drugs. There's simply stupid people who don't know how to use them. Timothy Leary
Psychedelic drugs cause paranoia, confusion, and total loss of reality in politicians that have never taken them. Timothy Leary
I totally deplore the notion of an M.D. giving pills to patients. Timothy Leary
The PC is the LSD of the '90s. Timothy Leary

I learned more about psychology in the five hours after taking these mushrooms than in the preceding 15 years of studying and doing research in psychology. Timothy Leary
I am 100 percent in favor of the intelligent use of drugs, and 1,000 percent against the thoughtless use of them, whether caffeine or LSD. And drugs are not central to my life. Timothy Leary
Acid is not for every brain… Only the healthy, happy, wholesome, handsome, hopeful, humorous, high-velocity should seek these experiences. This elitism is totally self-determined. Unless you are self-confident, self-directed, self-selected, please abstain. Timothy Leary
Timothy Leary's enlightening and controversial quotes about psychology & humanity
Science is all metaphor. Timothy Leary
The universe is an intelligence test. Timothy Leary
Any reality is an opinion-we make up our own reality. Timothy Leary
Intelligence is the ultimate aphrodisiac. Timothy Leary
I wanted to scientize myth and mythologize science. Timothy Leary
A man without justice is a beast, and a man who would make himself a beast forgets the pain of being a man. Timothy Leary
Philosophy is a performance sport – you have to play it with somebody back and forth. Timothy Leary
My profession is I'm a dissident philosopher. Timothy Leary
Almost everyone today is brain-damaged by our education which is designed to produce docile automatons. Timothy Leary
The role of anxiety in the development of human personality is central, and it is intricate beyond our understanding. Timothy Leary
A country run by law is a country ruined by lawyers. It is neurologically impossible for a lawyer or a military man to think creatively or to act in harmony with nature. Timothy Leary
In pursuing my fervent goal of relating external stimuli to reports about internal-neural change, we were, paradoxically enough, following the most orthodox tradition in psychology. Timothy Leary
If you want to change the way people respond to you, change the way you respond to people. Timothy Leary
Courage is the key to creativity and to any relinquishing of ego structure. Timothy Leary
The twentieth century may well find historical status as the epoch in which man began to study himself as a scientific phenomenon. Timothy Leary
Everyone carries a piece of the puzzle. Nobody comes into your life by mere coincidence. Trust your instincts. Do the unexpected. Find the others. Timothy Leary
People have to go out of their mind before they can come to their senses. Timothy Leary
You are a powerful, unlimited and eternal soul who is here to enjoy the experience of creativity and contribute to humanity's evolution. Timothy Leary

Timothy Leary's most interesting quotes on life & death
Give death a better name or die trying. Timothy Leary
Take responsibility for making your own life beautiful. Timothy Leary
If you listen to neurologists and psychiatrists, you'd never fall in love. Timothy Leary
If you don't like what you're doing, you can always pick up your needle and move to another groove. Timothy Leary
The most important thing you do in your life is to die. Timothy Leary
Think for yourself and question authority. Timothy Leary
Grow with the flow. Timothy Leary
Whether you experience heaven or hell, remember that it is your mind which creates them. Timothy Leary
You're only as young as the last time you changed your mind. Timothy Leary
My advice to people today is as follows: if you take the game of life seriously, if you take your nervous system seriously, if you take your sense organs seriously, if you take the energy process seriously, you must turn on, tune in, and drop out. Timothy Leary
Funny Timothy Leary quotes
Women who seek to be equal with men lack ambition. Timothy Leary
There are three side effects of acid: enhanced long-term memory, decreased short-term memory, and I forget the third. Timothy Leary
We are dealing with the best-educated generation in history. But they've got a brain dressed up with nowhere to go. Timothy Leary
Civilization is unbearable, but it is less unbearable at the top. Timothy Leary
You cannot use butterfly language to communicate with caterpillars. Timothy Leary
In the information age, you don't teach philosophy as they did after feudalism. You perform it. If Aristotle were alive today he'd have a talk show. Timothy Leary
I've left specific instructions that I do not want to be brought back during a Republican administration. Timothy Leary
Critics have told me I've ruined the lives of 50 million young people. I can't be certain of this, since only about 10 million have ever come back to thank me. Timothy Leary
If you like it, pin it!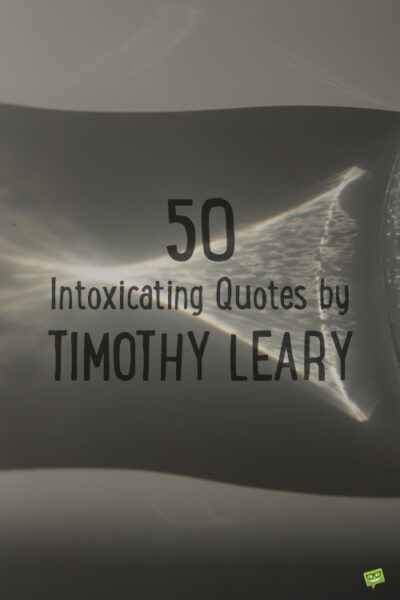 You May Also Like:
Eastern Philosophies, Translated | 99 Alan Watts Quotes
70+ Joseph Campbell Quotes on the Link Between Life and Myths
74 Undeniably Fab Quotes and Lyrics by the Beatles