28 Kurt Cobain Quotes and Song Lyrics by Nirvana
Kurt Cobain had a brief career as the frontman of Nirvana, yet his musical legacy is enormous and he still remains, several decades after his tragic death, one of the most celebrated musicians of all time.
As a tribute to this entertainment icon, we have hand-picked his most memorable and inspiring quotes. Hopefully these deep Kurt Cobain quotes will illustrate why he is so endeared to millions of people the world over.

---
Kurt Cobain's Famous Quotes
We have no right to express an opinion until we know all of the answers. Kurt Cobain
Wanting to be someone else is a waste of the person you are. Kurt Cobain
The worst crime is faking it. Kurt Cobain
The sun is gone, but I have a light. Kurt Cobain
The duty of youth is to challenge corruption. Kurt Cobain
Rather be dead than cool. Kurt Cobain
My mother encouraged me to be artistic. It was written in a contract at an early age that I would be an artist.  Kurt Cobain
I've always had a problem with the average macho man – they've always been a threat to me. Kurt Cobain
I'd rather be hated for who I am, than loved for who I am not.  Kurt Cobain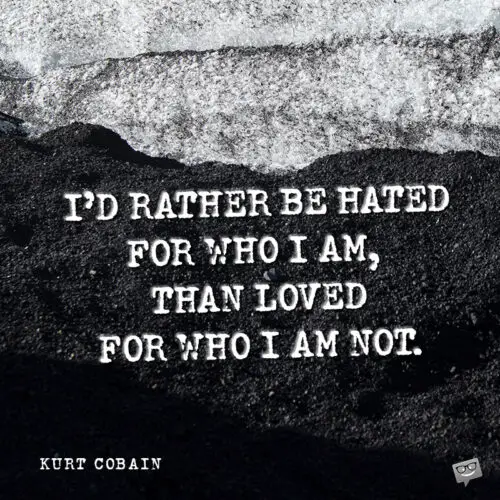 It's okay to eat fish because they don't have any feelings. Kurt Cobain
I'm not well-read, but when I read, I read well. Kurt Cobain
A friend is nothing but a known enemy. Kurt Cobain
If it's illegal to rock and roll, throw my ass in jail! Kurt Cobain
If I wouldn't have found Courtney, I probably would have carried on with a bisexual lifestyle. Kurt Cobain
I wanted to have the adoration of John Lennon but have the anonymity of Ringo Starr. I didn't want to be a frontman. I just wanted to be back there and still be a rock and roll star at the same time. Kurt Cobain
I like to complain and do nothing to make things better. Kurt Cobain
 didn't know how to deal with success. If there was a Rock Star 101, I would have liked to take it. It might have helped me. Kurt Cobain
I definitely feel closer to the feminine side of the human being than I do the male – or the American idea of what a male is supposed to be. Just watch a beer commercial and you'll see what I mean. Kurt Cobain
Every time I see documentaries or infomercials about little kids with cancer, I just freak out. It affects me on the highest emotional level… Anytime I think about it, it makes me sadder than anything I can think of. Kurt Cobain
I wanted to be in a punk band before I had even heard any punk music. Kurt Cobain
 sing and play the guitar, and I'm a walking, talking bacterial infection. Kurt Cobain
I like to make people feel happy and superior in their reaction towards my appearance. Kurt Cobain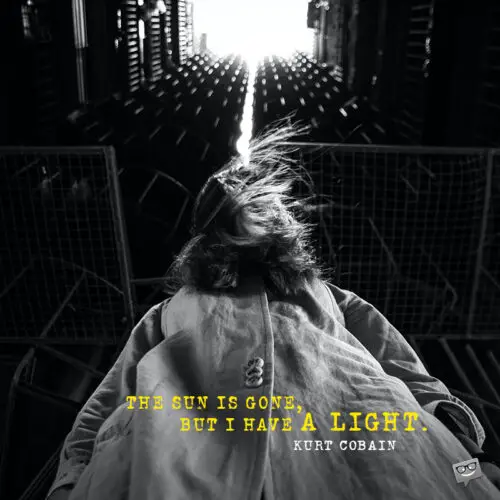 Best Nirvana Song Quotes
"Hey! Wait! I got a new complaint." – Nirvana, "Heart-Shaped Box"
"What else could I say? Everyone is gay / What else could I write? I don't have the right / What else should I be? All apologies." – Nirvana, "All apologies"
"With the lights out, it's less dangerous / Here we are now, entertain us / I feel stupid and contagious / Here we are now, entertain us." – Nirvana, "Smells Like Teen Spirit"
"I'm so happy 'cause today I found my friends, they're in my head / I'm so ugly, but that's OK 'cause so are you." – Nirvana, "Lithium"
"I'll take advantage while you hang me out to dry / But I can't see you every night for free." – Nirvana, "About a girl"
"Teenage angst has paid off well / Now I'm bored and old." – Nirvana, "Serve the Servants"
Kurt Cobain's Quotes about death
If you die, you're completely happy and your soul somewhere lives on. I'm not afraid of dying. Total peace after death, becoming someone else is the best hope I've got. Kurt Cobain
Nobody dies a virgin. Life f***s us all. Kurt Cobain
If you die you're completely happy and your soul somewhere lives on. I'm not afraid of dying. Total peace after death, becoming someone else is the best hope I've got. Kurt Cobain
Drugs are a waste of time. They destroy your memory and your self-respect and everything that goes along with your self-esteem. They're no good at all. Kurt Cobain
Nirvana – MTV Unplugged in New York

[Remastered]
---
You may also like:
74 Undeniably Fab Quotes and Lyrics by the Beatles
52 Jim Morrison Quotes About Life, Love and Death
Words of Lioness | 120+ Amy Winehouse Quotes
Remembering A Legacy That Urges Us to Imagine | 148 John Lennon Quotes