52 Jim Morrison Quotes About Life, Love and Death
Jim Morrison was a representative rock star figure of the 1960s. Unbearably talented, prone to drugs addiction and self-destruction, a rebel and a poet. He was born in 1943 and from an early stage in his life, he showed his preference towards writing and music. He went off to study film, and he indeed graduated, mostly to avoid military recruitment for the Vietnam war. Instead of creating films, in 1965, he formed the legendary band "The Doors", along with the classical pianist Ray Manzarek, guitarist Robbie Krieger and drummer John Densmore. He became the lead singer and front man of the band. Together, they wrote some of the biggest hits of the decade, like "People are Strange", "Riders on the Storm", and "Light my fire". The Doors was an expression vehicle for the young people of the time, as with their provocative lyrics, they criticized the rotten shapes of the society and they transmitted the rage of the generation. In their songs there are frequent references to the inevitable of death, drugs, sex and magic.
Jim Morrison was a very enigmatic personality, an introvert with fierce eruptions on stage, that occasionally got him into trouble. He was a mastermind, who carried an existential dualism, between love and hate, life and death or decay. In 1971, he left the Doors and moved to Paris to write poetry and distract himself from his addictions. In the same year he was found dead in his bathtub, after a heart failure caused by years of alcohol and drug abuses. With his death, he entered the "club of 27", along with Jimmy Hendrix and Janis Joplin who had also passed away a few months before, at the same age. In his grave in Paris there is the Greek inscription reading "KATA TON DAIMONA EAYTOY", which means "true to his own spirit, true to his inner daemon". That, along with dozens of other words uttered by this artist are included in this collection of Jim Morrison quotes which you can read and share.

Best Jim Morrison Quotes
People are strange. Jim Morrison
Whoever controls the media, controls the mind. Jim Morrison
Once you make peace with authority you become an authority. Jim Morrison
No eternal reward will forgive us now for wasting the dawn. Jim Morrison
Keep your eyes on the road, your hands upon the wheel. Jim Morrison
Time to live, time to lie, time to laugh, and time to die. Take it easy baby. Take it as it comes. Jim Morrison
We hide ourselves in our music to reveal ourselves. Jim Morrison
If my poetry aims to achieve anything, it's to deliver people from the limited ways in which they see and feel. Jim Morrison
I believe in a long, prolonged, derangement of the senses in order to obtain the unknown. Jim Morrison
Jim Morrison Love Quotes
It may have been in pieces, but I gave you the best of me. Jim Morrison
I am troubled immeasurably by your eyes. Jim Morrison
I found an island in your arms, country in your eyes. Jim Morrison
Love cannot save you from your own fate. Jim Morrison
That's what real love amounts to; letting a person be what he really is. Jim Morrison
There are no laws, there are no rules, just grab your friend and love him. Jim Morrison
People talk about how great love is, but that's bullshit. Love hurts. Feelings are disturbing. Jim Morrison
Most people love you for who you pretend to be. To keep their love, you keep pretending, preforming. You get to love your pretense. Jim Morrison
Hanging from windows as if to say: I'm bold, do you love me? Just for tonight. Jim Morrison
Soon she will disappear into the calm vegetable morass. Stay! My Wild Love! Jim Morrison
Nobody understands you better than yourself, but if someone tries to do, it is because he loves you. Jim Morrison
The grand highway is crowded with lovers and searchers and leavers so eager to please and to forget. Jim Morrison

Jim Morrison Quotes about life
This is the strangest life I have ever known. Jim Morrison
You feel your strength in the experience of pain. Jim Morrison
The most important kind of freedom is to be what you really are. Jim Morrison
There can't be any large-scale revolution until there's a personal revolution, on an individual level. Jim Morrison
I think the highest and lowest points are the important ones. Anything else is just…in between. Jim Morrison
Expose yourself to yourself to your deepest fear. After that, fear has no power, and fear of freedom shrinks and vanishes. Jim Morrison
The most important kind of freedom is to be what you really are. You trade in your reality for a role. You give up your ability to feel, and in exchange, put on a mask. Jim Morrison
You can take away a man's political freedom and you won't hurt him, unless you take away his freedom to feel. That can destroy him. Jim Morrison
A true friend is someone who lets you have total freedom to be yourself-and especially to feel. Or not feel. Jim Morrison
The most loving parents and relatives commit murder with smiles on their faces. They force us to destroy the person we really are: a subtle kind of murder. Jim Morrison
A man searching for paradise lost can seem a fool to those who never sought the other world. Jim Morrison
We fear violence less than our own feelings. Personal, private, solitary pain is more terrifying than what anyone else can inflict. Jim Morrison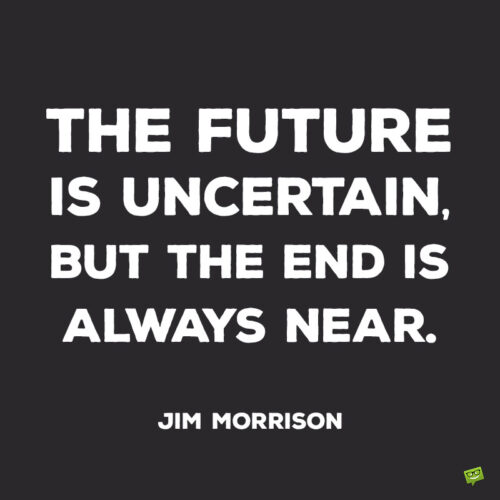 Jim Morrison Quotes about Death
The future is uncertain, but the end is always near. Jim Morrison
No one here gets out alive. Jim Morrison
You live you die and death not ends it. Jim Morrison
Cancel my subscription to the resurrection. Jim Morrison
All our lives we sweat and save. Building for a shallow grave. Jim Morrison
Door of passage to the other side, the soul frees itself in stride. Jim Morrison
Death makes angels of us all and gives us wings where we had shoulders round as ravens claws. Jim Morrison
People fear death even more than pain. It's strange that they fear death. Life hurts a lot more than death. At the point of death, the pain is over. Yeah, I guess it is a friend. Jim Morrison
Ooh great creator of being grant us one more hour, to perform our art and perfect our lives. Jim Morrison
Did you have a good world when you died? Jim Morrison
I pressed her thigh and death smiled. Jim Morrison
We're reaching for death on the end of a candle. We're trying for something that's already found us. Jim Morrison
It hurts to set you free. But you'll never follow me. The end of laughter and soft lies. The end of nights we tried to die. This is the end. Jim Morrison
ΚΑΤΑ ΤΟΝ DAIMONA ΕΑΥΤΟΥ. (Greek for "true to his own spirit") Jim Morrison's Epitaph
Jim Morrison's Funny Quotes
Where's your will to be weird? Jim Morrison
Some of the worst mistakes in my life were haircuts. Jim Morrison
Being drunk is a good disguise. I drink so I can talk to assholes. This includes me. Jim Morrison
Actually I don't remember being born, it must have happened during one of my black outs. Jim Morrison
I think of myself as an intelligent, sensitive human being with the soul of a clown which always forces me to blow it at the most important moments. Jim Morrison
I've noticed that when people are joking they're usually dead serious, and when they're serious, they're usually pretty funny. Jim Morrison
Nobody would stay interested in me if I was normal. Jim Morrison
You may also like:
64 Pink Floyd Quotes About the Space Between Us
Words of a Lioness | 120+ Amy Winehouse Quotes
Remembering A Legacy That Urges Us to Imagine | 148 John Lennon Quotes
55+ Drake Quotes About Love, Life, Success and Confidence