Words of a Lioness | 120+ Amy Winehouse Quotes
Universally recognized as an enormous talent before her death in 2011, Amy Winehouse had taken the music world by surprise with the release of the 2006 Mark Ronson-produced album "Back to black" and singles like "Rehab" and "Love is a losing game". Her entire body of music work was an enticing blend of soul, rhythm and blues and jazz, always combined with her amazing deep voice. In 2008, Winehouse became the first British woman to win five Grammys. Unfortunately, rising to fame didn't help her overcome her problems with alcohol and drug addiction.
Joining the unlucky club of artists who died at age 27 (Jim Morrison, Janis Joplin, Kurt Cobain) due to alcohol poisoning, Amy left too early but, besides her musical legacy, she left a very interesting and sometimes controversial list of quotes that can stir thoughts and inspire. We have carefully curated this collection and present it as a challenging and often enlightening read.

Famous Amy Winehouse Quotes
I believe you only get to be in real love once. Amy Winehouse
I fell in love with someone who I would have died for. And that's like a real drug, isn't it? Amy Winehouse
To be in love with someone is to be able to let them go and do what they want and pray they'll come back to you. Amy Winehouse
I love to live and I live to love. Amy Winehouse
I'm a realist and a dreamer. There are certain things you can give certain people and certain things you can't. Amy Winehouse
It's just that I'm a caretaker and I want to enjoy myself and spend time with my husband, It doesn't even feel weird saying it now … I don't want to be ungrateful. I know I'm talented, but I wasn't put here to sing. I was put here to be a wife and a mom and look after my family. I love what I do, but it's not where it begins and ends. Amy Winehouse
Some men do think I'm a psycho bunny-boiler. Amy Winehouse
Every bad situation is a blues song waiting to happen, but I'm romantic. I fall in love every day. Not with people, but with situations. The other day, I saw a trump polishing shoes. That just gripped my heart. Amy Winehouse
I would say that jazz is my own language. Amy Winehouse
I don't say things because I'm bitter. I say things everyone else is thinking but no one dares to say. Amy Winehouse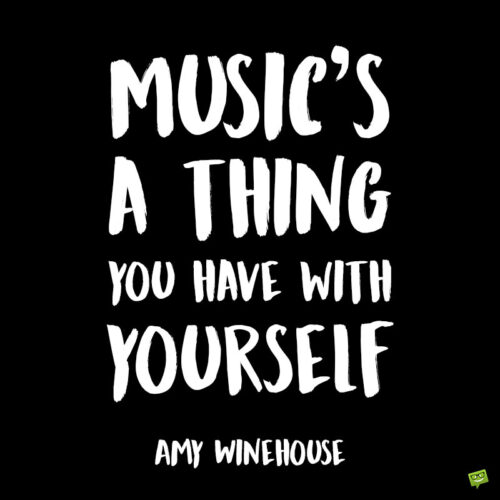 I'll be honest about everything. It's funny how even that can get you into trouble. Amy Winehouse
I always said I never wanted to write about love, but then I went and did that anyway. Amy Winehouse
I am a very romantic person. I don't mean romantic in a flowers and chocolates kind of way. It's more like if it's raining, I'll go up to the window and press my nose against the glass and sigh at how beautiful it all looks. Amy Winehouse
I know there are people in the world who have worse problems than falling in love and having it blow up in your face, but I don't want to just waking up drinking, and crying, and listening to Shangri-La's, and go to sleep, and wake up drinking, and listening to Shangri-La's. So I turned it into sings, and that's how I got through it. Amy Winehouse
I only write about stuff that's happened to me… stuff I can't get past personally. Luckily, I'm quite self-destructive. Amy Winehouse
I say things in songs that I wouldn't even admit to myself looking in the mirror. Amy Winehouse
I write songs because I'm f*****d in the head and need to get something good out of something bad. Amy Winehouse
A song marks an occasion in my life and that's how I live my life, by songs. Amy Winehouse
The more people see of me, the more they'll realize all I'm good for is making tunes. Amy Winehouse
If you're nice to me I'll never write anything bad about you. Amy Winehouse
Amy on her lyrics: "They're very personal and very intense, in a way. But I think there's a lot of humor in there as well. I've always wanted to present a point with a twist. You know, like "I'm really angry about this, you're a shit and you can't even get a boner!" I just want to say things I would find funny if I heard them. Amy Winehouse
I always wrote poetry and stuff like that, so putting songs together wasn't that spectacular. Amy Winehouse
I really started writing music to challenge myself, to see what I could write. Amy Winehouse
I didn't think it was special to be able to sing. Amy Winehouse
All the songs I write are about human dynamics, whether it's with girlfriends, boyfriends, or family. Amy Winehouse
To play and sing live for me is like just going on auto-pilot. Amy Winehouse
And as a writer, your self-worth is literally based on the last thing you wrote. Amy Winehouse
Girls talk to each other like men talk to each other. But girls have an eye for detail. Amy Winehouse
I'm not Amy the star, I'm Amy the girl with the guitar. Amy Winehouse
Music is the only thing that will give and give and give and not take. Amy Winehouse
I listen to a lot of '60s music, but society is different now. I'm a young woman and I'm going to write about what I know. Amy Winehouse
I don't suffer fools gladly. I'm not here to make friends. I've learnt that the hard way – I used to not say things like "I really want to hold a guitar in my video", because I was trying to make everyone like me. But I don't give a shit now. At the end of the day I'm there to do my job, I'm not there to have picnics. Amy Winehouse
Singing has always been important to me, but I never thought, 'I'll end up singing' or 'I'll be a singer' Amy Winehouse
I'm not a girl trying to be a star or trying to be anything other than a musician. I don't think I'm gonna be at all famous. I don't think I could handle it. I would probably go mad. Do you know what I mean? I would go mad. Amy Winehouse
Having tattoos, it's a way of suffering for things that mean a lot to you Amy Winehouse
I don't care about all that pop stuff and I couldn't go to the Smash Hits poll winners' party without bringing a gun. Amy Winehouse
Music's a thing you have with yourself. Amy Winehouse
Music is something in my life where I can be completely honest, and sometimes I don't want to sing some of the songs 'cos they're so raw Amy Winehouse
I love doing music and playing gigs, and I'm really grateful for the opportunity to do so. But to be honest, I'm not the kind of person that will think about the demographic. I'm just the 'turn' Amy Winehouse
Double denim is like a crime against humanity. When it comes to fashion, I'm a bitch. You know what's attractive on a girl? A girl being herself. Don't be one of the crowd. Amy Winehouse
Jazz is an excluding music. Go to a jazz club and everybody's standing about trying to be cool. A lot of it is boring. But after my record [Frank] I would say listen to Billie Holiday or Ella Fritzgerald. Amy Winehouse
My hair is always on point, even if the rest of me is really naff. Amy Winehouse
If being a diva is getting what you want and knowing how to go and get it, then I guess I'm a big fucking fat diva. Amy Winehouse
Having listened to great songwriters like James Taylor and Carole King, I felt there was nothing new that was coming out that really represented me and the way I felt. So I started writing my own stuff. Amy Winehouse
When I was six or seven…I liked Kylie and loved Madonna. I listened to Madonna's 'Immaculate Collection' every day until I was about 11, and then I discovered Salt 'n' Pepa and TLC. That was, 'Oh my God… this is my music!' Me and my best friend Juliet started our first ever band, Sweet 'n' Sour. We were rappers. I was Sour, of course. Amy Winehouse
You know how you either grow up in a Michael Jackson house or a Prince house? For me it was Michael Jackson. I could never decide whether I wanted to be Michael Jackson or marry him. I don't care what people say because he's a fucking genius. Amy Winehouse
I like pin-up girls. I'm more of a boy than a girl. I'm not a lesbian, though – not before a Sambuca anyway. Amy Winehouse
Here in England, everyone's a pop star, innit, whereas in America they believe in the term artist. Amy Winehouse
I'm always happy to blow up any misconceptions that people have about stage school 'cos everyone thinks it's really nasty there but it's not. Amy Winehouse
I was hit by a car once on my bike, but I still rode home. Amy Winehouse
I'm manic depressive, I'm not an alcoholic, which sounds like an alcoholic in denial. Amy Winehouse
I do suffer from depression, I suppose. Which isn't that unusual. You know, a lot of people do. Amy Winehouse
I went through every eating disorder you can have. A little bit of anorexia, a little bit of bulimia. I'm not totally OK now but I don't think any woman is. Amy Winehouse
I'm quite an insecure person. I'm very insecure about the way I look. I mean, I'm a musician I'm not a model. The more insecure I felt, the more I'd drink. Amy Winehouse
The more insecure I feel, the bigger my hair has to be. Amy Winehouse
Amy Winehouse Inspirational Quotes
I don't think your ability to fight has anything to do with how big you are. It's to do with how much anger is in you. Amy Winehouse
Life happens. There is no point in being upset or down about things we can't control or change. Amy Winehouse
If you don't through yourself into something, you'll never know what you could have had. Amy Winehouse
I think that we have to be aware that people are allowed to make mistakes. Amy Winehouse
Life's short. Anything could happen, and it usually does, so there is no point in sitting around thinking about the ifs, ands and buts. Amy Winehouse
Life is so much more rewarding if you strive for something, rather than take what's given to you on a plate. Amy Winehouse
Life is short, do it, you know because life is short Amy Winehouse
Life is funny and sad, sometimes both at the same time. Amy Winehouse
I feel like I've come to the realization that life is short, you know? You have to live in the moment. You have to seize the day. Amy Winehouse
If I died tomorrow, I would be a happy girl. Amy Winehouse
I'm not frightened of appearing vulnerable. I write songs about stuff that I can't really get past emotionally- and then I feel better. Amy Winehouse
I don't like to look back and think 'That was a horrible time'; I prefer to think 'I'm glad I came through that'." Amy Winehouse
I don't care in the least what people think about me. Never did, never will. Yes, as a result, I'm easy pickings because I am honest and unguarded. But life's too short to be worrying about that shit.  Amy Winehouse
From being around the block, I guess people know that I really don't do what I'm told to do. I don't really care enough about what people think of me to really conform to anything. Amy Winehouse
I'd like to be remembered as someone who wasn't satisfied with just one level of musicianship, as someone who was a pioneer. Amy Winehouse
I've always had my own style, I've always been different. I don't like to wear anything that anyone else is wearing because it's very important for me to make a statement. Amy Winehouse
I'm not religious at all. I think faith is something that gives you strength. I believe in fate and I believe that things happen for a reason, but I don't think that there's a high power, necessarily. I believe in karma very much though. Amy Winehouse
I'm from the school of thought where, if you can't sort something out for yourself, then no one can help you. Amy Winehouse
If I haven't done it, I just can't put it into a song. It has to be autobiographical. It's an exorcism. I get all my stuff out there. If I didn't have this medium to get my experiences across, I would be lost Amy Winehouse
Writing is a very natural process for me. I wait for when I've been through some horrible thing and there's nothing I can do but write about it. I follow my heart because otherwise you get so caught up in other people's opinions. Not that I'm any great authority! I'm a fucking idiot like the rest of the world, but I trust my instincts, and that's what has got me where I am, y'know? Amy Winehouse
I'm not a natural born performer. I'm a natural singer, but I'm quite shy, really. You know what it's like? I don't mean to be sentimental or soppy but it's a little bit like being in love, when you can't eat, you're restless, it's like that. But then the minute you go on stage, everything's OK. The minute you start singing. Amy Winehouse
The minute I even start to think about what I'm doing I just lose it. I have to just shut my eyes and flow. Amy Winehouse
There's no point in saying anything but the truth because, at the end of the day, you don't have to answer to anyone but yourself. Amy Winehouse
I think I've probably become tougher as a result of everything that's happened. I've learnt not to take things personally. Amy Winehouse
I was expecting it to be cynical because I'm like that myself. I wouldn't want it to be all roses because life isn't like that. Amy Winehouse
I'm a girly girl. It's just my music. It's the only thing I have real dignity in in my life. That's the one area in my life where I can hold my head up and say, 'No one can touch me.' 'Cos no one can touch me! Amy Winehouse
I don't ever want to do anything mediocre. I hear the music in the charts and I don't mean to be rude, but those people have no soul. Amy Winehouse
I wouldn't say I'm a feminist, but I don't like girls pretending to be stupid because it's easier. Amy Winehouse
If you play an instrument, it makes you a better singer. The more you play, the better you sing, the more you sing, the better you play. Amy Winehouse
Amy Winehouse Quotes from Songs
They tried to make me go to rehab
But I said no, no, no.
– Rehab
You go back to her
And I go back to black
– Back to Black
We only said goodbye with words
I died a hundred times
– Back to Black
I cheated myself,
Like I knew I would,
I told you I was trouble
You know that I'm no good
– You Know I'm No Good
When I first laid eyes on you
Temperature so hot the heat just rise with you
– You Know I'm No Good
I wanna touch you, but that just hurts
– Just Friends
I love you much
It's not enough
You love blow and I love puff
– Back to Black
Life is like a pipe
And I'm a tiny penny
Rolling up the walls inside
– Back to Black
He walks away
The sun goes down
He takes the day, but I'm grown
And in your way
In this blue shade
My tears dry on their own
– Tears Dry On Their Own
You don't owe nothing to me
But to walk away I have no capacity
– Tears Dry On Their Own
But you make me cry, where's my kiss goodbye?
– Take the Box
As we kissed goodbye, the sun sets
– Tears Dry On Their Own
We coulda never had it all
We had to hit a wall
So this is inevitable withdrawal
– Tears Dry On Their Own
I don't ever wanna drink again
I just, ooh, I just need a friend.
– Rehab
Run around just so I don't have to think about thinking
– Wake Up Alone
His face in my dreams seizes my guts
He floods me with dread
Soaked in soul, he swims in my eyes by the bed
Pour myself over him
Moon spilling in
And I wake up alone
– Wake Up Alone
And I'll battle 'til this bitter finale
Just me, my dignity and this guitar case
– Some Unholy War
She's so vacant
Her soul is taken
He thinks, What's she running from?
– He Can Only Hold Her
So he tries to pacify her
But what's inside her never dies
– He Can Only Hold Her
I'm my own man
So when will you learn
That you got a man
But I got to burn
– Addicted
Before I know I've fallen hard
And now I tread water in time
– Close to the Front
I tend to learn as much as I forget
– In My Bed
Why don't you come on over, Valerie?
– Valerie
I always have to comfort you when I'm there
But that's what I need you to do, stroke my hair
'cause I've forgotten all of young love's joy
Feel like a lady, and you my lady boy
– Stronger than me
If my man was fighting
Some unholy war
I would be behind him
Straight shook up beside him
With strength he didn't know
– Some Unholy War
I can't help ya if you won't help yourself.
– Help Yourself
Will you still love me tomorrow?
I've forgotten all of young love's joy.
– Stronger than me
And sleep can only cure
– Long Day
The dark covers me and I cannot run now.
– Wake Up Alone
All I can ever be to you
Is a darkness that we know
– Tears Dry On Their Own
Memories mar my mind
Love, it is a fate resigned
– Love Is A Losing Game
I should just be my own best friend
Not f*** myself in the head with stupid men
– Tears Dry On Their Own
Relationship doesn't remain
We resonate on different flames
I could cut you down again
If you were like all other men
– Tears Dry On Their Own
Since I've come on home,
Well my body's been a mess
And I've missed your ginger hair
And the way you like to dress.
– Valerie
You've got a degree a in philosophy
So you think you're cleverer than me
But I'm not just some drama queen
Cos it's where you're at not where you've been
– Help yourself
I'm not gonna meet your mother anytime
I just wanna grip your body over mine
– Stronger Than Me
I don't understand,
Why do I stress the man?
When there's so many bigger things at hand
– Tears Dry On Their Own
Mr False Pretence, you don't make sense I just don't know you
But you make me cry, where's my kiss goodbye I think I love you
– Take The Box
You May Also Like:
Music Revolution | 100+ Famous Quotes About Music
28 Kurt Cobain Quotes and Song Lyrics by Nirvana
52 Introspective Lana Del Rey Quotes About Love and Life
55+ Drake Quotes About Love, Life, Success and Confidence