77 Quotes And 5 Poems About Beauty
Beauty is strictly defined as the quality or aggregate of qualities in an animal, idea, object, person or place that  provides a perceptual experience of pleasure or satisfaction, giving pleasure to the senses or pleasurably exalting the mind or spirit. The concept of beauty is studied as part of aesthetics, culture, social psychology, philosophy and sociology. The experience of "beauty" often involves an interpretation of some entity as being in balance and harmony with nature, which may lead to feelings of attraction and emotional well-being. Because this can be a subjective experience, it is often said that "beauty is in the eye of the beholder."
There is evidence that perceptions of beauty are evolutionary determined, that things, aspects of people and landscapes considered beautiful are typically found in situations likely to give enhanced survival of the perceiving human's genes. Beauty has been described and depicted through pictures and concepts penetrating our minds. Beauty isn't just about physical attractiveness; it's also about how beautiful someone is on the inside as well. The definition of beauty is different to everyone and the concept has been defined in so many ways.

---
Short quotes about beauty
Beauty is not caused. It is. Emily Dickinson
A thing of beauty is a joy forever. John Keats, Endymion
If the path be beautiful, let us not ask where it leads. Anatole France
Everything has beauty, but not everyone sees it. Confucius
Beauty is power; a smile is its sword. John Ray
Nature's beauty is a gift that cultivates appreciation and gratitude. Louie Schwartzberg
Beauty without grace is the hook without the bait. Ralph Waldo Emerson
Photo by Ahmed Saffu on Unsplash
There is no real beauty without some slight imperfection. James Salter
The soul that sees beauty may sometimes walk alone. Johann Wolfgang von Goethe
Let the beauty of what you love be what you do. Rumi
You are imperfect, permanently and inevitably flawed. And you are beautiful. Amy Bloom
Beauty is the illumination of your soul. John O'Donohue, Anam Cara
The best part of beauty is that which no picture can express. Francis Bacon
Beauty is eternity gazing at itself in a mirror. Khalil Gibran
Think of all the beauty still left around you and be happy. Anne Frank
Happy girls are the prettiest. Audrey Hepburn
Inner beauty should be the most important part of improving one's self. Priscilla Presley
Beauty surrounds us, but usually we need to be walking in a garden to know it. Rumi
Funny quotes about beauty
The average girl would rather have beauty than brains because she knows the average man can see much better than he can think. Anonymous
All God's children are not beautiful. Most of God's children are, in fact, barely presentable. Frank O'Hara
I'm tired of all this nonsense about beauty being only skin-deep. That's deep enough. What do you want, an adorable pancreas? Jean Kerr
The Lord prefers common-looking people. That is why he made so many of them. Abraham Lincoln
Beauty fades, dumb is forever. Judy Sheindlin
Let us leave pretty women to men with no imagination. Marcel Proust, The Captive & The Fugitive
Beauty is a whore, I like money better. Michael Cunningham, The Hours
Imperfection is beauty, madness is genius and it's better to be absolutely ridiculous than absolutely boring. Marilyn Monroe
Beauty is in the eye of the beer holder. Kinky Friedman
It is better to be beautiful than to be good. But on the other hand, no one is more ready than I am to acknowledge that it is better to be good than to be ugly. Oscar Wilde The Picture of Dorian Gray
Beauty is all very well at first sight; but whoever looks at it when it has been in the house three days? George Bernard Shaw
Do you know the difference between a beautiful woman and a charming one? A beauty is a woman you notice, a charmer is one who notices you. Adlai E. Stevenson
Beauty. The power by which a woman charms a lover and terrifies a husband. Ambrose Bierce
Motivational quotes about beauty
Love yourself. It is important to stay positive because beauty comes from the inside out. Jenn Proske
Dwell on the beauty of life. Watch the stars, and see yourself running with them. Marcus Aurelius, Meditations
Beauty is how you feel inside, and it reflects in your eyes. It is not something physical. Sophia Loren
Life is full of beauty. Notice it. Notice the bumble bee, the small child, and the smiling faces. Smell the rain, and feel the wind. Live your life to the fullest potential, and fight for your dreams. Ashley Smith
Take care of your inner, spiritual beauty. That will reflect in your face. Dolores del Rio
Smiling is definitely one of the best beauty remedies. If you have a good sense of humor and a good approach to life, that's beautiful. Rashida Jones
Beauty is being comfortable and confident in your own skin. Iman
Be sure what you want and be sure about yourself. Fashion is not just beauty, it's about good attitude. You have to believe in yourself and be strong. Adriana Lima
You were given life; it is your duty (and also your entitlement as a human being) to find something beautiful within life, no matter how slight. Elizabeth Gilbert
Beauty has so many forms, and I think the most beautiful thing is confidence and loving yourself. Kiesza
We live in a wonderful world that is full of beauty, charm and adventure. There is no end to the adventures that we can have if only we seek them with our eyes open. Jawaharlal Nehru
But beauty is about finding the right fit, the most natural fit, To be perfect, you have to feel perfect about yourself ― avoid trying to be something you're not. Rick Riordan
My greatest beauty secret is being happy with myself. I don't use special creams or treatments – I'll use a little bit of everything. It's a mistake to think you are what you put on yourself. I believe that a lot of how you look is to do with how you feel about yourself and your life. Happiness is the greatest beauty secret. Tina Turner
Smart quotes about beauty
Beauty is an outward gift, which is seldom despised, except by those to whom it has been refused. Edward Gibbon
Love of beauty is taste. The creation of beauty is art. Ralph Waldo Emerson
By plucking her petals, you do not gather the beauty of the flower. Rabindranath Tagore
Never lose an opportunity of seeing anything beautiful, for beauty is God's handwriting. Ralph Waldo Emerson
There are as many styles of beauty as there are visions of happiness. Stendhal, Love
Photo by albaz alba
People are like stained – glass windows. They sparkle and shine when the sun is out, but when the darkness sets in, their true beauty is revealed only if there is a light from within. Elisabeth Kubler-Ross
My work always tried to unite the true with the beautiful; but when I had to choose one or the other, I usually chose the beautiful. Hermann Wey
It is amazing how complete is the delusion that beauty is goodness. Leo Tolstoy, The Kreutzer Sonata
Beauty is when you can appreciate yourself. When you love yourself, that's when you're most beautiful. Zoe Kravitz
Beauty ought to look a little surprised: it is the emotion that best suits her face. The beauty who does not look surprised, who accepts her position as her due ― she reminds us too much of a prima donna. Edward M. Forster
The ideals which have always shone before me and filled me with joy are goodness, beauty, and truth.
Albert Einstein
I would define, in brief, the poetry of words as the rhythmical creation of Beauty. Edgar Allan Poe
Youth is happy because it has the capacity to see beauty. Anyone who keeps the ability to see beauty never grows old.
Franz Kafka
Remember that the most beautiful things in the world are the most useless; peacocks and lilies, for instance. John Ruskin
The beauty of a living thing is not the atoms that go into it, but the way those atoms are put together. Carl Sagan, Cosmos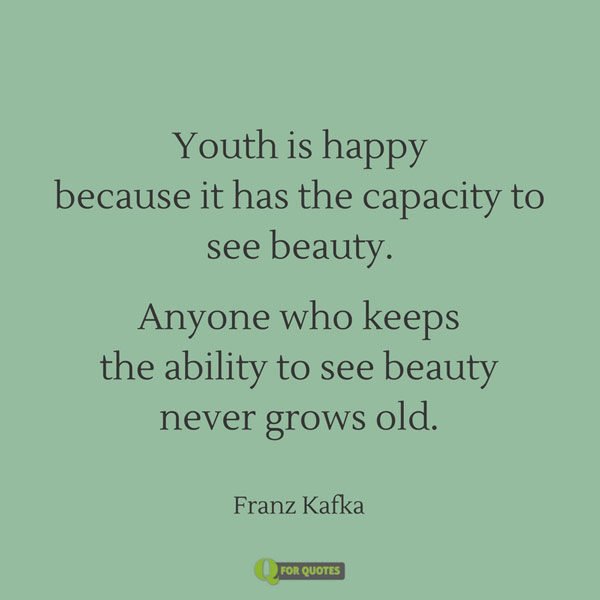 Although beauty may be in the eye of the beholder, the feeling of being beautiful exists solely in the mind of the beheld. Martha Beck
Beauty is no quality in things themselves: It exists merely in the mind which contemplates them; and each mind perceives a different beauty. David Hume, Of the Standard of Taste and Other Essays
Some beautiful paths can't be discovered without getting lost. Erol Ozan
Find beauty not only in the thing itself but in the pattern of the shadows, the light and dark which that thing provides. Junichiro Tanizaki
Romantic quotes about beauty
Do I love you because you're beautiful, or are you beautiful because I love you? Richard Rodgers, Rodgers & Hammerstein's Cinderella
The first stab of love is like a sunset, a blaze of color ― oranges, pearly pinks, vibrant purples… Anna Godbersen, The Luxe
The beauty of a woman must be seen from in her eyes, because that is the doorway to her heart, the place where love resides. Audrey Hepburn
When virtue and modesty enlighten her charms, the lustre of a beautiful woman is brighter than the stars of heaven, and the influence of her power it is in vain to resist. Akhenaton
The voice of beauty speaks softly; it creeps only into the most fully awakened souls. Friedrich Nietzsche
She made broken look beautiful and strong look invincible.
She walked with the Universe on her shoulders and made it look like a pair of wings.
Ariana Dancu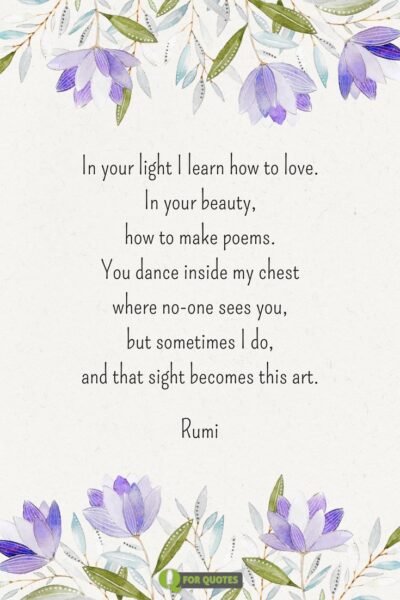 In your light I learn how to love. In your beauty, how to make poems. You dance inside my chest where no-one sees you, but sometimes I do, and that sight becomes this art. Rumi.
The beauty of a woman is not in a facial mode but the true beauty in a woman is reflected in her soul. It is the caring that she lovingly gives the passion that she shows. The beauty of a woman grows with the passing years. Audrey Hepburn
Long quotes about beauty
The most beautiful people we have known are those who have known defeat, known suffering, known struggle, known loss, and have found their way out of the depths. These persons have an appreciation, a sensitivity, and an understanding of life that fills them with compassion, gentleness, and a deep loving concern. Beautiful people do not just happen. Elisabeth Kübler-Ross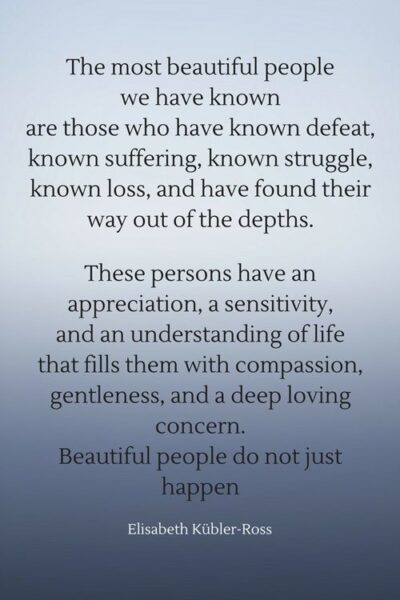 Consider a tree for a moment. As beautiful as trees are to look at, we don't see what goes on underground – as they grow roots. Trees must develop deep roots in order to grow strong and produce their beauty. But we don't see the roots. We just see and enjoy the beauty. In much the same way, what goes on inside of us is like the roots of a tree. Joyce Meyer
The more often we see the things around us – even the beautiful and wonderful things – the more they become invisible to us. That is why we often take for granted the beauty of this world: the flowers, the trees, the birds, the clouds – even those we love. Because we see things so often, we see them less and less. Joseph B. Wirthlin
I need to see my own beauty and to continue to be reminded that I am enough, that I am worthy of love without effort, that I am beautiful, that the texture of my hair and that the shape of my curves, the size of my lips, the color of my skin, and the feelings that I have are all worthy and okay. Tracee Ellis Ross
The human soul is hungry for beauty; we seek it everywhere – in landscape, music, art, clothes, furniture, gardening, companionship, love, religion, and in ourselves. No one would desire not to be beautiful. When we experience the beautiful, there is a sense of homecoming. John O'Donohue
Sometimes it's like people are a million times more beautiful to you in your mind. It's like you see them through a special lens — but maybe if it's how you see them,that's how they really are. It's like the whole tree falling in the forest thing. Jenny Han, The Summer I Turned Pretty
Poems about beauty
Beauty is truth's smile
when she beholds her own face in
a perfect mirror.
Rabindranath Tagore
For beauty is nothing but the beginning of terror
which we are barely able to endure, and it amazes us so,
because it serenely disdains to destroy us.
Every angel is terrible.
Rainer Maria Rilke, Duino Elegies
A thing of beauty is a joy for ever:
its loveliness increases; it will never
pass into nothingness; but still will keep
a bower quiet for us, and a sleep
full of sweet dreams, and health, and quiet breathing.
John Keats
The night is beautiful,
So the faces of my people.
The stars are beautiful,
So the eyes of my people.
Beautiful, also, is the sun.
Beautiful, also, are the souls of my people
Langston Hughes
Never forget:
we walk on hell,
gazing at flowers.
Kobayashi Issa
You may also like:
100 Inspirational Quotes to Help You Take the Next Step
99 Fashion Quotes by Icons and Trendsetters
Rumi Quotes to Help You Enjoy Life