59 Quotes About Life Through or After the Storm
Feel like you just want to hide out and wait for that storm to pass? Well, sometimes so do we. Other times there is just no other way but to go at it full force. Either way that powerful energy can drain you emotionally and physically – but never throw in the towel! The process of learning your strengths and merits will be to your advantage and when the clouds give way to a blue sky, you will enjoy the calm that follows.
Everyone's life has tranquil sails and rough seas and that doesn't exclude famous celebrities. They too try their best to stay strong and keep their heads above water as we all do. And they too see that the pros are evident to everyone in the end as we stand tall. Read on and see what renowned motivational speakers, writers, pastors and more have expressed on how to weather a storm. These quotes will inspire you, friends and loved ones to overcome, learn and be stronger. Never forget the rainbow is always there, give it some time to shine through.

Short Storm Quotes that Double for Great Captions
Don't wait for the storms of your life to pass. Learn to dance in the rain. Steve Rizzo
Life isn't about waiting for the storm to pass…It's about learning to dance in the rain. Vivian Greene
There is peace even in the storm. Vincent van Gogh, The Letters of Vincent van Gogh
Sometimes the greatest storms bring out the greatest beauty…Life can be a storm, but your hope is a rainbow and your friends and family are the gold. Steve Maraboli
Then the storm broke, and the dragons danced. George R.R. Martin, Fire & Blood
Thunderstorms are as much our friends as the sunshine. Criss Jami
He calmed the storm to a whisper and stilled the waves. The Bible, Psalm 107:29
The storm is an artist; the rainbow is its masterpiece. Matshona Dhliwayo
Every storm runs out of rain. Maya Angelou
His world looked like a storm. I was going to be its center. Kiera Cass, Happily Ever After
Remember to play after every storm. Mattie Stepanek
Storms draw something out of us that calm seas don't. Bill Hybels
Gonna be a real frog-strangling turd-floater. Charles Martin
The rainbow is always inside the storm. Matshona Dhliwayo
Joy weathers any storm: Happiness rides the waves. Todd Stocker
The wind doesn't scratch at doors… or whine to be let in. Stephen King
The storm hits the lonely tree more strongly! Mehmet Murat ildan
The more violent the storm, the quicker it passes. Paulo Coelho
The storms come and go, the waves crash overhead, the big fish eat the little fish, and I keep on paddling. George R. R. Martin, A Clash of Kings

With inner strength, the soul can be still in the storm. Lailah Gifty Akita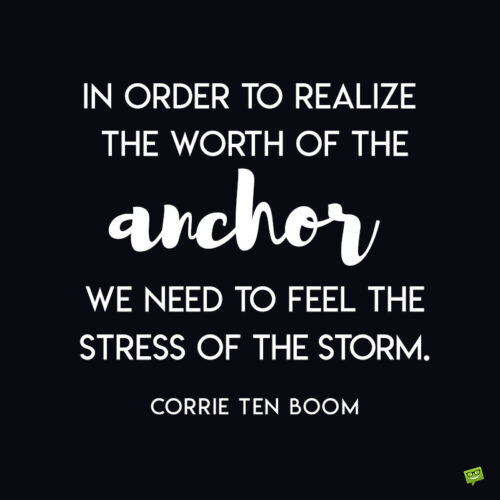 One friend in a storm is worth more than a thousand friends in the sunshine. Matshona Dhliwayo
There is always a storm. There is always rain. Some experience it. Some live through it. And others are made from it. Shannon L. Alder
You can be in the storm, but don't let the storm get in you. Joel Osteen
There are easy ways to bring back summer in the snowstorm. André Aciman, Call Me by Your Name
I don't just wish you rain, Beloved – I wish you the beauty of storms. John Geddes
There are some things you learn best in calm, and some in storm. Willa Cather
After The Storm Quotes
Birds sing after a storm. Why shouldn't we? Rose Fitzgerald Kennedy
When you come out of the storm, you won't be the same person who walked in. That's what this storm's all about. Haruki Murakami, Kafka on the Shore
When the storm rips you to pieces, you get to decide how to put yourself back together again. Bryant H. McGill
One thing you can always count on is that after a dark storm, the sun always comes out. Greg Dutilly
Invite people into your peace rather than joining them in their storm. Carol 'CC' Miller
Inspirational Quotes About the Storms Of Life
A tree with strong roots can withstand the most violent storm, but the tree can't grow roots just as the storm appears on the horizon. 14th Dalai Lama, The Art of Happiness
No one's life is a smooth sail; we all come into stormy weather. But it's this adversity – and more specifically our resilience – that makes us strong and successful. Tony Robbins
The fishermen know that the sea is dangerous and the storm terrible, but they have never found these dangers sufficient reason for remaining ashore. Vincent Van Gogh
Clouds, leaves, soil, and wind all offer themselves as signals of changes in the weather. However, not all the storms of life can be predicted. David Petersen
I want what I'm afraid of and I'm afraid of what I want so that I'm like a storm inside that can't break loose! Tennessee Williams
God promises to make something good out of the storms that bring devastation to your life. The Bible, Romans 8:28
Let the storm into you. Hold it inside. See yourself as a force of nature, vast enough to defeat a god, and carry that image for all of your days. Samantha Shannon, The Bone Season
If patience is worth anything, it must endure to the end of time. And a living faith will last in the midst of the blackest storm. Mahatma Gandhi
Peace is the center of the atom, the core of quiet within the storm. It is not a cessation . . . Madeline L'engle
It is only in sorrow bad weather masters us; in joy we face the storm and defy it. Amelia Barr
The greater the difficulty, the more glory in surmounting it. Skillful pilots gain their reputation from storms and tempests. Epictetus
When the storm has passed, put your energy into rebuilding your life, don't waste time looking back. Leon Brown
Poems About Storms
A storm came chasing the sky away. And virgin sands
Drank all the water of the evening woods,
God's wind blew icicles into the ponds;
As I wept I saw gold,- and could not drink.
Arthur Rimbaud, A Season in Hell and The Drunken Boat
I
think that the
world should be full of cats and full of rain, that's all, just
cats and
rain, rain and cats, very nice, good
night.
Charles Bukowski, Betting on the Muse: Poems and Stories
a storm that walked on legs of lightning,
dragging its shaggy belly over the fields.
Ted Kooser
My past is both a home and a storm;
a home that's worth going back to and
a storm that I should run away from.
Sai Pradeep
A storm is brewing
It's raining ice
But the robins are singing
Their April song
Sabine Shah
His voice was deep,
like a storm coming,
but gentle,
like the rain ending.
Katherine Applegate
Quotes About Storms As Metaphors for Difficult Situations
A great storm is like a sunny day to a person of great faith. A gentle wind is like a great storm to a person of great fear. Matshona Dhliwayo
She imagined she could taste the storm in him, the battering winds of desperation and frustration that met her own, blow for blow. Alexandra Bracken, Passenger
In order to realize the worth of the anchor we need to feel the stress of the storm. Corrie Ten Boom
When you are in the middle of a storm cloud it's hard to think outside of it, but the only way out of the storm is to ride through it and things will be a lot clearer on the other side. Jodi Ann Bickley
A dove struggling in a storm grows stronger than an eagle soaring in the sunshine. Matshona Dhliwayo
Be patient. Like storms, the challenges will pass. Know too, that like the sun, your true soul self is constantly radiating. John Morton
Yet unbeknownst to all but a few, storm clouds were gathering on the horizon, and faintly in the distance wise men could hear a rumble of thunder. George R.R. Martin, Fire & Blood
Overhead, the wild huntsman of the storm passed continuously in one blare of mingled noises; screaming wind, straining timber, lashing rope's end, pounding block and bursting sea contributed; and I could have thought there was at times another, a more piercing, a more human note, that dominated all, like the wailing of an angel; I could have thought I knew the angel's name, and that his wings were black. Robert Louis Stevenson, The Wrecker
Besides, the storm which rages in her breast was increasing in its violence, and she would have burst her prison walls if her body could have enjoyed, for a single instant, the same proportions as her soul. Alexandre Dumas, The Three Musketeers
You May Also Like:
Feel It, Don't Just Get Wet | 120 Rain Quotes
The Sky's Fleeting Fantasy | 120 Cloud Quotes to Make You Dream
141 Rainbow Quotes About Joy and Positivity