A Selfie Can't Hurt | How to Caption your Best Vaccination Pic
When the pandemic of the century hits the entire planet, you have to let science do the dirty job. Doubts and fears aside, getting a vaccine shot against a virus is becoming absolutely necessary for most. Let's help doctors, researchers and medical staff everywhere.
Will the moment pass undocumented, though? Well, not on this Earth! Many of us will have our photos taken by others or simply stretch our non-injected arm to take our vaccination selfie. Right after the shot, what do you say? We're here to help.
Funny Vaccination Captions for your Instagram Posts
Face the facts with an urge to smile.
Pinch me, I'm not sleeping.
I'd like to thank my vaccinator.
Not showing my biceps, the hospital staff made me.
This syringe was made for you and me.
I'll have this to go, said no one.
Let's do this, we can.
Vaccine Queen.
Excuse me, I ordered mine medium rare.
Move your antibody!
No clue where this will lead me, so a typical day in my life.
I shot the sheriff, but the deputy didn't get vaccinated.
That's exactly what I had imagined for this day when I bought this year's Moleskine year planner. [rolling eyes emoji]
Not to sound like an anti-vaxxer, but yikes! #didnthurt
There was no delivery service.
Check your screen, I had the vaccine.
What took you so long?
Nothing mean, extra clean. #vaccine
Just my morning dose.
Don't try this at home. #asif
Don't make a scene, get your vaccine.
They give you a free transatlantic flight voucher with that.
I was lured, it was my Netflix night.
They told me no filters or the vaccine won't work.
Vaccination Selfie Captions for Instagram
Whether you're the laid-back activist or the concerned hypochondriac, you have to speak out!
Where there's a will, there's a way to get your shot.
If I have something in my teeth, it's because they give me no time to brush my teeth.
They told me I had just one shot. I thought the vaccine, not the pic.
"Hallelujah!" and other screams of relief.
Gimme those antibodies, science!
A selfie can't hurt, they say.
Botox was my initial thought when they said "injection".
Stating the obvious: I've had it!
OMG, it was about FREAKIN' time.
I waited, and waited, and waited… Wait, was that all?
Get into the vaccine machine!
Could I be wiser? I had my Pfizer.
I asked the girl her phone number and she shot me.
Side effects of pure relief.
The safest shot they can give you.
Side effects may include second thoughts about posting this.
Let me explain, I don't normally do that.
Asked for something herbal, got the usual Moderna.
A single shot of Johnson, the other Johnson will arrive later.
This came free with a frozen 12-month quarantine.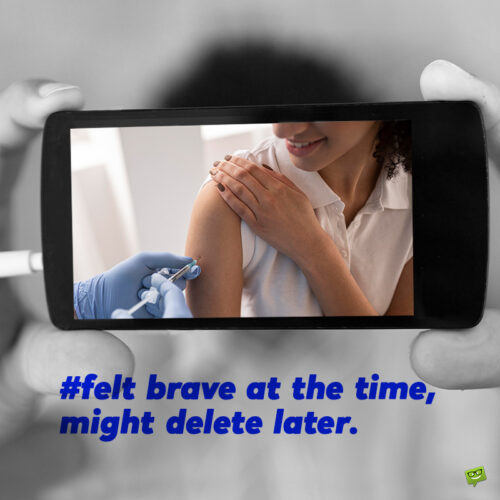 Vaccination Pic Caption
When you experience getting shot twice at the same time.

The moment I got (the) shot.
Hey people, let's go for that herd immunity.
Who knew 2021 would be a year to get shot?
Turbocharged direct injection.
Utterly excited.
This came later than the James Bond sequel!
Can you see me next to the anti-COVID hypodermic syringe?
Everything you wanted to know about vaccination but didn't dare to ask.
Finally, after all that time waiting, last year, this year, these past months, today.
Zero COVID tests, one COVID shot, two COVID years.
Someone took a shot of me while someone was giving me the shot.
It was a question of trust after all.
Felt brave at the time, might delete later.
They told me they wanted to inject their idea of a good time into me, said yes anyway.
Well, that was it, have a great life.
You may also like:
111 Amazing Selfie Captions for Pics of Yourself
75 Smile Captions for Those Moments of Bliss
99 Instagram Captions for Photos with Friends or the Squad
50 New York Captions for Photos of a Unique City