Golden Hour Photo Op! | 45 Sunset Captions
Few things in life compare to the awe of watching the sun going to bed for the night. These comprise many of our most special and enlightening moments. Of course, since no two sunsets are ever the same, it's natural to want to document the outstanding ones with a photo for Instagram, Facebook, or other social media pages. What do you say underneath them, though?
We aren't all wordsmiths to give our photos that perfect finishing touch. That's why we have collected some inspirational, funny, and short wordings you can use to light up your brilliant sunset pics.
Inspiring Sunset Captions For Instagram
Use one of these captions to add inspirational text to a moving sunset moment.
Proof that even the ugliest of days can end beautifully.
Want all the shadows looming over your day to fall behind you? Just turn your face to the sun, let it set on you, and snap that Instagram pic for proof.
If you need something to dawn on you, just stay up all night to see what happens after the sun kisses the earth.
A sunset's magic is within its absolute unbiased display. It puts on the same free show no matter if you're alone or taken, rich or poor, successful or struggling.
Life comes with a one-line set of instructions – the sun will disappear and the sun will reappear. What you do with that knowledge will define how you live your life.
If ever you need a reminder to profoundly appreciate the simple things in life, just watch the power of the evening sky as it fades to black.
Measure each moment in the profoundness of sunsets, not in superficial seconds.
Peace is seeing the fading sun and knowing it shall always return with the same splendor as the day before. If only the rest of life had such assurances.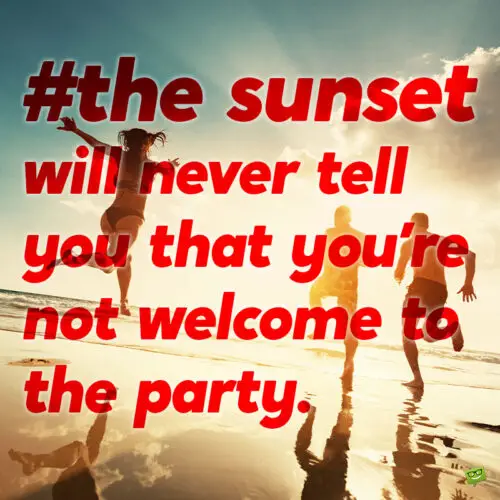 Golden Hour Captions
Just when the light makes its strongest statement.
Is golden hour code for happy hour for your soul?
I ache to be as free as the golden hour sky… all of me on display for the world to see without judgment or question why.
I want to see these moments from every angle possible #sunsettraveler
If you wondered what my favorite color is… it's sunset.
If the sun can conclude each day with such magnificent glory no matter what the daylight hours has brought it, we can, too.
Both metaphorically and literally, allow yourself to fall and rise just as the greatest source of light, and your future will always be bright.
Bathe in the sunset and allow it to cleanse you as it does the sky for night's twilight to sparkle brightly.
Funny Captions For Sunsets
 Try a humorous caption for those funny sunset moments.
Have you ever wanted to lick a sunset to see if it tastes as good as it looks?
Some say watching a setting sun helps you see the light. An amazing show, but, in the end, I'm still in the dark.
Forget Netflix and chill… give me a nifty sunset and a fiery grill.
Photoshop has nothing on what mother nature's painted skies can do for your selfies.
It's all sun and games until someone gets left in the dark.
Irony? Watching a sunset is somehow illuminating.
Sunrise or sunset? Hard to choose when they both have their ups and downs.
Live and love colorfully, they said. Well, how's this for color?
Every sunset brings promise of a new dawn, or headache… all depending on how you use the evening.
The only time I regret a sunset is if I miss seeing it. So, don't bring no fuss to me at dusk.
I don't have meltdowns often, but, when I do, it's usually at sundown, and it's quite explosive.
Mother Nature really goes all out to get your attention when she undresses at the day's end.
If you think looking at all this is a boring waste of time, then we can't be friends.
Live without hesitation, but always have a destination. The chances of catching sunset get dimmer the longer you wait and the more lost you get.
If you're not up for catching sunrises and selfies, then at least be down to capture sunsets and selfies.
I couldn't remember a name from sunup to sundown, then I just called it a day and watched the light show.
Short Sunset Captions
These short and sweet captions let the picture do most of the talking.
Filters need not apply.
Instagram state of mind: Set-down-Sun-down.
Like people, no two sunsets are ever the exact same.
Sun-set-tional
The symphony of the sky is seen, not heard.
If you want to clear your mind of the day, just watch the beauty of how the heavens clears the sky for night.
Mother Nature wins the painting contest every single day.
The sunset will never tell you that you're not welcome to the party.
The one thing that's equally beautiful no matter where, who, or what you are.
Unlike, people and places, I've never met one of these I didn't like.
Just see it.
You can't create it, but you can always watch it.
And, this is how to say goodnight.
If you liked it, Pin it!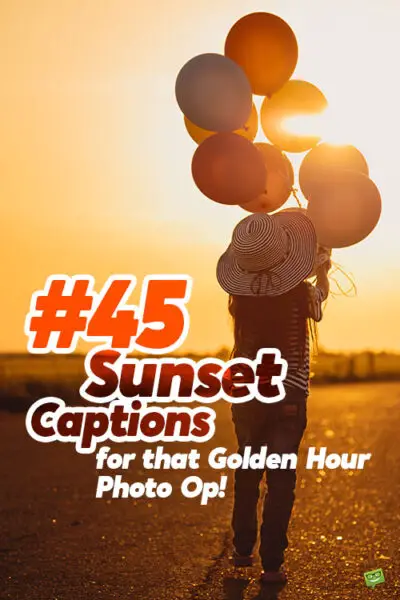 You may also like:
On and Off Instagram | 101 Sunset Quotes
111 Amazing Selfie Captions for Pics of Yourself
On Sea Blue Backgrounds | 77 Beach Captions For Instagram Photos
45+ Quotes and Captions About the Flow of a River