On Sea Blue Backgrounds | 77 Beach Captions For Instagram Photos
Beach moments are truly treasurable. So, if you dig up a few to post to Instagram, your followers will surely think they're gems. Whether you go alone, with your crew, or with the one you love, you'll need a great caption to finish off all the fantastic snapshots you've captured.
Of course, sometimes our writing skills aren't on par with our photography skills. That's why we've collected some beach-themed captions perfect for any occasion and sentiment. Just pick the ones you like and post it alongside your social media images.
Funny Captions For Those Beach Pics
Use one of these humorous captions when you post your beach pics to Instagram, Facebook, and such.
It's a shell of a life, but someone has to shuck it.
I did it for the Instagram pics.
I've been beachnapped; please don't pay the ransom.
Just shell'brating at the seashore.
I'm sorry that I beach you to it.
High tides and good vibes with my favorites tribe.
I'm primed for palm lines and tan lines, not the daily grind.
A beach a day keeps the therapist at bay.
My therapist said there's a great big ocean of possibilities out there, which means I may be here for a very long time trying to find them all.
From this beach chair, it's amazing how clearly I can sea now.
It's not time that heals all wounds – it's salt water. I suddenly have many wounds to attend.
They say sunshine is the best medicine, and I'm suddenly feeling very ill.
Beachside relationship musing at the fact that no matter how many times the water is swept away, it just keeps coming back to kiss the shore.
Beach vacation means adulting gets its own staycay back at home.
I'm really not playing hooky from work. It's terribly hard work to throw a hook in a sea full of fish the size of my desk.
The WiFi may be weak underneath the beach's sky, but bums like me don't care so long as the rum stays strong.
I got 99 problems, but beaching sure ain't on the list.
Why does everything on my bucket list involve buckets of sand from exotic beaches?
The best way to adjust your attitude is a change in latitude.
It was exhausting waking up not actually being on the beachfront of my dreams. So, here I am minus the fuzzy slipper and pajamas.
It may always be 5 o'clock somewhere, but it's always 5 o'clock at any beach.
Beaching = 99% happiness + 1% sunburn squared by sand in unmentionable places.
Cute Beach Captions
Try one of these cute wordings to capture the essence of your beach pics.
The best memories occur in flip flops and tank tops.
When in doubt, just shout "beach time."
Welcome to beachology 101. Shades and sunscreen are optional, but they're highly recommended.
I really wanted a beach body. So, off to the sandy shores I went.
Shady beaches need not apply.
There's a beach for that.
Who knew thalassophile was even a word?
I've decided the key to my happiness is to go to the Keys and not return until I'm a mermaid.
My Instagram doctor prescribed vitamins C and D… so I went to the sea to get plenty of that sunshine vitamin.
The one place I don't feel so tide down.
There's no place like home. Well, unless you want to go beaching.
You got to stand for something or you'll fall for anything. That's why I'm standing on the beach watching the sun fall for me.
Only basic Instagrammers waste wishes on stars when they could be wishing on starfish.
Happier than a seagull spotting a Sunbeam truck.
I'm ready to flip my flops away and bake like a creme brûlée in the salty sun.
What's cuter than a resting beach face?
The best nix for your woes is to sink your toes in a beach somewhere.
The best place to be shore of yourself is by somewhere's shore.
It's past time to come out of my shell. #beachtrip
Forget BRB. How about some BMB ASAP – as in bring me back to the beach now.
Short Beachy Captions
If your beach pics say almost everything for themselves, then use one of these short and sweet captions to complete the total image.
Waves and babes.
Therapy is this.
I was feeling naughty and nautical.
BRB after the sun kisses the blue waters of paradise.
Love at first sight.
Never again said no one.
Always keep a spare beach day under your hat.
The only dashing I do is through sand.
The story: My beach called. I answered.
I'm just sea'zing the day.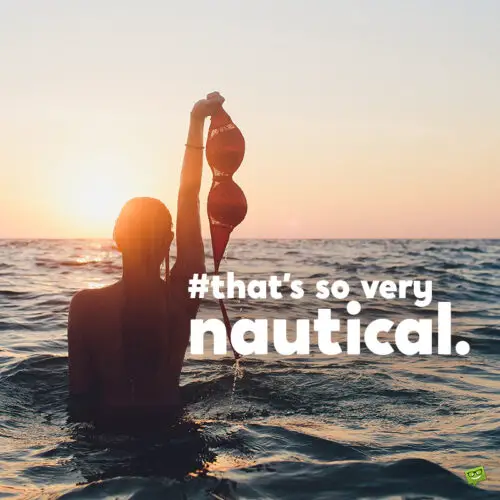 Sun + water = Insta happiness
Dont ask! I'm busy basking by the ocean.
This is what life should look like.
Remain calm. The palms are strong.
I belong here.
That's so very nautical.
Let your imagination do your captioning.
Couple Beach Captions
Use one of these captions to capture your couple beach picture moments.
Romantic beach getaway in progress, and there may have been just a little sand stolen.
Don't worry. Just beach happy with the one you love.
The only one who makes the tide seem weak and the sunset seem dull.
We may never come back.
Life's always a beach with the perfect view and the perfect person to share it.
Life's path has taken us up mountainsides and down landslides. So, I think we deserve some quiet beachside to recover.
It's all about life, love, and liberty to pursue the next beach trip.
Just thought we should take our relationship to the next step and leave some footprints in the sand.
I'm not sure who adores me more – the beautiful beach or my beautiful other half. The only logical solution was to let these beauties meet and fight it out.
The best memories with you are built one sandcastle at a time.
Your sun-kissed nose and sandy toes makes me fall even more head over heels.
Who needs the moon when I love you to the most distant and isolated beach and back.
The vastness of the sea is a strange miracle much like me ever managing to capture such a miraculous beauty as you.
Beach days are much like our relationship… effortless.
I've only experienced love at first sight twice. Once when I met the beach, and once again when I met you.
Here's to the only place that calms my soul and being with the only person who ignites my heart.
At the shore with the only fish in the sea for me.
If you liked it, Pin it!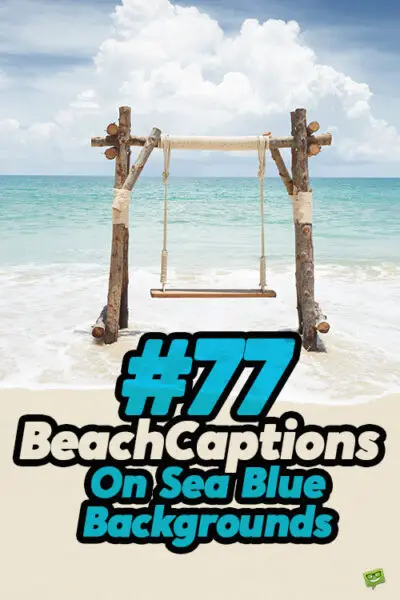 You may also like:
111 Amazing Selfie Captions for Pics of Yourself
99 Instagram Captions for Photos with Friends or the Squad
74 Couple Captions for Photos with your Relationship