45+ Quotes and Captions About the Flow of a River
The great Greek historian Heraclitus said: "No man ever steps in the same river twice, for it's not the same river and he's not the same man." This famous quote captures one big reason why rivers appeal to humans: just like people evolving with time, the fast flow of rivers reminds us how things can and will change constantly in our lives. Besides their natural beauty and the fertility they bring with their waters, rivers are signs of a life in constant transformation and symbols of the fact that moments, whether good or bad, are passing.
These original captions and famous quotes about rivers are yours to use when you want to make a reference to their beauty or caption a pic you just took while being in that amazing natural environment.

River Captions for Instagram Photos

The river is a beautiful place to be, so make sure you caption all of your pictures perfectly for your social media followers by choosing the best one below!
Rivers imitate life. It can be warm or cold, fast or slow, and it never seems to stop.
I'll never have a love like the one I have for the river!
The river of life is one you don't want to ignore.
While I don't need this river to be lazy, it certainly helps!
The river keeps me real.
I've never had a bad day on the river!
The calm waves fill my soul with gratitude and love.
The river imitates life. Sometimes it's calm, sometimes it's angry, but it's always ready to take on the world.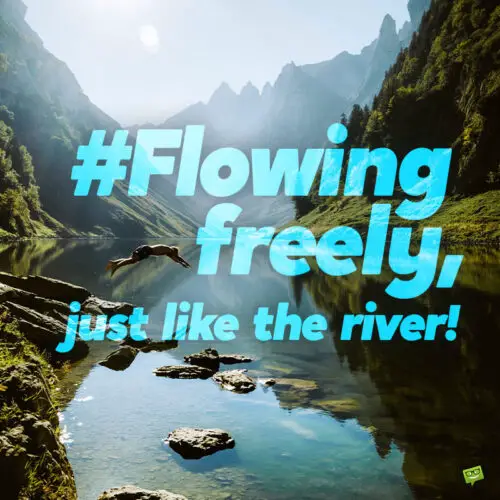 Lazy river days, cruising under the hot sun, take my breath away every time.
Flowing freely, just like the river!
Fresh air, bright sunlight, cool breeze, warm water. It couldn't be any better!
Rollin' on the river makes my day every time!
The river always knows how to wipe my worries away.
Life is better spent on the river.
Beautiful River Quotes For Instagram
A river cuts through rock, not because of its power, but because of its persistence. Jim Watkins
Be like a river. Be open. Flow. Julie Connor
Water is the driving force of all nature. Leonardo da Vinci
Who hears the rippling of rivers will not utterly despair of anything. Henry David Thoreau
No man ever steps in the same river twice, for it's not the same river and he's not the same man. Heraclitus
Thousands have lived without love, not one without water. W. H. Auden
A river has many curves, but it always reaches the ocean. Donald L. Hicks
I would love to live like a river flows, carried by the surprise of its own unfolding. John O'Donohue
A river seems a magic thing. A magic, moving, living part of the very earth itself. Laura Gilpin
The river has great wisdom and whispers its secrets to the hearts of men. Mark Twain
A good river is nature's life work in song. Mark Helprin
Love is the river of life in the world. Henry Ward Beecher
When you do things from your soul, you feel a river moving in you, a joy. Rumi
Love is the water of life, jump into this water. Rumi
A good river is nature's life work in song. Mark Helprin
To put your hands in a river is to feel the chords that bind the earth together. Barry Lopez
Deep and Inspirational River Quotes
The river moves, but it follows a path. When it tires of one journey, it rubs through some rock to forge a new way. Hard work, but that's its nature. Kekla Magoon
May what I do flow from me like a river, no forcing and no holding back, the way it is with children. Rainer Maria Rilke
We must begin thinking like a river if we are to leave a legacy of beauty and life for future generations. David Brower
Eventually, all things merge into one, and a river runs through it. The river was cut by the world's great flood and runs over rocks from the basement of time. On some of the rocks are timeless raindrops. Under the rocks are the words, and some of the words are theirs. I am haunted by waters. Norman Maclean, A River Runs Through it
A river is water is its loveliest form, rivers have life and sound and movement and infinity of variation, rivers are veins of the earth through which the lifeblood returns to the heart. Roderick Haig-Brown
Have you also learned that secret from the river; that there is no such thing as time?" That the river is everywhere at the same time, at the source and at the mouth, at the waterfall, at the ferry, at the current, in the ocean and in the mountains, everywhere and that the present only exists for it, not the shadow of the past nor the shadow of the future. Hermann Hesse, Siddhartha
Many a calm river begins as a turbulent waterfall, yet none hurtles and foams all the way to the sea. Mikhail Lermontov
A dream is like a river ever changing as it flows and a dreamer's just a vessel that must follow where it goes. Garth Brooks
Life Is A River Quotes
A river doesn't just carry water, it carries life. Amit Kalantri
Life is like the river, sometimes it sweeps you gently along and sometimes the rapids come out of nowhere. Emma Smith
Rivers are places that renew our spirit, connect us with our past, and link us directly with the flow and rhythm of the natural world. Ted Turner
He who does not know his way to the sea should take a river for his guide. Blaise Pascal
Life is like a river, if you cannot let go of the past, it will drag you down the stream. Amit Ray
Sometimes, if you stand on the bottom rail of a bridge and lean over to watch the river slipping slowly away beneath you, you will suddenly know everything there is to be known. A.A. Milne, 'Winnie The Pooh'
Beside the river there are two things you never forget, that the moment you look at a river that moment has already passed, and that everything is on its way somewhere else. Niall Williams
A woman in harmony with her spirit is like a river flowing. She goes where she will without pretense and arrives at her destination prepared to be herself and only herself. Maya Angelou
If you like it, Pin it!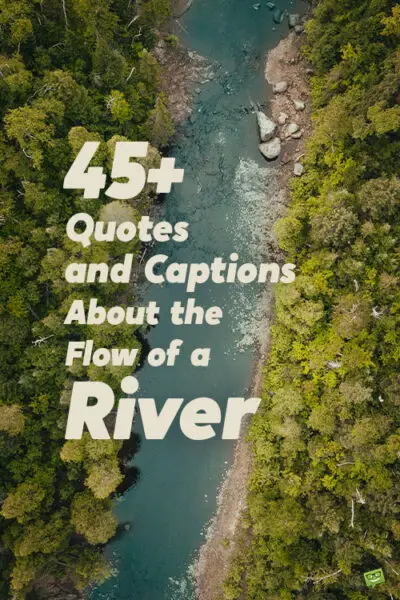 You May Also Like:
65 Hiking Quotes and Captions for Moments That Count
40 Nature Captions for Your Connection With the Environment
Golden Hour Photo Op! | 45 Sunset Captions