31 Waterfall Captions for Your Fresh Instagram Posts
Whether in a remote or established location and massive or small in size, waterfalls are one of nature's most spectacular spectacles. They call onlookers to take pictures and document the awe for others to behold on social media.
It can be difficult to find the right words to match such important photos – but we can help! Look through our collection of cute, selfie, and funny waterfall texts to put underneath your photos, and you're sure to find the perfect splash of caption.
Cute Waterfall Captions
 Use one of these lovely captions to capture the cuteness of the moment.
With this view, who could complain about the company, food, or even weather?!?
Just watering my roots beside the waterfall so that my spirit can blossom.
There's a secret life message in every waterfall's melody – if you stay fluid to change and follow your natural path, then the fall can never hurt you.
TLC lied… you should get out of your comfort zone and chase as many waterfalls as possible.
Getting lost in the gentle mist of nature is sometimes the best way to find yourself when life rains a storm.
Whoever said nature was boring clearly never made it to see the wondrous waterfalls.
Advice from Mr. Waterfall: Flow with your stream, not against it; roar with excitement at what you are, not what others say you should be; let your worries shatter along the fall instead of preventing you from making the journey; and call it a day by making the biggest splash possible at the end.
Music to my ears. Direction for my vision. Hydration for my soul.
Nature telling me that success sometimes falls forward and hits a lot of rocks along the path.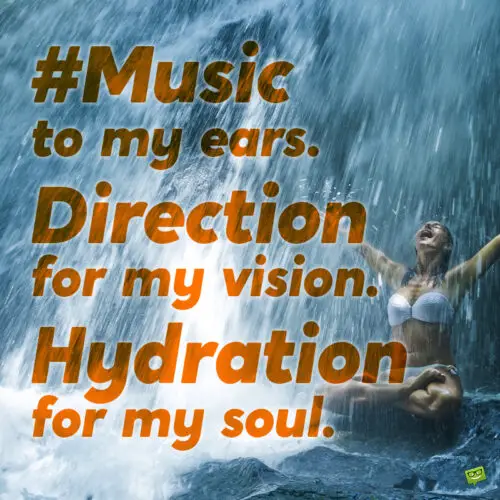 Waterfall Selfie Captions For Instagram
 Try one of these texts underneath your Instagram selfies near a waterfall.
I asked for a majestic adventure destination, and I was led to the beauty, grace, and strength of what's behind me.
Go with the flow to your very own happy place… and then take a selfie.
Fashion trends come and go, but wearing a waterfall behind you is timeless.
It's not an Instagram page until you have at least one cool waterfall selfie, right?
It's unfair to take a selfie beside something that makes you look so plain and weak, but I just couldn't resist. At least I look small, though!
Of all the selfie opportunities I've had, this is my favorite.
I don't mean to drown my Instagram page with selfies, but if you saw this… wouldn't you?
Waterfall = selfie time. That simple.
I couldn't be selfish and keep all this to myself.
When you witness a masterpiece, you want to paint yourself in its portrait.
Two reasons to visit waterfalls. You'll enjoy it, and everyone suddenly wants to see your selfie pics.
 Funny Captions With Waterfalls
 A humorous waterfall moment deserves a humorous caption to explain it.
Look, ma, I finally found a me-sized waterslide!
Some of us are just too cool for the pool and too stolen by the falls for the ocean to get chosen.
After this, it's just all downhill from here. #ruinedbythefall
I'd be all mainstream and caption this moment, but I'd rather just show you the literal livestream and let it speak for itself.
I never understood these Niagara Falls barrel riders until I was misted by a waterfall's seductive invitation. I declined, but it was a mouthwatering offer.
I'd cry over the beauty, but I'm afraid I'd drown.
Waterfalls are the perfect diet for amazing selfies – they always make you look tiny in comparison.
I'd like to say something profound about myself being here, but that would be like a fly saying "look at me" while standing by a dinosaur.
I've fallen, and I may never get up.
If you fall for this, then you'll never settle for any other view.
If you've ever been called 'nature in the raw,' then just direct them to the nearest waterfall. They'll suddenly see you as the most tame, mannered, and docile thing ever.
You may also like:
Golden Hour Photo Op! | 45 Sunset Captions
On Sea Blue Backgrounds | 77 Beach Captions For Instagram Photos
111 Amazing Selfie Captions for Pics of Yourself
55+ Colorful Flower Captions to Make Your Instagram Posts Bloom