40 Pregnancy Announcement Captions for Photos of Babies Due for Arrival
There is nothing more exciting than learning that you're carrying a precious bundle of joy. Most expectant mothers now begin sharing the good news via social media in order to reach all of their family members and friends. From ultrasound shots to belly pics to countdowns, sharing this wonderful news is always an exciting time. Of course, each picture we post deserves its own unique caption, and that is when we are happy to help you!
Check out the following captions to pick from when you're happily expecting. This is a milestone you will want to remember for the rest of your life!
Share your amazing news with one of the following captions for your pics on Instagram!
Sharing the good news with my family, friends, and followers. Our baby is due [due date]. We're ecstatic to share this joy with all of you!
Pleased to announce the upcoming arrival of a brand-new human!
We're growing as a family!
Introducing the newest family member! Arrival date to be determined!
It's beginning to look a lot like a baby!
Clear your calendar on (due date). It's baby day!
We've decided that we needed a new human in the house!
All we need is love. And a baby. Luckily, we have both!
Our adventure begins on (due date) and ends…never. Congrats to us!
Happiness is waking up knowing you're carrying a precious life inside of you.
Guess a color- pink or blue! Either way, we're happy and excited to announce our newest arrival!
Make your friends and family laugh when it's time to announce your big news with one of the following captions!
Pick a color, pink or blue? We have some amazing news for you!
Being pregnant means throwing your diet out the window. Hurray to nine months of cheat days!
Just when you thought one of me was bad enough! Introducing the new mini-me!
Something other than coffee is brewing up this morning. It just takes a little longer to percolate!
I love that I can eat for two and not feel at all guilty about it!
Who really needed sleep, anyway?
First, he made me feel butterflies. Now, I'm feeling the kicking of teeny-tiny feet!
Who wants to baby-proof the entire house with me?
The more, the merrier, right?
I'm giving up sleep for the next few years, but it will be well worth it!
Don't bother me. I'm busy being pregnant.
They told me there would be glowing…
When life gives you lemons, chuck them and buy a crib instead!
Guess who's pregnant? Guess who is also dealing with mood swings, morning sickness, and swollen ankles already?
Don't worry, it's not too many cookies. I'm pregnant. You don't have to gossip behind my back anymore!
I hope no one minds a lot of pictures because you're about to see a ton from me while I'm pregnant!
Captions to announce pregnancy on Facebook
Send a Facebook blast to all of your followers by pairing your pictures with one of these captions!
No crazy reveal here. Just the good news that we are expecting our first bundle of joy!
(Sibling) is happy to announce that they are getting ready to be the best big (sister/brother) ever!
We're happy to announce the making of a brand-new human! We couldn't be happier!
Anyone have a list of baby names they would like to share with us? We're taking any and all suggestions!
Guess what today is? It's the day you found out that yours truly is expecting a baby in the future!
We couldn't be happier to announce this amazing news- we're going to have a baby!
After many months of trying, we're happy to say our hard work has paid off. Expect our newest family member to pop out on (due date)!
I'd like to make an important announcement! I'm thrilled to announce that I'm not just gaining weight. I'm pregnant!
We're here to announce the arrival of a brand-new human. It may have taken longer than we'd hoped, but we have never been happier!
My growing belly is proof that miracles DO happen. Our miracle is the biggest blessing we will ever have!
We can hardly wait to meet the newest addition to our family. Set your sights on (due date)!
Yes, the rumors are true. I'm thrilled to announce I'm expecting! Pictures and more pictures to follow!
It took a long time, but we are so happy to announce that we are welcoming a new baby into the family!
If you like it, Pin it!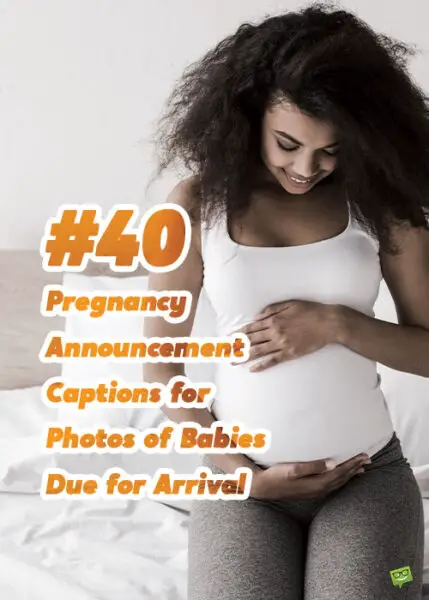 You may also like:

60 Baby Captions for Your Cute Pics
Congratulations on a Pregnancy | Messages to Someone Expecting a Baby
Welcoming New Arrivals | 50 Newborn Baby Wishes
44 Cute & Funny Captions for Family Photos on Instagram