59 Dog Captions for the Furriest Levels of Cuteness
If you own a dog, chances are you've snapped a picture of your pooch at least once or twice. Maybe you've taken so many shots of your pet your family wonders why the number of photographs you have of Max exceeds the number of photos you have of them.
If this is the case, it's time to show everyone what the fuss is all about by posting those pictures of your furry baby on Instagram and other social media. The time has come for you to share those cute snapshots of your beloved dog. Publish those pictures and put captions like these below them to make your posts more entertaining.
Cute and Short Dog Captions

If the picture of your dog is simply too cute for words, let one of these brief captions express that level of cuteness:
Happiness is a puppy!
Ready to play.
Rub my belly, please.
Let's play ball.
Adorable doggie!
You kiss. I lick.
High five!
Wet nose, warm heart!
I jump for joy!
Puppy paradise!
Furry good times!
Tail-wagging time!
Jump? How High?
Leaping for love!
Love my human mommy!
This bark's for you!
Happy belly-rub face.
Applause for paws, please!
Funny Dog Captions
Since some dog photos are hilarious, use these funny dog captions to increase their potential to make viewers chuckle when they see them:
I bark for treats and whenever I see the mailman.
Don't feel flattered if I bark when I see you. I bark when I see the cat, too, and I don't like her.
If you see me lying on my back with all four paws in the air, don't panic. All it means is I want you to rub my belly.
Please sit on my couch for doggie licks and dog hair. My pooch has lots to share.
What's a dog to do when the cat steals its bed?
Why eat dog food when you can have bacon?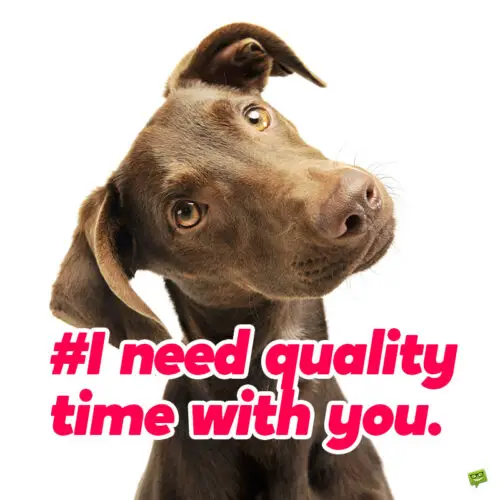 Going to the vet is worse than seeing your food bowl empty.
Barking and tilting my head to one side always gets me what I want. You should try it.
Do you think my human is a crazy dog lady? Shh!
Hey! Leave some table scraps for me, your dog.
A dog's purpose is to get you to love it more than humans. How am I doing?
Don't be upset. If you tried rolling in the mud, you'd understand why I do it.
Dog's Point of View Captions
You may think a dog has a different point of view than you do. Post these captions underneath photos you feel express how your pooch thinks:
"Leaving your dog alone for hours at a time makes your pet sad."
"It's not that I don't love you. I just get excited when I see my doggie friends."
"You think the cat is adorable, but I don't. And I don't like it when that fluffy demon sleeps in my bed."
"I feel embarrassed when you dress me up. I'd rather be naked."
"Most dogs like to play in the snow. I know this one does."
When a dog's tail wags it's like a human smiling."
"I need quality time with you."
"Thank you for giving me a home. I will never leave your side."
"So glad I'm home from the doggie salon!"
"My happy place is the dog park."
"Being outdoors makes me very happy!"
Christmas Dog Captions
The pictures that you post of your dog on social media when it's Christmas helps celebrate this holiday. Be sure to use these Christmas dog captions to make your posts special:
Christmas is always better when it's celebrated with your dog.
A pup in a Santa hat looks so darn cute!
My doggie got new snow boots for Christmas!
Sacked out under the Christmas tree.
Having my dog to cuddle with on Christmas is the best present.
Out of all the gifts, I consider my dog the best.
If it were up to my dog, my Christmas tree would be decorated with bones.
Don't worry. There's a doggie gift for you under the tree.
Christmas wishes from the dog!
The holidays wouldn't be joyful without my dog.
My dog seemed to smile when he saw the Christmas tree, and that concerns me.
Santa will only get to eat those cookies if my dog doesn't eat them first.
Here I am again, wearing this ugly Christmas sweater. Ugh!
Walking with my dog in the snow on Christmas day. What could be better?
Posing for a picture with the cat on Christmas isn't all that bad.
I was really hoping I wasn't going to have to wear these antlers again. Bah humbug!
You may also like:
80+ Dog Adoption and Rescue Dog Quotes You Can Use as Photo Captions Too
111 Amazing Selfie Captions for Pics of Yourself
99 Instagram Captions for Photos with Friends or the Squad
165 Quotes About Dogs And The People Who Love Them