Betrayal Status and Famous Betrayal Quotes
One of the worst feelings in the world is realizing that you've been betrayed by someone who you put all your trust in.
If you unfortunately happen to find yourself in this very unpalatable situation, we have here a bunch of betrayal quotes (both original and famous) that you can use in updating your status on various social networking platforms to let someone who has betrayed you know how disappointed you are in them for being so disloyal to you.
---
Original Betrayal Status Updates
I would rather travel through this life having foes who slap me right in my face than fake friends who wait until I turn around and then proceed to stab me in the back.
It's funny how some of the worst forms of betrayals come from the ones closest to us.
It's bad enough when you are betrayed by an enemy, but it is infinite times more painful when this betrayal is perpetrated by a loved one.
Some friends will betray you faster than some strangers will. That's one of the saddest facts of life we all have to live with.
The destructive force of your betrayal has not only broken my heart into a thousand pieces but it has also left my entire life in ruins. Thank you.
Since time immemorial, fake friends have proven to be more dangerous than enemies. Unfortunately, the general trend still remains the same today.
All wounds have the ability to heal. The only exception is the wound created by the betrayal of a loved one.
It's sad how our loved ones tend to stab us more often in the back than our enemies.
Hell is being betrayed by a trusted friend.
Your gut-wrenching betrayal was a blessing in disguise since it taught me one of the most valuable lessons of life – not everyone can be trusted.
The hot, sharp knife of betrayal that you brutally stuck in my back blessed me with the right tool to sever the cord that tied us together and free myself from a dangerous serpent like you forever.
You were supposed to have my back, not stab it. I hope you know that whatever goes around always has a way of coming around.
There are certain people who pretend they love you, but what they really love is what they can get from you. Once they can no longer get what they want from you, they suddenly become disloyal to you.
The worst kind of emotional pain in the universe is the one caused by the betrayal of a trusted and dear one.
You should beware of the sad fact that some friends you eat, laugh and play with are more dangerous to your health than serpents.
No pain can ever be compared to the pain of being betrayed by someone so special to your heart.
You were supposed to be that sweet angel who brings me paradise, but you ended up being a serpent who wasted no time in pushing a knife into my back.
In my eyes, you are nothing short of a green poisonous snake lurking in the green grass that covers the path I walk.
You have not known real sadness until you've been thoroughly betrayed by someone you love and treasure.
Your betrayal is so shocking it has left me incapable of speech. How could you do this?
You stabbed me right in the back and left me for dead, but I survived and turned your betrayal into a blessing by becoming a stronger and wiser person.
Your exceptionally brutal betrayal wasted no time in turning my sunny world into a terribly dark one. I never knew I could feel this amount of pain until you sold me out.
By all accounts, your parents named you wrongly. The name on your birth certificate should have been "Brutus" or "Judas Iscariot".
And the award for the "World's Greatest Backstabber" goes to you! I hope you enjoy your award.
Judas sold out Jesus Christ for 30 pieces of silver. How much did you sell me out for?
A true friend would rather die than betray you.
My mind is well aware of the fact that you have betrayed me, but unfortunately my dumb heart doesn't want to recognize this fact.
Over the years, numerous studies have shown that a disloyal friend who smiles at you is more dangerous than a foe who savagely attacks you.
Famous Betrayal Quotes
Betrayal is common for men with no conscience. Toba Beta
Betrayal is the only truth that sticks. Arthur Miller
I could never hurt him enough to make his betrayal stop hurting. And it hurts, in every part of my body. Veronica Roth
You are going to break your promise. I understand. And I hold my hands over the ears of my heart, so that I will not hate you. Catherynne M. Valente
If you're betrayed, release disappointment at once. By that way, the bitterness has no time to take root. Toba Beta
Et tu, Brute? William Shakespeare
If you spend your time hoping someone will suffer the consequences for what they did to your heart, then you're allowing them to hurt you a second time in your mind." ― Shannon L. Alder
Yet each man kills the thing he loves
By each let this be heard
Some do it with a bitter look
Some with a flattering word
The coward does it with a kiss
The brave man with a sword
Oscar Wilde
To me, the thing that is worse than death is betrayal. You see, I could conceive death, but I could not conceive betrayal. Malcolm X
It is more shameful to distrust our friends than to be deceived by them. Confucius
Shattered legs may heal in time, but some betrayals fester and poison the soul. George R.R. Martin
I would rather my enemy's sword pierce my heart then my friend's dagger stab me in the back. Michele Bardsley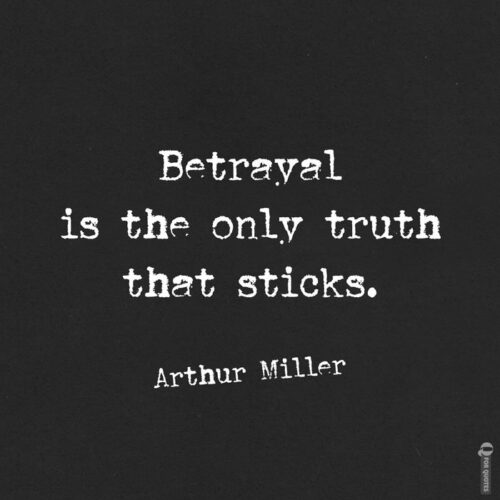 Stab the body and it heals, but injure the heart and the wound lasts a lifetime. Mineko Iwasaki
It is easier to forgive an enemy than to forgive a friend. William Blake
Everyone suffers at least one bad betrayal in their lifetime. It's what unites us. The trick is not to let it destroy your trust in others when that happens. Don't let them take that from you. Sherrilyn Kenyon
We can depend on nobody in this world, and sometimes we even betray ourselves. Dean Cavanagh
F**k friends. I need more enemies. At least they admit they don't like you. Wiz Khalifa
Betrayal is never easy to handle and there is no right way to accept it. Christine Feehan
Trust, once lost, could not be easily found. Not in a year, perhaps not even in a lifetime. J.E.B. Spredemann
Some people are willing to betray years of friendship just to get a little bit of the spotlight. Lauren Conrad
Confession is not betrayal. What you say or do doesn't matter; only feelings matter. If they could make me stop loving you-that would be the real betrayal. George Orwell
When you betray somebody else, you also betray yourself. Isaac Bashevis Singer
It's hard to tell who has your back, from who has it long enough just to stab you in it…. Nicole Richie
Only those you trust can betray you. Terry Goodkind
He who trusts the world, the world betrays him. Hazrat Ali Ibn Abu-Talib A.S
---
You may also like:
102 Famous Quotes About Imagination
Love Quotes to Express your Heart's Feelings
Motivational Good Morning Quotes to Get Through Your Work Day