50 Winter Quotes and Sayings about Snow
You know it's winter when you take that extra coat, when you start looking for your favourite scarf and when a warm cup of coffee soothes you inside! Then, there's snow: it brightens everybody up, it turns a dark, sometimes decadent setting into a white, playful landscape, and it calls you to go outside and admire this redeeming phenomenon; snow covers everything to remind us that a new beginning is on the way, that a new season is due to arrive and bring along its fresh opportunities. After the heart-warming interval of the Christmas holidays, winter will probably bring more cold, gusty winds and lower temperatures, but it will also bring us closer together, in family reunions, gatherings with good friends, and romantic dinners with the ones we love and care about. What is there to blame winter for, really? We might as well miss it when spring comes…
You know it's winter when every hug and every moment spent in a loving embrace is a sign of an undying summer we all keep inside – and we should thank winter for that! These are 25 beautiful quotes about winter and snow that will make you look forward to colder temperatures.

---
Cute Short Winter Quotes
Winter is the time for comfort, for good food and warmth, for the touch of a friendly hand and for a talk beside the fire: it is the time for home. Edith Sitwell
What good is the warmth of summer, without the cold of winter to give it sweetness. John Steinbeck
Moment by moment, in life's winter life froze Echoing a history of blues, a milestone rose.  Sandeep N Tripathi
In the deep shivering winter, I can feel the joy of a dancing summer in my heart. Debasish Mridha
If winter comes, can spring be far behind? Percy Bysshe Shelley
I'd thought there'd be no winter in the desert, but winter arrived anyway—silently, suddenly. You Jin
My old grandmother always used to say, Summer friends will melt away like summer snows, but winter friends are friends forever. George R.R. Martin
If we had no winter, the spring would not be so pleasant: if we did not sometimes taste of adversity, prosperity would not be so welcome. Anne Bradstreet
To keep a warm heart in winter is the real victory. Marty Rubi
Autumn arrives in early morning, but spring at the close of a winter day. Elizabeth Bowen
Summer is for surrendering; winter is for wondering. Debasish Mridha
If we had no winter the spring would not be so pleasant. Anne Bradstreet
Winter is nature's way of saying, "Up yours. Robert Byrne
Love has different shape, like this falling snow in winter. Rizki De
The heart can get really cold if all you've known is winter. Benjamin Alire Sáenz
I read, much of the night, and go south in the winter. T.S. Eliot
One need never be dull as long as one has friends to help, gardens to enjoy and books in the long winter evenings. D.E. Stevenson
In the winter she curls up around a good book and dreams away the cold. Ben Aaronovitch
Winter is not a season, it's an occupation. Sinclair Lewis
Winter Poems and Lyrics
I love to watch the fine mist of the night come on,
The windows and the stars illumined, one by one,
The rivers of dark smoke pour upward lazily,
And the moon rise and turn them silver. I shall see
The springs, the summers, and the autumns slowly pass;
And when old Winter puts his blank face to the glass,
I shall close all my shutters, pull the curtains tight,
And build me stately palaces by candlelight.
Charles Baudelaire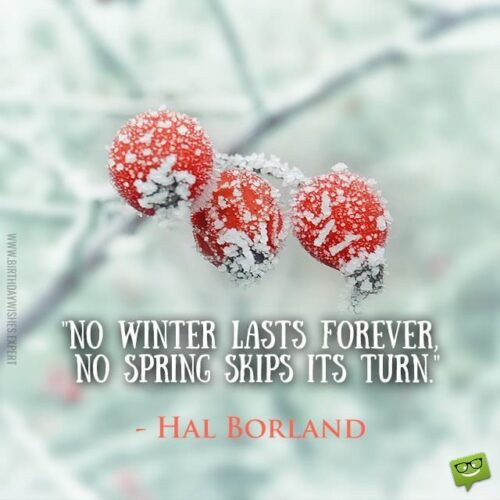 The season was waning fast
Our nights were growing cold at last
I took her to bed with silk and song,
'Lay still, my love, I won't be long;
I must prepare my body for passion.'
'O, your body you give, but all else you ration.'
'It is because of these dreams of a sylvan scene:
A bleeding nymph to leave me serene…
I have dreams of a trembling wench.'
'You have dreams,' she said, 'that cannot be quenched.'
'Our passion,' said I, 'should never be feared;
As our longing for love can never be cured.
Our want is our way and our way is our will,
We have the love, my love, that no one can kill.'
'If night is your love, then in dreams you'll fulfill…
This love, our love, that no one can kill.'
Yet want is my way, and my way is my will,
Thus I killed my love with a sleeping pill.
Roman Payne
Song falls silent, music is dumb,
But the air burns with their fragrance,
And white winter, on its knees,
Observes everything with reverent attention.
Anna Akhmatova
Spring passes and one remembers one's innocence.
Summer passes and one remembers one's exuberance.
Autumn passes and one remembers one's reverence.
Winter passes and one remembers one's perseverance.
Yoko Ono
Winter is icummen in,
Lhude sing Goddamm,
Raineth drop and staineth slop
And how the wind doth ramm!
Sing: Goddamm.
Skiddeth bus and sloppeth us,
An ague hath my ham.
Freezeth river, turneth liver
Damn you, sing: Goddamm.
Goddamm, Goddamm, tis why I am,
Goddamm.
So 'gainst the winter's balm
Sing Goddamm, damm, sing Goddamm
Sing Goddamm, sing Goddamm,
DAMM.
Ezra Pound
Because the birdsong might be pretty,
But it's not for you they sing,
And if you think my winter is too cold,
You don't deserve my spring.
Erin Hanson
It is deep January. The sky is hard.
The stalks are firmly rooted in ice.
It is in this solitude, a syllable,
Out of these gawky flitterings,
Intones its single emptiness,
The savagest hollow of winter-sound.
Wallace Stevens
Inspirational Winter Quotes
December's wintery breath is already clouding the pond, frosting the pane, obscuring summer's memory…  John Geddes
No animal, according to the rules of animal-etiquette, is ever expected to do anything strenuous, or heroic, or even moderately active during the off-season of winter. Kenneth Grahame
In this world only winter is certain. George R.R. Martin
Are the days of winter sunshine just as sad for you, too? When it is misty, in the evenings, and I am out walking by myself, it seems to me that the rain is falling through my heart and causing it to crumble into ruins. Gustave Flaubert
Winter then in its early and clear stages, was a purifying engine that ran unhindered over city and country, alerting the stars to sparkle violently and shower their silver light into the arms of bare upreaching trees. It was a mad and beautiful thing that scoured raw the souls of animals and man, driving them before it until they loved to run. And what it did to Northern forests can hardly be described, considering that it iced the branches of the sycamores on Chrystie Street and swept them back and forth until they rang like ranks of bells.
Mark Helprin, Winter's Tale
Like some winter animal the moon licks the salt of your hand,
Yet still your hair foams violet as a lilac tree
From which a small wood-owl calls.
Johannes Bobrowski
Surely everyone is aware of the divine pleasures which attend a wintry fireside; candles at four o'clock, warm hearthrugs, tea, a fair tea-maker, shutters closed, curtains flowing in ample draperies to the floor, whilst the wind and rain are raging audibly without. Thomas de Quincey
It snowed all week. Wheels and footsteps moved soundlessly on the street, as if the business of living continued secretly behind a pale but impenetrable curtain. In the falling quiet there was no sky or earth, only snow lifting in the wind, frosting the window glass, chilling the rooms, deadening and hushing the city. Truman Capote
Winter came in days that were gray and still. They were the kind of days in which people locked in their animals and themselves and nothing seemed to stir but the smoke curling upwards from clay chimneys and an occasional red-winged blackbird which refused to be grounded. And it was cold. Not the windy cold like Uncle Hammer said swept the northern winter, but a frosty, idle cold that seeped across a hot land ever looking toward the days of green and ripening fields, a cold thay lay uneasy during during its short stay as it crept through the cracks of poorly constructed houses and forced the people inside huddled around ever-burning fires to wish it gone. Mildred D. Taylor
You think of outside your room, of the streets of the town, the lonely little squares over by the station, of those winter Saturdays all alike. Marguerite Duras
made thicker by its proximity to the Seine, blurred every detail with its ragged veils, punctured at various distances by the reddish glow of lanterns and bars of light escaping from illuminated windows. The road was soaked with rain and glittered under the street-lamps, like a lake reflecting strings of lights. A bitter wind, heavy with icy particles, whipped at my face, its howling forming the high notes of a symphony whose bass was played by swollen waves crashing into the piers of the bridges below. The evening lacked none of winter's rough poetry.Théophile Gautier
Winter teetered on the verge of succumbing to the returning sun, but today the breeze still preferred the touch of snowflakes. Rue
Every season has a reason. Summer cannot do the works of winter, nor winter the works of summer. Each season is unique yet so important, so cherish the seasons in your life. Gugu Mona
Can a rose survive in winter? Gina Marinello-Sweeney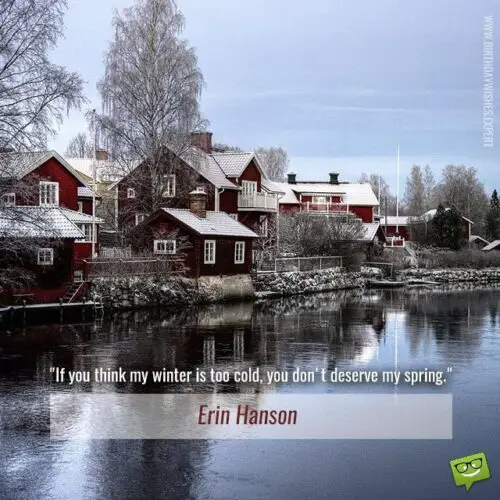 You may also like:
Hello, December! | End the Year and Start Anew
Famous Summer Quotes and Carefree Summer Images